Top 9 Things to Do in Lanzhou
Lanzhou is a city along the upstream of
Yellow River
, the second longest river of China, hence features profound Yellow River culture, and the representative attractions include the Zhongshan Bridge over Yellow River, Statue of the Mother Yellow River, and Waterwheel Garden. Taking a sheepskin raft to drift over the Yellow River is also a highlight of Lanzhou tour. Another worth trying thing to do in Lanzhou is to taste local food. In addition to the world famous hand-pulled noodles, you can taste other delicious food at the Zhenging Road night market or the Zhangye Road pedestrian street.
White Pagoda Mountain is a good place in downtown for tourists to go hiking. Along the shady way uphill, people could not only breathe fresh air but also visit temple, memorial archway, and some ancient palatial buildings. Nevertheless, the White Pagoda at the peak is the most worth visiting spot, because people could enjoy the clear view of the Yellow River flowing through the city with rows of buildings, and the night view is much prettier. Another popular Lanzhou activity to do at this park is to visit the stone tablets in the southwest, where calligraphy lovers could enjoy various inscriptions.

Recommended Tour:

4 Days Private Tour of Lanzhou & Labrang from

$739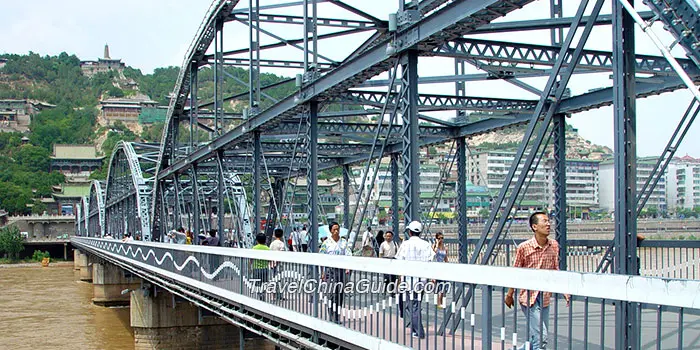 Zhongshan Bridge, also known as the First Bridge over the Yellow River, is a very impressive Lanzhou landmark. It is now only open to pedestrians, thus tourists may safely stroll along the bridge or take souvenir photos on it. Standing here, one could see the flowing Yellow River, as well as the cityscape and the White Pagoda Park on both sides. It is more recommended to come here in the evening, because Zhongshan Bridge shows a more distinct outline in the colorful light. Besides, near the bridge, dock many ships selling tea and beer. Drinking and chatting with friends by the river is a really relaxing thing to do in Lanzhou.

Recommended Tour:

6 Days Private Tour of Lanzhou - Xiahe - Tongren - Xining from

$1219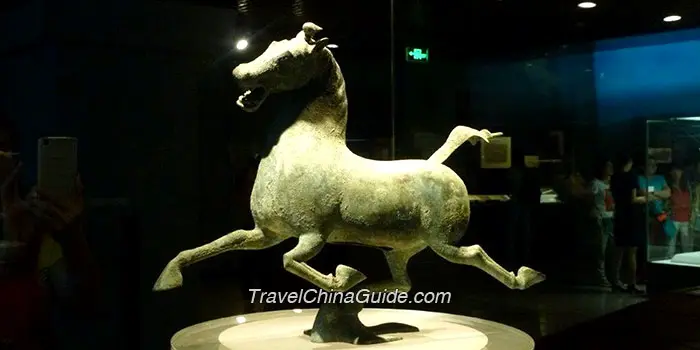 What to do in Lanzhou, China to quickly know its history? Tour the local museums and Gansu Provincial Museum should be the first one. In ancient times, Lanzhou was an important stop along the
Silk Road
for it connects the central China, Tibet plateau, and Western regions. That is why people now could enjoy lots of relics of that time, and the most precious one is the Bronze Galloping Horse. Religious diversity is another feature of Lanzhou. To let people directly know different branches of Buddhism, statues, instruments, and the replicas of the
Mogao Caves
and the
Maijishan Grottoes
are displayed. Other eye opening exhibits include the pottery of 4,000-5,000 years ago, and the fossils of dinosaur and prehistoric elephant.
4
Sheepskin Rafting on the Yellow River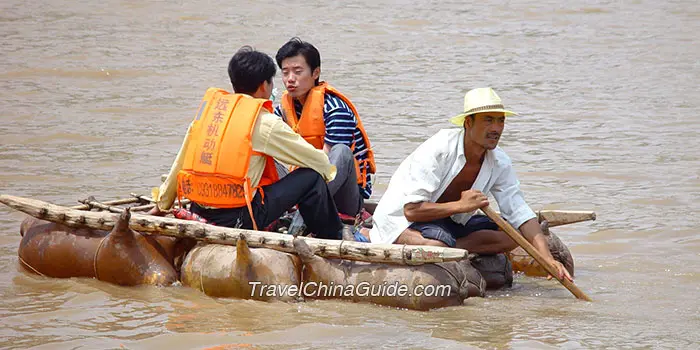 As the name indicates, this special raft in Lanzhou is made of buoyant sheepskins. Each piece of the sheepskin is ballooned and tied together. It used to be a means of transport for local people to cross the Yellow River, but now an interesting thing to do in Lanzhou for tourists from across the world. Swaying on the raft, tourists could closely watch the Yellow River running beneath, and enjoy the scenery on both banks. Cool wind and paddler's whistle also spice up this unforgettable rafting tour.
5
Appreciate the Statue of Mother Yellow River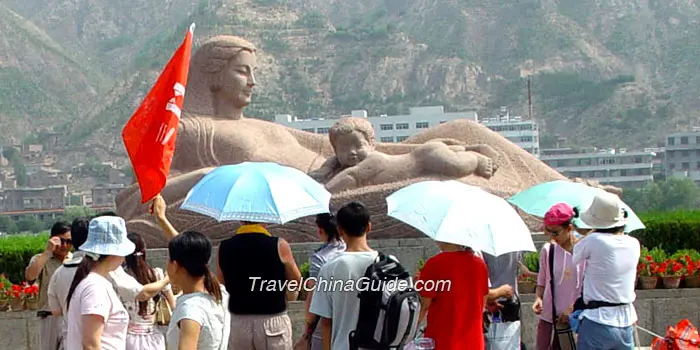 Here comes another Lanzhou landmark for tourists to take souvenirs photos. Since the Yellow River is the cradle of Chinese civilization, this statue personifies the Yellow River as a mother and Chinese people as a baby who nestles on her right. The statue is so lifelike that tourists could tell the mother's eyes are brimming with love. What is more, the entire statue is made from yellow granite, which symbolizes both the muddy Yellow River color and Chinese's skin color.
6
Zhengning Road Night Market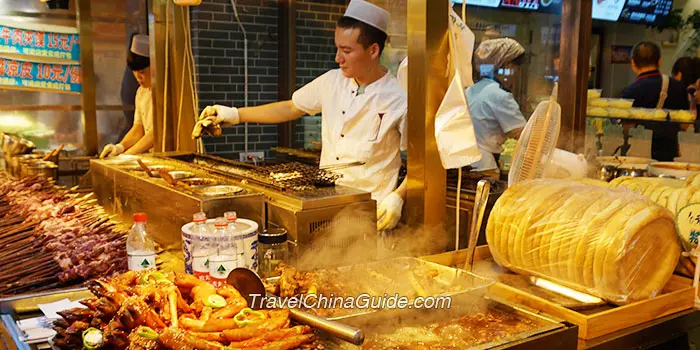 Zhengning Road Night Market must be on the foodie's list of Lanzhou thing to do. Speaking of the most representative Lanzhou dishes, spicy beef and mutton kebabs are second to none. Moreover, they, as well as other grilled food, go very well with Lanzhou Beer, hence highly recommended. Other worth trying dishes are the chewy Cold Noodles, bland Hand Pulled Noodles, and sweet fermented glutinous rice wine with milk and egg. Many stalls are open till midnight, letting tourists fully experience local people's life.
7
Savor Lanzhou Hand Pulled Noodles
Lanzhou Hand Pulled Noodles, also Lanzhou Beef Noodles, are the most common food all over the city and has been one of its name cards throughout the country. This delicacy features refreshing soup, palatable beef and chewy noodles. Toppings include sliced white carrot and chopped coriander and garlic sprout, and spicy red chili oil stimulates the good smell of all those ingredients. It is worth mentioning that the chief can stretch noodles into different shapes and widths, hence tourists could order based on personal preferences.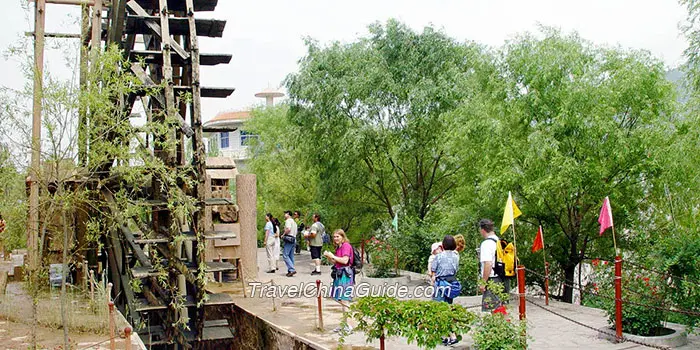 Waterwheel Garden is a popular theme park in downtown area. In ancient times, local people relied on the waterwheels to irrigate their farmlands with the water from Yellow River. In the garden, various waterwheels, some on the banks and some in the ponds, are very impressive and worth taking photos. What is more, people may try to pedal waterwheels on their own, and closely watch how water runs from one place to another with the help of the waterwheel. Apart from seeing this old irrigation equipment, tourists may have fun enjoying sheepskin rafting on the Yellow River, or simply take a walk through statues, vegetation and ponds in the garden.

Recommended Tour:

6 Days Private Tour of Lanzhou - Zhangye - Jiayuguan - Dunhuang from

$1309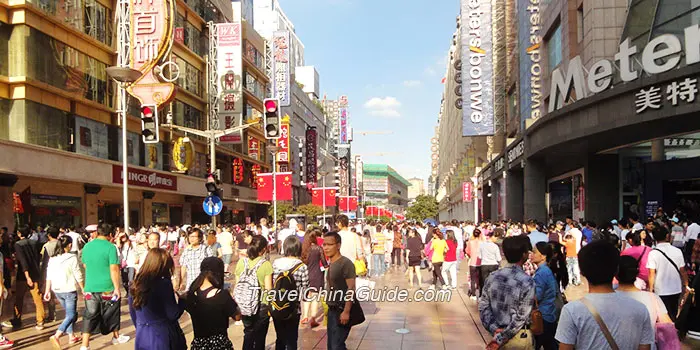 What Avenue des Champs is to Paris and Wangfujing Street is to Beijing, Zhangye Road is to Lanzhou. Therefore, visiting it is one of the top things to do in Lanzhou, China. With all kinds of buildings scattering around, tourists may either go shopping at the high-end malls, or buy some novelties at the creative fairs. In addition, along the Zhangye Road are many alleys, where tourists could try authentic Lanzhou Beef Noodles, Cold Noodles, pastry, and so on.
- Last updated on Sep. 14, 2023 by Catherine He -