Lanzhou Transportation
Situated in northwestern China, Lanzhou is the geographic center of the country. Though there are not many world famous scenic spots, most tourists choose the city as a stopover for its convenient transportation to the renowned tourist cities in western China.
Air
Lanzhou Zhongchuan Airport
(ZGC) is located about 70 kilometers (43.5 miles) from the downtown area. More than 30 airlines fly to the outside world, with daily flights to and from Beijing, Shanghai, Guangzhou, Shenzhen and Xi'an. The direct daily flights to and from Lhasa now is available and the whole flight lasts only 3.5 hours. Flights to major cities like Tianjin, Chengdu, Chongqing, Nanjing, Kunming, Hangzhou, Taiyuan, Jinan, Changsha, Haikou, Wuhan, Wenzhou, Xiamen, Zhuhai, Shenyang and international and regional flights to Okinawa, Singapore, and Hong Kong are also available from Zhongchuan Airport.
It takes roughly an hour for the airport shuttle bus (at about CNY 30 per person) to arrive at Eastern Hotel (No. 555, Tianshui Lu) at downtown. A taxi will cost about CNY250 to CNY300.
Zhongchuan Airport Inquiring: 0931-8968160
Ticket Center Inquiry: 0931-8821964 (domestic) 0931-8828174 (international)
CAAC Ticket Center: No.258 Donggang Xi Lu
Train
The city has two stations,
Lanzhou Railway Station
and
West Railway Station
.
Lanzhou Railway Station is located in the south downtown. There are altogether 45 daily rail departures from the city, connecting it to other cities such as Beijing, Shanghai, Nanjing, Qingdao, Jinan, Shijiazhuang, Zhengzhou, Guangzhou, Changsha, Wuhan, Chengdu, Xi'an, Xining, Urumqi and Hohhot. Express trains also run to Xining, Yumen, Zhangye, Pingliang and Golmud.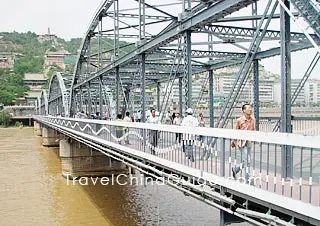 First Bridge over the Yellow River
There are many ticket offices in the city but we recommend you buy your tickets from the ticket center at the railway station or from the ticket offices in the Industrial and Commercial Bank of China to avoid forged tickets.
Railway Station Inquiry: 0931-4922222
Located on Xijin West Road of Qilihe District, West Railway Station was put into use on December 26th, 2014 with the opening of the
Lanzhou-Xinjiang High Speed Railway
. It is the largest terminus along the
Xi'an-Lanzhou High Speed Railway
which was put into service since July 9th, 2017. It mainly operates high speed trains to/from Beijing, Xining, Zhangye, Jiayuguan, Jiuquan, Yumen, Kumul, Turpan and Urumqi.
* Note: At both railway stations, there are direct bullet trains to Zhongchuan Airport. It takes 40-50min, and costs CNY18.5-21.5 for a second class seat and CNY22-26 for a first class seat.

Major Rail Lines from Lanzhou to:

See detailed
Lanzhou Train Schedule
West Bus Station is located at No.486, Xijin Dong Lu. Buses No.1, 6, 11, 31, 32, 33, 41, 45, 50, 56, 58, 59, 106 and 107 are available and the bus stop is Xiao Xi Hu.
However, located in the east of Gansu Province, this city is far from the tourist cities in the Hexi Corridor, like Jiayuguan and Dunhuang, so rail as apposed to road travel is often preferable. For the south of Gansu Province, like Sangke Prairie where no rail link is available, the bus is the only option.

As per the long-term plan, the city will build 13 Lanzhou rail transit lines by 2025. Currently, only line 1 and line 2 are under construction and are expected to operate by 2018 and 2020 respectively. By then, Lanzhou will be the second city in northwest China with rail transit system. Additionally, line 3, line 4 and line 5 will also begin construction very soon. Five metro lines will be built soon and passengers can experience the tram in 2019.
City Bus
The public transport system is well developed, with 110 bus routes covering every corner of the city. There are buses and mini-buses at prices lower than other cities. The prices range from 0.5 Yuan to 2.5 Yuan. Usually, it will cost passengers 0.5 Yuan every five or fewer stops. The further you go the more you pay. Generally, the fare costs not more than 1.5 Yuan within downtown while it costs 2 Yuan to 2.5 Yuan to Xigu District. Usually, the minibus fare is 1 Yuan without regard for the number of stops.
Taxi
Currently, more than 8,000 taxis operate in the city. It's said that more taxis will be set in the near future to better serve the local citizens and tourists. You can see the taxi rate below:
| Distance | Price |
| --- | --- |
| For the initial 3 kilometers (1.9 miles) | CNY10 |
| For each additional kilometer (0.6 mile) farther than 3 kilometers (1.9 miles) | CNY1.4 |
| For each additional kilometer (0.6 mile) farther than 10 kilometers (6.2 miles) | CNY2.1 |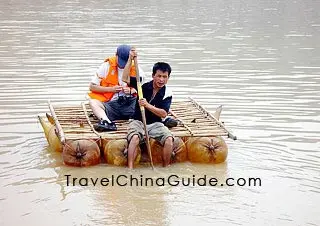 Cross the Yellow River on a sheepskin raft

Tips:
1. If a car waits on the way due to the traffic lights, traffic jam or other situations, it costs CNY1.4 for every 5 minutes' waiting.
2. It costs CNY1.6 for each kilometer (0.6 mile) if a car runs between 23:00 and 05:00 the next day for night-driving allowance.
Raft
As Lanzhou is the only provincial capital through which the Yellow River flows, rafts of both wood and sheepskin have been in use for a long time. The primitive sheepskin raft will give you a novel feeling of the Yellow River.
- Last modified on Jun. 19, 2019 -
Questions & Answers on Lanzhou Transportation
Asked by PS from MSIA | Sep. 20, 2019 09:20

Reply
Xiahe
Which bus station (location) that have bus go to Xiahe?
Tq
Asked by Chew Eva from MALAYSIA | Jun. 16, 2019 19:37

Reply
Where can I get the Lanzhou Airport shuttle bus schedule to city?
Answers (3)
Answered by Oscar from AUSTRALIA | Jun. 18, 2019 00:01

0

0

Reply
Since the bus schedule on its official website is in Chinese and there are a lot of routes, you can tell your destination directly and then a specific route and schedule can be given.
Answered by Chew Eva from MALAYSIA | Jun. 18, 2019 19:00

0

0

Reply
From Lanzhou Airport to Lanzhou to CAAC ticket office?
Answered by Oscar from AUSTRALIA | Jun. 19, 2019 23:28

0

0

Reply
Can you give a detailed address of CAAC ticket office? I haven't found any shuttle bus to there.
Asked by Arturo Estebanez from SPAIN | Apr. 19, 2019 13:40

Reply
Anyone knows if Lanzhou metro lines 1 (or 2) are already operating?
Answers (2)
Answered by Ollie from POLAND | Apr. 23, 2019 18:55

0

0

Reply
No, these two lines are not operating nowadays.
Answered by Miguel from SPAIN | Apr. 25, 2019 07:00

0

0

Reply
it seems that they will be operative on June or July 2019
Asked by Monna from MALAYSIA | Apr. 04, 2019 07:41

Reply
Any direct bus from Lanzhou airport to Qinghai?
Answers (1)
Answered by Amanda from SINGAPORE | Apr. 11, 2019 02:32

0

0

Reply
Qinghai is a large province. Which city do you want to go?
Asked by Dr farooq from PAKISTAN | Nov. 11, 2018 21:48

Reply
How much time bus will take fro lanzhou to chengdu and chengdu to kunming?
Answers (1)
Answered by Alyssa from SINGAPORE | Nov. 12, 2018 00:04

0

0

Reply
From LZ to Chengdu, the running time is about 11-14 hours by bus.
From Chengdu to Kunming, the running time is about 13-14 hours by bus.