Lanzhou Attractions - Things to Do
Top Things to Do in Lanzhou

Ancient Silk Road

Five Springs Mountain Park

Gansu Provincial Museum

Waterwheel Garden

White Pagoda Park

Yellow River

Zhangye Road Pedestrian Street

Zhongshan Bridge - the First Bridge over the Yellow River
A hot spot on the ancient Silk Road, Lanzhou is the only provincial capital city with the Yellow River flowing through. Lanzhou is abundant with tourist attractions. On the bank of the Yellow River extends the longest riverside road in China, where you can admire the grand River, the First Bridge over the Yellow River, the Watermill Park and the sculpture of the Yellow River Mother, the White Pagoda Park, and the Five-Spring Mountain park. At dusk, standing on the top of Lanshan Mountain, you can have a magnificent view of the Yellow River surrounding the city. The Liujiaxia Hydropower Station and the Bingling Temple in Yongjing County are further away, but the distance will certainly be compensated by the attractions.
| | |
| --- | --- |
| Waterwheel Park | First Bridge over the Yellow River |
Zhongshan Bridge, The First Bridge over the Yellow River, was built in 1907 and completed in 1909. In 1928, to commemorate Dr. Sun Yet-sen, the bridge was renamed Zhongshan Bridge as Zhongshan is another name of Dr. Sun. The bridge is 250 meters (820 feet) longand 8 meters (26 feet) wide. The 10-ton iron column of 5.8 meters high originated in the Ming Dynasty (1368 - 1644), and was used to pull the float bridge over the Yellow River. As the First Bridge over the Yellow River, Zhongshan Bridge is valued highly.
Along the Yellow River, there are two scenes you should not miss. The first is the sculpture of The Mother Yellow River. This is the best sculpture of its kind in China. A baby lies on the bosom of his mother with a naive smile while the mother (unlike most of the mothers in Chinese arts who are old, weather-beaten, kindly but with a touch of sorrow) looks happy and affectionate. The second one is the Waterwheel Garden, where you can get an idea of the old irrigation tool. The waterwheel was introduced from southern Yunnan Province to Lanzhou by a local who had been an official in Yunnan. The first waterwheel was made successfully in 1556 on the north bank of the Yellow River. Up to 1952 there were altogether 252 waterwheels lining both banks of the River. Today this replica has become an attraction with a park founded around it.
For a cruise on the Yellow River, you can go by motor boat or float on an ancient-style sheepskin raft made up of a dozen inflated sheepskins. The history of sheepskin rafts can be traced back more than 2000 years. The ride on a raft is adventurous and fascinating. You can have a magnificent view, experience the River closely and listen to hua'er (a kind of folk song popular in Gansu, Ningxia and Qinghai) by the boatman.
| | |
| --- | --- |
| Cross the Yellow River on a sheepskin raft | Sculpture of the Mother Yellow River |
A few steps' further, you will come to the cable car, which connects the south bank to the White Pagoda Hill on the north bank of the Yellow River. The White Pagoda Hill got its name from a white pagoda set up in 1405. Besides the halls and pavilions, there are two museums: the Strange Stone Museum and the Minor Guard Carving Museum. Do not miss a cup of eight-auspicious tea (san pao tai) in either summer or winter! Facing water and lying against the mountain, White Pagoda Hill is cool in summer and sunny in winter. Here you can visit the White Pagoda Park, which is a picturesque place for you to enjoy the wonderful view of White Pagoda Hill and the Zhongshan Bridge at its foot. It will leave you an unforgettable memory!
Close to Zhongshan Bridge and White Pagoda Park, you can find Zhangye Road Pedestrian Street which has a history of more than 100 years, being the oldest and most cultural commercial street of Lanzhou city. Traveling along Zhangye Road, you can see various malls, stores, and restaurants.
Five Springs Mountain Park is located in Gaolan Hill in the south of Lanzhou. It is a tourist attraction with a history of more than 2,000 years. The five springs are Ganlu, Juyue, Mozi, Hui and Meng. The park also boasts ancient Buddhist architecture. With a long history and elegant surroundings, the park holds an important place in this city, especially on the 8th of the fourth Moon, when the Temple Fair is held.
If you have an interest in local history, Gansu Provincial Museum opens a marvelous world for you. Colored pottery depicting flowers, powerful and simple wood carvings from the Han Dynasty, exquisite Buddhist sculptures, relics left by the Great Wall and the Silk Road, all of which have vivid ethnic features, are displayed. Particularly, the colorful pottery is worth seeing as Gansu is the hometown of colorful pottery, where the oldest colored pottery in China was found. In Jan. 2006, the redecoration of the museum was ultimately finished. The new exhibition hall is about 10,000 square kilometers (about 3861 square miles) larger than the old one. It is predicted that the new hall will open in mid-2006. With modern protective facilities, the museum provides an electronic guide. When visitors start up the machine, it presents detailed explanations of the cultural relics.
For nature-lovers, Yan Tan Park in the east of Lanzhou would be an optimum choice. Yan Tan, literally, goose beach, was made up of 18 sand islands in the Yellow River. Now a road of 10 km (6.2 miles) connects Yan Tan to the city. The lush trees and the pavilions and the Yellow River bring out the best of each and make a splendid view.
The Shifogou National Forest Park cannot be missed. Sixteen kilometers (9.94miles) from downtown, the park covers an area of 6, 376 hectares (16, 645 acres). Besides the beautiful natural surroundings, the highlight of this park lies in its folk art shows. On the 8th of the fourth Moon the Temple Fair is held. The 6th of the sixth Moon sees Hua'er Show, a folk art loved by both Han and Hui people.
Things to Do Around Lanzhou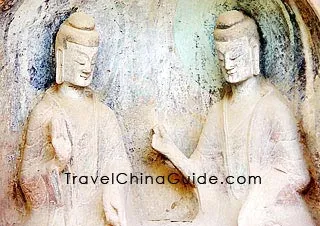 Bingling Thousand Buddha Caves

Bingling Temple

Labrang Monastery

Maijishan Grottoes

Sangke Grassland

Xinglong Mountain
Bingling Temple is on the cliff of Xiaojishi Hill. Located on a branch of Gansu part of the Silk Road, the Bingling Thousand Buddha Caves inside were started by some Buddhist monks from as early as the West Jin Dynasty (265-316) though the official carving began in 420. After many years' work, there are 183 caves existing with 694 stone statues, 82 earth statues and murals of 900 square meters (9, 688 square feet). Another pleasant surprise on your way to Bingling Caves is the beautiful Liujiaxia Reservoir. The crystal water lying among the yellow earth mountains is quite a sight. At the end of the Reservoir, the green water connects to the yellow water while the blue sky connects to the yellow earth. Perhaps this can only be experienced in Liujiaxia.
Located in Xiahe County 280 km (174 miles) from downtown, Labrang Monastery is one of the six largest monasteries of the Yellow Sect of the Lamaism. It is not only a religious center but also an institution of higher education and museum of ancient books.
Ten kilometers (6.2 miles) from the Labrang Monastery lies Sangke Prairie. Surrounded by mountains with the Daxia River flowing from south to north, Sangke Prairie is an ideal natural rangeland. Every summer the whole prairie turns green, dotted with colorful flowers, providing a most ideal place to experience a nomadic life.
| | |
| --- | --- |
| Labrang Monastery, Xiahe | Sangke Prairie, Xiahe |
Reputed as Mythic Green Valley, Tulugou National Forest Park is in Yongdeng County, 160 km (99.4 miles) from Lanzhou. This park features strong stones, exuberant forest and vivid vegetation cover: pasture on the top, forest in the middle and farmland at the foot. Rare animals, birds and plants add more mystery and beauty to this fairy land.
Situated about 45 kilometers (about 28 miles) southeast of Tianshui City, there is Mt. Maiji. The renowned Maiji Caves, featuring the art of clay sculpture, is excavated on the cliffs of the mountain. Excavated in the late Qin Dynasty (221BC - 206BC), the existing 200 caves are respectively kept in Wei, Zhou, Sui, Tang, Song, Yuan, Ming and Qing styles. Maiji Caves are renowned as one of the most beautiful of their kind in China and are definitely worth a visit.
Xinglong Mountain, about 60 kilometers (40 miles) away from Lanzhou, is also named Mt. Xinglong or Qiyun Mountain. With an altitude of 2,400 meters (7,800 feet), Xinglong Mountain is covered with thick pine forests and scattered with colorful temples.
- Last modified on Aug. 09, 2018 -
Questions & Answers on Lanzhou Attractions
Asked by Sheyha from SINGAPORES | Sep. 16, 2017 01:12

Reply
how do I get to Zhangye Danxia Landform Geographical Park from Lanzhou?
I am in Singapore, and I wish to see the Rainbow mountains in Gansu.
Answers (2)
Answered by Reina from DENMARK | Sep. 19, 2017 22:00

0

0

Reply
You are suggested to take a bullet train from LZ West to Zhangye West first, which takes about 3 h 20 minutes and CNY179.5 for a first class seat, CNY149.5 for a second one. After that, take a taxi to West Bus station, and it takes less than CNY10.

From the west bus station you can take a regular bus to Su'nan and told the driver to drop you off at Qicai Danxia.
Or you can charter a local car from Zhangye West, which may take CNY200.
Answered by Sheyha from SINGAPORE | Sep. 20, 2017 04:04

0

0

Reply
Hi Reina

Thank you very much for your answer! It sounds confusing for me though. Anyone else interested to go there?
Asked by Cindy from AUSTRALIA | Jul. 15, 2016 09:03

Reply
Hi, how long does it take to drive from Lanzhou to the reservoir?
I heard there are fast and slow boats from the reservoir to the Binglingsi temple
- What are their average prices return?
- Are there time limits set when we go on either types of boats?
Thank you!
Answers (3)
Answered by David from USA | Jul. 18, 2016 01:07

1

0

Reply
1. You can take a bus to Liujiaxia Reservoir from West Bus Station. It takes about 2 hours. There are many buses daily, so you can easily catch one.

2&3. The yacht costs CNY 120 for a round trip. A single trip takes about 1.5 hours. There are many departures daily.
The cruise costs CNY 55 for a round trip. A single trip takes about 3 hours. The last cruise departs at 15:00.
Answered by Cindy from AUSTRALIA | Jul. 18, 2016 06:47

1

0

Reply
Hi David, thanks for your reply!
- Does the bus from West Bus station stop directly at Liujiaxia reservoir or do you have to catch an additional taxi to get to the reservoir?
- What is the last bus going from Liujiaxia reservoir to LZ?
- Do you have to take the same yacht back to and from the temple? If so, how long does a yacht wait at the temple until you finish?
Thank you so much!
Answered by David | Jul. 21, 2016 01:19

2

0

Reply
1. The bus stops at the reservoir. You don't have to catch an additional taxi.
2. I remember that the last departs at around 18:30. You can confirm this with the driver then.
3. You don't have to take the same yacht back. You can take any of them for the return trip. Have a wonderful time!
Asked by Samrat from INDIA | Nov. 22, 2015 00:52

Reply
How can I reach Zhongshan bridge from Northwest normal University (BRT numbers)?
Answers (1)
Answered by Alice from UNITED KINGDOM | Nov. 22, 2015 03:08

0

0

Reply
Regular bus will work. You can walk from the campus to Peili Square bus stop and take bus no. 15 to Zhongshan Bridge directly.
Asked by Jun Pacquing from PHILIPPINES | Oct. 16, 2014 01:53

Reply
How can we get to Lhasa, Tibet from Lanzhou?
How or can we get a permit in LZ? How much is the cost of the permit and how long go get it in LZ and what are the requirement.
Answers (1)
Answered by Elina from USA | Oct. 16, 2014 02:21

0

0

Reply
You can go to Lhasa by air or by train from this city: it takes 25-26h by train and 2h by air.

I'm afraid it is a little hard to get the permit on your own. As foreign travelers have to join a tour to tour in Tibet, you can turn to a travel agency to get the permit. Usually, guests are suggested to submit the application 20 days ahead.

Just tell the travel agency your name (as appears on your passport), nationality, age, sex, occupation passport number as well as the photocopies of your passport and visa and they will help to get a permit. When entering Tibet, you need to show your passport, visa and the permit.
Asked by Deb from USA | Aug. 18, 2014 06:39

Reply
I am short on time so like to get a car and driver from Lanzhou to Jiuzhaigou
do you know if that is possible?
Answers (1)
Answered by Tina from RUSSIA | Aug. 19, 2014 01:18

0

0

Reply
I'm afraid it's too far between, so it would be hard to hire a car there. I heard in the LZ Central Bus Station, there is a direct bus to Jiuzhaigou. U can have a try!