Zhaojun Museum
Zhaojun Museum is situated nine kilometers (approx. 6 miles) away from Hohhot, on the plain extending from the northern bank of the Dahei River. Inside the museum are many scenic spots, like Zhaojun Tomb, Museum of Hun Culture, Chan Yu Big Tent, Heqin Palace, Zhaojun Room and Painting & Calligraphy Room. Zhaojun Museum has now become one of the key cultural relics under the jurisdiction of Hohhot.
Zhaojun Museum is famous for its spectacular scenery. The summer months are mild, and the wild flowers and grasses grow in abundance, creating a beautiful natural picture together with the towering green trees. When autumn comes in September, unlike grasses which shriveled and yellow at this time of the year, the grass growing on the tomb is still green and vigorous.
Zhaojun Tomb inside the museum, also called 'green tomb' after the green grass that grows on it, it is listed among the eight most popular scenic spots in Hohhot. The tomb is a large man-made earthen mound, which is 33 meters (approx. 108 feet) high. It was built to commemorate a great woman named Wang Zhaojun, who was one of the four most beautiful ladies in ancient China, and who sacrificed herself for the unity of China by marrying Khan.
In front of Zhaojun Tomb, bronze statues of Wang Zhaojun and her husband (Khan), depict a vivid picture of them riding horses and talking to each other intimately. The statues are the symbol of the friendly relations between the Han nationality and the Hun nationality, which was greatly promoted by Wang Zhaojun.
Behind the statues, there are several steles displaying the praises bestowed upon Wang Zhaojun. Among them, the stele marked with the poems of Dong Biwu (a modern revolutionary and a politician) is the most notable one.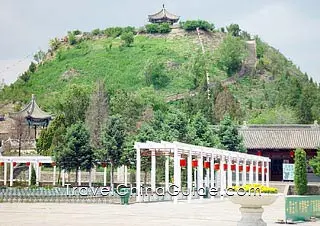 Zhaojun Tomb, Hohhot, Inner Mongolia
Behind the steles, stone stairs and a stone platform are connected with the Zhaojun Museum. Upon the stone platform you can find a pavilion. The pavilion offers visitors a good position from which to overlook the scenery surrounding the tomb and the far away Mt. Yinshan.

The two-floor Museum of Hun Culture is the only museum tells about Hun culture, displaying Hun's historical relics and art crafts about Zhaojun. Chan Yun Big Tent shows the typical domed-building in ancient Northern China, and the dance show about Zhanjun's Wedding is always performed here. Heqin Palace tells the story of the special culture - Heqin, which means making peace with rulers of minority nationalities in the border areas by marriage. Zhaojun Room is a replica of the house where Zhaojun lived in her hometown. The Painting & Calligraphy Room exhibits several art works about Wang Zhaojun.

How to get to Zhaojun Museum
Take Bus 44 or 209 to Zhaojun Bowuyuan (Zhaojun Museum) directly.
| | |
| --- | --- |
| Entrance Fee | CNY 30 |
| Opening Hours | 8:00 - 18:00 |