Gegentala Grassland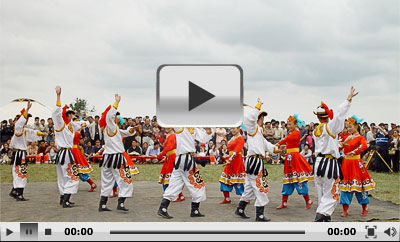 Gegentala Grassland Pictures
Gegentala Grassland is located in Ulanqab City, Inner Mongolia, 140 kilometers (87 miles) away from the north of Hohhot. Gegentala means "cast and bright grass lands" in Mongolian. When visiting there, visitors will be treated in the most ceremonious way, such as sending hada, a piece of silk used as a greeting gift and excellent horse milk wine. Walking on the vast Gegentala Grassland, you can see a circular building made of stones on the relatively high hillside at a certain distance, and that is so-called Aobao, where local Mongolians hold sacrificial ceremony to pray for good luck.

Best Time to Visit Gegentala Grassland
Lots of visitors would like to pay a visit to Gegentala Grassland in summer, especially in July and August, because all the grasslands are at their best. Moreover, every year, at the same time, the climate there in summer is pretty cool when compared with other tourist destinations. Nadam Fair is always held from August 15th to 25th.
| | |
| --- | --- |
| Ao Bao | Luxury yurts on Gegentala Grassland |
Things to Do in Gegentala Grassland
Be sure to arrange for a horse-riding experience during your stay. There is a large stud farm particularly for visitors. All the horses are carefully selected, and most of them have mild temper. Or visitors can try horse riding with the help of a professional coach for safety.

Attend Entertaining Events
In order to entertain and welcome visitors, Gegentala Grassland Scenic Area has arranged horse racing, horse shows, wrestling and singing & dancing performance. The exciting shows stimulate everyone's enthusiasm. Moreover, visitors can also engage in these activities for entertainment. When night comes, a campfire party is something of a highlight. At the same time, some local people may dance and sing around the fire in a circle.
| | |
| --- | --- |
| Dance performance, Nadam Fair | Wrestling held on Nadam Fair |
Stay Overnight in a Gegentala Grassland Yurt
It must be an unforgettable experience to stay overnight inside a yurt. There is a fixed area in the grassland with many traditional style yurts, which are used as hotels for visitors. It's a good chance to experience local people's living style, but the price is a little expensive. The yurt is not only used as a living room; visitors can also have a party or dining inside.

Taste Delicious Local Food
A dining feast is always offered when there is a campfire party. Hospitable Mongolians will provide good wine and delicious cuisines for tourists. Drinking mellow horse milk wine, eating Roast Whole Lamb with fragrant smell, and tasting local milk tea must be the most enjoyable dining in vast Gegentala Grassland.

How to Get to Gegentala Grassland from Hohhot
1.
First, visitors need to take a bus from Hohhot Passenger Station to Siziwangqi in Ulanqab. The journey takes about 2 hours and each passenger needs to pay around CNY 30-40. After arrival at Siziwangqi, it's advised to hire a car directly to Gegentale Grassland. It takes about thirty minutes and CNY 20-40.
2.
Hire a car from Hohhot to Gegentala Grassland. Visitors need to pay about CNY 350 per day per car.
- Last modified on Apr. 24, 2019 -
Questions & Answers on Gegentala Grassland
Asked by Jerry from SINGAPORE | Jun. 07, 2019 03:21

Reply
When is Naadam this year (2019)? Can we try wrestling and archery there?
Answers (1)
Answered by Eve from USA | Jun. 10, 2019 20:47

0

0

Reply
The date is June 18th. As I know, you need invitation to take part in the competitiion.
Asked by Juliana from FRANCE | Mar. 21, 2019 03:57

Reply
how busy are the Gegentala Grassland during Labour Week?
and is the temperature OK?
Answers (1)
Answered by Carol from DENMARK | Mar. 25, 2019 23:05

0

0

Reply
As I know, there will have more tourists than usual times. The weather condition will be ok to tour around. But if you want to see the green scenery of the grassland, you are suggested to go there in June or July.
Asked by Normah Md Isa from MALAYSIA | Nov. 04, 2018 19:47

Reply
i plan to visit xilamuran grassand early april 2019. how the weather and scenery that month?
Answers (1)
Answered by Helen from USA | Nov. 06, 2018 18:47

0

0

Reply
Dear, to be honest, you are not advised to the grassland due to the low temperature and less grass growing at that month. The best time for a visit is July-August.
Asked by ruben elands from NETHERLANDS | Sep. 17, 2018 20:21

Reply
We are arriving in Hohhot the 30th of September at 13:25. We don't want to stay in the city.
And we want to go immediately to the xilamuren. Is it possible to sleep at the grasslands? What do you recommend? We are six students who like to stay cheap!

Thanks!
Answers (5)
Answered by Lily from USA | Sep. 17, 2018 21:02

0

0

Reply
Yes, you can sleep in the grassland. There are many Mongolian yurt hotels in the scenic area. An ordinary Mongolian yurt in the grassland actually is a large tent and can hold 7-8 people with poorer environment. Also, there is luxurious Mongolian yurt with better service. You can choose one according to your convenience.

Recommended hotel:
Mongolia Damao Xilamuren grassland pastoral family package, located in the scenic area
Answered by Ruben Elands from NETHERLANDS | Sep. 18, 2018 23:27

0

0

Reply
Thankyou for your helpfull reply. Do you know if we need to make a reservation or go there to xilamuren and ask there? Can they take you on daytrips? I would love to hear from you and have a nice day!

Kind regards,

Ruben Elands
Answered by Lily | Sep. 19, 2018 19:11

0

0

Reply
You are advised to book one in advance because the National Holiday is coming from October 1 to 7 and it is a tourism peak in China. And you can pay for one private tour there and then they can guide you in the trip.
Answered by Ruben Elands from NETHERLANDS | Sep. 20, 2018 03:00

0

0

Reply
Thank you very much! Where do you recommend to book?
Answered by Lily | Sep. 20, 2018 19:10

0

0

Reply
You can search the hotel I recommended on the internet. See whether if they have English booking page.
Asked by Jo from UNITED KINGDOM | Sep. 01, 2018 18:54

Reply
How can I arrange sleeping and tour of xilamuren on Wednesday 5th September?
Answers (1)
Answered by Andy from GREECE | Sep. 03, 2018 19:30

0

0

Reply
You can experience the Mongolian yurt accommodation and have some activities like riding horses and watching horse racing.