Gegentala Grassland & Xilamuren Grassland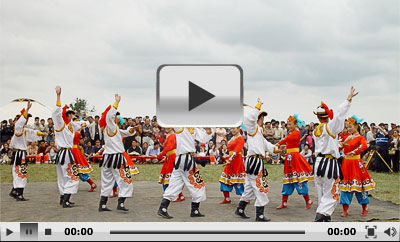 Gegentala Grassland Pictures
Gegentala Grassland is to the north of Hohhot, within the Inner Mongolia Autonomous Region. It is the largest and a unique scenic spot bearing the Mongolian ethical features of China. In Mongolian 'Gegentala' means a summer resort or the place of grazing in summer. On the Gegentala Grassland, the weather is cool and the natural scenery is fascinating. With thriving grass and abundant water, the green of the grassland reach out as far as your eyes can see. Colorful wild flowers and flocks of sheep that look like masses of cloud make the scene absolutely beautiful.

Besides the amazing natural scenery, visitors can also taste traditional Mongolian food and take part in local activities. While listening to the melodious toasting songs and appreciating traditional Mongolian dances, visitors have the opportunity to taste kumiss, roasted whole sheep and shouba rou (boiled mutton eaten with hands). In traditional Mongolian clothes, visitors can take part in horse race, wrestling and archery which have been popular on the land for thousands of years. At night, people sit around bonfires singing and dancing to their hearts' content. After one day's travel, the Mongol ger, which means home in Mongolian, provides accommodation for the tourist. All these experiences give visitors the true feeling of what life is like on the vast Gegentala Grassland.
| | |
| --- | --- |
| Dance performance, Nadam Fair | Wrestling held on Nadam Fair |
To enrich the tourist experience, modern facilities, such as night clubs and luxurious Mongol gers, have been established. Every July or August when flowers are in full bloom and sheep and horses are in their best condition, a tourism festival called Nadam Fair is held in Gegentala Grassland. Nadam Fair means entertainment and amusement in Mongolian. It is a traditional grand meeting and also an annual gala event for the local. This period is also a favorable season for travel.
| | |
| --- | --- |
| Ao Bao | Luxury tents on Gegentala Grassland |
How to get to Gegentala Grassland
Take a bus from Hohhot Long-distance Bus Station to Wulanhua and then take a local car to the grassland.
| | |
| --- | --- |
| Entrance Fee | CNY 10 |
| Opening Hours | 8:00 - 18:00 |
Having visited many historic sites and climbed several famous mountains, are you eager to experience grassland life? Thus Xilamuren Grassland should be a good choice!

Lying about ninety kilometers (about 56 miles) north of Hohhot, Xilamuren Grassland is the first grassland tourist attraction opened in Hohhot. Xilamuren means 'yellow water' in Mongolian.

The best time to visit it is in summer and autumn. At this time of year, the pleasant climate, the blue sky and white clouds, the rolling grass, the wandering flocks and herds, the passionate herdsmen and their Mongolian food will undoubtedly leave you with a deep impression. During the Nadam Festival held every summer, tourists can enjoy a series of different activities, including camel riding, horse racing, wrestling, archery, a camp fire party and singing and dancing. You can even take part in some of the competitions that you are interested in. A big surprise is probably waiting for you!
| | |
| --- | --- |
| Xilamuren Grassland, Hohhot | A tent on Xilamuren Grassland |
Moreover, on Xilamuren Grassland, there is a Lama Temple built in the Qing Dynasty (1644-1911). It is Puhui Temple which should better not be missed on your trip. Originally it was the temporary palace for the sixth Xilituzhao living Buddha. Now it is a complex of three halls with carved ceilings and painted beams. The beautiful Xilamuren River surrounds the temple, presenting a peaceful and harmonious atmosphere.
How to get to Xilamuren Grassland
1. Take a bus from Hohhot Long-distance Bus Station to Xilamuren Grassland at 8:30am.
2. Take a bus from Hohhot Long-distance Bus Station to Zhaohe and then inform the driver to drop you off at the grassland.
| | |
| --- | --- |
| Entrance Fee | CNY 40 |
| Opening Hours | All day |