Hohhot Attractions - Things to Do
Top Things to Do

Dazhao Temple

Gegentala Grassland

Xilamuren Grassland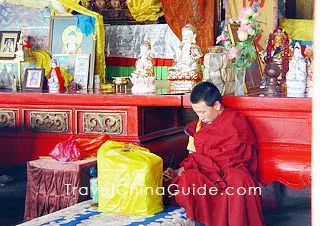 A lama in Dazhao Temple
A famous historical and cultural city along the north boundary, Hohhot is home to more than 50 temples. Also, as a pearl of grassland, the natural surrounding of the city is particularly amazing.

Dazhao Temple
- Dazhao Temple is in the old city of Hohhot. This is the earliest temple in Hohhot with a history of over 400 years. The temple is entirely patterned after Chinese temples except for the main hall, which is patterned after a Tibetan Lama temple. In the middle of the Buddha hall sits a silver Buddha statute, which provides Dazhao Temple with its alternative name of Silver Buddha Temple.

Gegentala Grassland -
Gegentala Grassland is 145 kilometers (90miles) from Hohhot. Gegentala Grassland means summer camp or a resort from the heat in Mongolian. The travel resort is near where princes used to live. The Hohhot-Xilinhaote provincial special line reaches Gegentala directly in 3.5 hours. Tourists can enjoy the beautiful scenery of grassland, the hospitality of herdsmen and the experience of camel riding, horse racing, archery, wrestling, etc. As a 4A class tourism spot, Gegentala Grassland tourism center has been well developed with accommodation gers, restaurants and entertainment centers.

Xilamuren Grassland
- Xilamuren Grassland is a typical altiplano prairie, with exuberant grass and vigorous wildflowers in summer and autumn. Situated 100 kilometers (62miles) from Hohhot, the grassland is also known as Zhaohe because of its Lama Temple-Puhui Temple. Behind Puhui Temple flows Xilamuren River, yellow river in Mongolian. Tourists can go across the bridge to Abinlebao Hill to admire the boundless prairie.
| | |
| --- | --- |
| Aobao | Zhaojun Museum |
Aobao, a stone pile, was originally a land mark in the boundless grassland. As the grassland was far away from mountains, people gradually began to regard aobao as a mountain where they could worship gods. Such worship ceremonies can last several days and are also used as an opportunity for young people to date. The famous folk song Date at aobao may be a product of this custom. It is also said that if you pick up a stone and walk around aobao three times in a clockwise direction, make a wish, and then put the stone back at aobao, your wish will be fulfilled.

Zhaojun Museum

Five-Pagoda Temple

Ten Thousand Huayan Scriptures Pagoda

Xilituzhao Palace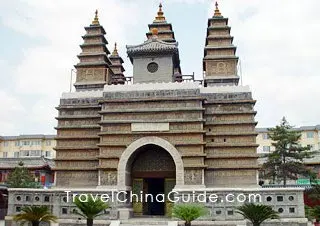 Five Pagoda Temple
Zhaojun Museum is one of the eight major sights in Hohhot. It is located near Hei He River, 9km (5.59 miles) from Hohhot. Zhaojun was one of the four ancient belles. She was married to the King of Hun by the Han Emperor for political reasons. Zhaojun Tomb in the museum is also known as Green Tomb since story has it that every autumn the grass on the tomb remains lush while all the rest dies with the season. The scenery surrounding the tomb varies from morning to evening, adding a touch of mystery to its beauty.
For those interested in history, the Inner Mongolia Museum would be a good place to visit. Located at East Xinhua Street, this museum covers an area of 5, 000 square meters (53, 821 square feet). The collection here has distinctive ethnic and local features. Cultural relics of Hun, Donghu, Wuhuan, Xianbei, Turki, Qidan, Nvzhen, Dangxiang and Mongolian nationalities have a large share in the total collection. Rare treasures include crown decorations of Hun kings, headgear of Xianbei, etc.
Wanbu Huayanjing Pagoda , Five-Pagoda Temple known as Wuta Si or JingangZuo Sheli Baota and Xilituzhao Palace the largest Lama temple in Hohhot are also among the most popular Buddhism resorts in that city.
- Last updated on Apr. 12, 2021 -
Questions & Answers on Hohhot Attractions
Asked by Javed | Oct. 27, 2014 10:44

Reply
Can we travel to Hohhot with Chinese tourist visa or should we apply for some specific visa?
Answers (1)
Answered by David from UKRAINE | Oct. 28, 2014 21:31

3

0

Reply
Only your tourist visa is enough to tour there. No other special pass is needed. Take it easy!
Asked by chele from PHILIPPINES | Apr. 30, 2014 21:59

Reply
hi . i will be travelling to inner mongolia in mid to end of May, what will be the weather by that time?
thank you.
Answers (2)
Answered by Lynn from SINGAPORE | May. 08, 2014 02:56

3

2

Reply
The average temperature is around 12 to 25C in the end of May. The temperature difference is so big. Most of the days will be cloudy.
Currently, it is still so early to tell the exact weather in this month.
Answered by Chele from PHIL | May. 08, 2014 21:10

0

0

Reply
Thank you for your reply.
Asked by Jessica from SINGAPORE | Mar. 08, 2014 04:04

Reply
Inner Mongolia Grassland
We intend to travel to the grassland of Inner Mongolia during the first week of October. One of my friends are concerned that the grassland will not be green like in summer.
Please advise whether the grassland will still be green during first week of October? Also, how will the day and night temperature like?
Thanks.
Answers (1)
Answered by Poppy from USA | Mar. 09, 2014 01:10

1

1

Reply
Your friends are right. The grasslands will turn to golden in around Oct, but it is still beautiful.
If you want to enjoy the green grassland, the best time is around July to August.
In my opinion, the autumn scenery on the grassland is not worse than the one in summer time.
The Innor Mongolia covers a large area and the temperature is different for different places. For instance, the Xilingol grassland has temperature around 0 to 10C. Which part do you want to go?
Asked by schoy from M'SIA | Sep. 27, 2013 20:53

Reply
I'll be going to visit inner mongolia in March 2014.Can I still able to see grassland and what is the weather like at that time.
can someone help me. Thank you
Answers (1)
Answered by Janet from USA | Sep. 27, 2013 21:10

2

1

Reply
As I know, it will be snow cold in March there and there is snowfall in some areas, so you may be unable to see the grassland. It is suggested to take along winter clothes or thick sweater plus thick jacket.