Hohhot Nightlife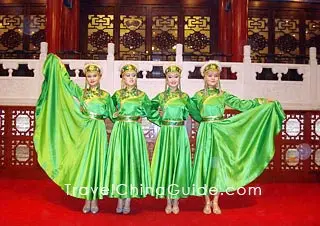 Mongolian dance show

Entertainment in Hohhot is colorful. Like in any modern cities, nightclubs and amusement parks can provide trendy fun. However, as an ethnic-featured city, Hohhot has its own charms. In some night spots and theaters, there are wonderful Mongolian song and dance shows. The most thrilling part of all is that you can demonstrate your sportsmanship by joining the locals, taking part in camel race, horse race, wrestling, archery or dance.

The most romantic would be to watch folk music and dance performance, to taste shouba rou (the boiled mutton eaten with hands), to take part in bonfire party and to live in a ger in Gegentala or Xilamuren grasslands. For stargazers, the grasslands are an ideal place. You can watch the clear night sky in peaceful surrounding free from light and particulate pollution, so you have great visibility.

The Inner Mongolia Horse-racing track, located at Hulun Bei Road, is one of the largest horse-racing tracks in Asia. You can enjoy polo race, steeplechase, horsemanship and other interesting events here. The operation hours are from 7:00 to 21:00. You can get there by bus No. 24.

If you like to appreciate acrobatics or folk arts shows two troupes that have gained national awards and have their own repertoires are Inner Mongolia Acrobatics Troupe (No.93 Xilin Bei Road) and Inner Mongolia Nationality Music & Dance Opera Troupe (No.29 Tongdao Bei Road).

Besides the horse-racing track mentioned above if you want to demonstrate your abilities and challenge the local experts you can visit the local sports gyms:
Hohhot People's Gymnasium
Address: Gongyuan Dong Road
Inner Mongolia Gymnasium
Address: Xinhua Street

For a more relaxing evening you can go to a cinema and watch a movie with the locals: cinemas like Hohhot Dian Ying Gong (Cinema Palace) located at Xincheng West Street, Showroom of Inner Mongolia Film Producer in Xinjian East Street, Hohhot Film Distribution and Projecting Company in Xincheng South Street and Hohhot Railway Workers' Cultural Palace on Xilin North Road.

In luxury hotels like Inner Mongolia Hotel located at No. 31, Wulanchabu West Road, Xin Cheng Hotel (5-star) located at No. 40, Hulun South Road, Phoenix Hotel Inner Mongolia, fashionable bars and nightclubs are available. Shuihua Dao, a bar, located on Wulanchabu Dong Road is where the local youths go.
- Last updated on Jul. 24, 2019 -