Shanxi Travel Guide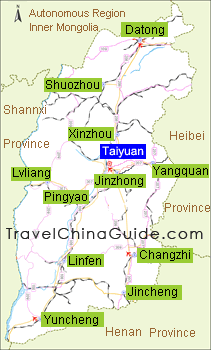 Shanxi Province got its name due to its location to the west of Taihang Mountain. It neighbored on Hebei, Henan, Shaanxi and Inner Mongolia & Autonomous Region. It is located to the east of the Yellow River, and is also known as Hedong. The area belonged to Jin State in Spring and Autumn Period, so it is abbreviated in Jin. The province occupies an area of 156,000 square kilometers (about 60,000 square miles) and has a population of over 32 million, including its minority ethnic population. Its capital is Taiyuan City.

When to Go
Being at a high altitude, Shanxi Province has a cold and dry climate and has an annual rainfall of between 400-600 millimeters. The province is also frequently plagued by sandstorms, especially in the spring, so it is often useful to bring along both sunglasses and a hat when visiting. Generally speaking, the province's climate is the best between May and October.



Cities in Shanxi

History
Shanxi is one of the birth places of Chinese civilizations with a long history and traditional culture. As early as one hundred million years ago, the ancestors of the Chinese lived and propagated in this region. Legend tells us that the Yellow Emperor, founder of the Chinese nation, once lived here for a certain period. Today, many Neolithic sites from that period can still be seen dotted across the vast expanse of the province.

What to See
Shanxi is endowed with an abundance of cultural sites from its long history. Most of the ancient structures were built before the Liao and Song Dynasties. So it is the reason why the place is often called the 'Chinese Ancient Architecture Museum'. The more obvious of these include: the Buddhist wonder of the Yungang Grottoes in Datong City, the Ancient City of Pingyao which was listed as a World Cultural Heritage site by UNESCO in 1997, the oldest and tallest ancient wooden pagoda in China, the Wooden Pagoda of Yingxian County, the remote Shuanglin Temple and Jinci Temple, and a rare multi-functional fortress Zhangbi Ancient Fortress, which are well worth the long journeys for the visitors.
Of course, there are a number of natural magnificent and beautiful places that can also be seen in Shanxi. The most famous of them include Mount Wutai with the longest and most prestigious history in the four most well-known Buddhist holy lands of China, the whistling rage of the Yellow River's Kettle Spout waterfalls (Hukou Waterfalls) and one of the Five Sacred Mountains in China - Mt. Hengshan.

Recommended Shanxi Tour:
Pingyao Ancient Town Tour: 3 days to visit Qiao's Compound, Ming Qing Street, Temple of City God, and Ri Sheng Chang Financial House
More China Tour Packages
- Last modified on May. 06, 2019 -
Questions & Answers on Shanxi Travel
Asked by Patrick from SINGAPORE | May. 03, 2019 07:15

Reply
How do I go to Shanxi from Hangzhou ?
Answers (1)
Answered by James from AUSTRALIA | May. 06, 2019 19:41

0

0

Reply
Which city do you go? If you plan to go to Datong, you can take a normal speed train, which takes about 24-26 hours. You can also take a plane but there is no direct flight and you need to transfer in other cities.
Asked by H. BAN from USA | Apr. 26, 2016 14:34

Reply
What is the admission ticket $ for foreigners to Hanging Temple Hengshan?
Answers (1)
Answered by Cheryl from UNITED KINGDOM | Apr. 27, 2016 03:26

0

1

Reply
You need to pay CNY 130 (about 20 dollars) per person from May to October; CNY 125 (about 19 dollars) per person from November to February.
Asked by H. BAN from USA | Apr. 26, 2016 14:29

Reply
Is The Hanging Temple expected to open for tourists to walk the wooden walkways from May 15, 2016?
Answers (1)
Answered by Lee from GERMANY | Apr. 27, 2016 03:22

0

1

Reply
Yes, it is very likely that the temple will open by May 1, 2016. Let's pay attention to the latest news! :)
Asked by Nazim from PAKISTAN | Mar. 23, 2016 09:23

Reply
Hi I want to go from qingzhou to Taiyuan Shanxi by train.
please any one told me about bullet train .. I have no idea .
Answers (1)
Answered by Zoe from USA | Mar. 23, 2016 22:24

0

1

Reply
High-speed train service is not available between these two places. There are only two normal speed trains scheduled at 21:40 and 22:44 from Qingzhou Railway Station. The duration is 9 to 11 hours. And the ticket fare of soft sleeper us CNY263 and hard sleeper costs CNY174.
Asked by Max from AUSTRALIA | Jan. 04, 2016 04:02

Reply
Strictly speaking, what two or three areas are the most appealing in Shanxi?
can be easily travelled to (flight, train or bus)?
Thanks
Answers (1)
Answered by Dorris from FINLAND | Jan. 06, 2016 03:08

2

1

Reply
As I know, Pingyao Old City, Yungang Grottoes & Hanging Monastery win high popularity among tourists.
Pingyao can be arrived by train easily. Yungang Grottoes and Hanging monastery are in Datong and you can get there by train first; the former one then can be reached by city bus, the later can be reached by coach and local mini bus. Have a nice journey!