Taiyuan Travel Guide
Taiyuan Facts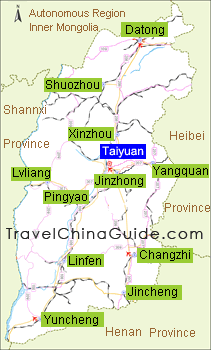 Chinese Name: 太原 (tài yuán)
Population: 4,461,900
Area: 6,909 square kilometers (2668 square miles)
Location: in the central area of Shanxi Province, north China
Administrative Division: 6 districts (Xiaodian, Yingze, Xinghualing, Jiancaoping, Wanbailin, Jinyuan); 3 counties (Qingxu, Yangqu, Loufan); 1 county-level city (Gujiao)
Area Code: 0351
Zip Code: 030000
GDP (2019): CNY 402.851 billion (USD 58.393 billion)

One of China's Main Industrial Cities with Many Historical Sites
Bounded on three sides by mountains, Taiyuan is the capital of Shanxi Province and one of the most important energy and industrial bases in China. Comparing Taiyuan with any ancient capital in China, it is not inferior. With a history of more than 2,500 years, Taiyuan once was an important political, military, economic, and cultural center in ancient North China.

It boasts abundant tourism resources varying from famous mountains to grottoes, temples, lakes, caves, ancient buildings and relics. Among them, the statues of the maid of the Song Dynasty (960 - 1279) in the Jinci Temple show different postures vividly; the grottoes and statues of the Sui and Tang Dynasties (581 - 907) in the Tianlong Mountain and the two pagodas standing at Yongyou Temple have always attracted visitors' attention. In the evening, you can go to Liu Alley which has the largest night market in northern China, to taste local delicacies and buy special products. It is also very convenient to transfer to other hot Shanxi tourism spots from Taiyuan such as Mount Wutai, Yungang Grottoes, Mt. Taihang, Ancient City of Pingyao and Hukou Waterfalls.
The city has a wealth of attractions and notably among these is the Jinci Temple. This is the city's most attractive temple although the Shuangta Si (Twin-Pagoda Temple) has become a symbol of the city on account of its unique architecture. Another major attraction is the Tianlong Shan Stone Caves where magnificent sculptures dating from the Tang Dynasty (618-907) may be seen.
| | |
| --- | --- |
| Downtown Area of Taiyuan | Twin Pagoda Temple |
Recommended Tours
Hiking Tour: 4 Itinerarys for hiking around Taiyuan city
Golf Tour: 7 Days Golf Tour of Taiyuan - Pingyao - Zhengzhou - Luoyang - Zhengzhou
Taiyuan benefits from convenient public transport systems as the city is the provincial transportation hub. Accommodation facilities have become more and more advanced over recent years and range from 5-star hotels to a selection of comfortable guest houses.
Taiyuan Travel Tips

Festival: Initiated in 1991, Shanxi Taiyuan International Folk Arts Festival is held annually in September, and every other year in the city. Groups from Russia, Korea, Japan, Singapore and Inner Mongolia attend the festival and perform for audiences. Within the festival, an exhibition of fine arts, painting, paper-cutting, sculpture, drama, acrobatic and the culture of costume will open your eyes to a wealth of international folk culture.



Local products: The gourmand should be aware that Shanxi noodles are highly reputed all over the country, as well as the local vinegar. Other local delicacies are the Tou Nao, the Steamed Dumpling, Sausages and Mutton Soup. To accompany these wholesome foods there are Fen Jiu (Fen Wine) and Zhuye Qing (Zhuye Qing Wine). As well as its cuisine the city is noted for products such as finely crafted lacquer ware.



Local Highlights: It has a 2500-year history and in ancient times was an important military town. Now it is one of China's heavy industrial cities and accounts for more than half the national coal mining output. While the local emphasis is upon heavy industry certain aspects of city life such as cultural development has suffered from some neglect. This could be a problem and needs action to be taken.
| | |
| --- | --- |
| Lantern Festival in Taiyuan | Folk Performance on Lantern Festival |

Further Reading:

Dining

Shopping & Nightlife
- Last updated on Jul. 11, 2023 -
Questions & Answers on Taiyuan Travel
Asked by Eldar from KAZAKHSTAN | Jul. 11, 2023 09:05

Reply
Do you know where to find halal kitchen in Taiyuan?
Help to find halal kitchen
Answers (1)
Answered by Mare | Jul. 11, 2023 20:13

0

0

Reply
Most restaurants in Nanhai Street and Jiucheng Street are Halal. Enjoy yourself~
Asked by Sunil from INDIA | May. 07, 2023 05:16

Reply
Does any Indian restaurant or Indian cuisine in Taiyuan city?
Does any Indian restaurant or Indian cuisine in Taiyuan city?
Answers (1)
Answered by Rita | May. 07, 2023 20:59

0

0

Reply
Yes, there is one called Kari Poona and it is located at No. 19 Jixiang Road, Wanbolin District, Taiyuan City.
Asked by Karen from USA | Apr. 20, 2023 20:05

Reply
How to get to Taiyuan's speed railroad station from Taiyuan's international airport?
Answers (1)
Answered by Zoe | Apr. 20, 2023 22:37

0

0

Reply
You can take airport bus line 1 or city bus 201 or G4 from airport to the railway station directly.
Asked by Rev.Vimutti from SRI LANKA | Feb. 25, 2020 06:29

Reply
Taiyuan airport to Wutaishan
Arriving Taiyuan airport at 16:15,any direct transport to Wutaishan?
Answers (1)
Answered by Eva from USA | Feb. 27, 2020 18:01

0

0

Reply
There is no direct public transportation between the airport and Wutaishan. Upon landing, you are suggested to take a shuttle bus to get to Taiyuan East Coach Station.
Then take the direct bus to the scenic area.
However, the bus schedules are from 07:00 to 15:30 with the frequency of 30-60 minutes. You are suggested to stay one night in Taiyuan downtown area and start off in the next early morning.
Asked by Carey Mossop from UNITED STATES | Apr. 16, 2019 19:37

Reply
Are Tianlongshan Grottoes Open?
Wikitravel has an update of October 2018 saying that they are closed for renovations and hope to open by May 2019. I can't find any other info on the web. The latest Trip Advisor review is dated 2014. Does anyone know how to find out if they are open?

Thanks
Answers (1)
Answered by Adela from CANADA | Apr. 21, 2019 23:01

0

0

Reply
Hi, Carey, this scenic area opens nowadays.