Taiyuan Travel Guide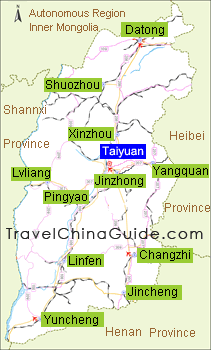 Taiyuan, the capital of Shanxi Province, is bounded on three sides by mountains. It has a 2500-year history and in ancient times was an important military town. Now it is one of China's heavy industrial cities and accounts for more than half the national coal mining output.
The city also has a wealth of attractions and notably among these is the Jinci Temple. This is the city's most attractive temple although the Shuangta Si (Twin-Pagoda Temple) has become a symbol of the city on account of its unique architecture. Another major attraction is the Tianlong Shan Stone Caves where magnificent sculptures dating from the Tang Dynasty (618-907) may be seen.
Taiyuan benefits from convenient public transport systems as the city is the provincial transportation hub. Accommodation facilities have become more and more advanced over recent years and range from 5-star hotels to a selection of comfortable guest houses.
The gourmand should be aware that Shanxi noodles are highly reputed all over the country, as well as the local vinegar. Other local delicacies are the Tou Nao, the Steamed Dumpling, Sausages and Mutton Soup. To accompany these wholesome foods there are Fen Jiu (Fen Wine) and Zhuye Qing (Zhuye Qing Wine). As well as its cuisine the city is noted for products such as finely crafted lacquer ware.

While the local emphasis is upon heavy industry certain aspects of city life such as cultural development has suffered from some neglect. This could be a problem and needs action to be taken.
| | |
| --- | --- |
| Downtown Area of Taiyuan | Twin Pagoda Temple |

Recommended Tours:
China Experience & Exploration
: 24 days to major cities in China, such as Beijing, Datong, Taiyuan, Pingyao, Xian, Chengdu, Leshan, Emei.
Golf Tour
: 7 Days Golf Tour of Taiyuan - Pingyao - Zhengzhou - Luoyang - Zhengzhou

Festival
Shanxi Taiyuan International Folk Arts Festival
Initiated in 1991, the festival is held annually in September, and every other year in Taiyuan. Groups from Russia, Korea, Japan, Singapore and Inner Mongolia attend the festival and perform for audiences. Within the festival, an exhibition of fine arts, painting, paper-cutting, sculpture, drama, acrobatic and the culture of costume will open your eyes to a wealth of international folk culture.
| | |
| --- | --- |
| Lantern Festival in Taiyuan | Folk Performance on Lantern Festival |

Fast Facts

Dialing Number: 0351

Zip Code: 030000

Post Office
Yingze Jie Post Office: No. 213, Yingze Dajie
Yingze Branch of China Post Office: No. 66, Yingze Xi Dajie

Bank: Bank of China Shanxi Branch is located at No. 288, Yingze Dajie
Universities
Shanxi University
Location: No. 508, Wucheng Lu
Shanxi University of Finance and Economics
Location: No. 696, Wucheng Lu

Useful Numbers
Tourism Complaint Number: 0351-4031616
-