Taiyuan City Pictures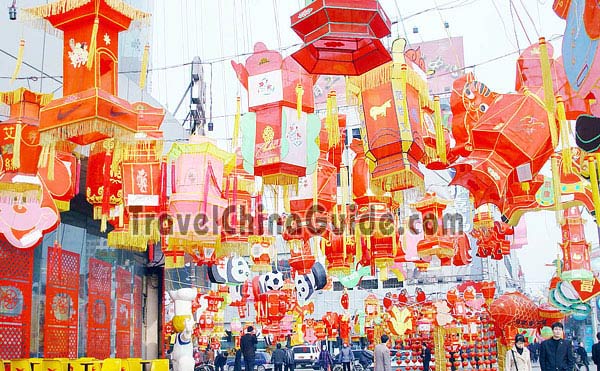 The street was in a festive mood with decorations of beautiful lanterns, Chinese Lantern Festival, Taiyuan.
Taiyuan is the capital city of Shanxi Province, China. With a long history and lots of historic celebrities, the city was built in 497BC and once was the capital of Zhao State in the Spring and Autumn Period (770BC-476BC). It was named Jinyang or Bingzhou in the ancient times, which was a very important city in North China renowned for business and handicraft industry.
- Last modified on May. 06, 2017 -
Questions & Answers on Taiyuan City Pictures
Asked by Denis YOKA from DRC | Apr. 30, 2014 10:02

Reply
Is possible to move from taiyuan to macao? by tram or plane? how much that cost?
Answers (1)
Answered by Liana from SINGAPORE | May. 03, 2014 20:16

0

0

Reply
Sure. You are advised to fly there directly. As the air ticket fare varies from time to time, it is hard to tell you the exact cost without your departure date. Though, you can search the fee for due time in the FLIGHT page at this website! BTW, I remember the direct plane is NX015, but it doesn't operate daily!
Asked by Ms.Marg from SINGAPORE | Aug. 25, 2009 07:45

Reply
We will be going to Beijing beginning of Sept, then to Datong, Wutai Shan, Taiyuan, Luoyang and Xi'an over the next 2 weeks before returning to Beijing end Sept. Do we need clothes for both hot and cold weather, as well as be prepared for rain at this time of the year?
Answers (1)
Answered by Mr.John | Aug. 25, 2009 21:38

0

0

Reply
Not too much rain during this period. It is enough to take a light coat with you, for it is not getting cold in Sep. Good Luck~
Asked by Ms.Sandi from CANADA | Jun. 15, 2009 13:20

Reply
I want to go to Pingyao (or Taiyuan) from Zhengzhou, preferrably in the evening on s Thursday. What times do the buses leave from Zhengzhou after 5pm (if possible)? How much is the ticket? What bus station do I go to? thank you
Answers (2)
Answered by Ms.Evelyn from CHINA | Jun. 15, 2009 21:45

0

0

Reply
You can take the bus at Zhengzhou Long Distance Bus Center Southern Station, situated opposite Zhengzhou Railway Station. The buses leave at 10:00, 11:20, 12:40, 15:00, 19:50, 20:30 and 22:30. The ticket is about 139 RMB. The departure time is only for your reference. You may go to ask for it and purchase ticket in advance.
Answered by Ms.Sandi from CANADA | Jun. 16, 2009 00:27

0

0

Reply
Thank you, Evelyn! Do you know approximately how long the evening buses will take? I think I may try for either the 19:50, 20:30, or 22:50 bus.