Chunyang Palace Pictures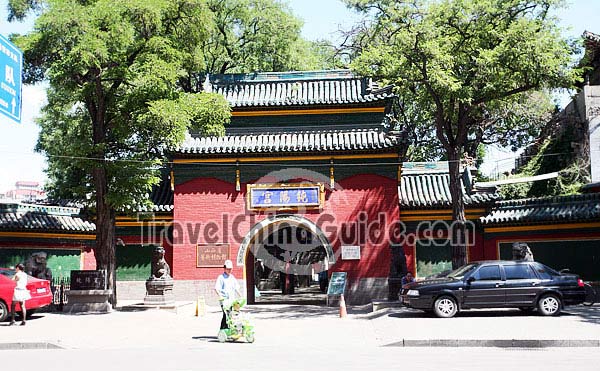 The main gate of Chunyang Palace in Taiyuan, Shanxi
Also named Lúzu Temple, Chunyang Palace, the second part of Shanxi Provincial Museum, was built to sacrifice Taoist Lv Dongbing of the Tang Dynasty (618 - 907) originally. It is a unique Taoist architectural complex, made up of five courtyards with pavilions and towers from outside to inside. Now, the essence of the cultural relics of Shanxi are exhibited there.
- Last modified on Dec. 14, 2017 -
Questions & Answers on Chunyang Palace Pictures
Asked by Ms.Helen from MALAYSIA | Dec. 05, 2009 03:59

Reply
How far is Beijing from Tianjin?
How far is Beijing from Tianjin? Is there any subway from Tianjin to Beijing and how long is the journey? How much is the fare? Besides, I heard of The Hanging Temple somewhere in Datong, how to get there from Tianjin?
Answers (1)
Answered by Mr.Sandy | Dec. 05, 2009 21:50

10

0

Reply
It is about 130km from Beijing to Tianjin. No subway, but high speed train which can take you from one place to the other in half a hour. The ticket fare is 58/69RMB. Yes, the Hanging Temple is in Datong, on the food of Hengshan Mountian. You can take train from Tianjin Railway Station at 21:05. The journey takes 8 hours. To be faster, you can get to Tongsha Bus Station in Tianjin to take buses to Datong. About 5 hour for the trip.
Asked by Mr.chan from HONGKONG | Sep. 01, 2009 14:30

Reply
I shall be going to Datong in mid- October, and afterwards, would like to visit the Qiao Family Compound on my way to Pingyao. What is the best way, by bus or by train? Your help will be appreciated,

Stephen Chan
Answers (1)
Answered by Mr.Leo | Sep. 02, 2009 21:31

8

0

Reply
The best and easiest way from Pingyao to Qiao Family Compound is to take a minibus or hire a private car to Qi County at Pingyao Railway Station. Qiao Family Compound is located at Qiaojiabu Village in Qi County.
Asked by Mr.Roy from CANADA | May. 26, 2009 04:53

Reply
dear which bus station has service to Datong? which times? where located? closed to Metro Station?
Answers (1)
Answered by Mr.Qi | May. 29, 2009 04:43

3

0

Reply
Zhaogongkou and Liulijiao bus station of Beijing has the bus services to Datong. Time at Liuliqiao :7:10 7:40 8:20 9:00 9:40 10:20 11:00 12:00 13:20 14:40; at Zhaogongkou:14:30 14:30 15:00 16:00 08:30 08:30 14:00 15:00 16:00. You can see the station info in the above article. Good Luck!