Shanxi - Taiyuan Hiking Tours
2 Days City Tour of Taiyuan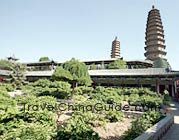 Taiyuan city is easily accessible by air, railway and highway.

The airport is only 15 kilometers away from the city center, and the airport shuttle bus can be taken at a price of CNY10.00 net, the terminal is CAAC Booking Office which is located at No. 158 Yingze Street. Except for the shuttle bus, there are two other public buses available for which the terminal is the railway station, bus No 201 with the price at CNY2.00 and bus No. 901 with the price at CNY3.00. The taxi fee from the airport to the city center is about CNY50.00 net

The train station is near Northern Jianshe Road, many buses such as No. 1, No. 6, No. 10, No. 21, No. 102 and No. 601 can reach there. Most buses within city cost at CNY1.00, if you'd like to take a taxi, the stating price is CNY7.00 net for 4 kilometers, and the additional cost of CNY1.00 net per kilometer is needed afterward

You may find all different level of accommodations in this city from hostel to 5 star hotels. And it is better to book online in advance as the price is lower than rack rate

Now on the first day, we would like to start the tour by visiting the Twin Pagoda Temple. The temple is located about 4 kilometers southeast of the city, can be reached by bus No. 812 and bus No. 820. The admission fee of that is CNY20.00 net, opens from 08:00 to 17:30. The Twin Pagoda Temple, also named Yongzuo Temple, is the landmark building of Taiyuan, the building was originally built in Ming dynasty, it was named because of two twin temples, both high to 50 meters, the old one is situated at the southeast while the newer one is situated at the northwest. The best time to visit this temple is at the end of April, when the peony are blooming vigorously. Then, we will head for Chunyang Palace, located at northwest of Wu Yi Square, you may reach there by bus No. 4. The palace was originally built in Yuan Dynasty, worship a mythological figure named Lu Dongbin. Now the palace belongs to a part of Shanxi Provincial museum, it has 21 exhibition halls display historical relics on pottery, bronze ware, coin and calligraphy and so on. At the last of this day, we will pay for a visit to China Coal Museum. It is located at No. 2, Western Ying Ze street, people can reach there by bus No. 5 or No. 22. Been the only coal museum in China, it shows the developing process of coal mining technique from ancient time to today. The price for the museum is CNY60.00 net per person, and it opens from 08:00 to 12:00 and 14:30 to 18:00.

On the second day, visit Duo Fu Temple, Jingyin Temple and Temple of Grand Master Dou. Duo Fu Temple is situated 24 kilometers northwest of Taiyuan, can be reached by bus No. 835 or No. 15. The entrance fee is CNY5.00 net. The temple is originally built in Tang Dynasty, ruined in Song and rebuilt in Ming Dynasty. The most buildings you can see now are all relics of Ming. The temple is famous for its scenery of red leaves all over the mountains. Jingyin Temple, also named Big Buddha Temple, is situated at 20 kilometer northwest of Taiyuan, you can reach there by taking bus No. 8, the price for this temple is CNY8.00 net, opens from 09:00 to 18:00. For the place where the temple was built, it was recorded that a cave was formed here because of landslide, and within the cave there is a mound which is 9 meters high, shaped like a Buddha. Then it was regarded as a pure land of Buddhism and a temple was built accordingly. The Temple of Grand Master Dou is also located at 20 kilometers northwest of Taiyuan, can be reached by bus No. 452 and No. 835, the admission fee is CNY10.00 net, opens from 08:00 to 17:00. This temple was built for memorialize Grand Master Dou of Jin Dynasty. You may have a relax tour here as the conclusion of today.