Private Itineraries
Unique Services
How to Book?
Inquiry
Get a quote
Free changes
Payment
Confirmation
Endorsed by
New York Times
The New York Times Travel Supplement has named our company as being in their opinion a large and reliable Chinese travel agency. Details...
Luxury China Tours
Our luxury China Tour packages 2018 are specially devised for those distinguished guests with the most superior arrangements of hotels, meals, cars and so on. Our highest and elaborate service quality ensures the most luxury and comfortable China vacation. It is the best of the best.
Features of our Luxury China Tours
Among travel itineraries tailored by TravelChinaGuide, luxury China travel belongs to deluxe series, and all aspects of its arrangements will bring the feeling of dignity and luxury to you. Compared to the regular itineraries, our private luxury China tours have the following advantages.
Itinerary Highlights
Beijing: We arrange one night stay in a hotel of Beijing WTown at the foot of the Great Wall, where you can experience the traditional culture and customs of Gubei Water Town, and appreciate the amazing night views of Simatai Great Wall. Facing the rising sun, you could hike along the Great Wall in the early morning, which will enable you to admire the grand military project's magnificence and majesty at leisure for there are few visitors at this moment. In the Temple of Heaven, you will have a Tai Chi class for one hour to experience the Chinese culture. If you travel with children, we can arrange a special activity for your kids to learn how to make a Chinese kite, and you can fly it with your kids to enjoy the family happiness.
Chengdu: You will have a unique opportunity to get close to the giant pandas and take photos with them. If especially interested in the pandas, you can join in the Panda Volunteer Program for one day.
Shanghai: We will arrange you a private side trip to Nanxun Water Town, an elegant ancient town rich in culture resources and unique architecture, but much less commercial atmosphere.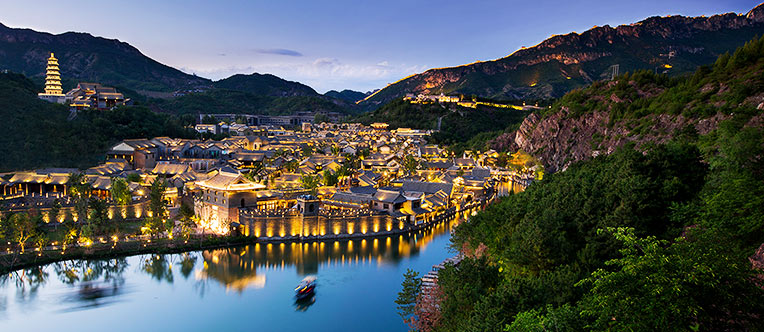 Amazing night view of the Gubei Water Town at the foot of the Simatai Great Wall
Accommodation
We arrange the high-end internationally managed 5-star hotels with good locations and fine views of each city.
| | |
| --- | --- |
| Beijing | The Peninsula Palace - Wangfujing area |
| Xian | Sofitel Legend Peoples Grand Hotel - Downtown Xian |
| Guilin | Shangri-La Hotel - river view room |
| Yangshuo | Banyan Tree - the best in Yangshuo |
| Shanghai | The Peninsula - the Bund area |
| Yangtze Cruise | Yangzi Explorer - the most luxurious ship on Yangtze River |
Banyan Tree, the best hotel in Yangshuo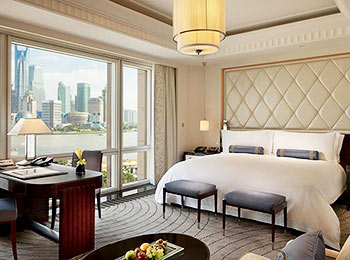 We arrange the Peninsula in Shanghai
Meals
We select the distinctive restaurants for you and you choose the favorite dishes for yourself. No matter you come from USA, UK, Australia, Canada or other areas of the world, you are able to find your own right foods. It is not merely an elegant dining arrangement, but a cultural experience of the city and its food.
Vehicles
For super deluxe China tour, we arrange Audi, Benz or other vehicles of this level.
Entertainments
We arrange cultural performances in some cities. VIP seats with the best viewing point will provide you a memorable experience.
The above are our unique arrangements for your private vacation. All of our Luxury Tours can be customized according to your preference. Tell us any of your requirements, we will do the rest and leave no regrets to you.
Tailor My Trip
International Flights to China