Beijing Xian Essentials
L10: 7 Days Private Tour of Beijing - Xian
Tour Type:
Private Tour, any part of the itinerary can be customized.
Guide & Driver:
English-speaking guide, experienced driver with an air-conditioned vehicle.
Accommodation:
5-star Luxury Hotels and Super Deluxe Hotels for your choice.
Meals:
6 American breakfasts, 3 lunches, 1 dinner
Highlights:
An overnight stay at Beijing WTown to enjoy the most precipitous Simatai Great Wall.
Discover the imperial life of the ancient emperors at the Forbidden City.
2,200-year-old terracotta warriors and horses will surely amaze you.
Watch the Chinese Kung Fu Show and the Tang Dynasty Music and Dance Performance.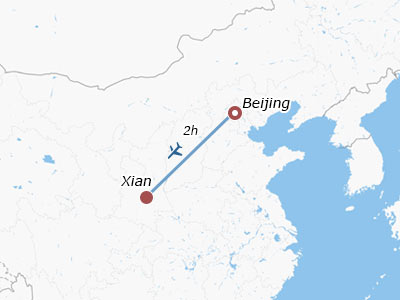 Our guide will give you a warm welcome in the arrival hall of the airport upon your arrival in Beijing today. You will get your first glimpse of this renowned oriental city on the way to the well selected hotel. The rest of your day is at your own leisure.
Dining is always an important part of travel experience. Don't miss your chance to try good and tasty local cuisine. We would like to recommend the Made in China restaurant, which is conveniently located inside the Grand Hyatt Hotel. The open-style kitchen here allows diners to see the whole cooking process through the crystal clear glass. In addition to the crispy and tender Peking Roast Duck, it also has a broad selection of traditional local dishes, including Old Beijing Cha Chiang Mein Noodles, Beggar's Chicken, Pease Pudding, and many others. Another specialty is the Goose Liver served with plum jam. This is a very popular dish and even considered by some as more delicious than French foi gras. The average cost is about CNY350-CNY400 per person for a meal. If you are interested in having dinner at this stylish restaurant, your guide can give you directions.
Forbidden City, Beijing
We will begin this one week China tour from the solemn
Tiananmen Square
, commonly known as the symbol of China. Passing through Tiananmen Tower, we will arrive at the
Forbidden City
, where the imperial family lived for more than 500 years. The stunning palaces are well preserved with crimson columns and eaves decorated with colored glaze. Besides the magnificent architecture, you will surely be amazed by the numerous treasures stored in the Treasure Galley and the Clock & Watch Hall.
After that we will take you to enjoy an extraordinary royal lunch at one of the city's most exclusive restaurants, Fangshan Restaurant in Beihai Park. This restaurant has inherited and regenerated the recipes created for the royal families of the Qing Dynasty (1644-1912AD), so it can offer food that is similar to what the emperors ate in the past. The varieties of dishes served are delicate and palatable, and the waiters around you all wear traditional Qing Dynasty attire. So dinning here will be quite a different experience.
Afterwards, our tour moves on to the
the
Temple of Heaven
, which was used by ancient emperors to worship Heaven and pray for a good harvest.
Later, our guide will accompany you to enjoy the
Chinese Kung Fu
show from seats with good views in the 5th, 6th, 11th or 12th Row.
Meals: Western buffet breakfast, Imperial lunch
Our guests at the Gubei Water Town
We start today's trip with a visit to the
Summer Palace
. As the grandest extant royal garden in China, its natural
Longevity Hill
and
Kunming Lake
, together with the man-made halls, pavilions and corridors constitute unsurpassed scenery. You will take a pleasant boat trip on the Kunming Lake to fully enjoy the landscape. Lunch today will be served with an a la carte menu
at a good local restaurant. To ensure that you enjoy real Chinese food, we select excellent restaurants for you, where you can select dishes that appeal to your taste and appetite.
After lunch, we will move on to the
National Centre for the Performing Arts
. Designed by the French architect Paul Andreu, this egg-shaped theater is a good example of modern architecture. Thereafter, let's get to the
Hutong
area, where you may immerse in the living culture of Beijing. An old-fashioned rickshaw ride through the narrow Hutong alleys is really a fun-filled experience for everyone. Would you like to relax a little this evening? If yes, we can take you to the Buffalo at Shichahai instead of driving back to the hotel. This restaurant not only has exquisite environment, but also provides western food, private home cuisine, various drinks and ice-creams. It costs about CNY200 per person for a meal, which is at your own expense. After exploring the lively night life there, please take a taxi back to the hotel.
Meals: Western buffet breakfast, A la carte lunch
Gubei Water Town
Today, let's set out for a ride to the
Gubei Water Town
nestled against the
Simatai Great Wall
in the suburb area of Beijing. After checking in at the hotel, the guide will accompany you to enjoy some leisure time exploring the quaint town. The town presents its most beautiful side at night, when red lanterns and warm lights are all lit up. The Simatai Great Wall will also be outlined by neon lights, looking like a fiery dragon crawling along the mountain ridges. If you are also interested in a night visit to the Great Wall, please tell us and we will be happy to make the reservation for you.
Meals: Western buffet breakfast
Day 5
Beijing to Xian by Air
Simatai Great Wall
Today let's explore the Simatai Great Wall, a less-renovated section revealing a beautiful wildness. We can also start off earlier between 05:00-06:00 if you want to enjoy the sunrise scene. Standing on the beacon tower, you can have an imposing view of the surrounding mountains.
Lunch is not included today. You can have your own preferred food at your guide's suggestion.
In the afternoon, you will be escorted to the airport for your flight to Xian. Upon arrival, our local guide and driver will pick you up from the airport and transfer you to the hotel.
Meals: Western buffet breakfast
Terracotta Army, Xian
A Xian tour is never complete without seeing the
Terracotta Army Museum
. Today, a morning car ride will take you to this marvelous site in suburb area. As the funeral object of Emperor Qin Shi Huang (259 BC - 210 BC), it perfectly reproduces the complete military formation of Qin troops with more than 8,000 pottery soldiers, horses, chariots lining orderly in the pits. After the visit, we will drive to the 5-star Huaqing Aegean International Hot Sprig Resort to have an a la carte lunch.
After returning to the city proper, our guide will accompany you to go sightseeing on the
City Wall
, which has been around for more than 600 years. Either riding a bike or taking a battery car can provide you exciting visiting experience. The next stop is the Small Wild Goose Pagoda, where you can admire the ancient brick building and learn about the Buddhist culture.
The Tang Dynasty Dinner Show awaits you at night, offering you not only gourmet imperial cuisines, but also fabulous singing and dancing performance of the Tang Dynasty.
Meals: Western buffet breakfast, A la carte lunch, Dinner
Day 7
Departure from Xian
After breakfast, you will be guided to visit the
Provincial History Museum
, one of the four best museums to immerse yourself in China's long history. The next stop is the
Great Mosque
.
A visit to the bustling
Muslim Quarter
is followed.
Your one week Beijing Xian tour ends here, and you will be escorted to the airport. Our guide will be on hand to assist you with the check-in procedures and see you off.
Meals: Western buffet breakfast
B-- Breakfast
L-- Lunch
D-- Dinner
Tour Prices
With Super Deluxe Hotels
2-3 travelers
4-5 travelers

$3319

$3109
With Luxury Hotels
2-3 travelers
4-5 travelers

$2169

$1969
Prices are per person in US Dollars based on double occupancy.
Any part of the itinerary e.g. tour length, activities & hotels can be tailored to your individual interests.
Price Includes
Domestic airfares
Hotel accommodation with breakfasts
A la carte lunches as itinerary specifies
Private English-speaking guides
Private drivers & air-conditioned vehicles
Entrance fees to tourist sites
Price Excludes
International airfares
Entry Visa fees
Personal expenses
Tips or gratuities for guides and drivers
Why Travel With Us
Other levels available for this itinerary:
Questions & Answers
Asked by Ximon from SINGAPORE | Jan. 12, 2020 19:45

Reply
I have the following questions below, appreciate if someone can help. Thank you.
Are there coach and/or hired car [w/driver] services from Changsha to FengHuang City, and FengHuang City to Zhangjiajie? Any information on contacts and pricing would be very much appreciated.
Answers (1)
Answered by Tracy | Jan. 12, 2020 23:47

0

0

Reply
There are buses available from Changsha to Fenghuang. The buses depart from Changsha West Bus Station, Changzhutan Bus Station and Changshan South Bus Station.

From Fenghuang to Zhangjiajie, you may also take bus from Fenghuang Long-Distance Bus Terminal. The ride takes around 3 hours.
Asked by Vivian from UNITED STATES | Dec. 04, 2019 15:32

Reply
Please tell me how to get from PEK to Double Tree by Hilton Beijing.
Do I pay cash or credit card if there is an airport bus that will get me near the Double Tree by Hilton Hotel?
Answers (3)
Answered by Bryony from AUSTRALIA | Dec. 09, 2019 17:24

0

0

Reply
Upon landing, you can take shuttle bus West Railway Station Line and get off at Guang'anmenwai Bus Stop. Then walk southeast around 300 meters to find your hotel. You are suggested to prepare some cash and pay the shuttle bus tickets.
Answered by Vivian from UNITED STATES | Dec. 10, 2019 17:11

0

0

Reply
Sorry I am a bit confused:

On the airport shuttle route map:
Airport Shuttle Bus Line 7 to Beijing West Railway Station
Peking Capital Airport - Beijing West Railway Station
Route: Guangqumen[RMB30] -- Ciqikou [RMB30] -- South T-junction of Qianmen Street[RMB30] -- Caishikou[RMB30] -- Guang'anmenwai[RMB 30] -- West Railway Station South Square (Ramp east of the roundabout) [RMB 30]

On DoubleTree Hilton website:
Take subway line 7 to Da Guan Ying Station; the hotel is only 85 meters away from exit C, a three-minute walk.

Does the Airport Shuttle Bus connect to subway line 7?
Answered by Bryony | Jan. 02, 2020 22:31

0

0

Reply
No, the shuttle bus doesn't connect to subway line 7.
Asked by Antony from NETHERLANDS | Jan. 10, 2019 12:37

Reply
Is Hong Kong considered a third country so that one could enjoy the 144 hours transfer in Beijing?
Travel Route:
JFK-BJ-HK-BJ-JFK
Thx
Answers (1)
Answered by Joanna from UNITED KINGDOM | Jan. 11, 2019 00:20

0

0

Reply
Yes, Hong Kong is considered as a third area. According to your situation, you can enjoy this policy.
Asked by Wong Lai Wan from SINGAPORE | Apr. 11, 2018 05:33

Reply
Am arriving in Beijing Capital Airport Terminal 3 on 14 Apr 18, 5.30 am.
Will be taking a connecting domestic flight at 7am, terminal 3 also.

Please advise if the timing is sufficient for the transit and how do we handle our luggages please?

If the timing is not sufficient, do advise us on the alternative action we should take now so that there will not be any unnecessary delay in our trips.

Thank you
Answers (1)
Answered by Reina from GERMANY | Apr. 16, 2018 19:53

0

0

Reply
Your time is rushing and you are suggested to check your luggage through from your first airport. If possible, I think you'd better change your plan.