Gubei Water Town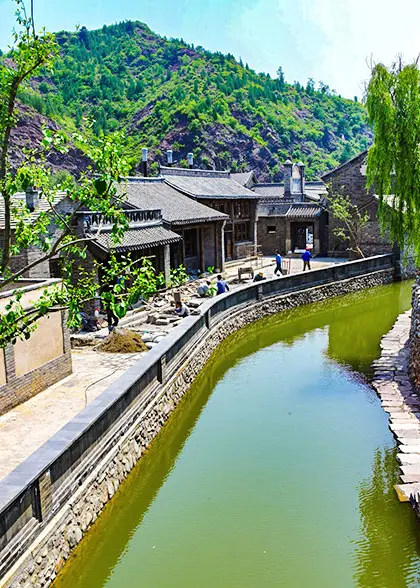 Quiet Gubei Water Town
Situated in Gubeikou Town of Miyun County in Beijing, Gubei Water Town surrounds the beautiful Mandarin Duck Lake Reservoir and leans against the
Simatai Great Wall
, the most dangerous and majestic section of the entire Great Wall. Regarded as '
Wuzhen
in Beijing', Gubei Water Town boasts a combination of mountains, water and ancient villages. The town is characterized by the northern architectural style, and the history and culture of the late
Qing Dynasty
(1644-1911) and the Republic of China (1912-1949) historic period. Most buildings are reconstructed in the traditional courtyard style. Based on five ancient villages and a water resource, this water town has developed into a large-scale sightseeing and holiday destination. Covering an area of 3.5 square miles (9 square kilometers), the holiday resort includes two scenic districts, the Gubei Water Town and the Simatai Great Wall.
What to See
This town possesses an old-fashioned simplicity and elegance. Row upon row of houses, old quartzite streets and long Hutongs show the style and features of the old town. River channels are scattered between streets; houses near the river are bathed in sunlight. When night falls, Gubei Water Town presents a tranquil and cozy atmosphere. Some spots of the attraction are open to the public, such as the Blocks of the Republic of China, the Old Camp Site, the Water Streets Region, the Wolongbao Folk Culture Region, the Old Village at Tang River Region, and the Local Accommodation Region.
Things to Do
Besides sightseeing, visitors can experience unique local customs and participate in native activities. If you like Chinese wine, the Sima Liquor Distillery may be a nice choice for a visit. You can smell the aroma of the wine from afar before you reach there. You can also witness the process of wine making and learn to cook dishes with vinasse (the residue that remains in the still after distillation). In the Yongshun Dye House, red, green, yellow and blue cloths hang flapping in the breeze. Some old-style looms and spinning machines are on display. You can learn about ecological cloth printing and dyeing, and even create your own DIY work with the help of craftsmen. In addition, you can spend your leisure time in the Yinghua Academy, where many Confucian classics, historical records, philosophical writings and miscellaneous works have been collected. You can read and enjoy some afternoon tea to relax and refresh yourself. There is also a Yang Wudi Temple built to commemorate the soldiers who sacrificed their lives in various wars. Generations of the Yang family devoted themselves to defending their country. Zhenyuan Safeguard Agency will demonstrate to you the real life of the ancient armed safeguards.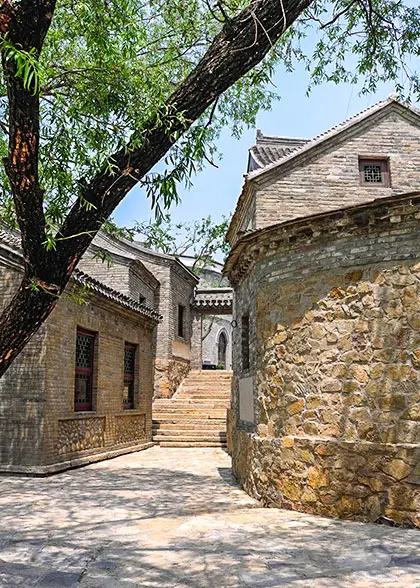 Hutongs in Water Town
Visitors can see the Plum Stakes, the Carts, and watch a martial arts performance. The Eight Banners Guild Hall, situated at the fortress of the capital, enable you to learn the traditions and the customs of Gubei Pass.
During the
Chinese New Year
, visitors can enjoy ice sculpture finished by professional teachers from Harbin. The temple fair has a Sugar Figure Maker, a Stilt Walker, Yangko Dance, a Dragon and Lion Dance and other acrobatic shows. You also can listen to the gereral chatter and enjoy traditional Peking Opera. In addition, the Simatai Great Wall is right next to this water town, so you can climb the Great Wall to have a bird's-eye view of the whole town. You will be amazed at the splendid scene from such a high vantage point.
Where to Stay and What to Eat
Two five-star hotels, six small boutique hotels and 400 local inns with different themes in Gubei Water Town can fulfill any visitor's tastes. The Water Town Hotel is the largest, modeled in the style of a European castle with 409 rooms. Some other hotels also could be ideal places, such as the Wuzhen Boutique Hotel, the Great Wall Academy Hotel, the Eight Banners Inn, Yanmen Inn, the Opera Inn, the Escort Inn and the Wolongbao Inn. Some visitors prefer to stay at the homes of local people for they are much cheaper than hotels. Besides, there are many restaurants, stores and over ten related service facilities are also available. Travelers can find Halal Restaurant, Italian Café and Great Wall Bar for food and drink. Some local snacks, such as spiced corned eggs, pancakes, porridge, dumplings and barbecued pork, are worth a try.
How to Get to Gubei Water Town
1. Take the tourist bus bound for Gubei Water Town from Dongzhimen Outside at 9:00, 12:00, or 15:30. On Saturday and Sunday, there is an extra bus departing at 14:00. It takes about two hours and the ticket price is CNY 48 per person.
2. Take
Subway Line 2
or
Line 13
to Dongzhimen Station. Then take bus 980 or 980 Express from Dongzhimen Transit Hub to Miyun Bus Station and then transfer to bus Mi 37, Mi 50, or Mi 51 to Simatai Village. Then walk for about ten minutes to the entrance.
Beijing Bus / Subway Search
Admission Fee
Water Town: CNY 140
Simatai Great Wall: CNY 40
Combo Ticket: CNY 170
Electric Car Fare
CNY 10 (single trip)
Children below 4.9 feet (1.5m) enjoy half price.
Sightseeing Boat Single Trip Fare

Route A (available from May to October): Yangui Wharf to Yuanyang Lake Wharf: CNY 120
Route B: Yangui Wharf to Riyue Island Wharf: CNY 80
Route C: Yuanyang Lake Wharf to Riyue Island Wharf: CNY 80
Children below 4.9 feet (1.5m) enjoy half price.

Notice:
Tourists can charter a boat. Each can accommodate six passengers, including infants. The cost is:
Route A: CNY 600
Route B / C: CNY 400

Tour Guide Service
CNY 200 per person
Opening Hours
09:00 to 21:00 (Visitors lodging in the town can enter can exit at any time of a day)
Night Tour to Gubei Water Town and Simatai Great Wall
Visitors can have a night trip in the Gubei Watertown and take the cable car to visit a certain section of Simatai Great Wall between No. 5 Tower and No. 6 Tower. In this way, they do not need to book the ticket for Simatai Great Wall one day in advance.
Round-trip cable car: CNY 160 for adults, CNY 80 for children under 4.9 feet
Simatai opening hours at night
April to October
November to March
Mon. - Fri.
Sat. & Sun.
18:00 -22:00
17:30 - 21:00
17:00 - 21:30

Weekend Trips from Beijing

10 Non Touristy Things to Do in Beijing
- Last modified on Nov. 12, 2018 -
Questions & Answers on Gubei Water Town
Asked by Teri from CANADA | Oct. 06, 2018 03:19

Reply
If we book a hotel inside of Gubei Water Town, do we also have to purchase a ticket to enter town?
Also, is it possible to book the boutique hotels online? We read that most need to be booked in person.
Answers (1)
Answered by Hedru from USA | Oct. 11, 2018 17:44

0

0

Reply
Yes, you need to buy a discounted ticket: CNY 80 per person. You can book the hotel on its official website but there is only Chinese language website and you either ask your Chinese friends to help you or book the room in person when you arrive.
Asked by Alice from USA | Sep. 23, 2018 18:46

Reply
Which hotel is the best at Gubei Water Town and when is the best time to go, October 1st or CNY?
Answers (1)
Answered by Lucy | Sep. 25, 2018 02:23

0

0

Reply
The Water Town Grand Hotel is said to be good and you can book a room there. As for the best time, I think spring and autumn are good time. However, October 1 is not a good time for the crowded visitors the national holiday brings in this week.
Asked by Hayley from UNITED KINGDOM | Aug. 29, 2018 21:53

Reply
I have booked to stay at Green Leaves Inn on Sat 15th Sept.
We will arrive late afternoon and want to look around Gubei village and then catch the cable cars up to see the great wall at night. Can I pre-book the great wall at night? I am worried if we don't pre-book then the tickets might go, we are only coming to see it at night! Also do I have to buy entrance tickets to the park if I am staying? And if yes do I have to buy separate tickets for each day? We leave Gubei on Sunday 16th of Sept. Thank you for your help!

Kind regards,
Hayley
Answers (1)
Answered by Leo from NETHERLANDS | Aug. 30, 2018 20:46

0

0

Reply
Yes, you need to book it in advance and yes, you have to buy the entrance tickets. However, if you arrive after 17:30, the fare will be cut to CNY 80. You don't need to but the tickets in the second day.
Asked by Hayley Alder Stevens from UNITED KINGDOM | Jun. 19, 2018 21:03

Reply
Can I stay in the Gubei water town? If so should I pre-book entrance?
We would like to stay in Gubei Water Town after a hike of another section of wall. I'm finding it difficult to find any medium range accomodation in the town. Where is best to stay to walk to Samati to see it light up at night? And will we be allowed in the town at night if we are staying?
Answers (2)
Answered by Steve from USA | Jun. 19, 2018 22:51

1

0

Reply
William Edgar is recommended and yes, of course you can stay at night, the entrance ticket of the Great Wall need to be ordered in advance.
Answered by Hayley Stevens from UK | Jun. 20, 2018 21:11

0

0

Reply
Hi Steve,

Thank you for your help! I'll have a look at the hotel now.

Hayley
Asked by Aprar elawad from IRELAND | Mar. 21, 2018 07:52

Reply
What time are the buses back to Beijing from Gubei Water Town?
Answers (1)
Answered by Phebe from SINGAPORE | Mar. 21, 2018 22:23

0

0

Reply
I was told the buses depart at 12:00, 16:00, and 21:00 on weekdays, an extra one at 19:00 at weekends.