Gubei Water Town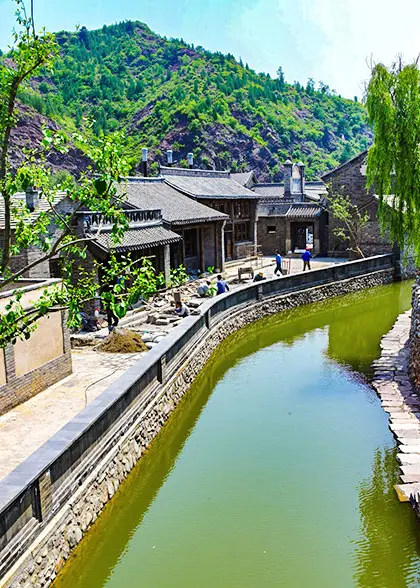 Quiet Gubei Water Town
Situated in Gubeikou Town of Miyun County in Beijing, Gubei Water Town surrounds the beautiful Mandarin Duck Lake Reservoir and leans against the
Simatai Great Wall
, the most dangerous and majestic section of the entire Great Wall. Regarded as '
Wuzhen
in Beijing', Gubei Water Town boasts a combination of mountains, water and ancient villages. The town is characterized by the northern architectural style, and the history and culture of the late
Qing Dynasty
(1644-1911) and the Republic of China (1912-1949) historic period. Most buildings are reconstructed in the traditional courtyard style. Based on five ancient villages and a water resource, this water town has developed into a large-scale sightseeing and holiday destination. Covering an area of 3.5 square miles (9 square kilometers), the holiday resort includes two scenic districts, the Gubei Water Town and the Simatai Great Wall.
What to See
This town possesses an old-fashioned simplicity and elegance. Row upon row of houses, old quartzite streets and long Hutongs show the style and features of the old town. River channels are scattered between streets; houses near the river are bathed in sunlight. When night falls, Gubei Water Town presents a tranquil and cozy atmosphere. Some spots of the attraction are open to the public, such as the Blocks of the Republic of China, the Old Camp Site, the Water Streets Region, the Wolongbao Folk Culture Region, the Old Village at Tang River Region, and the Local Accommodation Region.
Things to Do
Besides sightseeing, visitors can experience unique local customs and participate in native activities. If you like Chinese wine, the Sima Liquor Distillery may be a nice choice for a visit. You can smell the aroma of the wine from afar before you reach there. You can also witness the process of wine making and learn to cook dishes with vinasse (the residue that remains in the still after distillation). In the Yongshun Dye House, red, green, yellow and blue cloths hang flapping in the breeze. Some old-style looms and spinning machines are on display. You can learn about ecological cloth printing and dyeing, and even create your own DIY work with the help of craftsmen. In addition, you can spend your leisure time in the Yinghua Academy, where many Confucian classics, historical records, philosophical writings and miscellaneous works have been collected. You can read and enjoy some afternoon tea to relax and refresh yourself. There is also a Yang Wudi Temple built to commemorate the soldiers who sacrificed their lives in various wars. Generations of the Yang family devoted themselves to defending their country. Zhenyuan Safeguard Agency will demonstrate to you the real life of the ancient armed safeguards.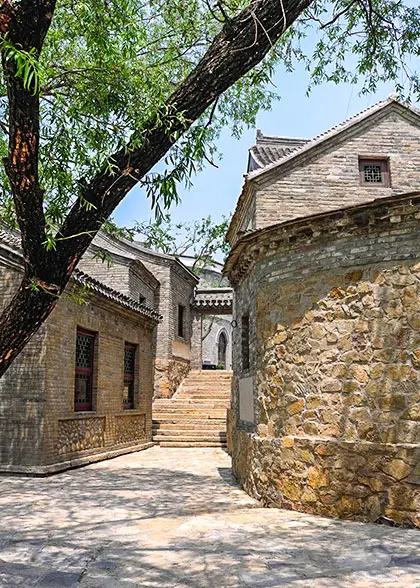 Hutongs in Water Town
Visitors can see the Plum Stakes, the Carts, and watch a martial arts performance. The Eight Banners Guild Hall, situated at the fortress of the capital, enable you to learn the traditions and the customs of Gubei Pass.
During the
Chinese New Year
, visitors can enjoy ice sculpture finished by professional teachers from Harbin. The temple fair has a Sugar Figure Maker, a Stilt Walker, Yangko Dance, a Dragon and Lion Dance and other acrobatic shows. You also can listen to the gereral chatter and enjoy traditional Peking Opera. In addition, the Simatai Great Wall is right next to this water town, so you can climb the Great Wall to have a bird's-eye view of the whole town. You will be amazed at the splendid scene from such a high vantage point.
Where to Stay and What to Eat
Over 40 boutique hotels and local inns with different themes in Gubei Water Town can fulfill any visitor's tastes such as the Water Town Hotel, Beijing Water Town Hotspring Resort, the Wuzhen Boutique Hotel, the Great Wall Academy Hotel, the Eight Banners Inn, Yanmen Inn, the Opera Inn, the Escort Inn and the Wolongbao Inn. Some visitors prefer to stay at the homes of local people for they are much cheaper than hotels. Besides, there are many restaurants, stores and over ten related service facilities are also available. Travelers can find Halal Restaurant, Italian Café and Great Wall Bar for food and drink. Some local snacks, such as spiced corned eggs, pancakes, porridge, dumplings and barbecued pork, are worth a try.
How to Get to Gubei Water Town
1. Take the tourist bus bound for Gubei Water Town from Dongzhimen Outside at 9:00 or 13:00.
2. Take
Subway Line 2
or
Line 13
to Dongzhimen Station. Then take bus 980 or 980 Express from Dongzhimen Transit Hub to Miyun Bus Station and then transfer to bus Mi 53, get off at Gubei Water Town Staff Dormitory and walk southward to the west gate.
Note that Mi 53 departs at 10:10 and 16:50 from Miyun Xidaqiao, the terminal station.
Beijing Bus / Subway Search
Admission Fee
Water Town:
CNY 140 for adults
CNY 80 for the minors under 16 and the old over 60
Free for children under 1.2m (3.9 feet)

Simatai Great Wall:
CNY 40 for adults
CNY20 for the old over 60
Free for the minors

Combo Ticket:
CNY 170 for adults
CNY 100 for the old over 60
Sightseeing Boat Single Trip Fare

Route A (available from May to October): Yangui Wharf to Yuanyang Lake Wharf: CNY 120
Route B: Yangui Wharf to Riyue Island Wharf: CNY 80
Route C: Riyue Island Wharf to Yuanyang Lake Wharf: CNY 80
Route D: Water Street Loop Line: CNY80
Route E: Riyue Island Loop Line: CNY80
Children below 4.9 feet (1.5m) enjoy half-price tickets.

Notice:
Tourists can charter a boat. Each can accommodate six passengers, including infants. The cost is:
Route A: CNY 600
Route B / C / D / E: CNY 400

Opening Hours
Water Town
Sun. - Thur.: 9:00 - 22:30
Fri. & Sat.: 9:00 - 23:00
Simatai Great Wall
9:00 - 16:30 (stop entering at 16:10)
Simatai opening hours at night

Further Reading:
12 Popular Beijing Activities to Beat the Summer Heat
Top 10 Things to Do in Beijing in Winter
8 Most Beautiful Places in Beijing in Autumn
9 Most Romantic Places in Beijing for Couples
7 Unusual Things to Do in Beijing Especially for Return Visitors
10 Famous Places in China with Rising Popularity over the Web
Top 6 China Family Holiday Destinations
- Last updated on Sep. 04, 2023 by Gabby Li -
Questions & Answers on Gubei Water Town
Asked by Eiw from THAILAND | Sep. 02, 2023 03:13

Reply
Autumn period
When is the best time of Gubei water town for Autumn leaves? I plan to visit on October 23. Is it good to go there?
Answers (1)
Answered by Sally | Sep. 04, 2023 03:03

0

0

Reply
Yes, of course it is. Generally the best time in autumn is between Mid-October and Mid-November.
Asked by Joyce from PHILIPPINES | Aug. 10, 2023 23:37

Reply
Tickets
Do we have to buy tickets in advance for Gubei Water Town and Simatai Great Wall before going there? Or can we buy ticket on the spot?

If need to buy tickets in advance, where can I purchase it with english translation?
Answers (1)
Answered by Alex | Aug. 11, 2023 00:11

0

0

Reply
When will you travel there? If during holidays or weekends, it ia advised to book in advance. You may try to contact this website, TravelChinaGuide to see if they offer the booking service for the water town and Great Wall.
Asked by Hong from VIETNAM | Jul. 31, 2023 00:08

Reply
How to travel from Pek airport to Gubei water town, flight arrives around 2:00pm
Hi all,
May i be advised the latest time schedule depart from Dongzhimen Outer Bus Terminal to Gubei Water Town? our flight arrives PEK airport at 2pm and we plan to depart directly from there to Gubei water town. We searched on the internet and the information shows that the last trip from Dongzhimen to Gubei shall depart at 13:00pm. It likely that we can't catch the bus.
Thank you for your all guidance and support.
Answers (2)
Answered by Vivian | Aug. 01, 2023 00:08

0

0

Reply
Yes, there are only two direct buses from Dongzhimen to the water town, leaving at 09:00 and 13:00.

Arriving at 2pm, you can only travel by bus no. 980 Express to Miyun, then change to a local mini bus to get there. Bus 980 Express runs till 20:00. Arriving at Miyun, you can also hire a taxi or request for a pick-up service from your hotel, to reach the water town.
Answered by Hong | Aug. 01, 2023 05:06

0

0

Reply
Hi Vivian, thank you so much for your useful advice. Ít really helpful to us.
Asked by James from SINGAPORE | Jun. 07, 2023 22:00

Reply
Booking hotel inside Gubei Watertown
Can I ask if you have a list of Hotel/Inn located inside Gubei Watertown? If yes, please share. Also, how do I book with these hotels/Inns? I usually use Agoda but there are only a couple of hotel/inn on Agoda. Thank you.
Answers (1)
Answered by Amber | Jun. 07, 2023 23:38

0

0

Reply
Beijing Gubei XingKong Villa, Beijing Qingxin YouSHE Villa, and Beijing Yuanzhu Xiaoshe Pool Private Soup Villa, Sunshine villa (Gubeikou Town store) are recommended. If you know Chinese, you can book on the official website of the water town.

Asked by Ken Wong from MALAYSIA | Apr. 25, 2021 01:40

Reply
Gubei Water Town & Simatai by December
hi,
1. If i come from Dongzhimen, how do i reach Eight Banners Inn?
2. If i stay at Eight Banners Inn, can i walk to cable bar station to Simatai?
Answers (2)
Answered by Cameron | Apr. 25, 2021 18:38

0

0

Reply
1. Take bus no.980 Express from Dongzhimen to Miyun Village first. Then transfer to bus no.Mi 51 to Gubei Water Town. After that, walk to the hotel directly.
2. You can walk to the cable car station of Simatai. The distance is around 350 meters.
Answered by Ken Wong | Sep. 15, 2021 23:51

0

0

Reply
Tq. One more question, if I stay in Gubei Water Town Baqi Inn, do I still need to buy admission ticket?