Beijing & Shanghai Express
BJ09: 6 Days Private Beijing Shanghai Tour
Tour Type:
Private Tour, any part of the itinerary can be customized
Guide & Driver:
English-speaking guide, experienced driver with an air-conditioned vehicle
Highlights:
Visit the majestic Great Wall to create memories that will last a lifetime.
Discover the imperial life of the ancient emperors at the Forbidden City.
Cruise on Huangpu River to take in the impressive skylines of Shanghai.
Experience China's most developed high-speed train from Beijing to Shanghai.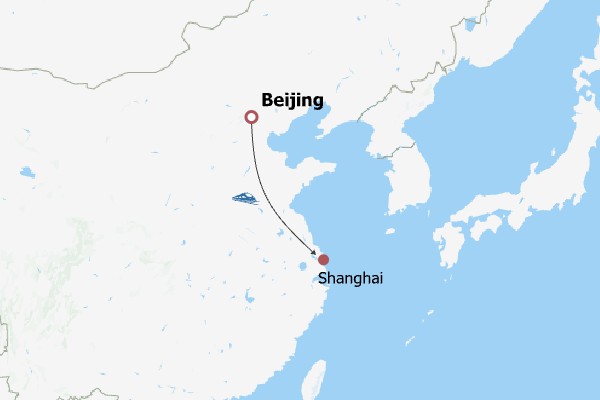 Pick up from airport and transfer to hotel by a private car; take a rickshaw ride through Hutong alleys and visit a local family living in a traditional dwelling.
Upon landing at Beijing Airport, please retrieve your luggage and clear Customs. Our guide will greet you outside Customs. After warm welcoming, he or she will escort you to the hotel in downtown we have carefully selected for you by a private car. Check in with the help of our guide and have a short rest.
After, the guide will accompany with you to Shichahai, an antique area in Beijing with traditional
Hutong
alleys and courtyard houses. It is also a scenic place thanks to the shimmering lake.
★
Interesting Rickshaw Ride and Family Visit in Shichahai
►
Specially, we will arrange a rickshaw ride in these Hutongs. Rickshaw was very popular in early 20th century in old Beijing. Previously, they had two wheels in the back and were pulled by man on foot. The present ones have been transformed to three wheels, two in the back and one in the front and the drivers ride it, saving lots of energy. It is joyful to travel among the narrow Hutong alleys by the old transport tool.
►
After, follow the guide to visit a local family. You may find it strange that several generations live together in one courtyard. That's common and a long-lasting tradition in China. To pay respect, the best rooms are usually for the elders in the family. You can also talk with the hosts to learn more manners and customs.
Visit Tian'anmen Square and Forbidden City; enjoy a superb panorama of Forbidden City in Jingshan Park, and then explore Yonghe Temple. (B)
After one night's rest, start energetically with a visit to
Tian'anmen Square
, the world's largest central city square. Then, the guide will lead you to walk for about 10 minutes to reach the
Forbidden City
, the one-time imperial palace of Ming and Qing dynasties (1368 to 1911), where twenty-four emperors once worked and lived. Equally big to 100 football fields, it's not possible to cover every corner of the giant palace in just one visit. But your experienced guide will lead you to stroll along the best visiting route, so as to cover all important palaces. The visit time will be at least 2 hours.
Your local expert guide will also lead you to discover some outrageous anecdotes behind the glorious and resplendent constructions. As you may know, in Qing Dynasty (1644 – 1911 AD), men shaved the front half of their head and braided at the back. The emperor was no exception, but there were rules for the shaver, who would be executed if he violated the rules. The shaver, with great care, couldn't take anything when he came to the emperor. After the emperor agreed to give him a straight razor, he could begin his work. But the shaver should only shave in the direction that the hair grew using his right hand, with the left arm drooping down. Also, he should hold his breath, and could not breathe out to the emperor's skin anyway. Besides, the emperor rinsed his mouth with the mouthwash made from best tea, and the filtered tea leaves, pretty good second-hand commodity after being dried, were picked up by the maid served him implicitly.
★
Enjoy a Superb Panorama of Forbidden City in Jingshan Park
Then, proceed to
Jingshan Park
to the north and climb up to top of Jingshan Hill inside, whichis the best spot to take in a panoramic view of the whole Forbidden City. It takes about 20 minutes to get to the hill top. If you feel tired, the guide will stop anytime. There are chairs in midway for you to take a short break.
Today's last stop will be
Yonghe Temple
. It was initially a prince's mansion and later used as a Buddhist temple. You will get some burning incenses for free there. If interested, follow the guide to make some wishes in Buddhism traditions and then offer the incenses to the Buddha.
Meals: Western buffet breakfast
Forbidden City, Beijing
Hutong Tour, Beijing
Visit Mutianyu Great Wall by round-trip cable car; drive by Bird's Nest; and then visit Summer Palace. (B)
In the morning, we will drive out of the city to visit a popular and magnificent section of the Great Wall -
Mutianyu
. You will be deeply impressed by the majestic views of the Great Wall winding on the mountain ridges, as well as the abundant vegetation in its surroundings.
★
Privilege of Our Guests
To save your energy and leave you with plenty of time to hike on the Wall, a round-trip cable car ride will be included, or you can take a chairlift up and a toboggan down, according to your interest. The chairlift and toboggan are more exciting and thrilling, but not recommended for those with high blood pressure, heart disease and acrophobia.
Lunch will be on your own side. If needed, the guide will be glad to give some advice.
After, drive back to the downtown area and explore the picturesque
Summer Palace
. On the way, the driver will stop over at the
Bird's Nest
(Olympic National Stadium), for you to appreciate the featured architecture by roadside. Summer Palace is the largest and best-preserved royal garden in China. There, you will be amazed by the perfect combination of natural scenery and manmade architecture, including bridges, pavilions, palaces, long corridors and more, over the lake, on the mountain, by lakeside…
When today's sightseeing ends here, the guide will send you back to the hotel.
Meals: Western buffet breakfast
Our Guests at Mutianyu Great Wall
Temple of Heaven, Beijing
Day 4
Beijing to Shanghai by High Speed Train
Visit Temple of Heaven; take a high speed train to Shanghai and transfer to hotel. (B)
After breakfast, our guide will pick you up from the hotel and assist you with the check-out procedure. Then go to visit the
Temple of Heaven
. It is a grand temple complex where emperors of the Ming and Qing Dynasties offered sacrifice to the God of Heaven and pray for good harvest. Nowadays, it is not only a rare historical site, but also a park for locals to do various exercises and other entertainment activities. It will be a lot of fun to join them to play Tai Chi or try various exercising equipment.
★
Ride a High Speed Train to Shanghai
After that, our guide will see you off at the railway station for a high speed train to Shanghai. There are several reasons why we haven't chosen flight for this trip. First of all, China's high speed train is one of the world's fastest, so on the must-do lists of most overseas tourists. Also, the travel time from Beijing to Shanghai is around 4.5-6 hours, neither boringly long nor unsatisfying short. We will reserve a seat for you on those with shortest duration, to save you time. While, if you prefer to take flight, your travel consultant is happy to tailor this trip for you.
After arriving in the metropolitan Shanghai, our local guide and driver will meet you at the exit of the railway station and transfer you to the hotel.
Meals: Western buffet breakfast
Visit Shanghai Museum and Yu Garden; explore old cultural block of Tianzifang; have a panoramic view of the city skyline, and then explore the Bund with a Huangpu River cruise tour. (B)
The morning excursion will begin from
Shanghai Museum
. It is one of the four biggest museums in China, famous for art collections. You will see many delicate bronzes, pottery figures, calligraphy, and paintings inside. A visit to the classical
Yu Garden
will follow. It is well laid out and delicately built to every single detail. Looking around carefully and you will find even the eaves are beautifully decorated with stone carvings and clay figures. Our knowledgeable guide will tell some interesting stories behind the figures, to add more fun to this trip.
Then the guide will lead you to an ancient cultural street,
Tianzifang
, which has been developed from a residential area to a new art zone combining artistic centers, exotic restaurants and bars.
The next stop will be Duoyun Bookstore on 52nd floor of Shanghai Tower, to have a bird's eye view of Huangpu River,
the Bund
and the surrounding city views. Then, go down to enjoy
Huangpu River Cruise
. During the cruise, you will admire buildings of western architectural styles along the bustling Bund on west bank and modern skyscrapers of Lujiazui on east bank. Afterwards, explore the Bund at a leisurely pace.
Finally, transfer you back to the hotel.
Meals: Western buffet breakfast
Shanghai Pudong Area
Tianzifang, Shanghai
Day 6
Departure from Shanghai
Transfer to airport and see you off there; a pleasant trip home! (B)
After breakfast, please check out of the hotel. Our guide and driver will transfer you to the airport according to your flight schedule. We wish you a pleasant onward journey!

If you have more time to travel around, we recommend water towns, Hangzhou, Suzhou or Yellow Mountain around Shanghai, which can all be reached by high speed train from the city. We will also be glad to serve you in more destinations.

Meals: Western buffet breakfast
This trip can be customized to meet your individual needs!
| Destinations | 4 Stars Hotels | 5 Stars Hotels |
| --- | --- | --- |
| Beijing | Mercure Beijing Downtown Hotel | Hotel New Otani Chang Fu Gong |
| Shanghai | Sunrise On The Bund | Renaissance Shanghai Yu Garden Hotel |
Tour Prices
Prices with 4 Stars Hotels
2-3 travelers
4-5 travelers

USD1179

USD1009
Prices with 5 Stars Hotels
2-3 travelers
4-5 travelers

USD1339

USD1179
Prices are per person on twin sharing basis.
Price Includes
Hotel accommodation with western buffet breakfasts
Train fare of Beijing/Shanghai
Private English-speaking guide
Private driver & air-conditioned vehicle
Entrance fees to tourist sites
Price Excludes
International airfares
Lunches and dinners
Entry visa fees
Tips or gratuities for guide and driver