Beijing Hong Kong Discovery
SG17:
6 Days Small Group Tour of Beijing - Hong Kong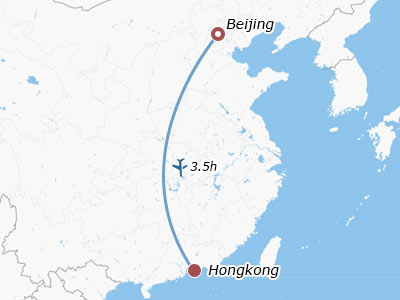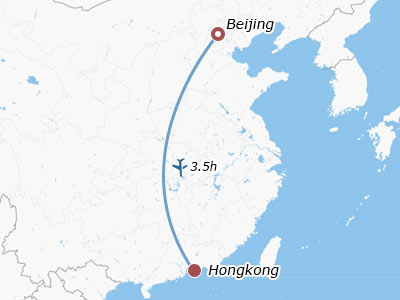 Tour Type:
Small Group of 1-18 travelers, guaranteed departures
Guide & Driver:
English-speaking guide, experienced driver with an air-conditioned coach
Accommodation:
5 nights, nice 5-star & 4-star hotels
Meals:
5 western buffet breakfasts, 2 lunches of a la carte style
Tour Highlights:
Must-see sights - Mutianyu Great Wall, Forbidden City, Temple of Heaven, Summer Palace
Take a rickshaw through the Hutongs & experience traditional Chinese Paper Cutting
Enjoy a la carte meals & taste authentic Chinese cuisines at superb restaurants
Feel the vibrant atmosphere & explore bustling markets in Hong Kong

Arrive at any time, Airport pick-up & airport-hotel transfer.
Upon arrival at Beijing Airport, you will meet our friendly professional guide and driver outside customs, then our driver will drive you to the hotel for check-in. Once at the hotel, the rest of the day is free. You can either rest at the hotel and prepare for your Beijing Hong Kong tour or stroll around to get your first impression of Beijing.
Accommodation:
The Great Wall Hotel Beijing





- the former Sheraton
A tour briefing, Tiananmen Square, Forbidden City, A la carte welcome lunch with Peking Duck, Temple of Heaven, Chinese Kung Fu Show. (B+L)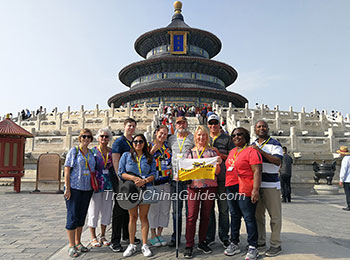 Our group at Temple of Heaven
After breakfast, we will begin this Beijing to Hong Kong Tour with a visit to the
Tiananmen Square
. In this famous square, both the solemn Monument to the People's Heroes and the majestic Great Hall of the People can be seen. After that, the guide will lead you to the gorgeous
Forbidden City
, which is the largest imperial architectural complex in the world built from wooden structures. The grandeur and magnificence of the palace is worth seeking out as are the millions of precious cultural relics housed inside the museum.
Afterwards, you are invited to savor the exquisite Chinese cuisine and the famous Beijing Roast Duck during our
a la carte welcome lunch
(valued at CNY150.00 per person and included in our price).
Following the lunch break, you will enter the
Temple of Heaven
to admire the remarkable sacrificial place where the emperors often prayed for good harvests during the Ming and Qing dynasties (1368-1911). At night, enjoy an excellent Chinese
Kung Fu show
, and later have dinner at your own expense.
Meals: Western buffet breakfast, A la carte welcome lunch
Mutianyu Great Wall with a round-trip cable car, A toast with red wine on the wall, Olympic Bird's Nest. (B)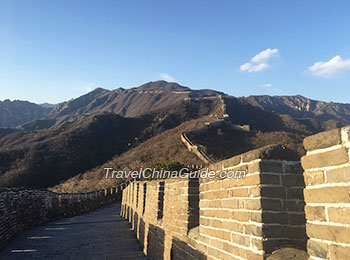 Mutianyu Great Wall
This morning we will spend about 2.5 hours driving to the
Mutianyu Great Wall
, which is one of the world's greatest wonders and an unmissable part of your Beijing tour package with Hong Kong. The Mutianyu section in particular is considered the most beautiful part. We will arrange the round trip cable car and allow a couple of hours for walking along the wall. Please make sure to have a hearty breakfast in the hotel or prepare some snacks before departure as you will have a late lunch by yourself and restaurants around the tourist sites may be under expectation. Our guide will also be happy to offer you more advice.
After the amazing view from the Great Wall, our guide and driver will transfer you back to downtown Beijing. En route, we will stop by the unique
Olympic National Stadium
(Bird's Nest) for you to take photos. Next, you will be chauffeured to a featured local market and have some free time there.
Meals: Western buffet breakfast
Day 4
Beijing - Hong Kong
Summer Palace, Hutong Rickshaw Tour, Experience Chinese Paper Cutting, A la carte lunch, Fly to Hong Kong. We recommend the most efficient and money-saving way - taking a taxi or the shuttle bus by yourself from Hong Kong Airport to the hotel. (B+L)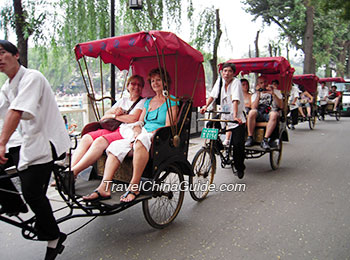 Rickshaw riding in old Hutongs
Today you will visit the stunning
Summer Palace
. This royal garden boasts a fascinating landscape: the pretty Kunming Lake and Longevity Hill (Wanshou Shan) as well as an array of elegant architectures. Next, you will get to experience the classic Hutong tour - Hutong, being the name for Old Beijing's narrow alleys - on a rickshaw and also an interesting paper-cutting activity will be scheduled for you to provide a better experience of Chinese culture.
After an a la carte lunch (valued at CNY150.00 per person and included in our price), you will be escorted to the airport to catch the onward flight to Hong Kong. After arrival, you need to make your way to the 4-star Regal Kowloon Hotel via one of the following two ways.
Airport Shuttle Bus:
Regal Kowloon Hotel offer the shuttle bus service between the airport and the hotel. The bus operates every 1.5-2 hours from 07:10 to 23:35 and the ticket fare is HK$130/person.
Bus Line A21:
From the airport, you can take bus A21 to reach the Mody Road Station at the cost of HK$33/person. Upon arrival, go northward for 20 meters and turn right on to Tsim Sha Tsui E. Roman Plz. Walk along the road for 100 meters and turn right to Mody Road, continue to walk for about 250 meters, you will find the hotel.
Meals: Western buffet breakfast, A la carte lunch
Accommodation:
Regal Kowloon Hotel





Friendly Tips
High-speed trains are now available from Beijing to Hong Kong. If you want to experience this 9-hour China high-speed train journey, please let your travel consultant know freely. She/he will be happy to make the reservation for you instead of the flight and adjust the itinerary and quotation accordingly.
Full day is free for your independent exploration with our suggestions. (B)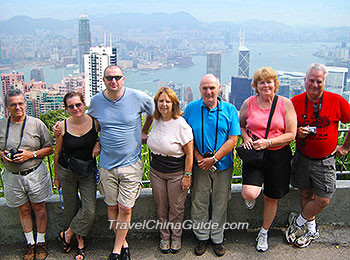 Victoria Peak
Today's Hong Kong tour is totally on your own arrangement. You can go to
Victoria Peak
and enjoy the amazing panoramic view of the prosperous Hong Kong. Perhaps you can take a taxi or bus to the bustling
Stanley Market
where you can pick various kinds of pretty commodities or simply enjoy the pleasure of relaxing in a fancy Café or a dining room there.
In the afternoon, you could go and explore the local fishermen's life in
Aberdeen
, which offers a different side
of Hong Kong and to finish the day, you might want to immerse yourself in the alluring night view of the beautiful
Victoria Harbor
.
Meals: Western buffet breakfast
Day 6
Departure from Hong Kong
Please check out before 12:00. We recommend taking a taxi or the shuttle bus from hotel to the airport by yourself, A pleasant trip home! (B)
Today your Hong Kong Beijing Package will come to an end, and you should check out before 12:00. Then, hail a taxi or take the airport shuttle bus to reach the airport for your homeward flight. If you are interested in our Asia trips to Thailand, Vietnam, India or other countries, please feel free to contact us, and we will be pleased to make the travel arrangement for you again. Bon voyage!

Meals: Western buffet breakfast
B-- Breakfast
L-- Lunch
D-- Dinner
Prices are per person in US Dollars; departures are guaranteed even with one person!
| Arrival Date | Departure Date | Double Occupancy | Single Room Supplement | |
| --- | --- | --- | --- | --- |
| Jan 05(Sun) | Jan 10(Fri) | $1029 | $339 | |
| Feb 13(Thu) | Feb 18(Tue) | $1029 | $339 | |
| Mar 05(Thu) | Mar 10(Tue) | $1039 | $359 | |
| Mar 12(Thu) | Mar 17(Tue) | $1039 | $359 | |
| Mar 26(Thu) | Mar 31(Tue) | $1039 | $359 | |
| Apr 02(Thu) | Apr 07(Tue) | $1049 | $369 | |
| Apr 09(Thu) | Apr 14(Tue) | $1049 | $369 | |
| Apr 16(Thu) | Apr 21(Tue) | $1049 | $369 | |
| Apr 23(Thu) | Apr 28(Tue) | $1049 | $369 | |
| May 07(Thu) | May 12(Tue) | $1049 | $369 | |
| May 14(Thu) | May 19(Tue) | $1049 | $369 | |
| May 21(Thu) | May 26(Tue) | $1049 | $369 | |
| May 28(Thu) | Jun 02(Tue) | $1049 | $369 | |
| Jun 04(Thu) | Jun 09(Tue) | $1049 | $369 | |
| Jun 11(Thu) | Jun 16(Tue) | $1049 | $369 | |
| Jun 18(Thu) | Jun 23(Tue) | $1049 | $369 | |
| Jun 25(Thu) | Jun 30(Tue) | $1049 | $369 | |
| Jul 02(Thu) | Jul 07(Tue) | $1049 | $369 | |
| Jul 09(Thu) | Jul 14(Tue) | $1049 | $369 | |
| Jul 16(Thu) | Jul 21(Tue) | $1049 | $369 | |
| Jul 23(Thu) | Jul 28(Tue) | $1049 | $369 | |
| Jul 30(Thu) | Aug 04(Tue) | $1049 | $369 | |
| Aug 06(Thu) | Aug 11(Tue) | $1049 | $369 | |
| Aug 13(Thu) | Aug 18(Tue) | $1049 | $369 | |
| Aug 20(Thu) | Aug 25(Tue) | $1049 | $369 | |
| Aug 27(Thu) | Sep 01(Tue) | $1049 | $369 | |
| Sep 03(Thu) | Sep 08(Tue) | $1059 | $379 | |
| Sep 10(Thu) | Sep 15(Tue) | $1059 | $379 | |
| Sep 17(Thu) | Sep 22(Tue) | $1059 | $379 | |
| Sep 24(Thu) | Sep 29(Tue) | $1059 | $379 | |
| Oct 08(Thu) | Oct 13(Tue) | $1059 | $379 | |
| Oct 15(Thu) | Oct 20(Tue) | $1139 | $459 | |
| Oct 22(Thu) | Oct 27(Tue) | $1139 | $459 | |
| Oct 29(Thu) | Nov 03(Tue) | $1139 | $459 | |
| Nov 05(Thu) | Nov 10(Tue) | $1139 | $459 | |
| Nov 12(Thu) | Nov 17(Tue) | $1139 | $459 | |
| Nov 19(Thu) | Nov 24(Tue) | $1029 | $349 | |
| Dec 09(Wed) | Dec 14(Mon) | $1029 | $349 | |
| Dec 23(Wed) | Dec 28(Mon) | $1029 | $349 | |
Price Includes
Domestic airfare
Hotel accommodation with breakfasts
A la carte lunches as itinerary specifies
Professional English-speaking guide
Driver & air-conditioned vehicle
Entrance fees to tourist sites
Tips or gratuities for hotel porters
Price Excludes
International airfares
Entry Visa fees
Personal expenses
Tips or gratuities for guides and drivers
Why Travel With Us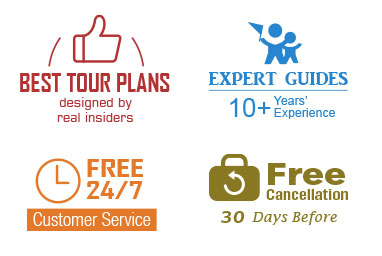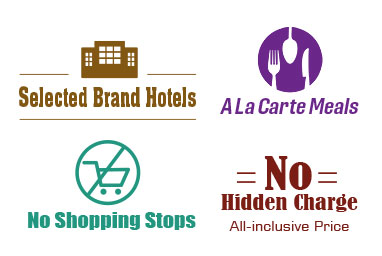 Itineraries you may also like: