China Golden Triangle Tour
S-101: 8 Days Private Tour of Beijing - Xi'an - Shanghai
Tour Type:
Private Tour, any part of the itinerary can be customized
Guide & Driver:
English-speaking guide, experienced driver with an air-conditioned vehicle
Highlights:
Must-see sights in China - Mutianyu Great Wall, Forbidden City, Terracotta Army
Take a rickshaw through the Hutongs for an up-close look at the original Beijing lifestyle
Experience the Bund, a classical garden, and traditional & modern contrast in Shanghai
Enjoy a la carte meals & taste authentic Chinese cuisines at superb restaurants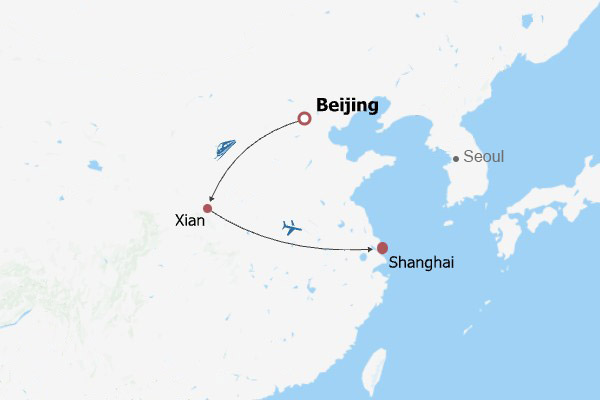 Your flight will touch down in our capital city - Beijing today. Our local professional guide and experienced driver will welcome you in the Arrival Hall of the airport, and then escort you to check in at the well-reserved hotel. Relax during the remainder of the day to recover from the jet leg and prepare for your 8 days Golden Triangle China tour.

Mutianyu Great Wall
Your private journey will start from the magnificent
Tiananmen Square
, the largest urban square in the world. Then we will continue on and visit the
Forbidden City
. This imperial palace complex is divided into two parts, the Inner Court and the Outer Court. The Inner Court was the living space for royal families, and the Outer Court served as a workplace for the emperor to transact political affairs. Get ready to be impressed by the grandeur of this palace complex.
► How did the imperial family keep warm in the Forbidden City?
In Forbidden City, the emperor and his big family did never freeze in frigid winter, with stove, heated pit, and underfloor heating. You can witness the remains of ancient underfloor heating when visiting the over 600-year-old imperial palace. There were warm chambers on the east and west sides of a palace; out of the window, you can find a hole below, which is the passageway of underground fire paths all over the warm chamber. Similar to underfloor heating today, the fire flared in all the paths, making the whole room warm. Furthermore, high-quality man-made Hongluo charcoal, the best charcoal in ancient China, was supplied in Forbidden City. This charcoal burned strongly and completely, without soot or worry about gas poisoning.
After the morning visit, you will enjoy an
a la carte lunch
(valued at CNY150.00 per person and included in our price) at an elegant restaurant. Our guide will assist you in ordering the dishes you like. Try to eat like a local with chopsticks.
In the afternoon, you will visit the
Temple of Heaven
, a solemn place for the emperors to worship the God of Heaven in ancient times. It is one of the most renowned World Heritage Sites for its outstanding architecture. Afterwards, you will have a
Hutong rickshaw tour
to experience the traditional Hutong culture and the local way of life.
Meals: Western buffet breakfast, A la carte lunch
Our consultant Flora with her clients
The highlight of your 8 days China tour package comes today as you climb the amazing
Great Wall
at the Mutianyu section. We have included a round-way cable car for you, while, if you prefer to take a chairlift up and a toboggan down the Wall, we will adjust accordingly. The Great Wall is a priceless heritage left by the Chinese through the ages. Just when you stand on the Wall and see its grandness, you will find it is no wonder that the Great Wall has had the mystique to surprise the whole world. Enjoy your leisure time on the Wall and view the surrounding mountain scenery.
Lunch is on your own and our guide will gladly assist. On the way back to the downtown area, while passing by the
Bird's Nest
, also called the Olympic National Stadium, we will make a stopover for you to take pictures of this huge nest. Today's last stop is a featured local market.
Meals: Western buffet breakfast
Day 4
Beijing to Xi'an by High Speed Train
Rural people celebrating the traditional festival
This morning, you will check out of the hotel after breakfast and then go to visit the
Summer Palace
. Mainly composed of the Kunming Lake and the Longevity Hill, the Summer Palace is the largest and best preserved imperial garden in the country. It is a monument to classical Chinese architecture in terms of both garden design and construction. In summer, there are lovely lotus blooming, while in winter, it becomes a good place for the youngsters to go skating.
In the afternoon, you will experience a 5-hour high speed train to Xi'an. Our local guide and driver will meet you at Xi'an North Railway Station and drive you to check in at the hotel.
Meals: Western buffet breakfast
Terracotta Army, Xi'an
The whole morning will be spent visiting the
Terracotta Army

Museum
. It takes about one hour's drive from the hotel. When you are in the museum, you will be astonished by the life-size unearthed terracotta warriors and horses artistically sculpted more than 2,200 years ago. Over 8,000 terracotta soldiers were excavated with orderly array and grandeur. They vary in height, posture and expression.
► Terracotta Warriors are 196 cm Tall!
Standing by the pits of Terracotta Army with our guide, you can't help but notice the astonishing height of the terracotta warriors. According to statistics, the shortest of these unearthed terracotta figures is 173 cm (5 feet 8 in), while the highest reaches a staggering 196 cm (6 feet 5 in). Their average height is 180 cm (5 feet 11 in), 10 cm (4 in) higher than the average height of modern Chinese men. Is it really the case? Were Qin Dynasty soldiers really that tall? It is recorded that Emperor Qin Shi Huang was 198 cm (6 feet 6 in) tall, so there must have been high requirements for height and appearance when soldier were selected for the emperor's honor guard, as they represented the national strength. In addition, the height of the terracotta warriors includes the hair buns and the base under their feet, which was a clever heightening of the Qin soldiers by the craftsmen at that time. Follow our guide and compare your height with the terracotta warriors!
Lunch is on your own, but the guide will recommend restaurants around the site according to your preference.
In the afternoon, you will get back to the city and visit the
Provincial History Museum
, which is a crucial window to display the excellent culture of this ancient city and China, as well as a connecting bridge for cultural exchange with the outside world. Afterwards, we will visit the
Small Wild Goose Pagoda
, which was built for keeping the Buddhist scriptures and Buddha figures brought back from India by the eminent monk Yijing during the Tang Dynasty (618 - 907).
Meals: Western buffet breakfast
Day 6
Xi'an to Shanghai by Flight
Our clients riding bicycles on the City Wall
This morning, we will first head to visit the
City Wall Park
. The life of the elderly in China is rich and colorful. Dancing, singing, playing Tai Chi, playing Chinese yo-yo, cracking a whip..., they will do various recreational activities. In the park, you will not only see these entertainment activities, but join in them if you want. In addition, we have specially invited a professional master to teach you Tai Chi and you will experience the wonder of this traditional Chinese martial art. Then we will ascend to the time-honored
City Wall
, which is a top wonder of the city, initiated by the first emperor of the Ming Dynasty (1368 - 1644). Cycling on the City Wall is a very popular activity. Sightseeing car is also an option. You can let your guide know your preference and pay the rental fee on the spot.
Next, you will visit the
Great Mosque
, a remarkable Islamic cultural relic, which perfectly combines Chinese traditional with Islamic architectural styles. Around the mosque is a lively Muslim bazaar, where you could explore for local snacks and handicrafts.
Afterwards, you will be taken to the airport for a flight to Shanghai. Our local guide will greet you at the airport and take you to check in at the hotel.
Meals: Western buffet breakfast
Pudong New Area
In the morning, our guide will escort you to see the
Shanghai Museum
and the classical
Yu Garden
. As a distinguished museum of Chinese art, the Shanghai Museum is also one of the four famous museums in China, holding a rich and high-quality collection of ancient precious works of art. Once you enter the Yu Garden, beautiful scenes will delight you wherever you go; you feel that all the scenes are coordinated together by Mother Nature. Our professional tour guide will present the vivid introduction to you.
At noon, you will enjoy an
a la carte lunch
(valued at CNY150.00 per person and included in our price) of the true Shanghai and Cantonese cuisines at a fancy and famous local restaurant.
After lunch, you will take a one-hour
Huangpu River cruise
to appreciate the two representative profiles of the city along both sides of the river. It helps you understand the past, see the present and look into the future of this modern city. Then you will explore
the Bund
area. Free time will be given you there so that you can have a leisurely stroll and take nice photos. The last stop of your China Golden Triangle tour is a traditional street named Tianzifang, where is full of a sense of culture and arts.
Meals: Western buffet breakfast, A la carte lunch
Day 8
Departure from Shanghai
According to your international flight schedule, our private guide and driver will pick you up at the hotel and transfer you to the airport on time. We wish you have a pleasant journey home and thank you for choosing our 8-day China guided tours.

Meals: Western buffet breakfast
B-- Breakfast
L-- Lunch
D-- Dinner
Special Deal
10% off
- book 60 days before,
5% off
- book 30 days before
Tour Prices with Luxury Hotels
2-3 travelers
4-5 travelers

$2039

$1835

$1829

$1646
Tour Prices with Standard Hotels
2-3 travelers
4-5 travelers

$1829

$1646

$1629

$1466
Prices are per person in US Dollars based on double occupancy.
The prices in red reflect 10% discount.
Any part of the itinerary e.g. tour length, activities & hotels can be tailored to your individual interests.
Price Includes
Domestic airfares & train fares
Hotel accommodation with breakfasts
A la carte lunches as itinerary specifies
Private English-speaking guides
Private drivers & air-conditioned vehicles
Entrance fees to tourist sites
Price Excludes
International airfares
Entry Visa fees
Personal expenses
Tips or gratuities for guides and drivers
Comparison with Our Competitors
How Do We Reach Lowest Price?
Based in China, we have been committed to cultivating inbound tours, aiming to directly purchase airline tickets, hotel bookings and cruises etc. Unlike other agencies who seek profits of 50%, our profits are as low as 6%. So many of our competitors' itinerary quotations are twice as high when compared with ours, and many of their 4-star hotels itinerary prices exceed ours with 5-star international brand hotels. You will be shocked and we are shocked as well.
No Annoying Shopping Stops
Shopping tours will not only take your time from sightseeing, but also waste your money on overpriced items. Our no shopping promise will enable you to thoroughly enjoy the trip without facing aggressive selling. All our guides are well-paid so they will concentrate on delivering the holiday experience you expect.
Some companies claim they have "No Obligatory Shopping", please be cautious as they just give their shopping tours a happy gloss. Some do not mention any shopping in itineraries, which doesn't mean they are shopping-free tours. You are advised to ask the operators directly before booking.
People to People Connected
We will make your trip more than just sightseeing. In addition to the popular attractions that every agency will arrange, you will be deeply involved in the lives of local residents in our tours.
•
Take a rickshaw through the Hutongs and visit a quadrangle courtyard for an up-close look at the old Beijing house and the people's life there. Several generations of a family may live together in such a courtyard. What is the layout of the house? And how do they live together? Your guide will take you to find the answer.
•
Experience benefits of Tai Chi with a lesson from a local master in the City Wall Park of Xi'an. Learn the gestures and motion, feel your breath coming in and going out, and experience the wonders of Tai Chi. Many local people are doing exercises there, so it is also a good chance to step into their lifestyle.
Eat Like a Local Traveling with Us
Why are the Chinese so proud of their food? You will get to know that during this trip. Unlike some travel agencies who provide set-menu food in tourist restaurants, we will offer you a la carte menus at local restaurants where you will order what you like and taste the most authentic Chinese cuisines.
What's more, each city also has their own local specialties, like Rougamo, the best Chinese burger, and Hot Oil Noodles in Xi'an, the Steamed Buns and Chinese Wontons in Shanghai. You will not only have a chance to try these, but also see them freshly made through a glass window.
Hot Oil Noodles
Steamed Buns
Optional Tours Are Tourist Traps
Optional tours mean you will spend much more than you originally booked. Some agencies advertise low-cost tours, but you then find you have to pay high pieces for optional tours of the must-see sites. Our tours are all-inclusive with transparent itineraries.
Tailor-make Your Itinerary for Free
Our guests enjoy the freedom to choose a different travel style. 99% of our valued guests enjoy tailor-making their travel itineraries. We will make a quick reply within 24 hours.
No Change Fee
Should any changes made prior to the start of the tour or even during the trip, there will be no extra charge for our services. You only need to be responsible for the cost of variations incurred with airlines and hotels.
Other levels available for this itinerary:
Customer Reviews

Questions & Answers
Having traveled to many different places and regions, we found China very special. With our friendly and helpful tourguides and the interesting historical sites, we could just enjoy. The knowledge, patience, expertise of both tour guides and tour operators were deeply appreciated. We had not traveled in China prior so we very much appreciated having their assistance which made the entire tour a most

memorable experience. Having a feeling of complete safety, that we were getting expert information about the fantastic museums and other tour inclusions, and being informed of a great optional extra - the performance after the Dumpling Dinner in Xian is something worth recommending to others. We have two other things to recommend to other travelers: 1) get TravelChinaGuide to organize flights - we arranged our own only to discover our flights via Beijing to Xian were not actual transfers which caused us confusion and time wasted, and 2) try to have a tour that is longer than 8 days to have some free time incorporated, but as we did not have the luxury of more time the 8 days was our choice this time. Our sincere thank to TCG for making this tour something we can keep in our hearts and minds forever.

...

More

The service and delivery of services from Travel China Guide not only met my expectations but exceeded them. Each of our tours in Beijing, Xi'an and Shanghai were fun, informative, had delicious meals and we felt well taken care of. I was most surprised that the entire invoice for what we received was as low as it was and thank my lucky stars that I contacted this office to assist in planning and carrying out this trip.

Posted on February 22, 2020

Thank you for the wonderful tour of china and such wonderful memories. We plan to return to china in about 2 years, at that time with our daughter who is now 16. We will, again, contact you, and hopefully our paths will cross! "xie xie, zai gen".