In Pursuit of Treasures
103: 10 Days Private Tour of Beijing - Xi'an - Chengdu - Shanghai
Tour Type:
Private Tour, any part of the itinerary can be customized
Guide & Driver:
English-speaking guide, experienced driver with an air-conditioned vehicle
Highlights:
Must-see sights in China - Mutianyu Great Wall, Forbidden City, Terracotta Army, Giant Pandas
Cycling on the Ming Dynasty City Wall of Xi'an, or tour by electric car
Have a once in a lifetime experience to get close to the adorable giant pandas
Cruise on the Huangpu River to take in the impressive skylines of Shanghai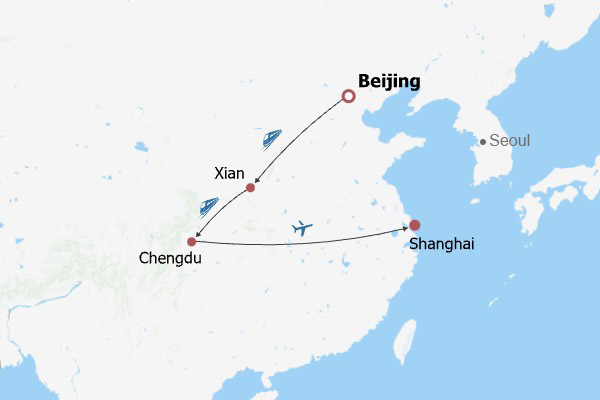 Today our guide will be waiting for you outside the Arrival Hall of the airport, holding a welcome sign bearing your name. A comfortable private drive will take you to the well-appointed hotel. Relax for the remainder of the day.

Forbidden City
Stroll along the famous
Tiananmen Square
- the largest central city square in the world. It is also an assembling place for celebrations in traditional Chinese festivals and important days. Walk to the north end of the square, you will go through the Tiananmen Tower and then enter the majestic
Forbidden City
. As an imperial palace complex built nearly 600 years ago, the Forbidden City now is open to public as a large museum, from where you get to know the emperors and their royal families' lives, and appreciate traditional Chinese architecture and numerous cultural relics. You can really feel its glory when you are in the elegant and orderly palace surrounded by high walls.
► Officials have to get up at 3:00 am to go to court in the Forbidden City!
The officials served in the central government should participate in the morning meeting in ancient China, to report and discuss the major affairs with the emperor. Thus, an official could never sleep late, especially in Ming Dynasty (1368 – 1644 AD) when officials needed to get up at 3:00 a.m. or even earlier as the morning meeting started at about 5:00. They had no time to eat breakfast before going to work, for they shouldn't be late and weren't allowed to go to bathroom during the morning meeting. Before and in the Tang Dynasty (618 – 907 AD), the officials could sit down at the meeting; to Song Dynasty (960 – 1279 AD), the officials stood; to Ming and Qing Dynasties (1398 – 1911 AD), they knelt on the ground. If the emperor was a workaholic, they must go on working after the morning meeting until the time to get off every day, and working overtime might become a commonplace.
An
a la carte lunch
(valued at CNY150.00 per person and included in our price) is served for you at a fine restaurant. After lunch, continue your visit to the
Temple of Heaven
, where emperors offered sacrifices to the God of Heaven in ancient times. For emperors, offering sacrifices at the Temple of Heaven was the most solemn among all ceremonies, hence making it a holy place. Nowadays, this former royal temple has been enlarged and also become a distinctive park for the locals.
Meals: Western buffet breakfast, A la carte lunch
Great Wall of China
Morning excursion will take you to visit the Great Wall of China at
Mutianyu section
, which boasts its magnificence and natural views. A round-trip cable car has been included, however, you can also choose to take a chairlift up and a toboggan down. As one of the seven wonders in the world, the Great Wall is a tribute to the wisdom and painstaking efforts of the ancient Chinese people. Standing on the wall and viewing it as it winds its way along the mountain ridges will leave you with a lasting memory. Comfortable shoes are good support for your Great Wall visit.
We return to the downtown Beijing in the afternoon. On the way back, we will make a photo stop at the
Bird's Nest
(Olympic National Stadium). You will appreciate this distinctive building at close quarters. Before getting back to the hotel, you will enjoy some free time to explore a featured local market.
Meals: Western buffet breakfast
Day 4
Beijing to Xi'an by High Speed Train
This morning, you will pay a visit to the
Summer Palace
, a luxury resort used by the royal family for leisure and entertainment. Embodying the essence of classical architecture from different areas of the country, the royal garden is especially famous for its delicate scenery and ingenious layout. Afterwards, you will take a rickshaw to explore the
Old Hutongs
, the city's most culturally vibrant area.
In the afternoon, you will take a high speed train to Xi'an for around 4.5 hours. You are recommended to bring some fruits or snacks, prepare a book or a movie device in order to spend a happy time on the train. Our guide and driver in Xi'an will greet you at the railway station and escort you to the hotel.
Meals: Western buffet breakfast
Terracotta Army
You will start this wonderful day at the world-renowned
Terracotta Army Museum
. It is built right on the excavation site of the subordinate funeral pits of the mysterious Emperor Qin Shi Huang's Mausoleum. You will be amazed by thousands of life-sized pottery soldiers, horses, as well as bronze chariots and weapons that have been unearthed. Lunch is on your own arrangement. The guide is happy to assist.
In the afternoon, you will first visit the
Provincial History Museum
, the most comprehensive and significant museum in China, which presents half of Chinese history, from the Stone Age to the flourishing Han and Tang dynasties. It is really worth a visit. Then continue to visit the
Small Wild Goose Pagoda
, which is set in a very pleasant temple. Although it has gone through more than 1300 years of vicissitudes, the pagoda looks still elegant and exquisite with its original features.
Meals: Western buffet breakfast
Day 6
Xi'an to Chengdu by High Speed Train
This morning, you will first head to visit the
City Wall Park
, which is a good place to learn about the leisure and entertainment life of Chinese people, especially the elderly. Here, you will also have a chance to join in the locals and learn Tai Chi from a master. After experiencing local life, you will visit the ancient
City Wall
, a vibrant symbol of this time-honored city. Cycling on the wall is a popular activity, which takes around 2 hours to complete a circle. Sightseeing car is also available and the whole journey takes about 50 minutes. The choice here is yours. Your guide will make proper arrangements according to your preference and you can pay the fee on the spot. Then a visit to the
Great Mosque
comes next. In addition, you could also explore the local snacks for your lunch at the nearby
Muslim Bazaar
.
In the afternoon, you will head to Chengdu by a high speed train for around 4 hours. Upon arrival, you will be met and transferred to the hotel. Chengdu is a beautiful city with more than two thousand years of history. Here you will feel a more leisurely pace of life.
Meals: Western buffet breakfast
Lovely pandas
The
Research Base of Giant Panda Breeding
will be a top priority on your agenda today. As the national treasure of China, the giant pandas are loved by people from all over the world for their chubby bodies and cute appearance. When you arrive there in the morning, you will find those adorable pandas eating their meals and playing together. Lunch is not included today, but your guide is happy to take you to a popular local restaurant. Long Wontons, Zhong Dumplings, Dandan Noodles, Mapo Beancurd, Kung Pao Chicken..., there are countless delicacies in Chengdu and you can order the dishes you like under the help of your guide.
In the afternoon, visit the
Jinsha Site Museum
, where you can see precious relics including gold and bronze wares as well as jade and ivory vessels. Among them, the Sun and Immortal Birds Gold Ornament and the Gold Mask are the two highlights that you can't miss. After an exploration in the museum, you will feel like you've travelled to a world about 4,500 years ago, mysterious and brilliant. Then we will come to the
People's Park
, which is a very good place to exchange cultures and have fun. You will see a variety of local leisure activities and have some down to earth experiences, like sipping tea and cleaning ear. More specially, you will see a matchmaking corner in the park, which is a place where parents can seek out suitable spouses for their children by displaying their children's personal details. It will be an interesting experience for you!
Meals: Western buffet breakfast
Day 8
Chengdu to Shanghai by Flight
Bid farewell to Chengdu today. You will be escorted to the airport and board the flight to Shanghai. After your 2.5 hours flight, you will be warmly greeted at the airport by our Shanghai guide and driver. On the way to the hotel, our guide will give you a brief introduction of this vibrant city. The remainder of the day is free, so you can simply relax or explore the locality around your hotel.

Meals: Western buffet breakfast
Shanghai Bund
After breakfast, you will be guided to visit
Shanghai Museum
and
Yu Garden
. As one of the four most distinguished museums, Shanghai Museum holds a rich and high-quality collection of 120,000 ancient precious works of art. Yu Garden is a classical and elegant garden in the heart of the city. Beautiful vistas are there to delight visitors in every corner, and one may feel everything in this garden was created by nature.
At noon, a farewell
a la carte lunch
(valued at CNY150.00 per person and included in our price) is offered at a superb restaurant. You can partake of the dishes and enjoy fresh and tasty Shanghai cuisine.
Afterwards, you will take a pleasant
cruise tour
on the Huangpu River, which is flanked by old Euromerican style buildings in the west and outstanding skyscrapers in the east. Free time is left for you to explore
the Bund
for a while. The day concludes with a leisurely stroll on an old cultural zone, Tianzifang, where you will experience both traditional culture and modern arts.
Meals: Western buffet breakfast, A la carte lunch
Day 10
Departure from Shanghai
According to your international flight schedule, our guide and driver will pick you up at the hotel and transfer you to the airport on time. If you prefer to experience the maglev train ride to the Pudong Airport, we can also arrange it for you. We wish you a pleasant homebound journey.

Meals: Western buffet breakfast
B-- Breakfast
L-- Lunch
D-- Dinner
Special Deal
10% off
- book 60 days before,
5% off
- book 30 days before
Tour Prices with Luxury Hotels
2-3 travelers
4-5 travelers

$2659

$2393

$2429

$2186
Tour Prices with Standard Hotels
2-3 travelers
4-5 travelers

$2329

$2096

$2089

$1880
Prices are per person in US Dollars based on double occupancy.
The prices in red reflect 10% discount.
Any part of the itinerary e.g. tour length, activities & hotels can be tailored to your individual interests.
Price Includes
Domestic airfares & train fares
Hotel accommodation with breakfasts
A la carte lunches as itinerary specifies
Private English-speaking guides
Private drivers & air-conditioned vehicles
Entrance fees to tourist sites
Price Excludes
International airfares
Entry Visa fees
Personal expenses
Tips or gratuities for guides and drivers
Comparison with Our Competitors
How Do We Reach Lowest Price?
Based in China, we have been committed to cultivating inbound tours, aiming to directly purchase airline tickets, hotel bookings and cruises etc. Unlike other agencies who seek profits of 50%, our profits are as low as 6%. So many of our competitors' itinerary quotations are twice as high when compared with ours, and many of their 4-star hotels itinerary prices exceed ours with 5-star international brand hotels. You will be shocked and we are shocked as well.
No Annoying Shopping Stops
Shopping tours will not only take your time from sightseeing, but also waste your money on overpriced items. Our no shopping promise will enable you to thoroughly enjoy the trip without facing aggressive selling. All our guides are well-paid so they will concentrate on delivering the holiday experience you expect.
Some companies claim they have "No Obligatory Shopping", please be cautious as they just give their shopping tours a happy gloss. Some do not mention any shopping in itineraries, which doesn't mean they are shopping-free tours. You are advised to ask the operators directly before booking.
People to People Connected
We will make your trip more than just sightseeing. In addition to the popular attractions that every agency will arrange, you will be deeply involved in the lives of local residents in our tours.
•
Take a rickshaw through the Hutongs and visit a quadrangle courtyard for an up-close look at the old Beijing house and the people's life there. Several generations of a family may live together in such a courtyard. What is the layout of the house? And how do they live together? Your guide will take you to find the answer.
•
Chengdu is recognized as a good place to live, and in Chengdu, the People's Park is the best place where you could get a sense of the laid-back lifestyle of the locals. Sip tea in an open air teahouse, experience Chengdu's peculiar ear-cleaning tradition, watch locals playing mahjong and practicing Chinese ground calligraphy with brush and water, and explore the matchmaking corner, where parents usually display a resume of their child, listing birth date, job, salary, education, housing etc. to "help" their child find a suitable spouse.
Eat Like a Local Traveling with Us
Why are the Chinese so proud of their food? You will get to know that during this trip. Unlike some travel agencies who provide set-menu food in tourist restaurants, we will offer you a la carte menus at local restaurants where you will order what you like and taste the most authentic Chinese cuisines.
What's more, each city also has their own local specialties, like Rougamo, the best Chinese burger, and Hot Oil Noodles in Xi'an, the Hot Pot and many mouth-watering street foods in Chengdu, as well as Steamed Buns and Chinese Wontons in Shanghai. If you like, your guide is happy to take you to try these.
Hot Oil Noodles
Popular Chengdu Foods
Optional Tours Are Tourist Traps
Optional tours mean you will spend much more than you originally booked. Some agencies advertise low-cost tours, but you then find you have to pay high pieces for optional tours of the must-see sites. Our tours are all-inclusive with transparent itineraries.
Tailor-make Your Itinerary for Free
Our guests enjoy the freedom to choose a different travel style. 99% of our valued guests enjoy tailor-making their travel itineraries. We will make a quick reply within 24 hours.
No Change Fee
Should any changes made prior to the start of the tour or even during the trip, there will be no extra charge for our services. You only need to be responsible for the cost of variations incurred with airlines and hotels.
Itineraries you may also like:
Customer Reviews

Questions & Answers
Everything about our China trip was wonderful and I enjoyed meeting Emily in Xian very much. The Beijing peking duck restaurant was an outstanding event and very enjoyable. I also very much enjoyed the lunch at the "auspicious restaurant"--the restaurant was beautiful and the food was wonderful. I also enjoyed the food very much at the small sichuan restaurant where we ate just before leaving Chengdu.

I enjoyed the food very much and the intimate atmosphere of the small restaurant gave me the impression that I was actually in Chengdu rather than an onlooker. So for me it is a tie between the auspicious and the sichuan restaurant for my favorite. I think that for a tour group of just the two of us, we often had way more food than we could possibly eat-- a menu that must have been designed for 4-6 people.

Changfugong Hotel in Beijing is absolutely a great choice. I was very impressed with their facilities. Eating breakfast there every morning was so much fun -- we got to try so many Asian breakfast foods presented so appetizingly and still could fall back on our own western cuisine when we needed to have something familiar. It is an excellent hotel.

All of our guides were wonderful. Their English and knowledge of the areas being toured were excellent. I can say very nice things about all of them. Candy and Mr.kong were helpful, flexible, and stalwart against the Beijing traffic. Lily and Mr. wong were really good. Again they were flexible and enjoyable to be with. Lily's English is excellent and her knowledge of Xian made our visit there better than if we had been there on our own. Ting Ting and Mr. lu gave us a great short tour of Shanghai and then drove us out to Wuzen for the day. It was a lovely outing and Ting Ting shared with us what treats to buy for families to celebrate spring. We got to try things we would not have eaten on our own. Ting Ting helped me ship some souvenirs home at the post office and got me to the museum and dinner and to the portman acrobatic show all on time. Paul and Mr. liang showed us a marvelous time in Chengdu. I could not have asked for a better guide. He was very willing to discuss subjects that interest me like the Chinese and English languages, food, and culture. We felt very comfortable and in good hands in Paul's company. We were very sad to say goodbye to both Paul and Liang when it was time to get on the airplane for Hongkong. Everyone of our tour guides English was excellent. We had no problem communicating with them and with their help anyone else in china. I know that each of our guides enhanced our experience of the places we saw.

The cars we drove in were immaculate at all times. There was always a nice bottle of water for us morning and afternoon. I must say I enjoyed riding in the "red flag" sedan in Xian because it is a Chinese car and one I had never seen before. However familiar the other cars and vans were, they were perfect for their jobs and I always felt secure in them. The drivers have great skills -- I went to China looking forward to amazing traffic and I was not disappointed!

...

More

Posted on February 27, 2020

Travelchina, together with Wendy, were exceptional to work with on this trip. It was pure joy to be able to communicate with her at all times of day and night and get a quick response. Bottle of Great Wall Wine when visiting the Great Wall very nice gesture and added a nice touch to the day. Midday boat ride on the Huangpu river most enjoyable and a nice way to see the architecture of this beautiful

city, Shanghai. I would recommend to always include this on the city tour. Zhouzhuang Water village –loved this excursion and village not as busy as we expected. Zhangjiajie is an amazing place and we are so grateful we were able to see the wonderful nature. Our absolute highlight was the day at Tianmen Mountain + the Glass Skywalk. It was a bonus to see the newly born babies in Chengdu.
My main concern is the quality of the guides provided. Kitty in Beijing was good and considerate of our needs. Fred in Xian was an excellent guide - am so grateful we had him - he ensured that we made the most of our limited time in Xian. He was by far the best guide we had on the trip - it would have been wonderful if all guides could have been as professional, well-organized, knowledgeable and fluent in English. Leedan in Hangzhou was very young and seemed totally inexperienced. Lily, Zhangjiajie guide was a very young girl with little knowledge and knows little English. I had a really hard time to communicate with her. Chengdu guide was a terribble guide, such a disappointment.
We also concern the large increase in visitor numbers to sensitive areas. The Broad and narrow alleys has lost its appeal for us. It seems a lot of the other visitors we have spoken to are also disappointed and people feel confused - how is it possible that such a charming old world place could be invaded by thousands of tourists mostly interested in eating. The infrastructure simply cannot cope with the numbers of people eating and moving around. The main impression one now gets is of thousands of people pushing through the narrow streets, very noisy, eating and drinking everywhere and at all times, loud modern music filling the streets at all times(also during the day) and by 17h00 when everybody gets back from the excursions it becomes a nightmare to move around. So really terribly sad. An easy solution to address at least the noise pollution would be for the guide and groups to use earphones and a small mouth piece for the guide to talk to pax instead of the megaphones being used at the moment.
The government is certainly investing a lot of money in infrastructure - all the beautiful new roads, bridges, airports and cities being cleaned up and modernized.
I do hope they also succeed in finding a way to protect the amazing natural beauty and history for generations to come.
Last but not least - we were all incredibly impressed by the progress that has been happening in China. The beauty of Shanghai was an absolute surprise and highlight for us.

...

More

Posted on February 20, 2020

-All the meals were extremely good. For me the outstanding one was the meal in the private home in Xian because of the opportunity to meet someone in their own environment. It is a really outstanding part of the service they offer. I did find that after a few days I really did not want a big lunch in a fancy restaurant each day. In Xian, the guide suggested me go to a dumpling restaurant not frequented

by tourists, and I really enjoyed the laid back atmosphere of it, as well as the food. Also the little places we went to for lunch in Chengdu and Beijing were great as they gave an idea of where locals eat. I would like to make a general comment about meals because towards the end of the trip I broke the rules and insisted the guides and drivers did as well sorry about that. I know you have different budgets for client meals and guide/driver meals, but I found two things: firstly, that the there was always way too much food served for one person, and secondly, that being a single traveler, it was always a bit lonely eating by yourself, especially when the guide and driver were often sitting at the next table. As a result you tend to eat quickly and not enjoy the meal as much as one would with a group. To overcome that I insisted that I, the guide and driver sit at the same table for meals and pool the three budgets. If we went over that I was happy to pay the balance. It made the meals much more enjoyable having company while eating. This would not be an issue for couples or groups, but perhaps it is something that you can consider allowing for single travelers in the future.

-I was very impressed with all the guides. They were all friendly, polite and knowledgeable. Also happy to be flexible. The level of English spoken by the guides was generally very good. The only one whose English was a little lacking was Orlando in Shanghai, but not to the extent that it hampered normal communication.

-All the cars were spotlessly clean at all times. All the drivers were also very nice, but I must say I was not overly impressed with the driving skills of the driver in Chengdu. If I had to pick one outstanding driver it would be the one in Beijing.

-With one exception all the hotels were very nice. However, having said that, the air conditioning in the hotels in Shanghai and Xian was inadequate. The exception was the hotel in Beijing. While the public areas of the hotel were very nice the room was a disgrace. I must comment on how impressed I was with the staff in the hotels. Although in many cases they spoke little, or no, English, they were all very pleasant, and despite the language difficulties, they all tried very hard to help. Ironically, the most outstanding were in Shanghai.

...

More