In Pursuit of Treasures
103: 10 Days Private Tour of Beijing - Xi'an - Chengdu - Shanghai
Tour Type:
Private Tour, any part of the itinerary can be customized
Guide & Driver:
English-speaking guide, experienced driver with an air-conditioned vehicle
Highlights:
Must-see sights in China - Mutianyu Great Wall, Forbidden City, Terracotta Army.
Have a once in a lifetime experience to get close to the adorable giant pandas.
Have some down-to-earth experiences in a Chinese community.
Cruise on Huangpu River to take in the impressive skylines of Shanghai.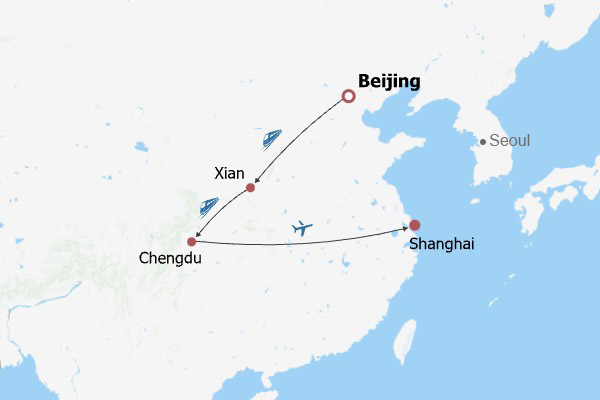 Itinerary
Prices
Reviews
Comparison
Welcome your arrival anytime at the airport and transfer to hotel by a private car.
Today our guide will be waiting for you outside the Arrival Hall of the airport, holding a welcome sign bearing your name. Then, a comfortable private drive will send you to the well-selected hotel. Relax for the remainder of the day to recover from the long flight. If you feel all right, you may go out to get the first impression of the city on your own; we will be glad to give you some advice.

Visit Tian'anmen Square and Forbidden City; enjoy a la carte welcome lunch with Peking Roast Duck; further explore royal culture at Yonghe Temple and Temple of Heaven. (B+L)
Your private China tour will start from the famous
Tiananmen Square
- the largest central city square in the world. It is also an assembling place for celebrations and military parades on important days. Then, the guide will lead you to walk to the north end of the square, go through the Tian'anmen Tower and then visit the majestic
Forbidden City
, an imperial palace complex built nearly 600 years ago.
In ancient times, ordinary people were "forbidden" to enter the royal palace, so it was an honorable and enviable thing to serve in the central government and work in the Forbidden City, but not an easy thing. Those officials should participate in the morning meeting, to report and discuss the major affairs with the emperor. Thus, they could never sleep late, especially in Ming Dynasty (1368 – 1644 AD) because they needed to get up at 3:00 a.m. or even earlier to get washed and dressed properly, as the morning meeting started at about 5:00. They could not eat breakfast before going to work, for they weren't allowed to go to bathroom during the meeting. If the emperor was a workaholic, they must go on working after the meeting until the time to get off every day, and working overtime might become a commonplace.
Now you know how lucky you are as the imperial palace complex has been open to the public as a large museum, from where you get to know the emperors and their royal families' lives, and appreciate traditional Chinese architecture and numerous cultural relics.
★
Privilege of Our Guests
Our experienced guide, who visits the Forbidden City for over 100 times each year, will show you around inside along the best route, for 2 solid hours at least, so as to cover all the essential palaces. During the visit, he or she will tell some interesting stories you will never hear about elsewhere.
★
A La Carte Welcome Lunch to Taste Peking Duck and Other Authentic Chinese Food
After, an
a la carte welcome lunch
(valued at CNY150.00 per person and included in our price) will be served for you at a fine restaurant popular among locals rather than a touristy restaurant. The chefs there are good at making the representative Beijing dish,
Peking Roast Duck
and you are highly advised to have a try. You will marvel at the chef's cutting skills as he slices the duck right in front of you.
After lunch, continue the visit to
Yonghe Temple
, the best preserved lamasery in Beijing. It has a unique architectural style, integrating Han, Manchu, Mongolian and Tibetan. Then the
Temple of Heaven
, where emperors offered sacrifices to the God of Heaven in ancient times. For emperors, offering sacrifices at the Temple of Heaven was the most solemn among all ceremonies, hence it was born a holy place. Nowadays, this former royal temple has been enlarged and also used as a distinctive park by the locals.
Meals: Western buffet breakfast, A la carte welcome lunch
Our Guests in the Forbidden City, Beijing
Temple of Heaven, Beijing
Visit Mutianyu Great Wall by round-way cable car; drive by Bird's Nest; then take a rickshaw ride through Hutong alleys and visit a local family in a traditional courtyard house. (B)
Morning excursion will take you to visit
Mutianyu Great Wall
, which boasts its magnificence and natural views. A round-trip cable car ride will be included for easier up and down. You can also choose to take a chairlift up and a toboggan down, which are more thrilling. As one of the seven wonders in the world, the Great Wall is a tribute to the wisdom and painstaking efforts of the ancient Chinese people. Standing on the wall and viewing it as it winds its way along the mountain ridges will leave you with a long-lasting memory. Comfortable shoes are good support for your Great Wall visit.
In the afternoon, return back to downtown Beijing, with a photo stop at the
Bird's Nest
(Olympic National Stadium). Then, head directly to Shichahai. We will specially arrange a rickshaw ride there, for you to experience the life of old Beijingers. Passing by the
Hutongs
and along the lakefront, it will last for around 40 minutes. After, visit one of the well preserved Siheyuan and have a nice talk with the host to learn the life of present Chinese people. If interested, the guide will then drop you off at the nearby bar street; otherwise, he or she will send you back to your hotel for a good rest.
Meals: Western buffet breakfast
Mutianyu Great Wall, Beijing
Visit a Traditional Siheyuan in Hutong
Day 4
Beijing to Xi'an by High Speed Train
Visit Summer Palace; take a high speed train to Xi'an and transfer to hotel. (B)
This morning, our guide will accompany you to explore the
Summer Palace
, a luxury resort used by the royal family for leisure and entertainment. Embodying the essence of classical architecture from different areas of China, the royal garden is especially famous for its delicate scenery and ingenious layout.
Then, the guide will transfer you to the railway station and assist you to board a high speed train to Xi'an. How exciting to travel on the ground at a speed of 350 km/h (217 mph)! The travel time varies from about 4.5 to 5.5 hours. To save you time, we will try our best to book one with less intermediate stops and shorter duration. You are recommended to bring some fruits or snacks, prepare a book or a movie device in order to spend a happy time on the train. On arrival, our guide and driver in Xi'an will greet you at the station and escort you to the hotel.
Meals: Western buffet breakfast
Visit Terracotta Army and the discoverer's home; try your hand to make a mini terracotta figure; admire Giant Wild Goose Pagoda, and experience the fun of wearing Chinese Hanfu costume in Great Tang All Day Mall. (B)
This wonderful day will start from the world-renowned
Terracotta Army Museum
. It was built right on the excavation site of the subordinate pits of the mysterious Emperor Qin Shi Huang's Mausoleum. The pottery soldiers are so vivid that someone rumored they were made of real human beings, which sounds really cruel. Certainly it's not true. They were made of a kind of special clay fetched not far away. During the long-term archaeological excavation and restoration, archaeologists even found out how they were made step by step.
Each warrior was made in sections, as clay strips were coiled up to made the rough torso at first. Other parts of the body were also roughly made with molds. Then, the rough components were dried, polished and carved in detail. After these parts were assembled together to compose an entire warrior, it was fired in the kiln at a high temperature of about 1,000℃ (1,832℉). At last, the terracotta warrior was glazed and colored. That's what we can see in the pits, and you can admire the superb skills of artisans who made so many warriors with different facial expressions. What a marvelous and massive work!
★
Privileges of Our Guests
►
After, the guide will lead you to the home of Mr. Yang Zhifa, the farmer who dug out the first terracotta warrior in 1974, hence unveiled the grand underground army to us. You will have a chance to talk with Mr. Yang, to learn some stories behind the significant discovery, the influence to Yang himself and the villagers living around.
►
Do you want to challenge yourself to make a terracotta figure? Here comes the opportunity. We will arrange a fun DIY class at a local workshop, where you can follow an artisan to make a mini terracotta figure in about 40 minutes. You can carve your name or special logo on the figure and take it home, which can be a meaningful souvenir for the Terracotta Army trip.
Then, return to downtown and visit an ancient landmark of Xi'an-
Giant Wild Goose Pagoda
. It is a square brick pagoda, the biggest of its kind. Although it has gone through more than 1,300 years of vicissitudes, the pagoda looks still elegant and exquisite with its original features.
★
Experience the Fun of Wearing Chinese Hanfu in Great Tang All Day Mall
Today's last stop will be
Great Tang All Day Mall
, also named Grand Tang Ever Bright City to the south of the Giant Wild Goose Pagoda. As the name suggests, it's a Tang Dynasty (618 – 907) themed block for displaying the architecture, culture and customs back then, vibrant both day and night. The guide will assist you to get dressed in Hanfu, the traditional clothes of Chinese Han group and "stroll back to ancient China". Actually, it is the most popular costume among locals and tourists to visit the antique block.
At last, send you back to hotel, or you may get back to the hotel by yourself after staying for a while longer. The hotel we booked for you is not far and the guide will inform you the return way.
Meals: Western buffet breakfast
Terracotta Army, Xi'an
Giant Wild Goose Pagoda, Xi'an
Day 6
Xi'an to Chengdu by High Speed Train
Visit City Wall and connect with local people at City Wall Park; visit Great Mosque and taste Xi'an snacks in Muslim Quarter; take a high speed train to Chengdu and transfer to hotel. (B+L)
This morning, we will first head to the
City Wall Park
, which is a good place to learn about the leisure and entertainment life of Chinese people, especially the elderly. Here, you will have a chance to join in the locals and play Tai Chi, which helps build up body and keep peaceful mind.
After experiencing locals' life, climb up to the ancient
City Wall
, another historical symbol of this time-honored city. Cycling on the wall is a popular activity and it takes around 2 hours to complete a circle. Sightseeing car is also available and the whole journey takes about 50 minutes. Giving the case you want to have a try, our guide will assist you to rent a bike or buy a sightseeing car ticket on the spot.
A visit to the
Great Mosque
comes next, together with the bustling
Muslim Quarter
around. Muslim Quarter is the gathering place of not only Muslims in Xi'an, but also various local snacks. This noon, we will select a noted restaurant there for you to taste some of the best, including hot oil noodles, fried dumplings and Xi'an Sandwich (Rou Jia Mo).
In the afternoon, you will head to Chengdu by a high speed train, which takes around 4 hours. Upon arrival, you will be met and transferred to the hotel by our local guide and driver.
Meals: Western buffet breakfast, featured Xi'an snacks for lunch
Cycling on Xi'an City Wall
Great Mosque, Xi'an
Visit Giant Panda Base, and have some down-to-earth experiences in Xiaojiahe Community. (B)
The
Research Base of Giant Panda Breeding
will be a top priority on today's agenda. The giant pandas there are so lovely with chubby bodies and cute appearance. We make the visit in the morning because they are the liveliest after one night's rest. You will see them eating their meals and playing together.
After watching the adorable giant pandas, we will head to Xiaojiahe Community and spend a leisurely afternoon there as the locals do.
★
Have Some Down-to-Earth Experiences in Xiaojiahe Community
First, you will have lunch (at your own cost) and eat like locals at Yongle Restaurant, which has been serving the community for over 20 years. Classic Sichuan dishes are all available here, including Kung Pao Chicken, Mapo Tofu, Twice Cooked Pork, and Dandan Noodles, clean and reasonably-priced. However, as it is so popular, you may need to wait to get a table. If you cannot wait, the guide will give you some other recommendations per your preference.
Then, visit a vegetable market. The market is visited by the locals every day, to shop for vegetables, meat, seafood, seasonings, fruit and more needed for cooking meals. It's possible for you to meet some never seen before. With the assistance of the guide, you could ask the price and have a better understanding of the price level in China.
Next, you will walk for about 15 minutes to Xiaojia River bank to experience slow-paced life. Locals gather there playing mahjong or cards, drinking tea or just chatting with each other. What a life of Chengdu people! You may join them to have fun. We will serve you a cup of coffee in the traditional tea bowl with a cover. Sip it slowly as the locals enjoy their tea.
At the end of the day, the guide will transfer you back to the hotel.
Meals: Western buffet breakfast
Lovely Pandas in the Research Base
Visit Xiaojiahe Community
Day 8
Chengdu to Shanghai by Flight
Fly to Shanghai and transfer to hotel; visit the Bund and take a leisurely cruise on Huangpu River. (B)
Bid farewell to Chengdu today. You will be escorted to the airport and board the flight to Shanghai. After 2.5 hours' flying, you will see our Shanghai guide warmly greeting you at the Arrival Hall.
After, drive to visit
the Bund
on the west bank of Huangpu River. It is the most prosperous area of Shanghai in early 20th century, still preserving many western style buildings.
★
Leisurely Cruise on Huangpu River
Next, take a one-hour cruise trip on the Huangpu River. You will witness the city's past through exotic buildings on the west and marvel at the city's modernity and rapid development through numerous skyscrapers on the east Pudong.
Then, transfer to the hotel for a two-night stay.
Meals: Western buffet breakfast
Visit Shanghai Museum, Yu Garden and adjacent Yuyuan Bazaar; enjoy a la carte farewell lunch; explore Zhujiajiao Water Town. (B+L)
After breakfast, you will be guided to visit
Shanghai Museum
and
Yu Garden
. As one of the four most distinguished museums, Shanghai Museum holds a rich and high-quality collection of 120,000 ancient precious works of art. Yu Garden is a classical and elegant garden in the heart of the city. Beautiful vistas there delight visitors in every corner, and one may feel everything in this garden was created by nature. Then, the guide will accompany you to walk through the Yuyuan Bazaar outside the garden to the parking lot, and take the private car to a superb restaurant.
A farewell a la carte lunch (valued at CNY150.00 per person and included in our price) will be arranged there. You can enjoy some fresh and tasty Shanghai and Cantonese dishes based on your flavor.
This afternoon will be spent in the quaint
Zhujiajiao Water Town
. It is reputed as "Oriental Venice" because of the folk residences built along rivers. It is not modern and stylish as Shanghai, but preserves more traces of the past.
Meals: Western buffet breakfast, A la carte farewell lunch
Shanghai Pudong Seen from the Bund
Beautiful Scenery of Zhujiajiao Water Town
Day 10
Departure from Shanghai
Transfer to airport and see you off there; a pleasant trip home! (B)
According to your international flight schedule, our guide and driver will pick you up at the hotel and transfer you to the airport on time. If you prefer to experience the maglev train ride to the Pudong Airport, we can also arrange it for you. We wish you a pleasant homebound journey!

Meals: Western buffet breakfast
This trip can be customized to meet your individual needs!
| Destinations | 4 Stars Hotels | 5 Stars Hotels |
| --- | --- | --- |
| Beijing | Beijing New World Centre Tongpai Hotel | Crowne Plaza Beijing Chaoyang U-Town |
| Xian | Holiday Inn Xian Big Goose Pagoda | Wyndham Grand Xian South |
| Chengdu | Holiday Inn Chengdu Oriental Plaza | Grand Hyatt Chengdu |
| Shanghai | Sunrise On The Bund | Radisson Blu Hotel Shanghai New World |
Tour Prices
Christmas & 2024 Special:
12% off
- Book before Dec 31, 2023
Prices with 4 Stars Hotels
2-3 travelers
4-5 travelers

USD2529

USD2225

USD2259

USD1987
Prices with 5 Stars Hotels
2-3 travelers
4-5 travelers

USD2869

USD2524

USD2619

USD2304
Prices are per person on twin sharing basis.
The prices in red reflect 12% discount.
Price Includes
Domestic airfares & train fares
Hotel accommodation with breakfasts
A la carte lunches as itinerary specifies
Private English-speaking guides
Private drivers & air-conditioned vehicles
Entrance fees to tourist sites
Price Excludes
International airfares
Entry Visa fees
Personal expenses
Tips or gratuities for guides and drivers
Comparison with Other Sellers
How Do We Reach Lowest Price?
Based in China, we have been committed to cultivating inbound tours, aiming to directly purchase airline tickets, hotel bookings and cruises etc. Unlike other agencies who seek profits of 50%, our profits are as low as 6%. So many of our competitors' itinerary quotations are twice as high when compared with ours, and many of their 4-star hotels itinerary prices exceed ours with 5-star international brand hotels. You will be shocked and we are shocked as well.
No Annoying Shopping Stops
Shopping tours will not only take your time from sightseeing, but also waste your money on overpriced items. Our no shopping promise will enable you to thoroughly enjoy the trip without facing aggressive selling. All our guides are well-paid so they will concentrate on delivering the holiday experience you expect.
Some companies claim they have "No Obligatory Shopping", please be cautious as they just give their shopping tours a happy gloss. Some do not mention any shopping in itineraries, which doesn't mean they are shopping-free tours. You are advised to ask the operators directly before booking.
People to People Connected
We will make your trip more than just sightseeing. In addition to the popular attractions that every agency will arrange, you will be deeply involved in the lives of local residents in our tours.
•
Take a rickshaw through the Hutongs and visit a quadrangle courtyard for an up-close look at the old Beijing house and the people's life there. Several generations of a family may live together in such a courtyard. What is the layout of the house? And how do they live together? Your guide will take you to find the answer.
•
Chengdu is recognized as a good place to live, and in Chengdu, the People's Park is the best place where you could get a sense of the laid-back lifestyle of the locals. Sip tea in an open air teahouse, experience Chengdu's peculiar ear-cleaning tradition, watch locals playing mahjong and practicing Chinese ground calligraphy with brush and water, and explore the matchmaking corner, where parents usually display a resume of their child, listing birth date, job, salary, education, housing etc. to "help" their child find a suitable spouse.
Eat Like a Local Traveling with Us
Why are the Chinese so proud of their food? You will get to know that during this trip. Unlike some travel agencies who provide set-menu food in tourist restaurants, we will offer you a la carte menus at local restaurants where you will order what you like and taste the most authentic Chinese cuisines.
What's more, each city also has their own local specialties, like Rougamo, the best Chinese burger, and Hot Oil Noodles in Xi'an, the Hot Pot and many mouth-watering street foods in Chengdu, as well as Steamed Buns and Chinese Wontons in Shanghai. If you like, your guide is happy to take you to try these.
Optional Tours Are Tourist Traps
Optional tours mean you will spend much more than you originally booked. Some agencies advertise low-cost tours, but you then find you have to pay high pieces for optional tours of the must-see sites. Our tours are all-inclusive with transparent itineraries.
Tailor-make Your Itinerary for Free
Our guests enjoy the freedom to choose a different travel style. 99% of our valued guests enjoy tailor-making their travel itineraries. We will make a quick reply within 24 hours.
No Change Fee
Should any changes made prior to the start of the tour or even during the trip, there will be no extra charge for our services. You only need to be responsible for the cost of variations incurred with airlines and hotels.
Itineraries you may also like: