Golden Triangle & Yangtze Cruise
L-401: 12 Days Private Tour of Beijing - Xi'an - Chongqing - Yangtze River Cruise - Yichang - Shanghai
Tour Type:
Private Tour, any part of the itinerary can be customized
Guide & Driver:
English-speaking guide, experienced driver with an air-conditioned vehicle
Highlights:
Must-see sights in China - Mutianyu Great Wall, Forbidden City, Terracotta Army.
Enjoy a la carte meals at superb restaurants & taste authentic Chinese food.
Savor majestic beauty of Yangtze River & admire the amazing Dam Project.
View the soaring city skylines and feel the pulse of modern Shanghai.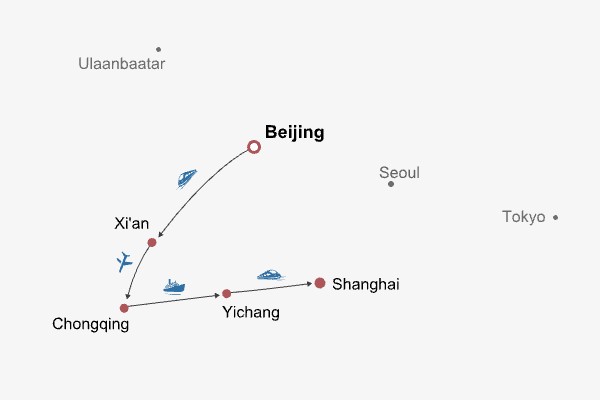 Welcome your arrival anytime at the airport and transfer to hotel.
Welcome to Beijing! Our guide will greet you warmly outside Customs of the airport after you retrieve your luggage and clear Customs, and then transfer you to the hotel by a comfortable and air-conditioned vehicle. Considering that you may feel tired after the long flight, we will not arrange any activities during the remaining time of the day. Have a good rest in the hotel and start energetically tomorrow.

If you feel all right, our guide will be happy to give suggestions on good restaurants and places to explore nearby. If you have questions such as money issues, transportations, safety concerns or anything you want to know, just ask the expert guide who is ready to provide all information you need.
Visit Tian'anmen Square and Forbidden City; enjoy a la carte welcome lunch with Peking Roast Duck; further explore royal culture at Yonghe Temple and Temple of Heaven. (B+L)
After breakfast, your guided tour of China will officially start with a leisurely stroll on the world's largest city square,
Tiananmen Square
. Then, the guide will escort you to walk north to visit the famous
Forbidden City
, namely Palace Museum. Our guide is knowledgeable with over 10 years' rich experience. In addition to showing you among the gorgeous imperial architecture and cultural relics of more than 600 years ago, he or she will tell you a lot of interesting stories behind them.
★
A La Carte Welcome Lunch to Taste Local Flavors
To offer you authentic and diversified Chinese food, we will arrange an a la carte meal at a carefully selected restaurant highly ranked by locals, instead of at those tourist eateries as most agencies aredoing now. This noon, an a la carte welcome lunch (valued at CNY150.00 per person and included in our price) will be waiting for you and their specialty,
Peking Duck
is really worthy trying.
In the afternoon, firstly visit
Yonghe Temple
. One of the most precious treasures there is the giant standing Buddha in Wanfo Hall. The solemn Buddha is 26 meters (85 feet) tall, 18 meters (59 feet) above ground and 8 meters (26 feet) under, carved out of a single sandalwood tree. It is said that it took 3 years to transport the wood from Tibet to the temple. Then, continue to explore
Temple of Heaven
, the altar where the emperors of the Ming and Qing dynasties (1368 - 1911) prayed the God of Heaven for good harvests. It was so vast that a temporary runway for airplanes was once built inside. The location of the runway is still visible currently west to the Circular Mound Altar and south to the south wall of Hall of Prayer for Good Harvests. To build it, the serried cypresses were chopped down, and the southeast of the temple complex was cleared. Fortunately, it was not used for long, 2 months only, so we can still have this grand temple complex on this planet.
Meals: Western buffet breakfast, A la carte welcome lunch
Tian'anmen Square, Beijing
Temple of Heaven, Beijing
Visit Mutianyu Great Wall by round-way cable car; drive by Bird's Nest; then take a rickshaw ride through Hutong alleys and visit a local family in a traditional courtyard house. (B)
After breakfast, drive out of the downtown to visit one of the world's greatest heritage sites -
Mutianyu Great Wall
. As one of the best-preserved sections of the Great Wall of China, Mutianyu gained its fame for its solidity and strategic importance. When walking on it, you will be impressed by the winding but majestic views. To save you time and effort, a round-way cable car ride will be included, or you can choose to take a chairlift up and a toboggan down, which is somehow challenging but more exciting.
As it will be too late for lunch after going back to downtown, so the guide will leave you some time to have lunch after coming down from the Great Wall. There are some restaurants at the foot and the guide will be glad to offer suggestions.
On the way back to downtown, the driver will stop by for you to see the full view of
Bird's Nest
(Olympic National Stadium), which was the major venue for the 2008 Olympic Games.
At last, have a
Hutong tour
at Shichahai to experience the old Beijingers' life by taking a special rickshaw ride through the traditional alleyways. We will also specially arrange a visit to a family living in a Siheyuan courtyard there, for you to learn some local customs and traditions.
Meals: Western buffet breakfast
Our Guests at Mutianyu Great Wall
Summer Palace, Beijing
Day 4
Beijing to Xi'an by High Speed Train
Visit Summer Palace; take a high speed train to Xi'an and transfer to hotel. (B)
This morning will be spent in
Summer Palace
. It was originally built by Emperor Qianlong (1711 - 1799) to celebrate his mother's 60th birthday, so the main sites there, Kunming Lake was made into the shape of a traditional Chinese birthday peach while the hill was renamed Longevity Hill, expressing the emperor's best wishes to his mom. In this well-preserved imperial garden, you will be fascinated by graceful landscapes and magnificent constructions by the lake or on the mountains.
In the afternoon, the guide and driver will transfer you to the railway station for your onward high speed train to Xi'an. The travel time of the high speed trains varies from 4.5 to 5.5 hours and we always try our best to book the one with the shortest. Upon your arrival, our local guide will meet you and then transfer you to the hotel reserved ahead of time.
Meals: Western buffet breakfast
Visit Terracotta Army and the discoverer's home; try your hand to make a mini terracotta figure; admire Giant Wild Goose Pagoda and get immersed in Tang Dynasty culture at Great Tang All Day Mall. (B)
In the morning, your guide will escort you to explore the World's Eighth Wonder,
Terracotta Army Museum
. It is about an hour's drive away from downtown. En route, the guide will tell you some interesting stories about the grand army. While inside, observe carefully and you will find out that all the figures and horses have distinct facial expressions and positions. Lunch will be on your own and our guide will gladly assist. Believe it or not, you eat better than Qin Shi Huang (259 - 210 BC), the first emperor of China and the owner of the Terracotta Army. The Emperor had two meals a day, at which he couldn't eat much beef, as bulls were valuable productive forces used for farming. Moreover, cooking methods were limited to only several ones like grilling and boiling at that time. The most popular stir-frying was not invented until Song dynasty (960 – 1279 AD). So, relish your life, as you have more diverse choices for your meals even than the founder of the Qin Empire (221 - 207 BC).
To make the Terracotta Army tour more memorable, we will arrange two special activities thereafter.
►
Visit Terracotta Army's Discoverer
After being buried underground for about 2,200 years, the Terracotta Army was accidentally discovered by Mr. Yang Zhifa, a peasant living nearby, when digging a well in 1974. When the 42nd president of US, Bill Clinton visited the site in 1998, Mr. Yang was invited to tell the great discovery in person. Today, you will have the similar experience with the president while visiting Mr. Yang's home. The family visit will be even more impressive because you will see the hue digging out the first warrior.
►
Make Yourself a Mini Terracotta Figure
Next, go to a local workshop to make a terracotta soldier or a general with the guidance of an artisan. As it takes 10-14 days to make a replica 1:1 to the real terracotta figure, you will make a mini one about 11 cm (4 in) tall, taking around 40 minutes. After being finished, carve your logo or name on it and bring it home as a special souvenir.
After that, drive back to downtown Xi'an and continue to visit
Giant Wild Goose Pagoda
, a holy Buddhist pagoda. It is about 65 meters (212 feet) high after several renovations, and has been a landmark of the ancient city. Then walk south for a while to the adjacent
Great Tang All Day Mall
. The architectures there are all in Tang Dynasty (618 - 907) style and there are many interesting performances and entertainment facilities to enjoy. At the end of the day, send you back to the hotel. If you want to stay longer, the guide will kindly tell you the way back to the hotel before leaving.
Meals: Western buffet breakfast
Terracotta Army Museum, Xi'an
Giant Wild Goose Pagoda, Xi'an
Visit City Wall and connect with local people at City Wall Park; visit Great Mosque and taste Xi'an snacks in Muslim Quarter; explore Shaanxi History Museum. (B+L)
After breakfast, explore the core area of ancient Xi'an city. First, go to
City Wall Park
, where locals, especially elders do morning exercises and have fun like sword dancing, practicing Tai Chi, and playing musical instruments. You can join them to try some basic moves of Tai Chi.
Then ascend the well-preserved ancient
City Wall
. It is in square, with a perimeter of 13.74 kilometers (8.54 miles) and a height of 12 meters (39.4 feet), well protecting the people living inside from attacks in ancient times. Take a walk on the Wall to see how it worked as a defensive line. Cycling on the ancient wall is also very popular among visitors. If you prefer it, the guide will assist you to rent a bike.
Next, move on to visit
Great Mosque
, which perfectly compromises the merits of Chinese and Islamic cultures and is said to be the only Islamic mosque adopting Chinese style in the world. It is right located in the lively
Muslim Quarter
, the best food street to savor local snacks in Xi'an. To satisfy your appetite to the full extent, we will serve today's lunch in a popular restaurant there, where a variety of local snacks are available.
Today's last stop will be
Shaanxi History Museum
, which offers an overview of the thousands of years of Chinese history and the splendid ancient cultures through 1,717,950 pieces of relics.
Meals: Western buffet breakfast, Local flavor lunch
Cycling on the City Wall
Muslim Bazaar
Day 7
Xi'an to Chongqing by Flight
Fly to Chongqing; visit Chongqing Zoo and Ciqikou Village; board Yangtze River cruise ship. (B+D)
After having breakfast in the hotel, pack your luggage and the guide will send you to the airport. Fly to Chongqing. Upon landing, our local guide will wait for you right outside the Arrival Hall. After picking you up, we will arrange for you a Chongqing city tour covering
Chonqging Zoo
and
Ciqikou Village
. Chongqing Zoo is home to over 20 giant pandas where you can see those cute animals eating bamboos and playing around. Ciqikou, is an ancient village boasting folk houses dated from the Ming and Qing dynasties and spicy and mouth-watering local snacks.
★
Enjoyable Yangtze River Cruise along the Most Scenic Section
Later, transfer you to the port and our guide will assist you to check into the Yangtze River cruise ship. We have carefully chosen the well-equipped New Century Cruise for luxury accommodation and President Cruise No.7/No.8 for comfort, both sailing between Chongqing and Three Gorges Dam in Yichang, passing by the most scenic section of Yangtze, Three Gorges. During the Yangtze River Cruise tour, you will be provided with a detailed daily schedule every day, so you know when to have breakfast, lunch and dinner, and what are the activities and arrangements each day. The cruise guide will explain the schedule and give introductions to the famous scenic spots while the ship cruising by. Should you have any question, feel free to ask the cruise guide or the reception.
After a short break at the room, enjoy buffet dinner and have fun in the Captain's Welcome Party provided by New Century Cruise. The President Cruise does not provide dinner tonight, so we recommend you to try the local food for dinner before we transfer you to board the cruise ship.
Meals: Western buffet breakfast, Buffet dinner on New Century Cruise
Day 8
Yangtze River Cruise
Take an onshore excursion; enjoy your leisure time on board or participate in some cultural activities. (B+L+D)
Today, it is advised to get up early to join in the Tai Chi master to do some morning exercise. After breakfast, disembark and follow the cruise guide to visit the Ghost City of Fengdu. It is believed that every soul is judged in the "Ghost City" after death before going to the nether world and Fengdu Ghost City was built based on the beliefs, where you can learn a lot about the culture of ghost in China. During the rest time of the day, you will be free to enjoy yourself on the cruise ship, take in the beautiful scenery, relax completely on the sundeck, or participate in various cultural programs onboard.
For travelers who take President Cruise ship, the onshore sightseeing will be arranged at Fengdu Mount Shuangguishan National Forest Park instead, which is a great place to enjoy a leisurely walk and melt into the nature. Those guests will also enjoy their Welcome Party tonight.
Meals: Western buffet breakfast, Lunch, Dinner
Yangtze River Cruise
Learning Taichi on Board
Day 9
Yangtze River Cruise
Admire Yangtze Three Gorges and take an onshore excursion. (B+L+D)
The highlight part of the Yangtze River Cruise is coming today as the ship sails through Three Gorges. It will sail through the
Qutang Gorge
at around 11:00 – 11:30 and
Wu Gorge
at about 13:15 – 13:30, both guarded by peculiar mountain peaks. After admiring the majestic scenery, disembark and take an interesting adventure by motorized ferry along Shennv Stream. Sitting on the ferry, you will travel along the zigzagging watercourses and enjoy the grotesque rocks and picturesque scenery along the banks, accompanied by the folk songs from the trackers. After returning, the ship will sail into the
Xiling Gorge
, which is the longest gorge among the three and renowned for the numerous shoals, swift currents and grotesque peaks.
Meals: Western buffet breakfast, Lunch, Dinner
Day 10
Yichang to Shanghai by High Speed Train
Disembark from cruise ship and visit Three Gorges Dam; take a high-speed train to Shanghai and transfer to hotel. (B)
Your amazing Yangtze cruise journey will end with an onshore visit to the
Three Gorges Dam
, which is the world's largest irrigation project. Its construction greatly protects people living in the lower reaches from floods and its generated power can serve over 14 million households. Before disembarking at around 08:00 – 08:30, please pack your luggage and check out from the ship.
After visiting the giant dam, the cruise company will transfer you to the Three Gorges Tourist Center in Yichang city, where our local guide will meet you and send you to Yichang East Railway Station to catch a high speed train to Shanghai. We will book a seat on the one with the shortest running time of 6 hours and 15 minutes in advance. Upon your arrival in Shanghai, our guide and driver based there will greet you and transfer to the hotel.
Meals: Western buffet breakfast
Visit Shanghai Museum, Yu Garden and adjacent Yuyuan Bazaar; enjoy a la carte farewell lunch; cruise on Huangpu River and have a leisurely stroll on the Bund; then explore old cultural block of Tianzifang. (B+L)
Your private Shanghai trip starts from the
Shanghai Museum
, which houses a large amount of collections, among which the fine art pieces are the most valuable. Then, visit one of the most famous gardens in south China,
Yu Garden
, which is well known for delicate architecture, exquisite layout and beautiful landscapes. There are also many vivid stone carvings, clay sculptures and wood carvings worth your attention. After the visit, the guide will lead you to explore the neighboring Yuyuan Bazaar for a while.
Next, enjoy an a la carte farewell lunch (valued at CNY150.00 per person and included in our price) at a fancy and famous local restaurant well known for Shanghai and Cantonese cuisines.
In the afternoon, we will offer you a one-hour
cruise on Huangpu River
. The modern skyscrapers on the east bank of the river and the old western buildings on the west bank will show you the past and the present of the city simultaneously. After going ashore, stroll around on
the Bund
to admire the western building clusters closely. They are in various styles and got the name: International Architecture Expo. This day will conclude at Tianzifang, a cultural street with artsy stores, bars and restaurants.
Meals: Western buffet breakfast, A la carte farewell lunch
Yu Garden, Shanghai
Skyscrapers in Shanghai
Day 12
Departure from Shanghai
Transfer to airport and see you off there; a pleasant trip home! (B)
Today you will prepare for your homebound flight. Our guide and driver will meet you in the hotel at the appointed time and see you off at the airport. If you wish to extend your China tour package to other destinations, please contact our travel consultant to further discuss. We wish you a pleasant journey home!

Meals: Western buffet breakfast
This trip can be customized to meet your individual needs!
Destinations
4 Stars Hotels
5 Stars Hotels
Beijing
Beijing New World Centre Tongpai Hotel
Hotel New Otani Chang Fu Gong
Xian
Holiday Inn Xian Big Goose Pagoda
Crowne Plaza Xi'an
Yangtze River
President No.7/No.8

with balcony

New Century Cruises

with balcony

Shanghai
Ocean Hotel Shanghai
Renaissance Shanghai Yu Garden Hotel
Tour Prices
Christmas & 2024 Special:
12% off
- Book before Dec 31, 2023
Prices with 4 Stars Hotels
2-3 travelers
4-5 travelers

USD3039

USD2679

USD2759

USD2429
Prices with 5 Stars Hotels
2-3 travelers
4-5 travelers

USD3449

USD3039

USD3179

USD2799
Prices are per person on twin sharing basis.
The prices in red reflect 12% discount.
Price Includes
Domestic airfares & train fare
Hotel accommodation with breakfasts
A la carte lunches as itinerary specifies
Private English-speaking guides
Private drivers & air-conditioned vehicles
Entrance fees to tourist sites
Yangtze River cruise with full board
Price Excludes
International airfares
Entry Visa fees
Personal expenses
Tips or gratuities for guides and drivers
Other levels available for this itinerary: