Ci Qi Kou (Porcelain Village)
Situated on the bank of the Jia Ling River, not far from its confluence with the mighty Yangtze is the ancient village of Ci Qi Kou, formerly known as Long Yin. Covering an area of some 291.6 acres (1.2 square kilometres), it is 9 miles (14 kilometres) to the west of Chongqing Municipality.
Chongqing itself has undergone many changes over the centuries, changes that have not been reflected in Ci Qi Kou with the consequence that the village conveys an impression of what Chongqing would have been like in the distant past. This fact has been recognized by the State Council and in 1998 Ci Qi Kou became a protected cultural site.
The history of Ci Qi Kou can be traced back for more than 1,700 years. During the Ming and Qing Dynasties (1368-1911), it was famous for its production of porcelain. To date, over twenty old kiln sites have been discovered there. It is because of the importance of the porcelain industry that the name has been changed from Long Yin to Ci Qi Kou which is translated as Porcelain Village. Moreover, the village was an important supply post for shipping on the river, a fact that explains why there are so many shops lining the twelve lanes paved with their large flag stones that form the main routes. Here you will find many outlets for craftwork, groceries and the like as well as a horologist, photography supplies, drugstore and a tempting supply of roasted nuts and seeds. As one would expect, there are also many teashops and restaurants to cater for the many visitors who come to see something of a way of life that has existed here for so many centuries.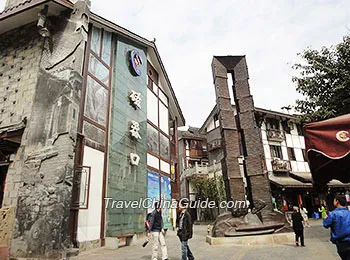 The majority of the houses on the street of Ciqikou date from the Ming and Qing Dynasties, periods during which many masterpieces of Chinese architecture were created. Much of the two and three storey construction is made of bamboo and timber. Blue bricks and pillars set off the snow-white walls that contrast in turn with vermilion doors and lattice windows. Black tablets and lanterns adorn the gates to complete the authentic and traditional appearance of the properties. The quietly flowing waters of the Jia Ling River pass by the front of the village and have been its lifeblood for as long as anyone can remember. For it was the river that brought goods and people here as well as carrying local products off to customers at home and abroad.
The three notable attractions of the village are the tea bars, the artists' studios and the Shu Embroidery workshops. Surprisingly, there are more than a hundred tea bars each with their own particular characteristics. Here friends enjoy a chat or meet to discuss business. So the tea bars offer the opportunity for you to meet the locals and also become acquainted with the unique folk opera.
The ateliers, where you may see the work of the local artists will be of great interest. It has been said that the more beautiful a place is, the more artists it will attract. You are sure to be amazed by the quality of the works on show and in progress as the many artists record the local scenes with skill and dedication. With so many artists working in Ci Qi Kou, you will be spoiled for choice when seeking a souvenir of your visit.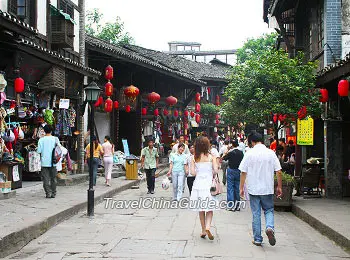 Artistic ability of another kind will surely please your eyes when you visit a Shu Embroidery workshop. The craft is famous throughout China and the skill of the women you will observe working in the village is unsurpassed. It will be difficult to decide whether to opt for a painting or a piece of embroidery as a reminder of your visit as the choice on offer is truly stunning.
Choice is no less a problem when it comes to deciding where to take a meal at one of the many restaurants. Local dishes include Mao Xue Wang, Qian Zhang Pi and Jiao Yan Hua Sheng. All come very highly recommended. You may well ask 'What on earth are they?' It is our opinion that whichever you try, you will not be disappointed and will soon come to realise why they are so popular.
It is often said that a visit to China is a cultural experience. This is never more true than when you visit a place such as Ci Qi Kou where you will find the local residents dedicated to their traditional way of life, unaffected by modern influences to be found in the larger towns and cities. Above all, you will find a friendly welcome awaits you as the people of Ci Qi Kou share their special way of life with you for the duration of your visit.
Transportation
1. Take
metro line 1
and get off at Ciqikou Station.
2. Take bus 202, 220, 224, 237, 261, 467, 503, 808, or 843 and get off at Ciqikou Main Entrance.
Chongqing Bus/Metro Search
Ticket Information
The town is free to enter and open all day long, but some tourist attractions inside may charge admission fees. The ticket price of Baolun Temple and Zhong's Compound is CNY 5 for each.
Nearby Attractions

Cinder Cave

Bai's Mansion

Top 10 Things to Do in Chongqing
- Last modified on Apr. 15, 2021 -
Questions & Answers on Ci Qi Kou (Porcelain Village)
Asked by Walan from THAILAND | Sep. 10, 2019 18:04

Reply
Is there left luggage service (or luggage storage) at the Ciqikou Ancient Town?
Answers (2)
Answered by Wren from USA | Sep. 11, 2019 20:26

0

0

Reply
As I know, you can store your luggage at tourist center.
Answered by walan from THAILAND | Sep. 11, 2019 21:09

0

0

Reply
Could you please provide me the details about tourist center?