Simian Mountain
Simian Mountain is located in Jiangjin District of Chongqing City. Five main scenic areas on the mountain are open to tourists. From north to south, the scenic areas are: Dragon Pool, Danxia Landform, Wangxiangtai Waterfall, Pearl Lake, and Honghai Lake. You can also climb up Chinese Love Ladder to experience a couple's romantic and moving love. Apart from these beautiful natural sceneries, there are famous local specialties as well.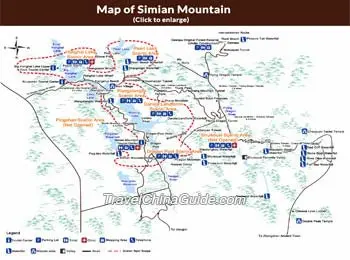 Map of Simian Mountain
(Click to enlarge)
Dragon Pool
Dragon Pool, in the north of Simian Mountain, is a barrier lake formed by landslide. The pool is named after a kind and helpful white dragon, who, according to legend, lived in the lake. To the west of Dragon Pool is a mountain covered by dense forest. Reflected in Dragon Pool, it looks like an underwater forest. Visitors can row a boat to see fish swimming leisurely in the pool or watch monkeys playing happily by the lakeside.
Danxia Landform
To the south of Dragon Lake is Danxia Landform, formed by geological movement between Jurassic (199.6 million to 145.5 million years ago) and Cretaceous Periods (145.5 million to 65.5 million years ago). Danxia Landform Scenic Area is famous for Danxia Landform Cliff, which is 410 yards (375 meters) long and 140 yards (128 meters) high. On the cliff are excellent natural forms carved, such as vivid Effendi, graceful women, and thick books.
Wangxiangtai Waterfall
Keep walking to the south, one will arrive at Wangxiangtai Waterfall. With a height of 525 feet (160 meters) and a width of 50 yards (46 meters), Wangxiangtai Waterfall is the highest one-step waterfall in China. Therefore, it is honoured as "the Highest Waterfall in China". Together with the surrounding Danxia landform cliffs, they resemble the shape of a heart, for which it is also named "the First Heart-shaped Waterfall in the World". For visitors, a night visit to the waterfall is recommended as the advanced sound and light technologies make it even more charming.
Pearl Lake
Pearl Lake in the south of Simian Mountain is 4,260 feet (1,298 meters) above sea level, making it the highest lake on that mountain. The lake is surrounded by mountains, like a dark green jade embedded in mountains. Water of Pearl Lake, flowing down from mountain streams, forms a waterfall called Pearl Waterfall.
Honghai Lake
Walking eastward, you arrive at Honghai Lake. There are two lakes here: Big Honghai and Small Honghai Lakes. Reflections of trees and flowers in the lakes are clear and distinguishable, creating a fairyland in the water. Visitors can sit in a boat, seeing mandarin ducks playing in the water, watching elks drinking water by the lakeside, and viewing egrets flying up from the lakes.
Chinese Love Ladder
After your visit to the five main scenic areas of Mt. Simian, you are strongly recommended to climb Chinese Love Ladder, which is in the northwest of the mountain. In 1950, Liu Guojiang, a 20-year-old man fell in love with a beautiful widow Xu Chaoqing who was 10 years elder than him. This was considered unacceptable and immoral at that time. To escape gossip from fellow villagers, he eloped with Xu to the deep Simian Mountain. As the mountain is very steep, Liu Guojiang spent over 50 years carving a safe ladder leading downhill for Xu. 6000 steps had been carved by the time Liu died. Moved by the love story, people give the ladder a name, "Love Ladder".
Though the couple passed away, their love story continues and encourages many lovers. From 2008 on, many lovers are invited here on
Double Seventh Festival
, the Chinese Valentine's Day to take part in all kinds of love-related activities. If interested, you can go and celebrate with them.
Local Specialties
Having enjoyed the beautiful scenery, you may have a taste of local specialties, including selenium-rich kiwi fruits, honoured as "holy fruits for longevity"; honey, gathered from bees bred on Mt. Simian naturally, enjoying high nutrition and good taste; and Huilong green tea, having a good effect to soothe the throat.
Tips
1. It is recommended that visitors take a sightseeing bus to travel from one scenic area to another on the mountain. Ticket price is CNY 40 per person. There is no limit on the number of buses that can be taken with the ticket.
2. The Simian Mountain is very large. For a full visit, you should spend two days on it. The admission ticket is valid for two consecutive days.
3. There are hotels and folk houses inside and at the foot of the mountain, providing dining and accommodation.
How to get to Mount Simian from Chongqing

Direct Line
Every year in the peak season, usually from June to October, a regular bus travels directly between Chongqing Longtousi Tourism Bus Center and Simian Mountain. The bus departs from Longtousi Tourism Bus Center at 08:00 and returns at 16:00. Ticket price is CNY 60 for a single trip and CNY 100 for a round trip.

Transfer Line
Take a long-distance bus from Chongqing Caiyuanba/ Chenjiaping/ Longtousi/ Jiangbei Airport Long-distance Bus Station to Jiangjin. Upon arrival, take a direct bus to the mountain; the bus departs from 06:00 to 15:20 every half an hour and a ticket costs CNY 22.5. Below is the bus schedule from Chongqing to Jiangjin:
| From | Running Time | Ticket Price |
| --- | --- | --- |
| Caiyuanba | 06:30-20:00 every half an hour | CNY 24 |
| Chenjiaping | 07:00-20:00 every 40 minutes | CNY 20 |
| Longtousi | 07:00-21:00 every an hour | CNY 24 |
| Jiangbei Airport | 09:30-16:30 every 80 minutes | CNY 35 |
Admission Fee
February to October: CNY 110
November to next January: CNY 60
Cruise Boat

Dragon Lake: CNY 30 for a round trip

Big Honghai Lake:
Wooden Boat: CNY 30 for a round trip
Motor Boat: CNY 40 or CNY 60 for a round trip

Small Honghai Lake: CNY 8 for a one-way trip and CNY 15 for a round-trip

Sightseeing Bus
CNY 40