Hongya Cave (Hongyadong)
Hongya Cave has a history of over 2,300 years. It was a military fortress from the ancient Ba State (1046 B.C. - 256 B.C) to the
Ming
and
Qing
Dynasties (1368 - 1911), and was also the site of the earliest and most developed pier of ancient China. The site now houses a large-scale stilt house complex built alongside a steep cliff on the bank of Jialing River. It has become a popular destination for visitors to experience Bayu culture - a Chinese ethnic culture, gaze over the river, and taste delicious food. The stunning night view is a highlight and should not be missed.
| | |
| --- | --- |
| Hongya Cave Stilt House | Hongya Dripping |
Hongyadong is an 11-storey, 75 meters (245 feet) stilt house abutting a steep cliff. It is popular with tourists because it has a similar appearance to a building in Spirited Away - a masterpiece of a famous Japanese cartoonist, Hayao Miyazaki. It is incredible that the 1st floor and the 11th floor are accessible by two different roads. Visitors can take an elevator to each level where various bars, café and restaurants are arranged. Visitors can also see the symbolic Hongya Dripping on the 2nd floor, which is a small waterfall cascading down the cliff-face. It is regarded as one of the 12 Bayu Sites.

Four Cultural Streets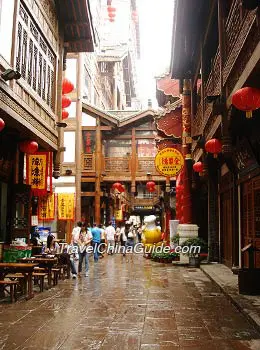 2nd Floor: Zhiyanhe Bar Street is crowded with numerous well-known bars including the most spiritual one in Chongqing - Feiyu Music Bar, which is close to Hongya Dripping. The street has a traditional appearance but is filled with modern elements. There, visitors can view the night scenery of the riverside while drinking outdoors.

4th Floor: Tianchengxiang Bayu Culture Street presents traditional local dwellings with red eaves and grey tiles. It is filled with restaurants selling traditional Chongqing food like Chongqing Hotpot, Pork Dumplings, Walnut Cookies, Hot and Sour Rice Noodles.

9th~10th Floors: Foreign dishes, such as pasta, Japanese dishes, and Korean snacks, can be tasted in Banquet Food Street. It is highly recommended to taste the NenluTea dessert which has been praised by Lonely Planet Magazine.

11th Floor: In Exotic Balcony Street, visitors can buy exotic garnitures and handiwork and also have coffee and hamburgers there. There is also a ship-like pirate-theme bar with half of a ship's hull suspended from the ceiling. As well, visitors can overlook the stilt house and Jialing River from the balcony.
Nightscape from 18:00 to 22:00
The nightscape of Hongya Cave is a highlight and is a unique feature of Chongqing. When dusk falls, warm-toned lamps and lanterns brightly light up the stilt house. Together with its reflection on the water, this shining complex is like a dreamlike pavilion floating among the surrounding towering skyscrapers. Visitors can view the stunning nightscape from different angles.
Best Viewing Points of the Nightscape
1. Qiansimen Bridge
Visitors can admire the lights and shadow of Hongyadong from the front when strolling along Qiansimen Bridge, next to the stilt house.
2. Exotic Balcony on the 11th floor
Roofs of the stilt house complex look like several dazzling stairways if seen from above. What's more, an overview of the Jialing River can be gained from this highest platform.
3. Cruise along
Yangtze
and Jialing Rivers
The journey starts from
Chaotianmen Dock
and will pass by Hongya Cave at the halfway point. It will provide you a different way to admire the nightscape.
4. Jiabin Road
Jiabin Road is at the foot of Hongyadong. From there, visitors can enjoy the charming night scene from a very close visual angle. If using time-lapse exposure, you will be able to take good shots of the stilt house floating in the 'Milky Way' made by lights of long stream of cars.
How to get to Hongya Cave

By bus:
1. Take bus line 111, 151, 181, 262, 466, 881, 866, and get off at Linjiangmen Station.
2. Take city sightseeing bus line t480, and get off at Jiabin Road Hongya Cave Station.

By metro:
1. Take
metro line 2
and get off at Linjiangmen Station; leave from Exit A and walk eastward along Linjiang Road for about 700 meters (750 yards) to Hongya Cave.
2. Take
metro line 1
or
line 6
and get off at Xiaoshizi Station; use Exit 6 and walk northward along Cangbai Road for about 700 meters (750 yards) to the stilt house.
| | |
| --- | --- |
| Admission Fee | Free |
| Opening Hours | All day |

Nearby Attractions:

Chongqing Liberation Monument
: the central landmark of Chongqing in the bustling business circle.

Jiefangbei CBD
: Also called Jiefangbei Pedestrian Street or Jiefangbei Square, it is the busiest and most prosperous business district in West China.

Top 10 Things to Do in Chongqing

10 Famous Places in China with Rising Popularity over the Web
- Last updated on Apr. 15, 2021 -