Chongqing Dining -- What to Eat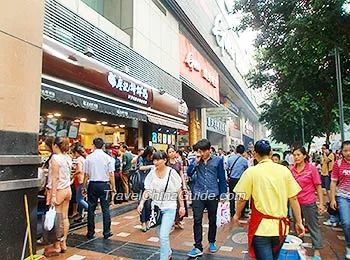 Bayi Food Street
When you come to Chongqing, you will not to be surprised to hear that the Chinese believe in the saying 'People make food their Heaven'. It would seem that people in this city are never weary of eating. Thousands of restaurants are scattered throughout every corner of the city, luring customers from home and abroad with their different specialties.
As one branch of
Sichuan cuisine
, Chongqing cuisine is noted for its distinctive spicy and pungent flavors. Different from Chengdu cuisine, these local dishes are spicier and stronger in taste. Chili pepper, sesame, fermented black beans, scallions, ginger, garlic, wine, soy sauce and an array of flavorings are used in almost 40 different cooking methods. These methods include drying, salting, spicing, pickling, frying and smoking. Color, smell, flavor, shape, and nutrition are all carefully balanced in local dishes - no wonder people say that Chongqing food is not only attractive but nutritious.
This city is the birth place of the hot pot in China. Once upon a time, it was a seasonal food designed to protect against the low temperatures and frigid winds of the winter. People would sit around a table, eat hot pot, and revel in the instant warmth that would flood their bodies. Hot pot has become more and more popular today, and it is widely enjoyed by people and regardless of seasons and regions.
Eating hot pot is a joyful experience. First, you need to choose the pot - spicy, pure or a combination of two - for the soup and dipping sauce. After the spiced soup boils with a hazy steam, fish, meat, bean curds and vegetables can be added. When the soup boils again, you can eat by dipping them in a little bowl of special sauce but be careful of the burning hot soup!
In this city, hot pot restaurants can be found everywhere and many have become very popular among the local people. Xiao Tian E (Cygnet Hot-Pot Palace) and Su Da Jie, E Zhang Men are the restaurants most suited for mass consumption. The hot pot restaurants in the Chongqing 5-star Harbour Plaza also serve decent food in a cozy environment.
| | |
| --- | --- |
| Hot Pot | Popular Eateries |
Hai Yi Xuan, the hot pot restaurant in this plaza, is one of the most luxurious dining places. It has a reputation for authentic food, an elegant environment and excellent service. Nine different soup bases and a menu of over 200 selections are served. You can also pick food from the buffet. Popular choices of soup base are Local Spicy Hot Pot, Ham and Marrow Hot Pot and herbal hot pots.
The most famous hot pot restaurant in this city must be the Cygnet Hot-Pot Palace, which is a forerunner among the catering service. As you enter the restaurant, you will be deeply attracted by the atmosphere. The decoration here is unique--stone walls and red poles, with winding corridors and brilliant eaves. Shows are put on every night--beautiful songs, graceful dances and some folk dramas all make the dinner special. Here, you can really taste the fervor of the spice and enjoy the flavor from a boiling hot-pot. The specialties are medicine meal hot pot and red and white composite hot pot. The location of Cygnet is on the 6th floor of New Chongqing Square, Yuzhong District.
Apart from the Hot Pot, you can try the authentic Sichuan dishes. The food at the Tao Ran Ju Flavor Restaurant reflects the spicy feature of Chuan cuisine and caters for most Cantonese. The restaurant serves in a cozy environment and the price is reasonable. Dishes are innovative and have received the national award every year. The signature dishes are: Spicy Winkles, Fish with Sour Chili, Crispy Toothpick Rabbit Meat, Steamed Sticky Rice Sparerib, Taoran Chili Chicken with Taro.
By the bank of Yangtze River, there is a famous restaurant named Wai Po Qiao (Grandma's Bridge) on Nan Bin Road. The hotpot is served on the first floor. And the second floor is only for Sichuan food. When having the Sichuan food, we would recommend that you choose a river view box where you can appreciate the spectacular night view of the Yangtze River and the city in the moonlight. The extraordinary dishes and hospitable service make it a wonderful place to hang out with friends and families.
| | |
| --- | --- |
| Delicious Snacks | Fried Crabs |
Since the catering business is thriving in this city, many food streets are forming gradually and naturally. Jiefangbei CBD, Nanbin Road, and Bayi Street teem with street vendors and restaurants. Many local specialities like tea-smoked duck, dry-stewed fish, chicken with spring water, Dan Dan Mian (Sichuan Dan Dan Noodles), etc. are worth tasting, but only if you are adventurous with hot and spicy experiences!

When you walk on the streets in the city center, you will be attracted by some local snacks. Xiangshan Honey Cake is made of flour and honey balsam and it tastes very crisp and soft as well as sweet. In addition, Shancheng Small Glutinous Rice Balls are fairly sweet. Jiuyuan Steamed bun with stuffing is special in taste with salty stuffings of ham, winter bamboo shoots and sweet stuffings of walnut seed, honey Chinese date, and rosy sugar. Chicken Juice Fried Dumpling is made of chopped pig muscles and chicken juice seasoning, it contains many nutrients.

Read more about 12 Most Popular Sichuan Foods – Have you ever tried?
- Last updated on Sep. 06, 2023 -
Questions & Answers on Chongqing Dining
Asked by RS from INDIA | Sep. 06, 2023 11:52

Reply
Vegetarian food
Are there any good vegetarian options in chongqing food and what are some of the good places to eat authentic vegetarian food near Yuzhong or Jiefangbei area?
Answers (1)
Answered by Ivy | Sep. 06, 2023 23:43

0

0

Reply
At no.162, Bayi Road of Jiefangbei CBD, there is a Su Yi Xiang Vegetarian Restaurant.
Actually, almost all restaurants in Chongqing offer vegetable dishes and you can tell the waiter your requests and ask them to recommend some for you.
Asked by AHMED from UNITED ARAB EMIRATES | Dec. 16, 2019 23:07

Reply
Visiting Chonqing and Kaili
Hi,

I need some help, are there good western or middle-eastern cafes / restaurants in the city? If yes please send me the names and addresses
Answers (1)
Answered by Gary from SINGAPORE | Dec. 19, 2019 17:42

0

0

Reply
懒鱼时光馆(二厂店): Wenchuang park, No.1 TESTBED2, Elingzheng street, Yuzhong District.
Hana to Alice Coffee&Cocktails: Gate 1, C Building Tianjie, Longhu Shidai, Yuzhong district.
Asked by Dimpesh from INDIA | Mar. 21, 2019 05:15

Reply
I am at Chongqing city and lushan area so I want to know near by Indian restaurant
Answers (1)
Answered by Diana from FINLAND | Mar. 25, 2019 23:03

0

0

Reply
There are several Indian restaurants in the city, such as Curry Curry Indian Restaurant. It is located at No.004, G Floor, Tianheli Shopping Mall, South Jianxin Road, Jiangbei District. You can find nice Indian foods there. And the prices are reasonable. :)

In addition, do you refer to Lushan in Jiujiang City?
Asked by Ailee from AUSTRALIA | Aug. 16, 2015 00:10

Reply
Where can i get good Dan Dan Mein and Smocked duck in Jiefangbei, Chongqing?
Answers (2)
Answered by Juma from INDIA | Aug. 16, 2015 03:00

2

2

Reply
I just know a Zhengdong Dan Dan Mein resto. It is in the Shihuishi Market closeby (near SMC Centra/Plaza), around 800m from Jiefangbei. Sorry that I have no idea of the smoked duck thing.
Answered by Ailee from AUSTRALIA | Aug. 16, 2015 03:58

1

0

Reply
Thanks Juma
Asked by Mohamed Fawzi from CHONGQING | Jul. 16, 2015 05:16

Reply
R there any oriental restaurants in chongqing?
Answers (1)
Answered by Coco from RUSSIA | Jul. 16, 2015 21:30

1

0

Reply
Yes, many Chinese food restaurants are located in this city.
You can go to Snack City. There are many distinctive local foods for you.
It's located at Building B1, Yutian Mansion, 1 , No,177, Bayi Road, Yuzhong District.

Actually, you can find one easily along any propersous streets.