Chongqing Dining -- Where to Eat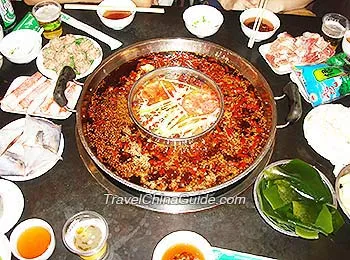 Chongqing Hot Pot
Chongqing Hotpot Restaurants
E Zhang Men is also a well-known hot pot restaurant in Chongqing. It is noted for its sour and hot soup base. Until now it has 14 chains throughout the city, the main locations include:
Da Tong Jie Restaurant: No.28 Da Tong Street, Yu Zhong District
Sha Nan Restaurant: No.49 Sha Nan Street, Sha Ping Pa District
Long Hu Xi Yuan Restaurant: No.112 Jiu Long Lakeside, Yu Bei District
Liu Yi Shou is a famous hot pot brand in this city more suitable for the taste of guests coming from other places outside of Chongqing. The soup in the hot pot is a little sweet in taste and thus not that irresistible hot.
Featured dish in Liu Yi Shou Hotpot Restaurant: Hog Bowel, Duck Blood, Codfish Ball, Bean Curd, Roti Canai, Glutinous Rice Cake with fried egg
The main locations include:
Jie Fang Bei Restaurant
Average cost per person: CNY 35-60
Address: located at No.46 Cangbai Road, Yuzhong District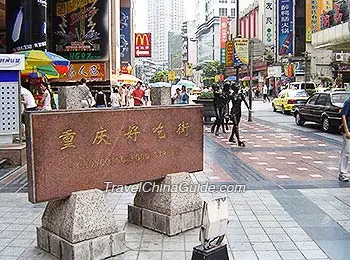 Hao Chi Jie Food Street
Guan Yin Yan Restaurant
Average cost per person: CNY 30-60
Address: located at No.168 Zhongshan Yi Road, Yuzhong District
Sha Ping Ba Restaurant
Average cost per person: CNY 35-60
Address: located at No.17 Tianchen Road, Sha Ping Ba District
Jiang Bei Restaurant
Average cost per person: CNY 35-50
Address: located at No.97 Honghuang Road, Jiangbei District
Nan Ping Restaurant
Average cost per person: CNY 30-50
Address: located at No.26-6 Taoyuan Road, Nan'an District

Local Snacks Restaurants
Shangcheng Xiao Tangyuan (Small Glutinous Rice Balls):
Address: located at No.175 Bayi Road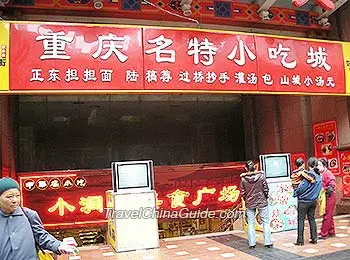 Snack City, Chongqing
Jiuyuan Restaurant (Steamed bun with stuffing)
Address: located at No.10 Minzu Road
Western Food Restaurants
The western food in this place is not as popular as the local food; therefore, it is a tough thing for you to find a decent western restaurant on the street. If your stomach is crying out for western food and your budget is available, you can go Portico's in Harbour Plaza which serves an international buffet at breakfast, lunch and dinner and a lavish brunch buffet on Sundays. The dinner buffet on Saturday is especially great value. Don't forget to book a table in advance to ensure a panoramic window seat.
The Manhattan Steakhouse in Marriott Hotel, Chongqing is one of the best places in town to have western food, the classic steak of imported beef and seafood is offered at lunch buffets and dinner. The Marriott Cafe is a good place for a western breakfast, and lunch and dinner are also served.
There are many KFCs and McDonalds. The main locations of KFC are as follow:
No.2 Nan Ping West Road, Nan An District
No.1 MinQuan Road (Near Ba Yi Street), Yu Zhong District
First Floor of Hui Xi'an Building, No.186 Min Zu Road, Yu Zhong District

Read more about 12 Most Popular Sichuan Foods – Have you ever tried?
- Last updated on May. 24, 2022 -
Questions & Answers on Chongqing Restaurants
Asked by yahya from PAKISTAN | Apr. 15, 2015 12:33

Reply
is their a Muslim food restaurant in Nan'an district, chongqing near nanping new street?
If any one knows let me know?
Answers (1)
Answered by Robert from GERMANY | Apr. 15, 2015 20:48

0

0

Reply
The nearest one is named as 'Taihe Mutton Restaurant' that has delicious muslim food, around 0.8mi away. But the menu isn't abundant. It's located at 88 yards away from Wanshou Road Station, Nanan District (beside the post office of Wanshou Road).

Or you can go to 'Qing Ju Zhai Muslim Restaurant'. It has all kinds of good muslim foods and comfortable environment. The distance to Nanping New Street is about 2.5 miles.
The address is 1st Floor, Muslim Mansion, No.5, Zhongxing Road, Jiaochangkou, Yuzhong District. Hope you like.

Asked by wendyl from CHINA | Aug. 07, 2012 20:20

Reply
Where to go for a dinner theater in Chongqing.
My husband and I have just moved to this city and would be interested in finding a dinner theater or even a theater opera that we could attend after a dinner.
Does anyone have any suggestions, information or addresses?
Answers (1)
Answered by Ms.FRANKENSTEIN from FRANCE | Aug. 08, 2012 04:46

1

0

Reply
You can go to Grand Theater to enjoy yourselves. It is located at the Culture Street East Road, North City, Jiangbei District.

Asked by TimeyG. from UNITED STATES | Jul. 19, 2011 08:04

Reply
Looking for American breakfast food. Can I find any in Chongqing?
Answers (1)
Answered by Jenny from CHINA | Jul. 19, 2011 21:47

1

0

Reply
Yes, there are American breakfast served in this city. You could find at these star-rated hotels. On the other hand, the food materials are sold at supermarkets.
Asked by Mr.shabeer from PAKISTAN | Mar. 31, 2011 06:33

Reply
I would like to look for muslim food in chongqing
Answers (1)
Answered by Ms.Linda | Apr. 01, 2011 02:27

1

0

Reply
You can find a nice muslim food restaurant named Qing Ju Zhai at the Muslim Mansion, 5, Zhongxing Lu.