Chongqing Nightlife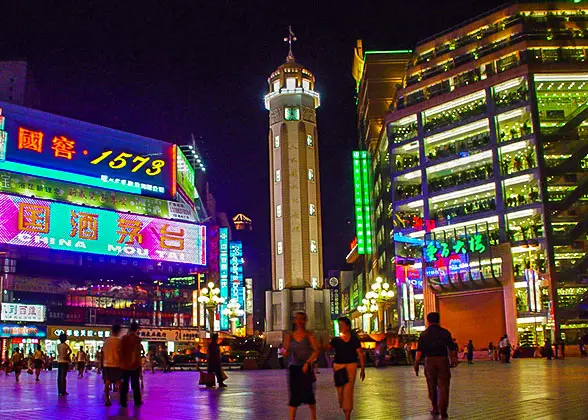 Chongqing's vibrant night life is no different from that of China's other thriving metropolises, boasting bars, movie theatres and dance clubs which bring the city alive in the evening hours. Tired of the usual tourist activities? Try one of the recommendations given below to get a taste of Chongqing's nighttime offerings.

Whether for dinner or for a late-night snack, hot pot is a must if you want to experience some local flavors. A booming business all-year-round, hot pot is a thriving local tradition in Chongqing. Come nightfall, hot pot restaurants and numerous sidewalk stands open for business. Adorned with strand after strand of colorful lights, hot pot businesses come in all different shapes and sizes. You will find that some are small, intimate shops, while others consist of only a few tables with umbrella covering for an alfresco dining experience. You can find these hot pot spots easily on many lanes and streets. On average, a hot pot dinner cost around CNY50 per person. The local Little Swan (Xiao Tian E) Hot Pot and Morals Village (De Zhuang) Hot Pot are highly recommended.

Once dinner is finished, enjoy a leisurely walk around the streets of Chongqing, a city famous for its nighttime scenery. For a superior view, make your way up to the top of South Mountain, where you will find a well-known sightseeing spot called "Yi Ke Shu", or in English, "A Tree". At this very spot, you will experience a splendid panoramic view of the entire city, including a view of its two bordering rivers in the waters of which the brilliant city lights are reflected. Take the No.384 bus from Jiefangbei commercial center and get off at Nanshan Station. There is an entrance fee of CNY10 per person.

After viewing the shimmering waters of the Yangtze and Jialing Rivers from South Mountain, you may also want to take a night tour aboard a cruise ship to view the city's night views. Fares for a 2-hour cruise tour range from CNY30 to CNY80 per person. Tours run from 7 to 10 o'clock in the evening and depart from the Chao Tian Men Dock.

Or, if you're looking for some entertainment from the silver screen, Chongqing Studio City Cinema has what you're looking for. The largest and most luxurious cineplex in the area, it is located on the sixth floor of the Metropolis Plaza in the Yuzhong District. Most films are dubbed in Chinese, although Hollywood films and Chinese blockbusters with English subtitles are shown occasionally. Since its grand opening in 1998, Studio City Cinema has been regarded by locals as the top entertainment centre in Chongqing.

When you want to sit down and relax, venture to Nan Bin Road, where you will find many bars, pubs, cafe and teahouses, each offering a unique style and flavor. Stretching along the Yangtze River, this street has become a hub for nighttime leisure in Chongqing. You will have no problem finding Nan Bin Road, just look for the dazzling neon lights. The following is some of the shops for your reference:

Bars
Real Love Bar
Feature: the get-together place for the white collar
Recommended Alcohol: various kinds of red wine
Average cost per person: CNY180-200
Soho Bar
Feature: the most popular bar to make friends; calling the waiter by waving the candle on the table
Average cost per person: CNY70-100
Address: No.88 Jiao Chang Kou Road, Yuzhong District
Kuai Che Dao (fast lane) Bar
Feature: making friends through the telephone which is put on each table on the main hall
Recommended alcohol: Corona Beer
Average cost per person: around CNY50
Address: No C-9 Nan Bin Road, Nan'an District

Cafés
Starbucks Coffee (Minzu Road Branch)
Recommended coffee: Latte, Macchiato, Cappuccino, Frappuccino
Average cost per person: CNY35-50
Address: No.166 Minzu Road, Yuzhong District
U.B.C. Coffee (Diwang Square Branch)
Recommended food: Pasta, Spaghetti, Beef and Tomato Rice
Average cost per person: CNY40-60
Address: on the first floor of Diwang Square, No.166 Minzu Road, Yizhong District
C. straits Café (Jiefangbei Branch)
Recommended drinks: coffee, flower-fruit tea
Average cost per person: CNY40-50
Address: on the third floor of New York Mansion, No.169 Minzu Road, Yuzhong District

Teahouses
Yuan Yuan Yuan Tea Restaurant
Average cost per person: CNY20-30
Recommended Drink & food: Longan Milk Tea, Pineapple Shave Ice, Honey black tea, Mung Bean Milk Tea, Green Tea with Mint, Barbecued Pork Rice
Address: on the 5th floor of Hong Kong City, Beichengtian Street, Jiangbei District (at the opposite of Maoye Department Store)
Be For Time Tea House ( Shapingba Branch)
Average cost per person: CNY18 (unlimited drinks)
Recommended drinks: Icy Latte, Salt Lemon Soda, Lavender Milk Tea, Sundae Iced Coffee
Address: No.54 Tianchen Road, Shapingba District
- Last updated on Nov. 23, 2023 by Brenda Lian -
Questions & Answers on Chongqing Nightlife
Asked by Eugene from KOREA | Mar. 19, 2023 19:46

Reply
Bar recommendations for 20s
I am late 20s male
I am planning to go trip to chongqing with my friend
We are 6 ft tall and good looking
We are trying to pick up some girls(make a girlfriend)
What bar would be great?
I heard some clubs but it is quite loud and expensive to get table for 2 person
Answers (1)
Answered by Trace | Mar. 20, 2023 19:26

0

0

Reply
You may go to Jiangbei 9th Street, the so called Bar Street where many clubs and bars gather.
Asked by bt from USA | Feb. 23, 2014 23:48

Reply
Is there a link to info for the night 2hr cruise from ChaoTianMen Dock starts at 7pm in Chongqing?
What's included(any dinner options or snacks)? How much does it cost for children rate? Can we purchase tickets in advance if we have 8 people or is it walk up on the night to purchase tickets? What's closest MTR station or best bus to get there for night cruise?
Answers (5)
Answered by Green from USA | Feb. 24, 2014 02:48

0

0

Reply
Hi, bt.
As I know, the ticket fare is around 88RMB per adult and children over 1.2m need to buy the full-price tickets. If below that, it charges no money.
You may try to book in advance at the docks directly. Or you can do it through local tour agency, but the fare will be a little bit higher if you did so.
The closest mtr station is Xiaoshizi Station of line 1.
Answered by bt from USA | Feb. 24, 2014 11:17

1

0

Reply

green, so the "Fares for a 2-hour cruise tour range from CNY30...." is outdated information on this page if fare is now ~88RMB per adult. I've also seen references to 7pm start in this page and then 8pm start on other websites so which one is more accurate so I can plan out the MTR commute time to MTR station Xiaoshizi plus the additional walking to the dock.
Answered by Green | Feb. 24, 2014 21:22

0

1

Reply
The information I get is that the cruise starts at around 20:00.
For the ticket fare, I just heard it is around 88RMB, but not very sure. It is suggested to go to the dock to confirm directly or consult the local tour agency.
Answered by bt from USA | Feb. 25, 2014 17:20

0

0

Reply
Thanks, I'll check with the local tour agency once we get into CQ. 8pm is nice as that will give us time to enjoy dinner before heading over to the night cruise.
Answered by Green from US | Feb. 25, 2014 19:11

0

0

Reply
If so, that will be great and hope you can have a nice trip in that wonderful place.
Besides, the local snacks on Snack Street is worth trying if you have time.
Asked by Bryan (Singapore) from GERMANY | Sep. 05, 2011 22:27

Reply
Looking forward to planning a trip to both Chengdu and Chongqing. How far apart are they?
Looking forward to planning a trip to both two cities. How far apart are they? how long would be a good iterary to cover all the nightlife & sightseeing at both beautiful cities?
Answers (1)
Answered by Jimmy from CHINA | Sep. 05, 2011 23:06

1

0

Reply
The distance between these two cities is about 300km, taking 2.5 hours to finish by bullet train.
Generally, one week should be enough for you to cover the esscen of these two cities. You could refer to the tour itinerary suggested on this website: https://www.travelchinaguide.com/package/chengdu.htm
Asked by Mr.ATAM from INDIAHI | Nov. 07, 2010 03:48

Reply
HI,

MY WISH I WANT TO SEE AGAIN THIS BEAUTFUL CITY.
GIVE ME ADVICE FOR BEAUTFUL NIGHT LIFE IN THAT PLACE.
Answers (1)
Answered by Mr.Michael | Nov. 09, 2010 03:36

1

2

Reply
You can either go to the bars or clubs to have a drink or go to some traditional streets for the local food, that would be a great experience!
Asked by Ms.eileen from CHINA | Jan. 14, 2009 06:49

Reply
I think,the information should be changed.In Chongqing,true love bar is popular with chinese pepole and the music is not so good,because i have been there with foreigners.now there are more bars in the bar street,such as cotton bar,No.88.
Answers (1)
Answered by Mr.Johnny from SINGAPORE | Dec. 06, 2009 23:12

6

7

Reply
Hi Eileen. I will be there for for work in Dec. Which is the friendlier bar to go since I am alone? I do not wish to sit alone like a fool there; it will be too wierd.