Mutianyu Great Wall
The Mutianyu Great Wall is one of the best-preserved and best-known Great Wall sections. The Great Wall at Mutianyu has breath-taking scenery but less tourists, thus a good destination on hot holidays for a Great Wall tour at ease. Located 40 miles (65km) to the north of Beijing city proper, it can be reached directly by Mubus from downtown without transfer on the way.

Why Visit Mutianyu Great Wall

It is one of the best-preserved sections.

Watchtowers are densely distributed along the Great Wall.

Some of the watchtowers are seldom seen along other sections and quite rare in the architectural history of the Great Wall. Examples are the Zhengguan Terrace (No. 6 Watchtower) comprised of three hollow watchtowers, and Big Corner Tower (No. 1 Watchtower), named so because only one big corner can be seen from the paths in three sides.

The surrounding natural scenery is breath-taking. Woods cover over ninety-six percent of the total scenic area. Flowers bloom all over the mountains in spring. Grasses dress the hillside green in summer. Trees are laden with sweet fruit in autumn, and especially in October, leaves turn red or yellow, touching the mountain tops with gold. In winter, the wall is covered by snow, making it more magnificent.

About 40 miles (65km) to the north of Beijing city center, it is easy to reach from downtown area by public transport.

It has been renovated, making it easier and safer to climb. Moreover, it is equipped with cableway and luge, possible for children and seniors to make a visit.
Travel to Mutianyu with Us
Basic Facts of Mutianyu Great Wall

It has a total length of 3.4 miles (5,400 meters).

It was first built in Northern Qi Dynasty (550-557). In the Ming Dynasty (1368-1644), Tan Lun and Qi Jiguang, two famous patriotic generals, rebuilt it in order to strengthen its defensive potential when they guarded the strategic pass. It served as the northern protective screen, guarding the capital and imperial mausoleums for generations.

It is mainly made of slabs of granite. It measures 23 feet (7 meters) to 26 feet (8 meters) in height, and 4 yards (4 meters) to 5 yards (5 meters) in width.

Both sides of the Great Wall have parapets to defend against enemies. Some parapets are saw- tooth shaped instead of the regular rectangular form. Below the parapets, there are square embrasures, the top of which are designed in an arc structure, different from the traditional round embrasures.

There are 23 watchtowers distributed at close intervals along the wall. They are located not only in the main wall but also at the distinctive "branch city". Branch cities are built on the hill ridge against the inner or outer side of the wall. For example, No. 11 Watchtower can be found on the branch wall.

Zhengguan Terrace (No. 6 Watchtower) is 44 yards (40 meters) long, 33 yards (30 meters) wide, and 66 feet (20 meters) high. The gate is not designed in the middle, but is on the eastern side. The two-storey terrace is comprised of three hollow watchtowers, a large one in the middle and two smaller ones on two sides. It has many rooms to store grain and station troops.

Big Corner Tower (No. 1 Watchtower) is connected with Mutianyu in the west, with Gubeikou in the east, and with a branch city wall in the south. The tower looks like a corner from each angle, so it is called Big Corner Tower.
| | |
| --- | --- |
| Wriggling Wall of Mutianyu | Kids are having fun |
Opening Hours
March 16 to November 15:
Monday-Friday: 07:30-18:00; Weekends: 07:30-18:30

November 16 to March 15: 8:00-17:00
Admission Fee
Adults: CNY 40
Seniors elder than 60: CNY 20 (valid ID or passport required)
Children between 1.2 and 1.4 meters (3.9 and 4.6 feet): CNY 20
Note: If you buy an entrance ticket attached with a postcard of Mutianyu, you need to pay CNY 5 more.
Children under 1.2 meters (3.9 feet) are admitted free.
Mini Group Day Tour to Mutianyu Great Wall & Forbidden City from

$79


Mutianyu Great Wall Tickets Booking
How to tour Mutianyu Great Wall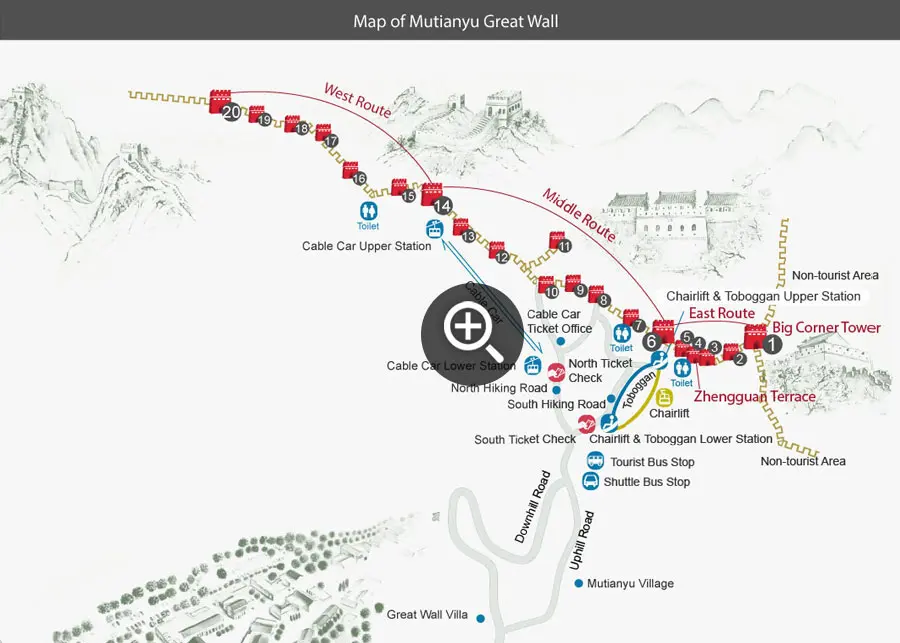 Mutianyu Great Wall Map (Click to enlarge)

The scenic area has two entrances: south entrance and north entrance. One can start the visit from either of it.
Hiking:

Go through the North Entrance, you will hike up to No. 10 or No. 8 Watchtower.


Go through the South Entrance, and you will arrive at No. 8 or Zhengguan Terrace (No. 6 Watchtower).


Upon arriving up there, you can hike either northward or southward. The northward route between No. 14 watchtower and No. 23 watchtower has the most beautiful scenery, while the southward route contains the grand Zhengguan Terrace and Big Corner Tower.

Cable Car:
Apart from hiking, you may also take a cable car up to the No. 14 Watchtower. The lower station is near the North Entrance, so you can easily find it. It is safer and smoother than the toboggan, even suitable for children and senior visitors.
Adults
Children
Single Trip
CNY 100
CNY 50
Round Trip
CNY 120
CNY 60
Service Hours
March 16 to November 15: 08:00-17:00
November 16 to March 15: 08:30-16:30
Chairlift / Toboggan:
You can also take toboggan down from Zhengguan Terrace (No. 6 Watchtower) near the South Entrance. It is very exciting to take the toboggan, and a great choice for young people. The fare is listed below.
Adults
Children
Single Trip
CNY 100
/
Round Trip
CNY 120
CNY 60
Service Hours
Monday to Friday: 08:00-16:50
Weekends: 08:00-17:00
| | |
| --- | --- |
| Chairlift | Toboggan |

See more Visiting Mutianyu Great Wall: Toboggan, Cable Car, or Chairlift?

When is the Best Time for a Visit?
Although it is suitable for a visit all year round, the best time is April, May, September, and October, when the temperature is favorable, neither too cold nor too hot. But try to avoid May Day Holiday (from May 1st to 3rd), and
National Day Holiday
(from October 1st to 7th) when there will be more tourists.
| | |
| --- | --- |
| Fresh Green Scenery | Winter can be beautiful but it is chilly for a visit |
How to Get to Mutianyu from Your Hotel in Beijing

Option 1: Expert Guided Day Tour in English
Join our fully guided day tour in mini group size with maximum 9 members, with pick up & drop off service from your hotel in Beijng, to tour Mutianyu Great Wall, and highlights of Beijing including the Forbidden City, Tian'anmen Square, Bird's Nest, and Nanluoguxiang Hutong.


Option 2: Take Mubus to the Great Wall from Downtown Beijing
There is a direct bus running from Swissotel Beijing Hong Kong Macau Center to Mutianyu Great Wall. The bus departs at 07:40 and 12:00. Visitors need to book a ticket in advance in order to guarantee a seat.


Option 3: Dongzhimen Tourist Bus Line
From Dongzhimen Wai Bus Station, one can take direct Dongzhimen tourist bus line which departs at 08:30. The duration is 1.5 - 2 hours and the ticket fare is CNY 30. Subway line 2 or line 3, bus line 359, 915/ 915 express, 935/ 935 express, 942 or 966 is available to reach Dongzhimen wai bus station.

Option 4: Bus line 916 Express + h23, h24, h35 or h36
It is the popular way to reach Mutianyu from Dongzhimen Public Transport Hub. One need to take bus line 916 express to Huairou North Avenue (Huairou Beidajie) Station. And then change to take h23, h24, h35 or h36 to Mutianyu Roundabout. Afterwards, walk about 3 kilometers (1.9 miles) to the ticket office of the scenic area. The total single journey time is around 2-2.5 hours.


Option 5: Qianmen Tourist Bus Line
This bus line runs directly to Mutianyu Great Wall from Qianmen Tourism Distribution Center. The bus departs at 08:30 from Qianmen and 09:00 from Shaoyaoju; the total travel time is 2 - 2.5 hours with the ticket fare of CNY30.

Read More: How to Get to Mutianyu from Downtown Beijing
| | |
| --- | --- |
| Interior of a Watchtower | Discarded Cannon |
Where to Eat
There are some restaurants near the entrance, but the food they provide is quite expensive. So, you may bring some food and water before departure.
They are the two most visited sections in consideration of the scenery, equipment, and transportation. If you plan a visit on normal days, both of them are okay. When you plan a visit during peak travel season, Mutianyu is recommended, for
Badaling
may be overcrowded on some big holidays and you probably cannot enjoy the scenery to the full.
You May Like:
Mutianyu Great Wall Travel Review
Which Section of Great Wall to Visit
Top 10 Places to Visit in Beijing
- Last modified on Sep. 14, 2019 -