Mutianyu Great Wall Travel Review

Author & Photographer: Dustin D. Ooley (USA)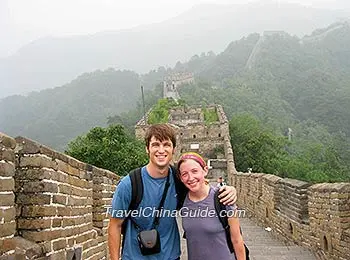 Dustin and his friend at Mutianyu
I had lived in China for 25 months and never seen the Great Wall, a UNESCO World Heritage Site and Chinese historical marvel. I had opportunities to go in the past, sure. When the Peace Corps group visited Beijing's American Embassy to meet Hillary Clinton, we had a couple extra days to travel. But instead of going to the wall, we chose to wander around Tian'anmen and later to visit an old friend. Only last week we were in Beijing again, but we couldn't decide which section we wanted to visit and we were growing suspicious of the high cost of pre-packaged tours.
One of the most common myths about the Great Wall is that the wall is continuous: one long and twisting stone dragon designed to protect China from northern invaders. While the Great Wall is indeed thousands of kilometers long, its distance is a result of several sections added together. In fact, historically the wall wasn't always made of stone. The different sections were built during various periods of Chinese history. Walls existed before the Qin dynasty, but the first emperor ordered them torn down as he worked to unify the country. Most of the Qin walls, built to defend China against the north, have eroded, and little remains today. Other sections built in the Han, Sui, Northern and Jin dynasties still remain today, but that's largely due to massive reconstruction and expansion during the Ming Dynasty. The Ming walls made use of stone, rather than compacted earth. The erosion of the earlier sections made from compressed earth is a testament to the long history of this man-made construction, though the unreconstructed sections of stone are also indications of its old age. The wall sections are so diverse and vast that in 2009 nearly 300 kilometers of Ming wall were found buried in sand.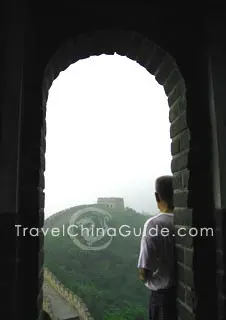 Great Wall
seen through the tower gate
During my trip, I looked down from the top of a tower on the northern side of The Wall and saw a home-made ladder leaning against the tower. The situation was droll, and it gave me pause to think back on the history of this massive construction project. The Three Gorges Dam, a massive feat of engineering in Chongqing, seems small in scope when compared to the Great Wall - even if the dam was better at serving its purpose. It's more difficult to imagine that this massive construction, which disappears over hills and into the distant fog, is only one of many sections. On a clear day, one cannot help but stand in admiration of the ramparts, guard towers, and overall impression that wall has had on the rest of the world (many foreigners come to see the wall).
Mutianyu is basically in a forest running along a ridge. In the summer it feels like a rainforest with humid air and green verdant landscape. The wall has its own animal life, with lizards, ants, and other bugs accessible to the careful observer. The visitors were scarce for China, though people I know have complained about it being too "touristy". I really didn't think so, but perhaps it was the day we went (Thursday in late July). Occasionally it was possible to have one part (guard tower to guard tower) to myself, and somehow this brief solitude makes the wall seem so much larger and more impossible.
There are people with beverages and snacks in nearly every tower who are happy to sell you a bottle of water for 5 RMB. We were happy that we brought our own food.
One of my favorite things about this section of the wall is the lack of supervision. Climbing didn't seem to be against the rules, nor was it even discouraged. I spent much of my time scrambling to the tops of guard towers, while others just looked up at me through square holes in the ceiling of each tower. I was almost happy the day was rather foggy, giving me more of a chance to focus on enjoying the wall rather than worrying about taking pictures. Once, when my foot slipped while climbing a tower, I suddenly understood the 1 RMB insurance that was available at the entrance gate. Be cautious and don't get over-confident – even on the close-set, little stair steps; a slip and fall here would be the beginning of a long day.
I would recommend not taking the cable car for a first visit; seeing the wall through trees for the first time is an experience far more worthwhile, even if you have to hike for about 40 minutes to get there. Take your time, go early, and bring plenty of sunscreen: there's a lot to explore here.
If you haven't seen the Great Wall, and you're interested in a cheap, convenient, less touristy option, then check out the Mutianyu section. Most hotels and hostels in Beijing will offer tours, and often you can check out the packages at different hostels. I still recommend making the solo trip only for the most adventurous travelers (and those who speak a little Chinese).
Information about DIY to the Wall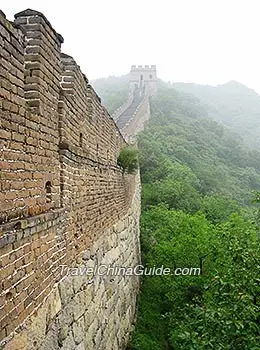 Mutianyu in mist
We opted to avoid the tourist packages when traveling to the Great Wall. The factors we considered most important were cost and crowds. We balanced this by choosing Mutianyu, a section of the wall that gets fewer tourists than Badaling, but remains accessible by public transportation.
Avoiding the tourist packages has a couple of drawbacks. The first problem was not having anyone to explain the history as we wandered around. If you don't care much about history, or you have a book that explains things, this isn't a problem. The other issue was time. Using public transportation, while cutting the price significantly, takes a long time. Plan to spend a day with transportation and 5 hours at the wall. Dividing the costs between us, we spent about
1. Bus 916 from Dongzhimen to Huairou (4.4 RMB with Beijing bus card)
2. Private car from Huairou to Mutianyu (25 RMB) - There was a public bus option from Huairou, but it didn't arrive until later.
3. Entrance fee (45 RMB)
4. Bus 936 from Mutianyu to Dongzhimen (6 RMB)
For a total of about 68 RMB.
Later we realized that the 936 Goes to the wall and back from Dongzhimen (6 RMB each way). Why bother with going to Huairou? Therefore our revised version would look like this:
1. Bus 936 from Dongzhimen to Mutianyu (6 RMB)
2. Entrance fee (45 RMB)
3. Bus 936 from Mutianyu to Dongzhimen (6 RMB)
For a total of 57 RMB per person. Nice.

Recommended tours including the visit to Mutianyu:
One Day Great Wall Tour, Two Days Package



Further Reading:


Introduction to Mutianyu Great Wall


6 Things to Do on Mutianyu Great Wall of China


Mutianyu Hiking


Mutianyu Pictures


Mutianyu Map
- Last updated on Aug. 02, 2022 -
Questions & Answers on Mutianyu Great Wall Travel Review
Asked by Philip from ITALY | Feb. 22, 2019 01:12

Reply
Dongzhimen to Mutianyu - update please.
In 2019, can anyone confirm if there a bus direct to Mutianyu (from Dongzhimen) or do we travel 916 express to Huairou and then bus/taxi to get there?
Answers (1)
Answered by Daniel from SINGAPORE | Feb. 24, 2019 22:10

0

0

Reply
The second way is more recommended if you cannot make sure if it is available. I went there in 2017 and it was available at that time but I'm not very sure about now.
Asked by RA from USA | Aug. 24, 2018 19:31

Reply
Is ticket to Mutianyu valid only for one day? I would like to go late afternoon then early morning.
Answers (1)
Answered by Monica from SWEDEN | Aug. 26, 2018 19:55

0

0

Reply
Yes, it's only valid for one day. In your case, you can buy the ticket next day in the morning.
Asked by Samuel Castillo from MEXICO | Aug. 07, 2018 10:01

Reply
Purchase tickets of Beijing Mutianyu Great Wall in advance?
Does someone recommend purchase entry + cable car tickets in advance? I will be next week at the Mutianyu section and trying to optimize time.
Answers (1)
Answered by Charles from UNITED KINGDOM | Aug. 07, 2018 18:06

0

0

Reply
Yes, it is necessary for you to book tickets in advance, which can help to save time, because August and September are the travel hot season.
Asked by Septry from INDONESIA | May. 27, 2015 02:39

Reply
So bus 936 is same bus 867? Is it a direct bus from Dongzhimen to Mutianyu?
Answers (1)
Answered by Allen from SENEGAL | May. 27, 2015 21:56

0

1

Reply
Septry, no.936 bus still exists but it doesn't go to the wall. You need to take no.867 bus. There are many 867 buses. You need to take no.867 bus that departs at 10:00 and 12:00 if you plan to see the wall. They return to Dongzhimen at 14:00 and 15:00.
Asked by G V Hebbar from INDIA | Apr. 01, 2015 00:26

Reply
What care is needed for a senior citizen with little heart problem to see Great Wall?
Answers (1)
Answered by Lena from KIRGIZSTAN | Apr. 03, 2015 21:23

0

1

Reply
Hebbar, if so, I think you might use cable car to visit these walls. Perhaps, you may just visit Badaling. The transportation is easy. You can take no.877 bus from Deshengmen to Badaling. It takes 1 hour and 10 or 20 minutes.