Great Wall in Ningxia
The Great Wall in Ningxia was constructed over many historical periods between the Warring States Period (475-221BC) and the
Ming Dynasty
(1368-1644). It has a total length of 936 miles (1,507 kilometers). The 322 miles (517.9 kilometers) remaining are mainly from the Qin State of the Warring States Period and the Ming Dynasty. In addition, 589 watchtowers, 237 beacon towers, 25 forts, as well as many sites of shelters, trenches, and pits still remain. The major relics are listed below.
Great Wall of Qin State in
Guyuan County

Erdaobian Great Wall of Sui Dynasty,
Yanchi County
Qin State Great Wall Relics in Guyuan
Qin State built a strong defensive line in order to prevent the constant invasion by northern nomadic people. The wall passes through Xiji County, Yuanzhou District, and Pengyuan County in Guyuan. It has a total length of 108 miles (174 kilometers). The wall is 6.6 feet (2 meters) to 33 feet (10 meters) high, and 9 yards (8 meters) to 11 yards (10 meters) wide. There are many forts, barriers, beacon towers, and barracks along the wall.
The wall consists of two lines. The straight inner line is well-preserved, and mostly complete. There is a pier about every 200 yards (180 meters) to 250 yards (230 meters). In contrast, the bow-shaped outer line is severely damaged. The remaining piers are 7 feet (2 meters) to 10 feet (3 meters) high, and little complete wall can be found.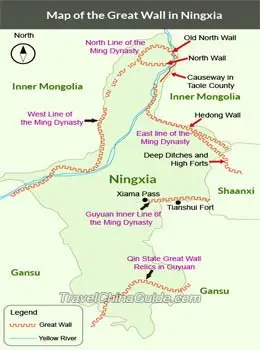 Ningxia Great Wall Map
(Click to enlarge)
Ming Dynasty Great Wall Relics in Ningxia
The relics consist of the West Line, North Line, East Line, and Guyuan Inner Line.

The West Line was built in 1531 at the lofty Helan Mountain. The wall is about 124 miles (200 kilometers) long. There are over 70 watchtowers, 130 beacon towers, 200 fire towers, as well as horse blocking walls, ditches, quarries, etc.

The North Line comprises the Old North Wall, North Wall, and the Causeway in Taole County. The Old North Wall in Hongguozi Town, Huinong District, Shizuishan, is well-preserved. On the plain it is made of rammed earth, and of stone on the mountain ridges. It has a total length of 6,383 yards (5,836.4 meters). At one rammed earth fort, some historical relics have been excavated, such as bricks, tiles, and porcelain pieces from the Ming Dynasty. The fort is thought to be the ruins of Zhenyuan Pass.
The North Wall, built in 1531, is also known as the "North Gate of the Border Defense". It runs from the west bank of the
Yellow River
in Pingluo County, via Touzha Town and Huibei Town, to Xingfu Village of Gaozhuang Town. From there, it runs northwest to Baotou-Lanzhou Railway and Mingshui Lake Farm, passing Weizhen Village of Erzha Town, before it reaches Dawukou Pass in Shizuishan City, ending at a precipitous cliff. It is poorly preserved, for most parts are covered by sand.
The Causeway, in Taole County, runs southward from the end of the Old North Wall, crosses Situ River, and ends at the East Line.

The East Line is comprised of Hedong Wall and the "Deep Ditches and High Forts" Wall. The former was constructed in 1474, with a total length of 120 miles (193.5 kilometers). More than 44 thousand pits were dug along this section of wall. The latter wall, 112 miles (180 kilometers) long, was built in 1531. A ditch of 16.5 miles (26.5 kilometers) long was dug on both sides of the wall in 1537.

The Guyuan Inner line was constructed on the site of the Qin State Great Wall. There are few records about this line.
Great Wall of Ming Dynasty in
Yanchi County, Ningxia

Hongguozi Great Wall of Ming Dynasty,
Shizuishan, Ningxia
Sanguankou Great Wall
It is about 25 miles (40 kilometers) to the west of Yinchuan, capital city of Ningxia. The original wall was constructed in 1531 during the Ming Dynasty. It starts from Daba Fort in the south, and ends at Sanguankou in the north, with a total length of 50 miles (80 kilometers). However, it has been gradually engulfed by sand. In 1540, the wall was renovated, and extended northward. "Sanguankou" literally means Three Passes. It got its name because there are three pass along the wall: The First Pass (Toudaoguan), The Second Pass (Erdaoguan), and The Third Pass (Sandaoguan).
The First Pass stands on flat and open terrain, which, in the past, could hold hundreds of horses. It is connected to the Great Wall to the north and southeast. The northern wall was made of stones, and piers were built at the bends. Nowadays, you can see some relics of the wall and piers. In contrast, the southeastern wall is well-preserved, with parapets on both sides. The wall is 23 feet (7 meters) high, 7 yards (6.5 meters) thick at the bottom, and 3.8 yards (3.5 meters) thick at the top.
The Second Pass lies 3.7 miles (6 kilometers) to the west of The First Pass. A pier stands on the top of the hill to the south of the pass. The pier is about 26 feet (8 meters) high, and 12 yards (11 meters) long on each side.
The Third Pass is 2.5 miles (4 kilometers) to the west of The Second Pass. It occupies a strategic location, with precipitous mountains and narrow valleys. There is a stone wall and a ditch along the mountain ridges.
Helankou Pass
The Helankou Pass in Helan County was a military stronghold during the Ming Dynasty.There are mountains on three sides, while to the east lies the vast Yinchuan Plain. There was a city wall at the pass, and several beacon towers at the heart of the mountain. Today, the defensive buildings are mostly in ruins, but the cliff carvings still remain. They were engraved by generals and soldiers on guard, and record the inspection of government officials and the renovation of the pass. In addition, you can find 400 paintings on the cliffs. These paintings focus on human faces, hands, footprints, as well as horses, donkeys, cows, sheep, and deer. Some human images have high noses, big ears, and heavy beards. Some have a bone in their mouths. Others wear horns, feathers, and scarves. These were painted by nomadic people more than 3,000 years ago, during the Bronze Age.
Urgent Protection is Needed
Ningxia is suffering a great deal from desertification, as are the walls. The rammed earth walls are being severely destroyed by wind, rain, and human activities. Additionally, the areas where the walls are located are remote and poor, so the walls have fallen into disrepair due to a lack of financial support. We need to act now to save this precious, but quickly disappearing heritage.

Further Reading:
Ningxia Travel Guide
- Last updated on Apr. 15, 2021 -
Questions & Answers on Great Wall in Ningxia
Asked by Lyndal from AUSTRALIA | Sep. 20, 2019 17:34

Reply
I'm in Yinchuan for a couple of weeks and would like to go to the Sanguankou Great Wall.
Would love to find a driver to take us out there. A little English would be great but not essential. Can't even seem to find a day tour out there. I know I could get a taxi out there but are they willing to hang around for a couple of hours?
Any help would be appreciated.
Answers (2)
Answered by Addison from FRANCE | Sep. 24, 2019 23:05

0

0

Reply
Well, according to your situation, you'd better to hire a private car rather than a taxi. Maybe you can find responsible drivers in local travel agency.
Answered by Lyndal Hirst | Sep. 26, 2019 18:05

0

0

Reply
Thanks so much Addison. I don't know why I didnt think of that. So used to doing everything online now I guess. Trip is now booked for tomorrow.
Asked by Hélène from FRANCE | Jul. 24, 2017 04:36

Reply
Go to the wall in Guyuan
Hi,
A lot of websites tell about a village named mahuangshan to see the wall near guyuan ... impossible to find this place, neither it's Chinese writing.
I'm today in Guyuan, nobody here seems have heard anything about the wall ...
Could you please indicate me how to get there or at on other place around guyuan to watch it ?
Thanks
Answers (3)
Answered by Kevin from USA | Jul. 24, 2017 20:46

1

0

Reply
Hi, you could take a taxi to Mingzhuang Village and walk to northwest. Then you could climb up the hills outside this village. The Qin Walls are behind the hills.
Answered by Hélène from FRANCE | Jul. 25, 2017 19:39

0

0

Reply
Thanks, I was there yesterday, it was a huge and straight mound of land but still, very impressive !!

Answered by Hélène from FRANCE | Jul. 25, 2017 19:45

0

0

Reply
I got an answer too from windehorse tours : too late for me, I had to leave but if anyone else is interested in Xioma pass, on other great part of great wall here :