10 Insider Tips for Great Wall Travel - Dos and Don'ts
5 Dos during Great Wall Travel
1. Select a proper section.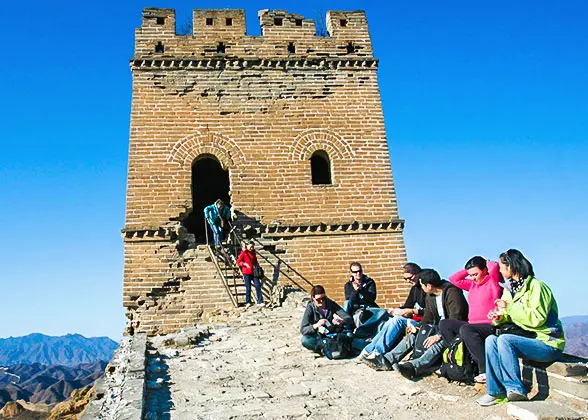 Badaling and Mutianyu are the first choice for visiting the Great Wall of China for the first time. If you have visited before, Simatai or Jinshanling is recommended. If you would like to take part in Great Wall day tour, do select a reliable travel agency. Plus, Top 5 Great Wall Sections to Hike are advised for experienced hiking enthusiasts.



See more
Which Section of Great Wall to Visit
Which one to choose, Badaling or Mutianyu?
6 Best Places to See Great Wall of China


2. Check the bus timetable and download a Beijing map.
Self-guided tourists should check the bus route in advance and download an online map. Bus 877 runs from Deshengmen to Badaling. Bus 916 Express runs from Dongzhimen to Huairou; after you can take a taxi or private car to Mutianyu. Don't miss the last bus back to downtown area.



See How to get to the Great Wall of China from Beijing

It is necessary to download an online map. Google map isn't available in China. You can use Iphone map or Bing map instead. Their navigation can help you find the bus stops.

3. Pack some food and water because they are are expensive on the Great Wall.
It is greatly energy-consuming to climb the Great Wall, therefore you are recommended to have a full breakfast. Besides, take some food to replenish your energy during the climbing, as well as some bottled water. One piece of bottled water can be priced as high as CNY10 up there.

4. Spend a night at the Great Wall would be a special experience.
Simatai Great Wall is the only section with night tour. Travellers can go through the Gubei Water Town to arrive in Simatai and have a fantastic Great Wall night tour.

5. Do wear a pair of suitable shoes.
Great Wall hiking may last around 2-3 hours or even longer and you need to go over many steps, thus it is necessary to wear a pair of comfortable shoes.


5 Don'ts during Great Wall Travel
1. Don't climb wild Great Wall.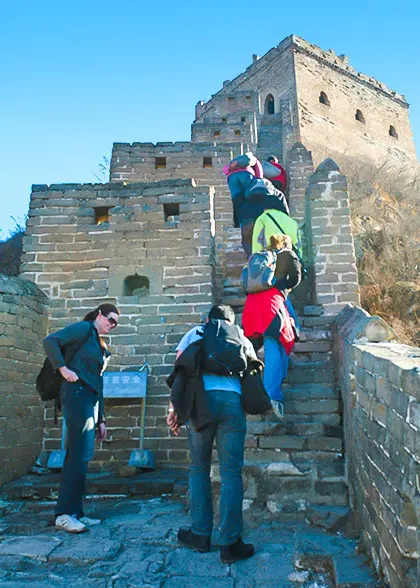 Do not be bold to climb the wild sections where the areas are insecure or damaged and there are no clear direction signs, otherwise you may get injured by the breakage of the wall or even get lost. Select the well-developed sections and look at the safety signs when climbing.

2. Don't take pictures while hiking.
This is also for safety's sake. Some Great Wall sections are steep, so keep in mind that you should walk without photographing and photograph without walking.

3. Don't take unofficial car.
There are illegal buses touting travelers for business around bus 877 stop at Deshengfmen and bus 916 stop at Dongzhimen. Don' take any of them to avoid being over charged, taken to other scenic spots or dumped half way. If you need to hire a private car from Huairou North Avenue to Mutianyu Great Wall, confirm the price with the driver before getting on the car.

4. Little kids should not take slides.
It is quite exciting and enjoyable to take slides down the Great Wall, so many people would like to experience it. Considering the safety, children under the age of 6 should not have a try. Children aged 6-14 years old can take it accompanied by an adult. The adult should well control the speed of the slide and protect the young child.

5. Don't camp on the Great Wall randomly.
Camping is forbidden on the Badaling and Mutianyu Great Wall. Around some sections like Jinshanling, there are specialized areas for camp. Don't camp on the wild Great Wall as you may be in terrible danger. If you want to stay overnight there, there are always hotels or farmyards available.


Further Reading:
Why should I visit the Great Wall of China? - Top 10 Reasons
How to Visit the Great Wall of China
How much does it cost to visit the Great Wall of China?
10 Guidelines for Travel to Great Wall of China in Winter
How to Camp on the Great Wall of China
Best Time to Visit Great Wall of China
9 Unusual Things to Do at the Great Wall of China

More
Great Wall of China Tours
- Last updated on Jun. 20, 2023 by Brenda Lian -
Questions & Answers on 10 Insider Tips for Great Wall Travel - Dos and Don'ts
Asked by Boulos from LEBANON | Mar. 24, 2018 06:15

Reply
Where are the top cities to visit in China in May?
Answers (1)
Answered by Callie from UKRAINE | Mar. 26, 2018 03:43

0

2

Reply
Based on the previous statistics, Beijing, Shanghai, Xi'an, Chengdu, Hangzhou, Kunming, Hong Kong, Xiamen, Suzhou, Guilin are the hot destinations in China.
Asked by Boulos from LEBANON | Mar. 24, 2018 06:14

Reply
My wife and I are visiting Beijing in May
We would like to see the great wall. are there any luxury sight seeing services in terms of pick up, transport, guides and return to Hotel?
Answers (1)
Answered by Vivian from AUSTRALIA | Mar. 26, 2018 03:47

0

1

Reply
Oh, Boulos, for your convenience, you are advised to join in a Great Wall tour directly. One of my friends joined TravelChinaGuide.com and tour around Great Wall. They have professional English tour guides, pick-up service... And the price is reasonable. If possible, their contact information is travel

travelchinaguide.com.
Asked by Laxman from NEPAL | Dec. 18, 2017 13:02

Reply
I am from Nepal. I want to visit China (Great Wall).
Request to show the best and cheapest plan.

Laxman
Answers (1)
Answered by Ethan from SINGAPORE | Dec. 18, 2017 19:40

2

0

Reply
You are advised to take a flight to Lhasa first. Then transfer to the flight to Beijing Capital Airport.
Upon landing, take Airport Express to Dongzhimen, get off and change to subway line 2 to Jishuitan (Exit B2). Then walk eastward for about 600 yards (550 meters) to Deshengmen to take Bus No. 877 and arrive at Badaling Great Wall.
Asked by ZHENLEI | Dec. 01, 2017 06:19

Reply
We are planning to go China on coming January.
Can we easily travel to Badaling and Mutianyu great wall section on coming January? Traveller said that, these sections are so crowed in winter.
Answers (2)
Answered by James from CANADA | Dec. 03, 2017 19:37

0

0

Reply
Well, as I know, you are advised to avoid visiting there on weekends and holidays in January. Thus there will have less crowed. Have a nice trip!
Answered by ZhenLei | Dec. 21, 2017 09:37

0

0

Reply
Thank you for your reply, our family members will go to China coming January 1st week. My father already booked tour packages from Trekclub to travel there. We will stay there five days.