Badaling vs. Mutianyu Great Wall, Which one to visit?
Badaling and Mutianyu are the two most visited Great Wall sections. Both are well-preserved, and well equipped for visitors' convenience. Which one should I visit if I have limited time? The answer is that Badaling is a must-see for first-time visitors to China and recommended on normal days, while Mutianyu is popular among foreigners and a good choice during holidays.
Here are their differences and similarities to help you make a final decision.
Best-preserved
Popular among domestic & int'l travelers
Too crowded to visit on some holidays
Cable car and pulley are available
Direct public transport from Beijing
vs
Well-preserved
Favored by

foreign visitors

OK to visit on holidays
Cable car and slide way are equipped
Need transfer from downtown Beijing
Both are well-preserved; Badaling is wider.
Badaling is the best-preserved and most complete section. The bottom is 7-8 yards (6.5-7.5 meters) wide, and the top is 5-6 yards (4.5-5.8 meters) wide, allowing five horses or ten soldiers to walk shoulder by shoulder. Its magnificence is incomparable. It is also the first section that was developed into a scenic area and opened to the public in 1958.
Mutianyu was opened as a scenic area in 1988. It is also well-preserved, retaining the original status of the ancient wall structure, while its scale cannot rival that of its counterpart, with a top width of 4-5.5 yards (4-5 meters).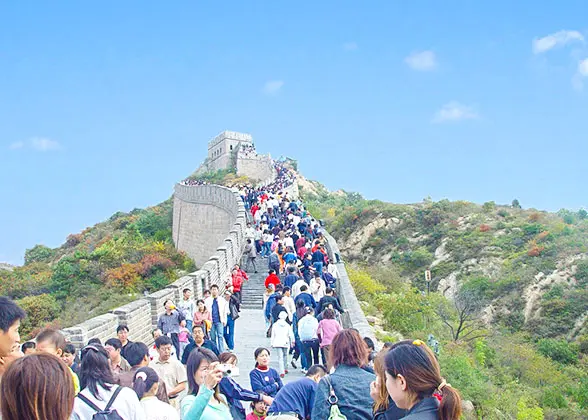 Badaling is overcrowded on holidays, while Mutianyu less crowded.
Badaling has more visitors than other sections. As of today, it has received 150 million visitors from home and abroad. This may be the source of the rumor that it is overcrowded, but that is not always the case. Most of the time, Badaling has a regular number of visitors. The scenic area is large with pretty long walls, allowing enough space. During holidays, however, especially National Day Holiday from October 1st to 7th or the
Chinese New Year
, it will be overcrowded.
Mutianyu, with less tourists, ensures pleasant tour experience all the year round. Even on public holidays, you can enjoy the scenery at an easy pace. If you plan to take the cable car, it is better to go early, for there might be a long queue at the cable car station on some big holidays.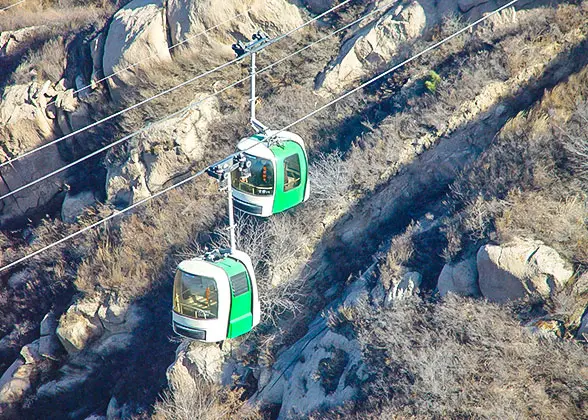 It is wise to consult a China Public Holiday Calendar to avoid big holidays. If you happen to visit during the peak travel time, Jinshanling and Juyongguan with fewer visitors are also good alternatives.


Both are well-equipped with sound facilities for visitors' convenience.
At Badaling, there are two cableways: North Cableway and South Cableway. Additionally, visitors can ride on the exciting pulley. At Mutianyu, visitors can ride on the cableway. Also, they can descend by slideway, which is quite thrilling. Both sections are equipped with handrails for visitors' convenience and safety.
For people lacking physical strength or families with kids, Mutianyu is more recommended, for the gentle slope makes it less challenging.
Badaling is more easily reached by public transport than Mutianyu.
How to get to the Great Wall makes little difference to group travelers, but it means a lot to independent travelers.
Compared with Mutianyu, Badaling is more easily accessible by public transport from downtown Beijing. You can take bus line 877 from Deshengmen or tourist bus line 1 from Qianmen to get there directly. Or, you can take an S2 train from Huangtudian Railway Station near Huoying Subway Station.
S
ee
How to Get to Badaling from Downtown Beijing
There is no direct transportation to Mutianyu from downtown Beijing. You need to take bus line 916 Express or 916 from Dongzhimen to Huairou District. Then, change to a local mini bus or charter a private car to get there.
See
How to reach Mutianyu from Downtown Beijing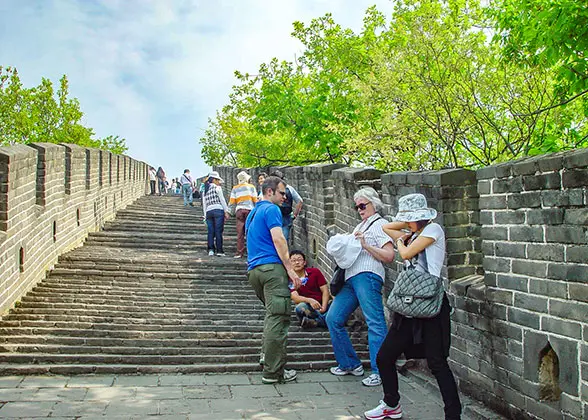 World Leaders Prefer Badaling.
Accompanied by China's Premier Zhou Enlai, India's first Prime Minister Jawaharlal Nehru visited Badaling in 1954. It was the first time a foreign head of state was received at the
Great Wall of China
. Since then, it has become an important place to entertain foreign leaders. More than 460 heads of state, and heads of government have visited it. Some of these influential people are Richard Nixon, Ronald Reagan, Mikhail Gorbachev, Elizabeth II, Margaret Thatcher, Nelson Rolihlahla Mandela, Boris Yeltsin, George W. Bush, Vladimir Putin, and Barack Obama.

Mutianyu also received some influential people, like Michelle LaVaughn Robinson Obama.
- Last modified on Feb. 25, 2019 -
Questions & Answers on Badaling vs. Mutianyu Great Wall
Asked by minh son doan from VIỆT NAM | Feb. 25, 2019 03:27

Reply
Time and cost to visit badaling and summer palace
i plan to visit Badaling and Summer Place in a day, and i plan to take taxi to Badaling, then return Summer Palace. How long will it take? How much is taxi's fare?
Answers (1)
Answered by Jane from CANADA | Feb. 25, 2019 17:57

0

0

Reply
The fare from Badaling to Summer Palace is about CNY200 and it takes around 80 minutes. One day is too tight and expensive.
Asked by Patrick Häuser from GERMANY | Feb. 17, 2019 11:25

Reply
Will the flow of tourists in Badaling in mid-March be alright? Or is it too full?
Thanks.
Answers (1)
Answered by Fred from AUSTRALIA | Feb. 17, 2019 22:30

0

0

Reply
Hi, it will be less than in other time but still a little busy and you are suggested to get there before 10:00.
Asked by Kim from NORWAY | Jan. 11, 2019 10:57

Reply
Does Badaling have the same toboggan ride as Mutianyu?
Not gonna lie, the moment I heard about the toboggan ride down the Great Wall I knew I had to try it. But is it the same on both sections of the Great Wall?

Answers (1)
Answered by Nina from SINGAPORE | Jan. 13, 2019 18:20

0

0

Reply
It seems it is only available in Mutianyu Great Gall.
Asked by SCHERLE | Sep. 03, 2018 08:09

Reply
Is Beijing S2 train Huangtudian - Badaling vice versa still operating?
We wil be visiting Great wall of China and stay in Xican Road, Nandonggou Village, Badaling Town, Yanqing County.

Also, other than Summer place, can you suggest other tourist near the area.

Thank you.

-Scherle
Answers (4)
Answered by Vida from USA | Sep. 03, 2018 18:20

0

0

Reply
Yes, it is still operated; the ticket price from Huangtudian to Badaling is about CNY7.
Nearby Summer Palace you can also visit Yuanmingyuan Ruins Park and Baiwang Mountain.
Answered by SCHERLE | Sep. 04, 2018 06:48

0

0

Reply
what route can you suggest we go from Badaling to summer place Yuanmingyuan Ruins Park and Baiwang Mountain?
And how long will it be?
Thank you
Answered by Vida | Sep. 04, 2018 18:51

0

0

Reply
If you want to travel to Badaling Great Wall and Summer Palace in a day, you must set out at 05:00 and then return at 11:00. Besides, finish your lunch on the way back. From Badaling to Summer Palace requires about 3 hours without traffic jam. It is expected that you can visit Summer Palace at 14:30 and you have no time to see Yuanmingyuan Ruins Park and Baiwang Mountain. The time is very tight. So you are advised to arrange two days to visit these scenic spots.

Day one: Badaling Great Wall
Day two: Summer Palace, Yuanmingyuan Ruins Park and Baiwang Mountain

Answered by SCHERLE | Sep. 05, 2018 08:50

0

0

Reply
How can we reach Summer Palace, Yuanmingyuan Ruins Park and Baiwang Mountain thru subway or bus though?

Thanks
Asked by Chantell Alers from SOUTH AFRICA | Aug. 26, 2018 21:13

Reply
We are going to the Great Wall on Saturday 18 September with 2 small children and 3 people over 65.
Which area would you suggest?
Answers (1)
Answered by Jenny from CANADA | Aug. 26, 2018 22:55

0

0

Reply
Badaling is a better choice since the transport is more convenient and it's better equipped.