Great Wall in Liaoning
When talking about Great Wall in Liaoning, we should not miss Hushan Great Wall, the east starting point of the Great Wall of China. Other famous sections include Jiumenkou, a section over a river; Xiaohekou, "the most beautiful wild Great Wall", and Zhuizishan, a section lying on steep mountain ridges.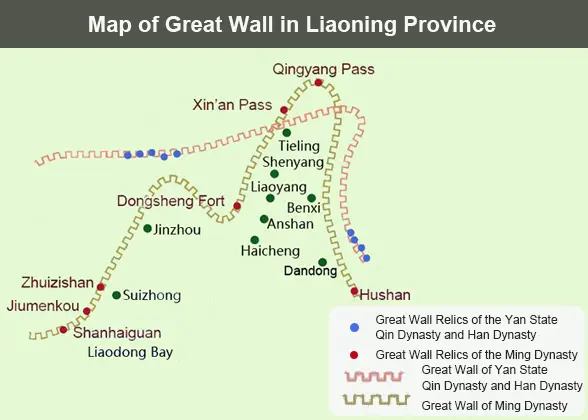 Liaoning Great Wall Map (Click to enlarge)
Although the history of constructing Great Wall in Liaoning dates back to over 2,000 years ago, most existing sections were built in the Ming Dynasty (1368-1644). Among the overall 1,460 miles (2,350 kilometers), about 620 miles (1,000 kilometers) are from the Ming Dynasty.

Laolongtou
(Old Dragon's Head) in Qinhuangdao in Hebei Province was regarded as the eastern most part of the Great Wall. However, recent excavations prove that Hushan is the real eastern end of the wall.
| | |
| --- | --- |
| Hushan | Jiumenkou |
Xiaohekou
To the west of Zhuizishan lies Xiaohekou Section. It is known as "The Third Badaling" because of the steep terrain and grand structure. The wall has a total length of 9,733 yards (8,900 meters), with 31 watchtowers, 18 enemy towers, and 14 beacon towers. The Xiaohekou section was mainly constructed of stones. The windows and doors of the watchtowers are carved with fine patterns of plum blossoms, orchids, clouds and ribbons. Therefore, it is also called "The Great Wall with Femininity".
Xigou
The Xigou section was constructed in 1381 during the Ming Dynasty. The wall is quite complete and beautiful. It is 23 feet (7 meters) to 26 feet (8 meters) high, made of huge stone slabs, and wrapped with blue bricks. The joints are filled with lime mortar. Depending on geographical location and military functions, different watchtowers were designed and built along it, including sentries, five-window watchtower, six-window watchtower, and shelters for soldiers.
Better Protection Is Needed
The Great Wall of China is deteriorating. Take the Ming Dynasty Great Wall for example. According to a recent investigation, only 8.2% is comparatively well-preserved; 74.1% is so poorly preserved that the outlines can hardly be made out. The section in Liaoning Province is no exception. Storms, floods, earthquakes, and lightning strikes contributed to the collapse and disappearance of the wall and watchtowers. Moreover, the human hand is another destructive factor. Bricks and stones have been removed to build houses, pens for livestock, and roads. Sadly, some local governors contend that the original wall should be torn down, and a new one built for the sake of tourism. Actually, they are destroying precious heritage, rather than protecting it. Imagine the dismay of later generations when they see a brand new construction. So, let's act now to properly protect the wall, and leave the original heritage to our descendants.

Further Reading:
Liaoning Travel Guide
- Last updated on Apr. 15, 2021 -
Questions & Answers on Great Wall in Liaoning
Asked by Audrey OConnell from USA | Aug. 01, 2016 21:32

Reply
We are currently living in Changtu which is close to Tieling and Shenyang.
Is there parts of the Great Wall near by that is still standing and worth making a trip to? We are visiting the wall next week near Beijing but would like to see a part of it that isn't so touristy.
Answers (1)
Answered by Bryan from UNITED KINGDOM | Aug. 02, 2016 20:36

0

0

Reply
As I know, the nearest section should be Hushan in Dandong City. But it's not recommended to visit for the 500 miles distance in between. I personally suggest you wait until the next week to see the Wall in Beijing.