Great Wall of China Weather – Temperature & Clothing Tips
The Great Wall weather features four distinct seasons. The spring is mild, dry, a little windy and short; the summer is hot and sunny with more rains; the autumn is pleasant, sunny and less rainy; and the winter is long and chilly. In addition, as the Great Wall is located in the suburbs and mountain ridges, the temperature of
the Great Wall
is often lower than that of the downtown.
Averages for Great Wall Weather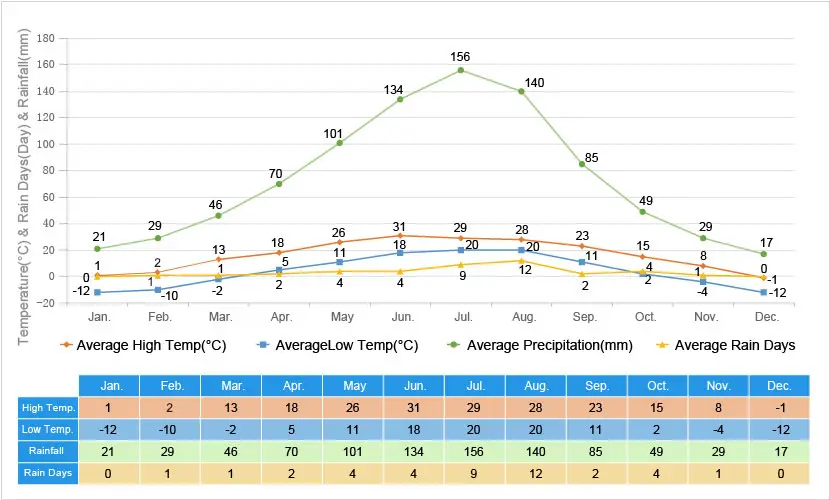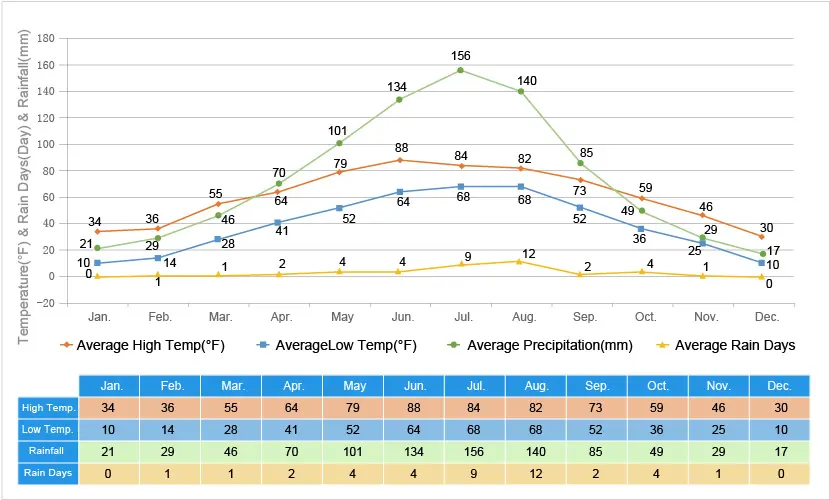 Great Wall Weather by Month
The best time to visit Great Wall is from spring to autumn, or March to October. Winter is too cold; also, as all leaves are gone, the scenery is not good, either. But if the Great Wall is covered by snow in winter, the scenery can also be very attracting.
3-Day Weather Forecast of Great Wall of China

Read more:
Badaling Great Wall Weather
,
Mutianyu Great Wall Weather
What to Wear to the Great Wall of China – Travel in 4 Seasons and 12 Months
Spring (March – May)
The spring of the Great Wall of China is not long and the climate is a little dry and windy. The temperature rises quickly day by day, and the temperature difference between day and night is also very big. In the daytime, it is generally warm enough. Hikers can wear a overcoat, a jacket and a pair of jeans. A pair of walking shoes are necessary and a cap can help to protect from strong wind.



Recommendations:
Mutianyu
in spring boasts for booming flowers and
Jinshanling
is also a good option for hiking.
Great Wall of China Weather in March: -2 – 13

C (28 - 55°F), a little cold and windy, mostly cloudy
Great Wall of China Weather in April: 5 – 18

C (41 - 64°F), gentle breeze, more sunny days
Great Wall of China Weather in May: 11 – 26

C (52 - 79°F), warm, sunny, a little bit hot in later May at noon time
Summer (June – August)
The Great Wall weather in summer is hot and sultry. The highest temperature can even reach 40

C sometimes and it also rains a lot. You can wear short sleeves, shorts, sun glasses, and a hat.



Recommendations: The
Simatai Great Wall
near the
Gubei Water Town
is a so good choice to escape the summer heat. The only lakeside Great Wall,
Huanghuacheng
is also a unique summer resort, much cooler than other sections. The
Shanhaiguan
in Hebei Province, known as "First Pass" is worth a visit as well. The
Laolongtou Great Wall
, about 5 kilometers (3 miles) from Shanhaiguan, is the only section to meet the sea and also a good place to enjoy a cool summer. In addition, you can drop by the summer resort,
Beidaihe
during the trip to Shanhaiguan and Laolongtou.
Great Wall of China Weather in June: 18 – 31

C (64 - 88°F), cloudy and hot
Great Wall of China Weather in July: 20 – 29

C (68 - 84°F), thunder showers every now and then, mostly sunny and hot
Great Wall of China Weather in August: 20 – 28

C (68 - 82°F), sunny, hot, more rain
Autumn (September – November)
Autumn is surely the best time to visit the Great Wall. It is cool rather than cold and there are more sunny days compared with summer. Tourists can wear a coat, a shirt or a thin sweater. Jeans and sneakers are also advised for Great Wall hiking.


Recommendations:
Badaling
and Mutianyu are recommended for Great Wall hiking in autumn. The mountains are dotted with red or colorful leaves, which will leave you with a deep impression. If you prefer less touristy sections, Badaling Remnant Great Wall and
Jiankou
are the best choices.
Great Wall of China Weather in September: 11 – 23

C (52 - 73°F), pleasant, sunny
Great Wall of China Weather in October: 2 – 15

C (36 - 59°F), cool, large temperature difference between day and night
Great Wall of China Weather in November: -4 – 8

C (25 - 46°F), a little cold, windy
Winter (December – February)
Winter is not a good season to hike the Great Wall of China since the weather is chilly and windy. However, the snow scenes there are very amazing. Remember to prepare enough warm clothes including a down jacket, antiskid shoes, a wool sweater, a thick scarf, a pair of gloves and a mask.



Recommendations: Badaling and Mutianyu are recommended sections to enjoy snow scenery as they are well equipped with cables cars and other facilities. If time permits, you can enjoy skiing at the ski resorts scattered near Badaling Great Wall. However, wild Great Wall adventure is not recommended in winter for safety.
Great Wall of China Weather in December: -12 – -1

C (10 - 30°F), very cold, sunny and windy
Great Wall of China Weather in January: -12 – 1

C (10 - 34°F), dry, sometimes snowy, cold
Great Wall of China Weather in February: -10 – 2

C (10 - 34°F), more snowy days, chilly
- Last modified on Jul. 02, 2020 -