Great Wall of China Weather in July
Most sections of Great Wall of China in July is hot, with an average temperature of 20 ~ 29℃ (68 ~ 84℉). In this month, precipitation begins to increase obviously and humidity reaches 75% with the rainfall of 156 mm. July is the hottest month of the year but also the peak tourist season because of the vibrant natural scenery.
Badaling
,
Mutianyu
,
Juyongguan
,
Simatai
and
Jinshanling
in Beijing are worthy sections to tour around. Sunny days make the scenery more attractive. In addition,
Shanhaiguan Great Wall
in Hebei and
Jiayuguan Great Wall
in Gansu are also recommended for the relatively cool climate.
Averages for Great Wall Weather in July
Temperature: 23°C / 73°F
High Temperature: 29°C / 84°F
Low Temperature: 20°C / 68°F
Humidity: 75%
Rainfall: 156 mm
Rainy Days: 9 days
Sunrise: 04:49 ~ 05:12
Sunset: 19:30 ~ 19:47
What to Wear When Traveling to the Great Wall of China in July
As the climate in Great Wall of China in July is very hot, any T-shirts, shorts, shirts, dresses, sandals and other summer clothes are recommended. It may have several rainy days in this month, thus preparing a long-sleeved shirt or rainproof is a wise choice.


Which Great Wall Section to Visit in July
Among all the sections of Great Wall in China, Badaling and Mutianyu are two most popular ones in July's tourism season. Hot Great Wall of China weather in July cannot stop the enthusiasm of people.
Badaling Great Wall is located around 70 kilometers (43 miles) away from Beijing center, visited by over 370 foreign leaders and celebrities and millions of tourists from all over the world. As the best-preserved and most complete section, Badaling Great Wall is equipped with advanced cable cars which bring a lot of convenience to tourists. After climbing, you can also visit neighboring China Great Wall Museum, whose ticket is included in the entrance ticket of Badaling.
The surrounding scenery of Mutianyu Great Wall in July is very impressive, like a giant green blanket. Convenient public transportation is available from downtown Beijing. After arriving, you can start the visit from either the south entrance or the north entrance of Mutianyu.
Jiayuguan Great Wall, which is located in west China, has relatively cool weather in July. There would be less tourists compared with Badaling and Mutianyu, too. It was built with rammed earth, covering 33,500 square meters (40,100 square yards).
Great Wall of China: July Travel Tips
Due to the hot weather and intensive sunlight in July in Great Wall of China, you need to drink enough water when climbing. Wearing sunglasses, sun-protective clothes and using sunscreen can help you protect skin in the daytime. Prepare some basic medicines and chocolates in order to deal with some emergencies like sunstroke and hypoglycemia. If you climbing Great Walls in a rainy day, you should prepare a pair of skidproof shoes to prevent from slipping down. In addition, remember to buy some mosquito repellant in July's trip.
July is the summer vacation for students in China. Thus you'd better make your travel plan to Great Wall of China July in advance. For example, booking accommodation and transportation before the trip. Also, be prepared for crowds at the hot sections.
What is the temperature in Great Wall of China in July?
High/Low Temperatures of Great Wall of China in July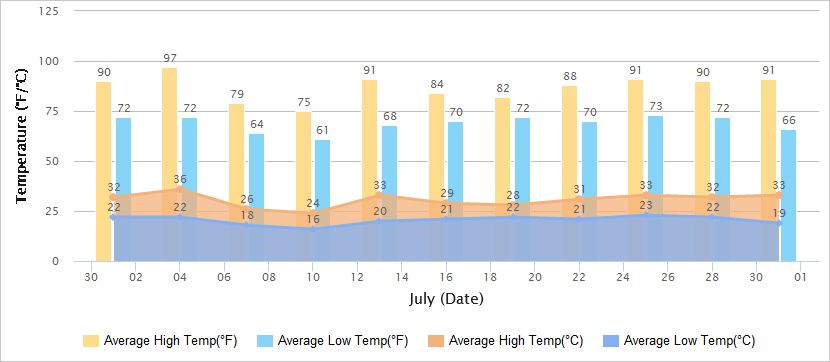 Historical Great Wall Weather in July
Jul
Temperature
Sunrise / Sunset
Humi-
dity
(%)
High
Low
1
32°C / 89.6°F
22°C / 71.6°F
04:49 / 19:51
29
2
32°C / 89.6°F
19°C / 66.2°F
04:50 / 19:51
22
3
34°C / 93.2°F
21°C / 69.8°F
04:50 / 19:50
37
4
36°C / 96.8°F
22°C / 71.6°F
04:51 / 19:50
42
5
26°C / 78.8°F
18°C / 64.4°F
04:51 / 19:50
34
6
27°C / 80.6°F
18°C / 64.4°F
04:52 / 19:50
33
7
26°C / 78.8°F
18°C / 64.4°F
04:52 / 19:49
33
8
28°C / 82.4°F
18°C / 64.4°F
04:53 / 19:49
47
9
26°C / 78.8°F
19°C / 66.2°F
04:54 / 19:49
41
10
24°C / 75.2°F
16°C / 60.8°F
04:54 / 19:48
35
11
28°C / 82.4°F
17°C / 62.6°F
04:55 / 19:48
39
12
31°C / 87.1°F
19°C / 66.2°F
04:56 / 19:48
71
13
33°C / 91.4°F
20°C / 68°F
04:57 / 19:47
40
14
31°C / 87.8°F
20°C / 68°F
04:57 / 19:47
43
15
33°C / 91.4°F
20°C / 68°F
04:58 / 19:46
54
16
29°C / 84.2°F
21°C / 69.8°F
04:59 / 19:45
63
17
26°C / 78.8°F
21°C / 69.8°F
05:00 / 19:45
53
18
29°C / 84.2°F
21°C / 69.8°F
05:00 / 19:44
53
19
28°C / 82.4°F
22°C / 71.6°F
05:01 / 19:43
90
20
29°C / 84.2°F
21°C / 69.8°F
05:02 / 19:43
94
21
35°C / 95°F
23°C / 73.4°F
05:03 / 19:42
76
22
31°C / 87.8°F
21°C / 69.8°F
05:04 / 19:41
73
23
34°C / 93.2°F
21°C / 69.8°F
05:05 / 19:40
51
24
35°C / 95°F
23°C / 73.4°F
05:06 / 19:40
59
25
33°C / 91.4°F
23°C / 73.4°F
05:06 / 19:39
63
26
33°C / 91.4°F
23°C / 73.4°F
05:07 / 19:38
44
27
33°C / 91.4°F
24°C / 75.2°F
05:08 / 19:37
41
28
32°C / 89.6°F
22°C / 71.6°F
05:09 / 19:36
56
29
28°C / 82.4°F
20°C / 68°F
05:10 / 19:35
47
30
33°C / 91.4°F
19°C / 66.2°F
05:11 / 19:34
71
31
33°C / 91.4°F
19°C / 66.2°F
05:12 / 19:33
61

Read more:
Badaling Great Wall Weather
;
Mutianyu Great Wall Weather
- Last updated on Jul. 02, 2020 -