Great Wall of China Weather in October
The weather of Great Wall of China in October is mild but dry. The average temperature for this autumn month is 2 ~ 15℃ (36 ~ 59℉) and the temperature difference between daytime and nighttime keeps increasing. The average rainfall in October at 49 mm indicates that there is only a few rain.
The
National Day Holiday
from Oct.1st to Oct.7th is one of the longest holidays in China. Crowded tourists would choose to appreciate autumn scenery in Great Wall of China.
Badaling
,
Mutianyu
,
Juyongguan
,
Simatai
and
Jinshanling
sections in Beijing are most popular ones. If you want to explore more,
Shanhaiguan
in Hebei and
Jiayuguan
in Gansu are recommended alternative choices.
Averages for Great Wall Weather in October
Temperature: 6°C / 43°F
High Temperature: 15°C / 59°F
Low Temperature: 2°C / 36°F
Humidity: 61%
Rainfall: 49 mm
Rainy Days: 4 days
Sunrise: 06:10 ~ 06:41
Sunset: 17:15 ~ 17:58
What to Wear When Traveling to the Great Wall of China in October
Considering Great Wall of China weather in October, you need blouses, thin sweaters, jackets, jeans and hiking shoes for early mornings and late nights. For the noontime, long-sleeved shirts and light pants are enough. Preparing windbreakers are necessary for windy days.


Which Great Wall Section to Visit in October
Gold, orange and red autumn leaves cover the surrounding mountain slopes of Great Wall of China, so travelling Great Wall in October can obtain amazing and charming views. Badaling Great Wall and Mutianyu Great Wall attract lots of tourists and professional photographers during this period of time.
You can see the leaves slowly change from green to red in Badaling Great Wall in October. As the most complete and best-preserved section, Badaling has beautiful red leaves and solemn mountains, which leave you a deep impression. This section is close to downtown Beijing, thus one day's sightseeing is enough. China Great Wall Museum at its foot displays the current situation and long history of Great Wall, which can help tourists have more understanding from different perspectives.
Visiting Mutianyu Great Wall in October is strongly recommended. The dense plants change the neighborhood into a colorful world. Mutianyu is also one of the best-preserved sections, stretching 5.4 kilometers (3.4 miles) and containing 23 watchtowers. First built in Northern Qi Dynasty (550-557), Mutianyu Great Wall still preserve complete defend system at both sides nowadays.
Great Wall of China: October Travel Tips
In Great Wall of China October, the sun is strong relatively. Thus you still need to use sunscreen or wear sunproof clothes. Also, it is dry. Drinking enough bottled water and preparing a lipstick to protect yourself are important. It is necessary to prepare a pair of comfortable hiking shoes when climbing. If you are interested in photography, you are advised to bring a professional camera and record the impressive autumn Great Wall of China.
In order to avoid possible traveling obstacles during National Day Holiday from Oct.1st to Oct.7th, you should arrange travel itinerary and book accommodation at least one month in advance. If you want to achieve a better travel experience, you'd better change your travel date to avoid this holiday.
What is the temperature in Great Wall of China in October?
High/Low Temperatures of Great Wall of China in October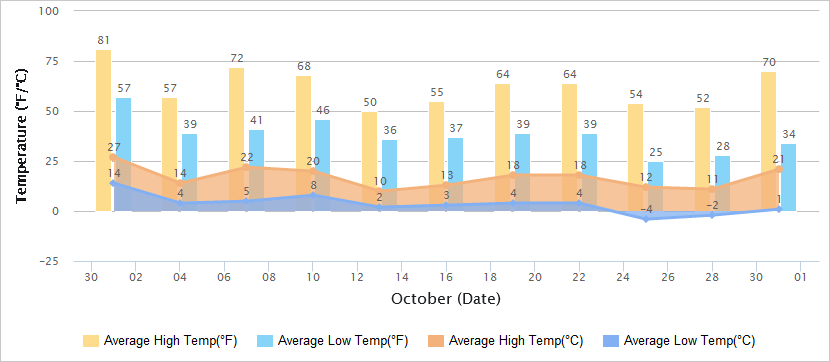 Historical Great Wall Weather in October
Oct
Temperature
Sunrise / Sunset
Humi-
dity
(%)
High
Low
1
27°C / 80.6°F
14°C / 57.2°F
06:12 / 18:00
61
2
27°C / 80.6°F
14°C / 57.2°F
06:13 / 17:58
43
3
28°C / 82.4°F
10°C / 50°F
06:14 / 17:56
32
4
14°C / 57.2°F
4°C / 39.2°F
06:15 / 17:55
81
5
16°C / 60.8°F
6°C / 42.8°F
06:16 / 17:53
29
6
17°C / 62.6°F
4°C / 39.2°F
06:17 / 17:52
65
7
22°C / 71.6°F
5°C / 41°F
06:18 / 17:50
62
8
18°C / 64.4°F
5°C / 41°F
06:19 / 17:48
33
9
20°C / 68°F
6°C / 42.8°F
06:20 / 17:47
37
10
20°C / 68°F
8°C / 46.4°F
06:21 / 17:45
34
11
16°C / 60.8°F
10°C / 50°F
06:22 / 17:44
37
12
15°C / 59°F
5°C / 41°F
06:23 / 17:42
41
13
10°C / 50°F
2°C / 35.6°F
06:24 / 17:41
43
14
12°C / 53.6°F
2°C / 35.6°F
06:25 / 17:39
42
15
15°C / 59°F
-1°C / 30.2°F
06:26 / 17:38
60
16
13°C / 72°F
3°C / 37.4°F
06:27 / 17:36
51
17
14°C / 57.2°F
8°C / 46.4°F
06:28 / 17:35
36
18
17°C / 62.6°F
3°C / 37.4°F
06:29 / 17:33
43
19
18°C / 64.4°F
4°C / 39.2°F
06:30 / 17:32
43
20
19°C / 66.2°F
1°C / 33.8°F
06:31 / 17:30
64
21
16°C / 60.8°F
1°C / 33.8°F
06:33 / 17:29
79
22
18°C / 64.4°F
4°C / 39.2°F
06:34 / 17:27
63
23
19°C / 66.2°F
7°C / 48.9°F
06:35 / 17:26
56
24
14°C / 57.2°F
1°C / 33.8°F
06:36 / 17:24
58
25
12°C / 53.6°F
-4°C / 24.8°F
06:37 / 17:23
45
26
14°C / 57.2°F
-2°C / 28.4°F
06:38 / 17:22
42
27
16°C / 60.8°F
2°C / 35.6°F
06:39 / 17:20
77
28
11°C / 51.8°F
-2°C / 28.4°F
06:40 / 17:19
36
29
15°C / 59°F
-1°C / 30.2°F
06:42 / 17:18
26
30
19°C / 66.2°F
2°C / 35.6°F
06:43 / 17:16
39
31
21°C / 69.8°F
1°C / 33.8°F
06:44 / 17:15
18

Read more:
Badaling Great Wall Weather
;
Mutianyu Great Wall Weather
- Last updated on Jun. 20, 2023 by Catherine He -