Great Wall of China in November - Weather, Clothing & Tour Tips
The Great Wall of China weather in November is getting colder and colder. As the late autumn and early spring, the temperature would drop sharply to under 0℃ (32℉) at night time. A few light snowy days can be expected in November. The northwest wind is relatively stronger. The average precipitation of this month decreases to 29mm, thus this month is a dry month.
In November, there would be less tourists in popular sections of Great Wall. It is a good time to tour around
Badaling
,
Mutianyu
,
Juyongguan
,
Simatai
and
Jinshanling
sections in Beijing.
Shanhaiguan
in Hebei and
Jiayuguan
in Gansu can be listed on your alternative travel plans. In early to middle November, you can appreciate red leaves and marvelous scenery of Great Wall of China.
Averages for Great Wall Weather in November
Temperature: -2°C / 28°F
High Temperature: 8°C / 46°F
Low Temperature: -4°C / 25°F
Humidity: 57%
Rainfall: 29 mm
Rainy Days: 1 day
Sunrise: 06:42 ~ 07:15
Sunset: 16:50 ~ 17:13
What to Wear When Traveling to the Great Wall of China in November
During the chilly early mornings and late evenings on the Great Wall of China in November, you need to wear down coats, wool overcoats, sweaters, winter pants and short boots to keep warm. In sunny afternoon, thin overcoats plus thin sweaters are ok.

Which Great Wall Section to Visit in November
The impressive autumn scenery of Great Wall wins high popularity among tourists all over the world. Badaling Great Wall and Mutianyu Great Wall are the two sections that you shouldn't miss.
Badaling Great Wall in November can be regarded as the representative of Great Wall of China. You can see the magnificent mountain ridges surrounded by red leaves when you standing on top of it. Badaling, the most complete and best-preserved section, located at about 70 kilometers (43 miles) away from downtown Beijing.
China Great Wall Museum
nearby collects lots of cultural relics with detailed pictures, reports and models. After visiting this museum, you would have a deeper understanding about China Great Wall's history and current situation.
You can get impressive memories after you tour Mutianyu Great Wall in November. It is the most beautiful section among all, surrounded by colorful autumn leaves. In general, the hiking duration is 3-4 hours with the medium difficulty. If you want an easy climbing, you can take the world-class cable car to save energy and see the grand scenery. Mutianyu is easily reached by direct bus no.867 at Dongzhimen Bus Stop in Beijing.
Great Wall of China: November Travel Tips
November is the dry season in the whole year, thus you'd better drink enough water, especially during climbing the Great Wall. You can also bring some skin care products with nice moisturizing effect like face scream and water spray to deal with dry weather.
In November, the climate is also changeable. Thus you are suggested to check the weather forecast beforehand and wear the suitable clothes. It is wise to prepare some cold medicines and mouth-muffles for keeping away flu and strong wind.
When hiking, preparing a pair of comfortable and warm sports shoes is necessary which can make your climbing easier. For one day's sightseeing time, you can bring some sandwiches, chocolates and other snacks to replenish your strength. There is no food available up there.
It is easier for you to book transportation and accommodation for Great Wall of China November trip because this month is the tourist off-season. The travel costs are relatively lower than previous months. Thus November is a recommended sightseeing time for budget travelers.
What is the temperature in Great Wall of China in November?
High/Low Temperatures of Great Wall of China in November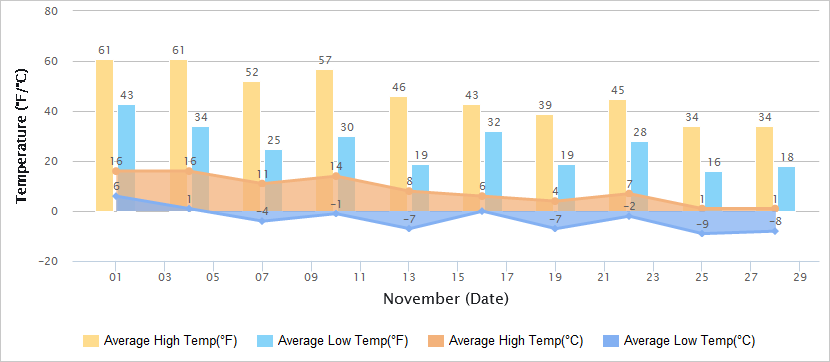 Historical Great Wall Weather in November
Nov
Temperature
Sunrise / Sunset
Humi-
dity
(%)
High
Low
1
16°C / 60.8°F
6°C / 42.8°F
06:45 / 17:14
22
2
12°C / 53.6°F
6°C / 42.8°F
06:46 / 17:13
34
3
11°C / 51.8°F
1C / 33.8°F
06:47 / 17:12
37
4
16°C / 60.8°F
1°C / 33.8°F
06:49 / 17:10
39
5
15°C / 59°F
2°C / 35.6°F
06:50 / 17:09
43
6
15°C / 59°F
-1°C / 30.2°F
06:51 / 17:08
47
7
11°C / 51.8°F
-4°C / 24.8°F
06:52 / 17:07
48
8
13°C / 55.4°F
-2°C / 28.4°F
06:53 / 17:06
27
9
12°C / 53.6°F
4°C / 39.2°F
06:54 / 17:05
53
10
14°C / 57.2°F
-1°C / 30.2°F
06:56 / 17:04
37
11
15°C / 59°F
0°C / 32°F
06:57 / 17:03
36
12
19°C / 66.2°F
1°C / 33.8°F
06:58 / 17:02
39
13
8°C / 46.4°F
-7°C / 19.4°F
06:59 / 17:01
29
14
7°C / 44.6°F
-6°C / 21.2°F
07:00 / 17:00
20
15
6°C / 42.8°F
-3°C / 26.6°F
07:02 / 16:59
27
16
6°C / 42.8°F
0°C / 32°F
07:03 / 16:59
40
17
10°C / 50°F
-8°C / 17.6°F
07:04 / 16:58
57
18
0°C / 32°F
-9°C / 15.8°F
07:05 / 16:57
63
19
4°C / 39.2°F
-7°C / 19.4°F
07:06 / 16:56
22
20
6°C / 42.8°F
-6°C / 27.7°F
07:07 / 16:56
55
21
6°C / 42.8°F
-4°C / 24.8°F
07:09 / 16:55
74
22
7°C / 44.6°F
-2°C / 28.4°F
07:10 / 16:54
40
23
9°C / 48.2°F
0°C / 32°F
07:11 / 16:54
24
24
0°C / 32°F
-8°C / 17.6°F
07:12 / 16:53
74
25
1°C / 33.8°F
-9°C / 15.8°F
07:13 / 16:53
69
26
3°C / 37.4°F
-8°C / 17.6°F
07:14 / 16:52
39
27
2°C / 35.6°F
-9°C / 15.8°F
07:15 / 16:52
45
28
1°C / 33.8°F
-8°C / 17.6°F
07:16 / 16:51
36
29
0°C / 32°F
-7°C / 19.4°F
07:17 / 16:51
56
30
2°C / 35.6°F
-12°C / 10.3°F
07:18 / 16:51
55

Read more:
Badaling Great Wall Weather
;
Mutianyu Great Wall Weather
- Last modified on Jul. 02, 2020 -