Great Wall of China Weather in March
March is the first month of Spring along the Great Wall of China. In general, the weather of Great Wall of China in March is getting warm but windy with an average temperature from -2 to 13℃ (28 to 55℉). The humidity of this month is higher than February with the rainfall of 46mm.
You can enjoy surrounding plants coming into life and the Great Wall full of vitality again, especially
Badaling
and
Mutianyu
.
Juyongguan
,
Simatai
and
Jinshanling
in Beijing are also recommended.
During Great Wall of China March, people may easily have respiratory diseases because of the changeable weather and dust. Buying basic medicines and wearing warm clothes are strongly recommended in March.
Averages for Great Wall Weather in March
Temperature: 0°C / 32°F
High Temperature: 13°C / 55°F
Low Temperature: -2°C / 28°F
Humidity: 46%
Rainfall: 46 mm
Rainy Days: 1 day
Sunrise: 06:00 ~ 06:48
Sunset: 18:06 ~ 18:37
What to Wear When Traveling to the Great Wall of China in March
In consideration of Great Wall of China weather in March, you are advised to wear warm clothing and comfortable shoes when hiking. Windbreaker and trench coats are nice choices. During the relatively warm noontime, you can wear just shirts.


Which Great Wall Section to Visit in March
Walking on the Great Wall in March, the vibrant scene of Spring jumps into your eyes. The majestic Great Wall becomes tender surrounded by new greens and blossom wild flowers.
Badaling Great Wall in March is considered as a must-see for visitors to China. As the best-preserved and most complete section of China Great Wall, it has north and south parts to visit with not that steep stairs. After touring around, make a stop at nearby China Great Wall Museum to know its story and history behind.
Mutianyu Great Wall in March is also a popular section in China, which has less tourists. More and more people choose to take cable car up to No.14 Watchtower first and then start to tour around nowadays.
Great Wall of China: March Travel Tips
While enjoying the beautiful Spring scenery, you are still advised to wear enough warm clothes when hiking in order to avoid getting cold. The temperature is changeable because March is a transitional period from cold days to hot days. Preparing some basic medicines is necessary. Wearing mouth-muffles is an effective way to prevent hay fever when touring around Great Wall of China in March. Before you start off, checking out the weather forecast can help you adjust what you wear. Drinking enough water and eating fresh fruits & vegetables are useful to improve personal immunity.
What is the temperature in Great Wall of China in March?
High/Low Temperatures of Great Wall of China in March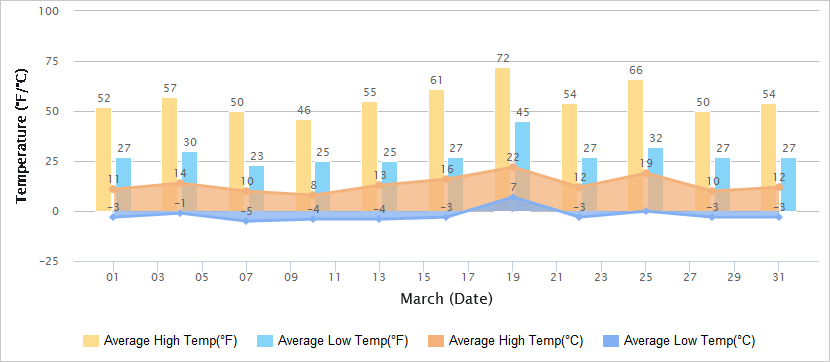 Historical Great Wall Weather in March
Mar
Temperature
Sunrise / Sunset
Humi-
dity
(%)
High
Low
1
11°C / 51.8°F
-3°C / 26.6°F

06:51

/ 18:07
37
2
14°C / 57.2°F
-1°C / 30.2°F

06:49

/ 18:08
42
3
11°C / 51.8°F
-4°C / 24.8°F

06:48

/ 18:09
32
4
14°C / 57.2°F
-1°C / 30.2°F

06:46

/ 18:10
42
5
14°C / 57.2°F
0°C / 32°F

06:45

/ 18:11
25
6
7°C / 44.6°F
-7°C / 19.4°F

06:43

/ 18:12
21
7
10°C / 50°F
-5°C / 23°F

06:42

/ 18:13
19
8
10°C / 50°F
-3°C / 26.6°F

06:40

/ 18:14
15
9
9°C / 54.7°F
-2°C / 29.7°F

06:38

/ 18:15
18
10
8°C / 46.4°F
-4°C / 24.8°F

06:37

/ 18:17
25
11
13°C / 55.4°F
-4°C / 24.8°F

06:35

/ 18:18
23
12
10°C / 50°F
-4°C / 24.8°F

06:34

/ 18:19
17
13
13°C / 55.4°F
-4°C / 24.8°F

06:32

/ 18:20
15
14
12°C / 53.6°F
-2°C / 28.4°F

06:29

/ 18:22
17
15
13°C / 55.4°F
-3°C / 26.6°F

06:27

/ 18:23
26
16
16°C / 60.8°F
-3°C / 26.6°F

06:25

/ 18:24
28
17
16°C / 60.8°F
0°C / 32°F

06:24

/ 18:25
21
18
19°C / 66.2°F
1°C / 33.8°F

06:22

/ 18:26
35
19
22°C / 71.6°F
7°C / 44.6°F

06:21

/ 18:27
22
20
19°C / 66.2°F
1°C / 33.8°F

06:19

/ 18:28
20
21
8°C / 46.4°F
-4°C / 24.8°F

06:17

/ 18:29
50
22
12°C / 53.6°F
-3°C / 26.6°F

06:16

/ 18:30
23
23
10°C / 50°F
-3°C / 26.6°F

06:16

/ 18:30
19
24
17°C / 62.6°F
-1°C / 30.2°F

06:14

/ 18:31
24
25
19°C / 66.2°F
0°C / 32°F

06:12

/ 18:32
24
26
16°C / 60.8°F
1°C / 33.8°F

06:11

/ 18:34
20
27
19°C / 66.2°F
1°C / 33.8°F

06:09

/ 18:35
16
28
10°C / 50°F
-3°C / 26.6°F

06:08

/ 18:36
23
29
10°C / 50°F
-1°C / 30.2°F

06:06

/ 18:37
24
30
8°C / 46.4°F
-4°C / 24.8°F

06:04

/ 18:38
17
31
12°C / 53.6°F
-3°C / 26.6°F

06:03

/ 18:39
20

Read more:
Badaling Great Wall Weather
;
Mutianyu Great Wall Weather
- Last updated on Jun. 20, 2023 by Catherine He -