Great Wall of China in February - Weather, Clothing & Tour Tips
Great Wall of China weather in February is still chilly with an average high temperature of 2℃(36℉) and an average low temperature of -10℃ (14℉), no matter the famous sections in Beijing, such as
Badaling
,
Mutianyu
,
Juyongguan
, and
Simatai
or the farther sections like
Jiayuguan
in northwest China and
Shanhaiguan
in the east.
You need to have enough protection against the cold. There may be several snowy days, with the monthly average rainfall of 29 mm. If you luckily get there on a snowy day, the solemn and magnificent scenery will definitely leave you an unforgettable impression.
Averages for Great Wall Weather in February
Temperature: -8°C / 17°F
High Temperature: 2°C / 36°F
Low Temperature: -10°C / 14°F
Humidity: 44%
Rainfall: 29 mm
Rainy Days: 1 day
Sunrise: 06:49 ~ 07:22
Sunset: 17:33 ~ 18:05
What to Wear When Traveling to the Great Wall of China in February
Thick clothing are needed for touring around Great Wall of China in February: including down jackets, wool overcoats, sweaters, pants and cotton boots. In addition, you need accessories such as hats, scarves and gloves to keep warm.


Which Great Wall Section to Visit in February
You may explore the impressive snow scenery of Badaling Great Wall and Mutianyu Great Wall in February. The white snow and the huge blue-grey bar-stones & bricks form a strong contrast, making the structure of the Great Wall extremely clear.
Having a history of nearly 2,500 years, Badaling Great Wall is one of the most popular sections having received tens of millions of tourists from all over the world, including around 400 world leaders. 'Not a true man unless he comes to the Great Wall'. Climbing the Badaling Great Wall is not that hard nowadays. Frequent cable cars bring convenience to children and elder people.
Mutianyu Great Wall, stretching 5.4 kilometers (3.4 miles), has relatively less tourists compared with Badaling section. Cable car, toboggan and chairlift are available here for saving energy. You can easily arrive at Mutianyu Great Wall from downtown area via public transportation or private car. The suggested sightseeing time is 2-3 hours.
If you have enough time, you can also go to Simatai Great Wall. Besides, having a relaxing time at hot springs in
Gubei Water Town
nearby Simatai is also a recommended choice.
Great Wall of China: February Travel Tips
Generally speaking, the Chinese New Year is in February. It is necessary to book hotel and transportation in advance in order to make the trip smoothly in this month. Especially for the train and flight tickets, you should arrange them at least one month in advance because of Spring Festival Travel Flow.
Also, booking the entrance and transportation tickets to the Great Wall and arriving earlier in the morning are recommended, especially when you are going to visit Badaling and Mutianyu.
Due to Great Wall of China weather in February, wearing mouth-muffles is useful for keeping the lightly polluted air when climbing. Besides, when you staying outdoor for a long time, you are advised to drink more hot water and take some rest to save energy.
In general, you can prepare some anti-cold medicines when visiting Great Wall of China February. It is the last month of winter season, some people with low immunity may catch a cold easily due to the changeable temperature and big wind on Great Wall in February.
What is the temperature in Great Wall of China in February?
High/Low Temperatures of Great Wall of China in February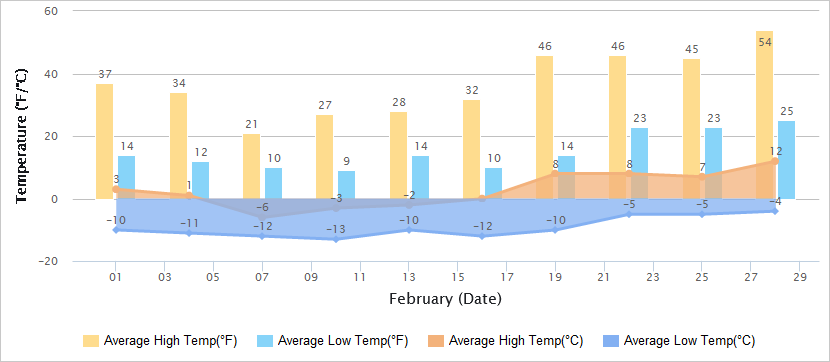 Historical Great Wall Weather in February
Feb
Temperature
Sunrise / Sunset
Humi-
dity
(%)
High
Low
1
3°C / 37.4°F
-10°C / 14°F

07:27

/

17:34

37
2
1°C / 33.8°F
-9°C / 15.8°F

07:26

/

17:35

30
3
3°C / 37.4°F
-12°C / 10.3°F

07:25

/

17:36

28
4
1°C / 33.8°F
-11°C / 18°F

07:24

/

17:37

31
5
2°C / 35.6°F
-10°C / 14°F

07:23

/

17:39

41
6
-4°C / 24.8°F
-13°C / 8.6°F

07:21

/

17:40

32
7
-6°C / 21.2°F
-12°C / 10.3°F

07:20

/

17:41

31
8
-4°C / 24.8°F
-12°C / 10.3°F

07:19

/

17:42

45
9
-3°C / 26.6°F
-14°C / 6.8°F

07:18

/

17:44

45
10
-3°C / 26.6°F
-13°C / 8.6°F

07:17

/

17:45

33
11
1°C / 33.8°F
-10°C / 14°F

07:16

/

17:46

72
12
-6°C / 21.2°F
-14°C / 6.8°F

07:15

/

17:47

64
13
-2°C / 28.4°F
-10°C / 14°F

07:13

/

17:48

41
14
1°C / 33.8°F
-15°C / 5°F

07:12

/

17:49

32
15
3°C / 37.4°F
-14°C / 6.8°F

07:11

/

17:51

57
16
0°C / 32°F
-12°C / 10.3°F

07:09

/

17:52

64
17
4°C / 39.2°F
-10°C / 14°F

07:08

/

17:53

61
18
6°C / 42.8°F
-8°C / 17.6°F

07:07

/

17:54

62
19
8°C / 46.4°F
-10°C / 14°F

07:05

/

17:55

53
20
9°C / 48.2°F
-10°C / 14°F

07:04

/

17:57

31
21
8°C / 46.4°F
-8°C / 17.6°F

07:03

/

17:58

32
22
8°C / 46.4°F
-5°C / 23°F

07:01

/

17:59

37
23
10°C / 50°F
-7°C / 19.4°F

07:00

/

18:00

38
24
10°C / 50°F
-6°C / 21.2°F

06:58

/ 18:01
33
25
7°C / 44.6°F
-5°C / 23°F

06:57

/ 18:02
41
26
7°C / 44.6°F
-6°C / 21.2°F

06:55

/ 18:03
46
27
10°C / 50°F
-6°C / 21.2°F

06:54

/ 18:04
38
28
12°C / 53.6°F
-4°C / 24.8°F

06:52

/ 18:06
34

Read more:
Badaling Great Wall Weather
;
Mutianyu Great Wall Weather
- Last modified on Sep. 18, 2020 -