Great Wall of China Weather in May
With an average temperature of 11 ~ 26℃ (52 ~ 79℉) and an average rainfall of 101mm, traveling to Great Wall of China in May is very comfortable. It is generally sunny or cloudy. Great Wall may encounter moderate or light rain sometimes, thus the air quality is good with the average AQI of 60.
With the vibrant Spring scene and warm sunshine, Great Wall of China welcomes the peak travel period in May. The popular sections include
Badaling
,
Mutianyu
,
Juyongguan
,
Simatai
,
Jinshanling
,
Shanhaiguan
and
Jiayuguan
. If possible, you are suggested to avoid travelling during Labor Day Holiday around May 1st because of increasing tourists.
Averages for Great Wall Weather in May
Temperature: 15°C / 59°F
High Temperature: 26°C / 79°F
Low Temperature: 11°C / 52°F
Humidity: 53%
Rainfall: 101 mm
Rainy Days: 4 days
Sunrise: 04:48 ~ 05:15
Sunset: 19:09 ~ 19:37
What to Wear When Traveling to the Great Wall of China in May
Thin overcoats, short shirts, dresses, jeans and comfortable sneakers are good for touring around Great Wall of China in May. Preparing caps and sunscreen cream are also necessary. Besides, it is suggested to bring some quick-dry clothes for unexpected rainy days.


Which Great Wall Section to Visit in May
Badaling Great Wall and Mutianyu Great Wall are two best sections to appreciate Spring scene in May. The surrounding green mountains are dotted with flowers, thus form an impressive picture.
Badaling Great Wall is close to downtown Beijing, having not that steep steps. This section is also the best-preserved. One day is enough for a trip to Badaling Great Wall in May, even if you take public transportation. If you are interested at the history of Great Wall, you shouldn't miss China Great Wall Museum nearby.
Mutianyu Great Wall in May is famous for flowers of all sorts in a riot of colors. Situated 65 kilometers (40 miles) north away from Beijing downtown area, this section was originally built in Northern Qi Dynasty (550-557). Usually, it has less tourists than Badaling.
Juyongguan Great Wall, surrounded by sea of flowers, is also a nice place to arrange a hike tour if you have enough sightseeing time. It is located 60 kilometers (37 miles) from downtown Beijing.
Great Wall of China: May Travel Tips
Before going there, you should check the weather forecast and avoid rainy days. Bring enough foods and water when climbing. Based on Great Wall of China weather in May, you should also protect yourselves from the sunburn by using sunscreen cream.
It is not advised to visit Great Wall of China during the Labor Day Holiday. There would have crowded people going there during the 3-day holiday. If possible, change the travel plan to obtain better travel experience.
What is the temperature in Great Wall of China in May?
High/Low Temperatures of Great Wall of China in May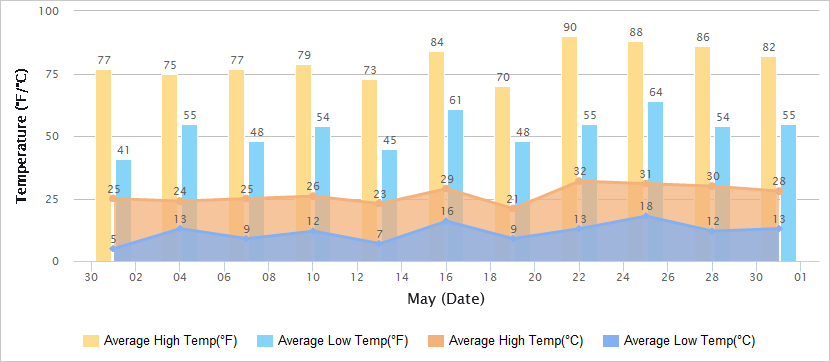 Historical Great Wall Weather in May
May
Temperature
Sunrise / Sunset
Humi-
dity
(%)
High
Low
1
25°C / 77°F
5°C / 41°F

05:16

/

19:11

27
2
26°C / 78.8°F
9°C / 48.2°F

05:15

/

19:12

51
3
24°C / 75.2°F
12°C / 53.6°F

05:14

/

19:13

16
4
24°C / 75.2°F
13°C / 55.4°F

05:13

/

19:14

16
5
20°C / 68°F
5°C / 41°F

05:11

/

19:15

22
6
22°C / 71.6°F
5°C / 41°F

05:10

/

19:16

25
7
25°C / 81.1°F
9°C / 48.2°F

05:09

/

19:17

14
8
21°C / 72.7°F
10°C / 50°F

05:08

/

19:18

20
9
27°C / 80.6°F
9°C / 48.2°F

05:07

/

19:19

53
10
26°C / 78.8°F
12°C / 53.6°F

05:06

/

19:20

31
11
26°C / 78.8°F
11°C / 55.4°F

05:05

/

19:21

36
12
22°C / 71.6°F
8°C / 46.4°F

05:04

/

19:22

25
13
23°C / 73.4°F
7°C / 44.6°F

05:03

/

19:23

21
14
26°C / 78.8°F
13°C / 55.4°F

05:01

/

19:24

56
15
26°C / 78.8°F
9°C / 48.2°F

05:01

/

19:25

17
16
29°C / 84.2°F
16°C / 60.8°F

05:00

/

19:26

17
17
30°C / 86°F
16°C / 60.8°F

04:59

/

19:27

16
18
22°C / 71.6°F
14°C / 57.2°F

04:58

/

19:28

29
19
21°C / 72.7°F
9°C / 48.2°F

04:57

/

19:29

32
20
22°C / 71.6°F
8°C / 46.4°F

04:56

/

19:30

27
21
30°C / 86°F
9°C / 48.2°F

04:55

/

19:31

29
22
32°C / 89.6°F
13°C / 55.4°F

04:54

/

19:32

27
23
34°C / 93.2°F
16°C / 60.8°F

04:54

/

19:33

59
24
32°C / 89.6°F
15°C / 59°F

04:53

/

19:34

25
25
31°C / 87.8°F
18°C / 64.4°F

04:52

/

19:35

22
26
24°C / 75.2°F
14°C / 57.2°F

04:52

/

19:35

21
27
26°C / 78.8°F
10°C / 50°F

04:51

/

19:36

17
28
30°C / 86°F
12°C / 53.6°F

04:50

/

19:37

24
29
31°C / 87.8°F
17°C / 62.6°F

04:50

/

19:38

16
30
27°C / 80.6°F
10°C / 50°F
04:49 / 19:39
21
31
28°C / 82.4°F
13°C / 55.4°F
04:49 / 19:39
25

Read more:
Badaling Great Wall Weather
;
Mutianyu Great Wall Weather
- Last updated on Jun. 20, 2023 by Catherine He -