Great Wall of China Weather in September
Great Wall of China in September is the beginning of autumn when the weather gets cooler gradually. It is one of the most comfortable months for a Great Wall trip, not hot any more while it is not cold yet. The average high temperature is 23℃ (73℉), and the average low temperature is 11℃ (52℉). The average precipitation decreases a lot with the rainfall of only 85 mm. In September, the temperature between day and night becomes bigger.
Mid-Autumn Festival
usually falls in September, which has a 3-day holiday. Enjoying the early autumn scenery in Great Wall of China is a very fun thing to do. If you stay in Beijing,
Badaling
,
Mutianyu
,
Juyongguan
,
Simatai
and
Jinshanling
sections are recommended. If not, hiking
Shanhaiguan
in Hebei or
Jiayuguan
in Gansu in this comfortable weather condition is also popular.
Averages for Great Wall Weather in September
Temperature: 15°C / 59°F
High Temperature: 23°C / 73°F
Low Temperature: 11°C / 52°F
Humidity: 68%
Rainfall: 85 mm
Rainy Days: 2 days
Sunrise: 05:42 ~ 06:09
Sunset: 18:00 ~ 18:47
What to Wear When Traveling to the Great Wall of China in September
Based on Great Wall of China weather in September, you should prepare summer clothes like T-shirts, jeans, dresses, skirts and so on at noontime. In early morning and at night, thin knitwear, thin sweaters, long-sleeved shirts, light pants and sneakers are preferred.


Which Great Wall Section to Visit in September
With the early autumn scenery, Badaling Great Wall and Mutianyu Great Wall are two memorable sections to tour around in September. If the weather cooperates during the Mid-Autumn Festival, you can stay one night nearby the Great Wall and see the full moon.
Badaling Great Wall in September is welcomed by tourists. It is divided into North and South two parts for hiking, equipped with cable car and pulley. As a typical section of Ming Dynasty Great Wall, the stairs of Badaling are easy for most hikers.
China Great Wall Museum
is a good place to know the history and current situation of Great Wall. You don't need to pay the extra entrance ticket because it is included in Badaling admission fare.
Mutianyu Great Wall is located in Huairou District, equipped with advanced cable car. For seeing splendid scenery of Mutianyu Great Wall in September, it takes 3-4 hours to hike from South Entrance to Watchtower No.20.
Besides these two sections, you can add Jinshanling Great Wall Camping and Jiankou Great Wall Hiking on your list. Jinshanling, located 130 kilometers (80 miles) northeast away from Beijing center, becomes the 'Paradise of Photographers' nowadays. Jiankou, one of the most dangerous and popular wild Great Wall sections, is an adventurous challenge even for experienced hikers.
Great Wall of China: September Travel Tips
Crowded tourists visit Great Wall of China in September's Mid-Autumn Festival. You'd better decide your travel plan one month early, and book hotels and train/flight tickets as soon as possible. Or you can change the plan to avoid travelling during this holiday. There would have less tourists in other days of September, which can make your travel experience much better.
As there is big temperature difference between day and night, you need to check the weather forecast and choose what to wear before climbing Great Wall of China in September. It is necessary to prepare some stomach and cold medicines to deal with some possible diseases. The sunlight is still strong and the skin protection is still important.
What is the temperature in Great Wall of China in September?
High/Low Temperatures of Great Wall of China in September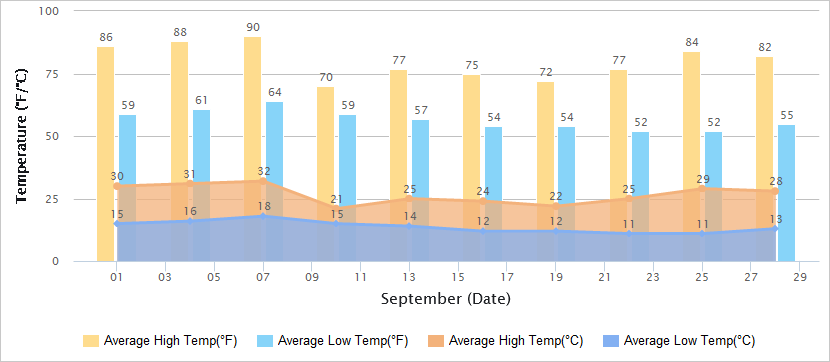 Historical Great Wall Weather in September
Sep
Temperature
Sunrise / Sunset
Humi-
dity
(%)
High
Low
1
30°C / 86°F
15°C / 59°F
05:43 / 18:49
50
2
31°C / 87.8°F
16°C / 60.8°F
05:44 / 18:48
56
3
31°C / 87.8°F
16°C / 60.8°F
05:45 / 18:46
39
4
31°C / 87.8°F
16°C / 60.8°F
05:46 / 18:44
53
5
31°C / 87.8°F
17°C / 62.6°F
05:47 / 18:43
43
6
31°C / 87.8°F
16°C / 60.8°F
05:48 / 18:41
33
7
32°C / 89.6°F
18°C / 70°F
05:49 / 18:39
36
8
33°C / 91.4°F
20°C / 62.6°F
05:50 / 18:38
33
9
28°C / 82.4°F
18°C / 64.4°F
05:51 / 18:36
36
10
21°C / 69.8°F
15°C / 59°F
05:52 / 18:34
38
11
21°C / 69.8°F
15°C / 59°F
05:52 / 18:33
44
12
21°C / 69.8°F
16°C / 60.8°F
05:53 / 18:31
48
13
25°C / 77°F
14°C / 57.2°F
05:54 / 18:29
39
14
26°C / 78.8°F
14°C / 57.2°F
05:55 / 18:28
36
15
26°C / 78.8°F
13°C / 55.4°F
05:56 / 18:26
35
16
24°C / 75.2°F
12°C / 53.6°F
05:57 / 18:24
39
17
27°C / 80.6°F
10°C / 50°F
05:58 / 18:23
67
18
22°C / 71.6°F
10°C / 50°F
05:58 / 18:18
71
19
22°C / 71.6°F
12°C / 53.6°F
05:59 / 18:21
45
20
25°C / 77°F
12°C / 53.6°F
06:00 / 18:19
37
21
25°C / 77°F
11°C / 51.8°F
06:01 / 18:18
47
22
25°C / 77°F
11°C / 51.8°F
06:02 / 18:16
57
23
28°C / 82.4°F
12°C / 53.6°F
06:03 / 18:14
49
24
28°C / 82.4°F
11°C / 51.8°F
06:04 / 18:13
43
25
29°C / 84.2°F
11°C / 51.8°F
06:05 / 18:11
53
26
28°C / 82.4°F
12°C / 53.6°F
06:06 / 18:09
57
27
27°C / 80.6°F
12°C / 53.6°F
06:07 / 18:08
41
28
28°C / 82.4°F
13°C / 55.4°F
06:08 / 18:06
28
29
28°C / 82.4°F
14°C / 57.2°F
06:09 / 18:04
35
30
27°C / 80.6°F
14°C / 57.2°F
06:10 / 18:03
42

Read more:
Badaling Great Wall Weather
;
Mutianyu Great Wall Weather
- Last updated on Jun. 20, 2023 by Catherine He -