Great Wall of China Weather in August
The weather of Great Wall of China in August is hot. The average temperature is 20 to 27℃ (68 to 82℉). However, the weather in August would turn cooler in morning and night. There are more rainy days with the rainfall of 140 mm, hence it is moist.
The popular sections in Beijing such as
Badaling
,
Mutianyu
,
Juyongguan
,
Simatai
, and
Jinshanling
always receive millions of tourists in this month even if it is hot because August is summer vocation of Chinese students. The summer scenery of
Shanhaiguan
in Qinhuangdao and
Jiayuguan
in Gansu also attracts many travelers. For a smooth trip, you'd better make some lessons about the transportation and accommodation in advance.
Averages for Great Wall Weather in August
Temperature: 21°C / 70°F
High Temperature: 28°C / 82°F
Low Temperature: 20°C / 68°F
Humidity: 77%
Rainfall: 140 mm
Rainy Days: 12 days
Sunrise: 05:12 ~ 05:41
Sunset: 18:49 ~ 19:29
What to Wear When Traveling to the Great Wall of China in August
Short-sleeved shirts, thin skirts, shorts, sunglasses, sunhats and sandals are suitable on sunny days when travelling to the Great Wall of China August. For rainy days and cool morning & night, you'd better take a light overcoat or long-sleeved clothes to adapt to temperature difference.


Which Great Wall Section to Visit in August
Take the Great Wall of China weather in August into consideration, cool morning and evening are more recommended for hiking in Badaling Great Wall and Mutianyu Great Wall.
Tourists can fully appreciate the summer scenery of Badaling Great Wall in August. Being the most popular and best-preserved section, Badaling stretches 12 kilometers (7.5 miles) with 43 watchtowers totally. Located 70 kilometers (43 miles) away from Beijing, tourists can take convenient bus no.877 and high speed trains to the scenic area directly.
The lush green woods of Mutianyu Great Wall in August wave a carpet, making this section a beautiful place to tour around. Mutianyu is famous for its distinctive watchtowers and grand scenery. It provides humanistic service facilities for children and elder people like cable cars and chairlifts.
Travelling to Great Wall sections like Laolongtou and Shanhaiguan in Hebei Province is also a wonderful choice. These two sections are located nearby the sea with relatively cooler climate. After that, you can also tour around in
Beidaihe Scenic Area
if you have enough time.
Great Wall of China: August Travel Tips
The sunlight is still intense on sunny days. In order to protect your skin, you need to use sunscreen or wear a sunhat & sunglasses and other sun-proof clothes. Hot weather needs more physical strength when climbing Great Wall of China in August, thus drinking enough water and eating foods timely are necessary. Use some repellent to the exposed skin to avoid mosquito bite.
In the early morning and at night, you are suggested to take a thin coat in case of catching a cold. Besides, preparing skidproof shoes and umbrellas in case of rainy days in Great Wall of China.
August is summer vacation. Chinese parents love to take their kids to travel. Thus it is advised to make a travel plan one month in advance. In this way, you can obtain the hotels and flight/train tickets smoothly.
What is the temperature in Great Wall of China in August?
High/Low Temperatures of Great Wall of China in August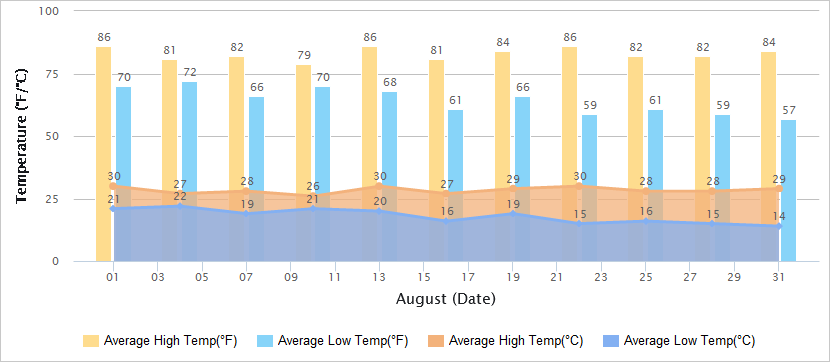 Historical Great Wall Weather in August
Aug
Temperature
Sunrise / Sunset
Humi-
dity
(%)
High
Low
1
30°C / 86°F
21°C / 69.8°F
05:13 / 19:32
64
2
28°C / 82.4°F
22°C / 71.6°F
05:14 / 19:31
53
3
30°C / 86°F
22°C / 71.6°F
05:15 / 19:30
53
4
27°C / 80.6°F
22°C / 71.6°F
05:16 / 19:29
56
5
26°C / 78.8°F
22°C / 71.6°F
05:17 / 19:28
66
6
29°C / 84.2°F
22°C / 71.6°F
05:18 / 19:26
60
7
28°C / 82.4°F
19°C / 66.2°F
05:19 / 19:25
68
8
30°C / 86°F
22°C / 71.6°F
05:20 / 19:24
56
9
27°C / 80.6°F
21°C / 69.8°F
05:21 / 19:23
58
10
26°C / 78.8°F
21°C / 69.8°F
05:22 / 19:21
62
11
26°C / 78.8°F
21°C / 69.8°F
05:23 / 19:20
57
12
31°C / 87.8°F
21°C / 69.8°F
05:24 / 19:19
48
13
30°C / 86°F
20°C / 68°F
05:25 / 19:18
31
14
29°C / 84.2°F
19°C / 66.2°F
05:25 / 19:16
37
15
31°C / 87.8°F
18°C / 76.1°F
05:26 / 19:15
57
16
27°C / 80.6°F
16°C / 60.8°F
05:27 / 19:13
54
17
29°C / 84.2°F
15°C / 59°F
05:28 / 19:12
85
18
29°C / 84.2°F
17°C / 62.6°F
05:29 / 19:11
92
19
29°C / 84.2°F
19°C / 66.2°F
05:30 / 19:09
60
20
23°C / 73.4°F
16°C / 60.8°F
05:31 / 19:08
59
21
29°C / 84.2°F
16°C / 60.8°F
05:32 / 19:06
52
22
30°C / 86°F
15°C / 59°F
05:33 / 19:05
62
23
28°C / 82.4°F
16°C / 60.8°F
05:34 / 19:03
74
24
28°C / 82.4°F
14°C / 57.2°F
05:35 / 19:02
59
25
28°C / 82.4°F
16°C / 60.8°F
05:36 / 19:00
42
26
25°C / 77°F
16°C / 60.8°F
05:37 / 18:59
35
27
29°C / 84.2°F
16°C / 60.8°F
05:38 / 18:57
30
28
28°C / 82.4°F
15°C / 59°F
05:39 / 18:56
32
29
27°C / 80.6°F
15°C / 59°F
05:40 / 18:54
37
30
28°C / 82.4°F
14°C / 57.2°F
05:41 / 18:52
31
31
29°C / 84.2°F
14°C / 57.2°F
05:42 / 18:51
27

Read more:
Badaling Great Wall Weather
;
Mutianyu Great Wall Weather
- Last updated on Jun. 20, 2023 by Catherine He -