Great Wall of China Weather in June
Great Wall of China in June starts to become hot, but not that hot yet with an average high temperature of 31℃ (88℉) and an average low temperature of 18℃ (64℉). The temperature difference between day and night is relatively moderate. Great Wall of China welcomes its rainy season in this month, thus the air becomes humid with an average rainfall of 134 mm.
In general, it is a nice month to visit the Great Wall of China. In Beijing,
Badaling
,
Mutianyu
,
Juyongguan
,
Simatai
and
Jinshanling
are popular sections, which receives millions of tourists every year. If you want to explore more, sections of
Shanhaiguan
in Qinhuangdao and
Jiayuguan
in Gansu are worth to see.
Averages for Great Wall Weather in June
Temperature: 19°C / 66°F
High Temperature: 31°C / 88°F
Low Temperature: 18°C / 64°F
Humidity: 61%
Rainfall: 134mm
Rainy Days: 4 days
Sunrise: 04:45 ~ 04:49
Sunset: 19:37 ~ 19:47
What to Wear When Traveling to the Great Wall of China in June
Considering the Great Wall of China weather in June, light clothes such as short shirts, light pants, shorts, dresses and sandals are recommended for daytime wear. At night, a thin overcoat, blast jacket or blouse needs to be added in order to prevent getting cold.

Which Great Wall Section to Visit in June
As the beginning of summer, June is an ideal month to tour around Badaling Great Wall and Mutianyu Great Wall before it becomes unbearably hot.
Built of huge bar-stones and bricks, Badaling Great Wall in June has magnificent scenery and becomes the most visited section. It is easier to climb because it doesn't have very steep stairs. The north part of Badaling Great Wall includes 12 watchtowers. The famous stone stele engraved with 'He who has never been to the Great Wall is not a true man' is nearby the No.8 North Tower. Almost every tourist will take a photo with it.
China Great Wall Museum
nearby Badaling Section can help you know more about Great Wall's history and current situation. If you have enough sightseeing time, you shouldn't miss it.
Mutianyu Great Wall in June is a good destination to avoid crowded tourists with green verdant landscape. With the length of 5.4 kilometers (3.4 miles), most tourists can visit main attractions within 5-7 hours. Besides hiking, taking cable car, toboggan or chairlift are popular energy-saving ways.
If you don't like to visit Great Wall in day, go to Simatai Great Wall, which is the only section open at night, so you can have a cooler trip. After, you can stay overnight at Gubei Water Town at the foot of Simatai, where you can also appreciate impressive night scenery of Great Wall of China June.
Great Wall of China: June Travel Tips
The
Dragon Boat Festival
is celebrated in June. In China, people usually have a 3-day holiday. So, there will be more travelers than usual. It is suggested to arrange hotels and transportation & scenic area entrance tickets in advance. Arriving at Great Wall early in the morning would avoid long queue and crowded tourists.
You need to prepare something for the skin protection due to the strong summer's sunlight. Sunglasses, parasols, sunhats and sunscreen are necessary. Preparing some medicines to prevent heatstroke is feasible. Besides, bring an umbrella or a raincoat in case of rain unexpectedly.
You can take some foods like breads, chocolates and water when you climbing the Great Wall of China in June. The hot weather would accelerate strength consumed. Take some rest or choose cable car up in the mid day if necessary.
What is the temperature in Great Wall of China in June?
High/Low Temperatures of Great Wall of China in June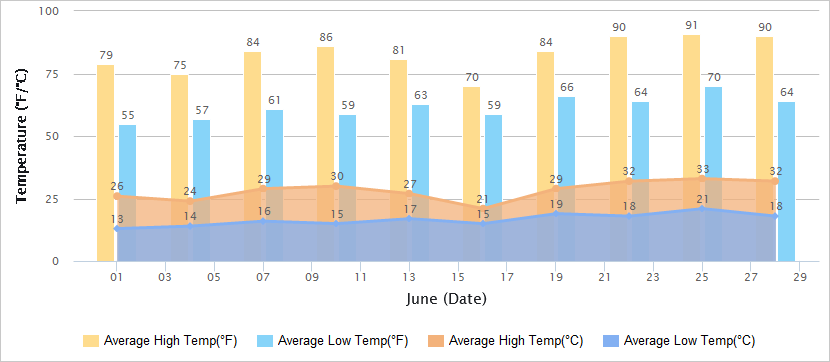 Historical Great Wall Weather in June
Jun
Temperature
Sunrise / Sunset
Humi-
dity
(%)
High
Low
1
26°C / 78.8°F
13°C / 55.4°F
04:48 / 19:40
34
2
30°C / 86°F
15°C / 59°F
04:48 / 19:41
26
3
32°C / 89.6°F
16°C / 60.8°F
04:47 / 19:42
24
4
24°C / 75.2°F
14°C / 68.5°F
04:47 / 19:42
34
5
29°C / 84.2°F
16°C / 60.8°F
04:47 / 19:43
37
6
24°C / 75.2°F
13°C / 55.4°F
04:46 / 19:44
32
7
29°C / 84.2°F
16°C / 60.8°F
04:46 / 19:44
52
8
30°C / 86°F
16°C / 60.8°F
04:46 / 19:45
24
9
31°C / 87.8°F
15°C / 59°F
04:46 / 19:45
34
10
30°C / 86°F
15°C / 59°F
04:45 / 19:46
29
11
32°C / 89.6°F
17°C / 62.6°F
04:45 / 19:46
29
12
32°C / 89.6°F
19°C / 66.2°F
04:45 / 19:47
26
13
27°C / 80.6°F
17°C / 62.6°F
04:45 / 19:47
45
14
33°C / 91.4°F
16°C / 60.8°F
04:45 / 19:48
64
15
30°C / 86°F
16°C / 60.8°F
04:45 / 19:48
29
16
21°C /69.8°F
15°C / 59°F
04:45 / 19:49
23
17
26°C / 78.8°F
16°C / 60.8°F
04:45 / 19:49
43
18
30°C / 86°F
18°C / 64.4°F
04:45 / 19:49
24
19
29°C / 84.2°F
19°C / 66.2°F
04:45 / 19:50
22
20
33°C / 91.4°F
19°C / 66.2°F
04:46 / 19:50
32
21
30°C / 86°F
18°C / 64.4°F
04:46 / 19:50
32
22
32°C / 89.6°F
18°C / 64.4°F
04:46 / 19:50
23
23
34°C / 93.2°F
20°C / 68°F
04:46 / 19:50
23
24
35°C / 95°F
21°C / 69.8°F
04:46 / 19:51
23
25
33°C / 91.4°F
21°C / 69.8°F
04:47 / 19:51
22
26
32°C / 89.6°F
20°C / 68°F
04:47 / 19:51
21
27
30°C / 86°F
20°C / 68°F
04:47 / 19:51
36
28
32°C / 89.6°F
18°C / 64.4°F
04:48 / 19:51
61
29
32°C / 89.6°F
18°C / 64.4°F
04:48 / 19:51
33
30
29°C / 84.2°F
18°C / 64.4°F
04:49 / 19:51
31

Read more:
Badaling Great Wall Weather
;
Mutianyu Great Wall Weather
- Last updated on Jun. 20, 2023 by Catherine He -