Great Wall of China Weather in January
Great Wall of China weather in January is mainly dry and chilly. It is the coldest month of the year. The Great Wall in Beijing including
Badaling Great Wall
,
Mutianyu Great Wall
,
Juyongguan Great Wall
,
Simatai Great Wall
,
Jinshanling Great Wall
share similar weather condition with an average temperature ranging from -12 ~ 1℃ (10 ~ 34℉). The air is dry because of low precipitation in January. According to the previous statistics for the Great Wall of China in January, there are more windy days especially nippy northwest wind than other months.
Jiayuguan Great Wall
in Gansu Province and
Shanhaiguan Great Wall
in Hebei Province are also experiencing the cold weather in January.
During this time, the scenery surrounding the Great Walls isn't that impressive than other seasons. But if covered by white snow, the Great Wall looks clean and solemn.
Averages for Great Wall Weather in January
Temperature: -10°C / 14°F
High Temperature: 1°C / 34°F
Low Temperature: -12°C / 10°F
Humidity: 44%
Rainfall: 21 mm
Rainy Days: 0 day
Sunrise: 07:25 ~ 07:36
Sunset: 16:59 ~ 17:32
What to Wear When Traveling to the Great Wall of China in January
You need to bring down coats, hats, mouth-muffles, warm gloves, stockings and boots to keep warm when you touring around Great Wall of China In January. If you go there in a snowy day, you should wear antiskid shoes.


Which Great Wall Section to Visit in January
You should not miss the impressive snow scenery of Beijing Badaling Great Wall and Mutianyu Great Wall in January.
As the best-preserved and most complete section, Badaling Great Wall is the must see in your life. Situated about 70 kilometers (43 miles) away from Beijing downtown, this section is 12 kilometers (7.5 miles) long, providing convenient transportation and equipped with cable cars & pulley. Besides climbing the Great Wall, skiing and skating in Badaling Ski Resort are also interesting. The ski resort is located 2 kilometers (1.2 miles) west away from Badaling Great Wall, covering 3,000,000 square meters (3,600,000 square yards) and having professional skiing facilities
Mutianyu Great Wall, stretching 5.4 kilometers (3.4 miles), is also one of the best-preserved sections. It is easy to be arrived from downtown Beijing. Mutianyu Great Wall also provides cableway and slideway for visitors' convenience.
Great Wall of China: January Travel Tips
The Great Wall of China weather in January is cold but the indoor temperature is high, thus you need to prevent from getting cold because of the temperature difference indoor and outdoor. When climbing the Great Wall, you are suggested to bring a thermos with some hot water to keep warm. Preparing some warm pastes are also necessary.
What is the temperature in Great Wall of China in January?
High/Low Temperatures of Great Wall of China in January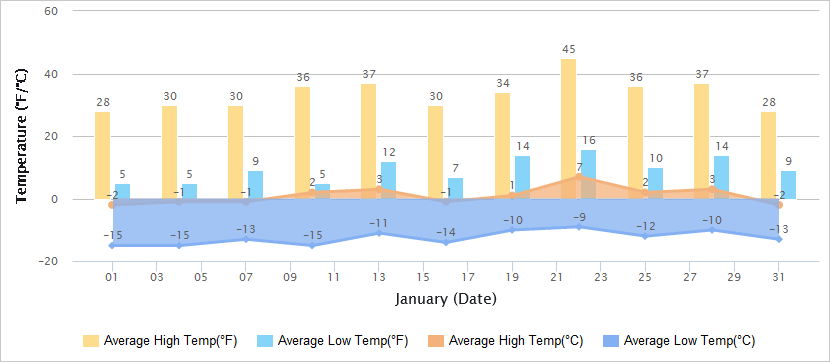 Historical Great Wall Weather in January
Jan
Temperature
Sunrise / Sunset
Humi-
dity
(%)
High
Low
1
-2°C / 28.4°F
-15°C / 5°F

07:40

/

17:00

44
2
-2°C / 28.4°F
-16°C / 3.1°F

07:40

/

17:01

44
3
0°C / 32°F
-13°C / 8.6°F

07:40

/

17:01

49
4
-1°C / 30.2°F
-15°C / 5°F

07:40

/

17:02

42
5
-3°C / 26.6°F
-15°C / 5°F

07:40

/

17:03

36
6
-1°C / 30.2°F
-15°C / 5°F

07:40

/

17:04

37
7
-1°C / 30.2°F
-13°C / 8.6°F

07:40

/

17:05

45
8
-3°C / 26.6°F
-15°C / 5°F

07:40

/

17:06

41
9
-5°C / 23°F
-15°C / 5°F

07:40

/

17:07

34
10
2°C / 35.6°F
-15°C / 5°F

07:39

/

17:08

40
11
3°C / 37.4°F
-14°C / 6.8°F

07:39

/

17:09

40
12
3°C / 37.4°F
-10°C / 14°F

07:39

/

17:10

40
13
3°C / 37.4°F
-11°C / 12.2°F

07:39

/

17:11

31
14
3°C / 37.4°F
-14°C / 6.8°F

07:38

/

17:12

30
15
-5°C / 23°F
-16°C / 3.1°F

07:38

/

17:14

37
16
-1°C / 30.2°F
-14°C / 6.8°F

07:38

/

17:15

50
17
2°C / 35.6°F
-12°C / 24.6°F

07:37

/

17:16

51
18
4°C / 39.2°F
-12°C / 24.6°F

07:37

/

17:17

38
19
1°C / 33.8°F
-10°C / 14°F

07:36

/

17:18

61
20
2°C / 35.6°F
-12°C / 24.6°F

07:36

/

17:19

53
21
6°C / 42.8°F
-9°C / 15.8°F

07:35

/

17:20

79
22
7°C / 44.6°F
-9°C / 15.8°F

07:34

/

17:22

73
23
7°C / 44.6°F
-8°C / 17.6°F

07:34

/

17:23

70
24
2°C / 35.6°F
-10°C / 14°F

07:33

/

17:24

68
25
2°C / 35.6°F
-12°C / 10.3°F

07:32

/

17:25

67
26
2°C / 35.6°F
-11°C / 12.2°F

07:32

/

17:26

65
27
5°C / 41°F
-12°C / 10.3°F

07:31

/

17:28

43
28
3°C / 37.4°F
-10°C / 14°F

07:30

/

17:29

39
29
2°C / 35.6°F
-10°C / 14°F

07:29

/

17:30

38
30
0°C / 32°F
-13°C / 8.6°F

07:28

/

17:31

38
31
-2°C / 28.4°F
-13°C / 8.6°F

07:27

/

17:33

51

Read more:
Badaling Great Wall Weather
;
Mutianyu Great Wall Weather
- Last updated on Jun. 20, 2023 by Catherine He -