Badaling Great Wall
The Great Wall is a must for a China tour, while Badaling is a must for a Great Wall tour. Badaling Great Wall in Beijing is the best-preserved and most complete section among the various, hence the most popular, even among world leaders. You should visit it at least once in your life.

Why visit Badaling rather than others

It is the most popular section.

It is the best-preserved and most complete section.

Compared with other sections, most stairs are not very steep and they are equipped with handrails, so it is a relatively easier climb.

This section has been equipped with cable car and pulley to save energy, and it even has some facilities to make it easier for seniors and the disabled.

It is close to downtown Beijing, about 43 miles (70 kilometers) away, and easy to reach by public transportation.
Basic Facts about Badaling Great Wall

Most of the preserved parts were built and reinforced during the Ming Dynasty (1368 - 1644 AD) to defend Beijing against the intrusion of northern Mongolians.



The total length of this section is 12 kilometers (7.5 miles) with 43 watchtowers, however only 3.74 kilometers (2.3 miles) and 19 watchtowers have been restored and opened to visitors.



In this section the wall averages about 7.8 meters (26 feet) tall, and 6 meters (20 feet) wide, which would allow five horses to gallop or ten soldiers to march abreast.



It is built of huge bar-stones and bricks. The interior of the wall was stuffed with rammed earth and small stones to make it firm and solid.



A number of holes have been drilled in the wall to shoot arrows and to watch enemies.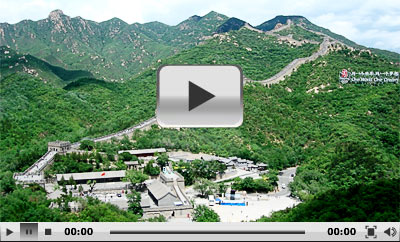 The watchtowers were built to accommodate soldiers, send messages, observe the enemy, and store supplies. It also has shooting and observing holes.



It witnessed many significant events in history: Yuan Taizu, the first emperor of Yuan Dynasty (1271-1368 AD) conquered it, took control over Beijing, then the whole China, and began the Yuan Dynasty; Empress Dowager Cixi of the Qing Dynasty (1644 - 1911 AD) fled from there to western China in 1900 when an alliance of eight western countries controlled Beijing.



It has drawn tens of millions of tourists both from home and abroad. More than 370 foreign leaders and celebrities have visited it, including former US presidents Nixon, Reagan, Carter, and Gorge W Bush, Queen Elizabeth II of UK, and former South Africa president Mandela.



See more Badaling Facts

How to Buy Entrance Tickets
Badaling Great Wall allows at most 65,000 visitors a day. Visitors need to buy tickets online through the official ticketing system or their official account on Wechat. The online booking is available 10 days in advance, but English service is not ready yet, so foreigners need to buy tickets through travel agencies or friends knowing Chinese.

Admission Fee
High Season (

Apr. 1 to Oct.31

)
CNY 40
Low Season (

Nov.1 to Mar.31

)

CNY 35
Notes:
1. Children
under
1.2m (3.9ft) or
under 6 years old and seniors aged above 60 with valid passport proof
can get tickets free of charge at the ticket window.
2. Children aged between 6 and 18 enjoy half-price tickets with
valid passport proof.
Openning Hours
| | |
| --- | --- |
| High Season (Apr. 1 to Oct.31) | 6:30 - 16:30 |
| Low Season (Nov.1 to Mar.31) | 7:30 - 16:00 |
Cable Car & Pulley in Badaling Great Wall
The scenic site is divided into north and south sections, and is equipped with cable car & Pulley.

The north section provides both. Cable cars that run between the parking lot of the back mountain and No.8 North Tower are suitable for all visitors. Pulleys, more exciting and more challenging than sealed cable cars, are not recommended for seniors and little kids. The lower station is next to the Bear Garden at the front mountain and the upper station is close to No.4 North Tower.

In the south section, only cable car is available, no pulleys. The cable car runs between the the opposite of Zhan Tianyou Memorial Hall and No.4 South Tower.



Read more: Badaling Great Wall Cable Car vs. Slideway
| | |
| --- | --- |
| Cable Cars | Pulleys |
Ticket Fare
| | | |
| --- | --- | --- |
| | Single Trip | Round Trip |
| Cable Car | CNY 100 | CNY 140 |
| Pulley | CNY 80 | CNY 100 |
Note: Free for children under 1.2m (3.9ft).
Service Hours of the Cable Car
Apr. - Oct.: 8:00 - 16:30; Nov. - Mar.: 8:30 - 16:00
How to tour Badaling Great Wall - Hiking Tour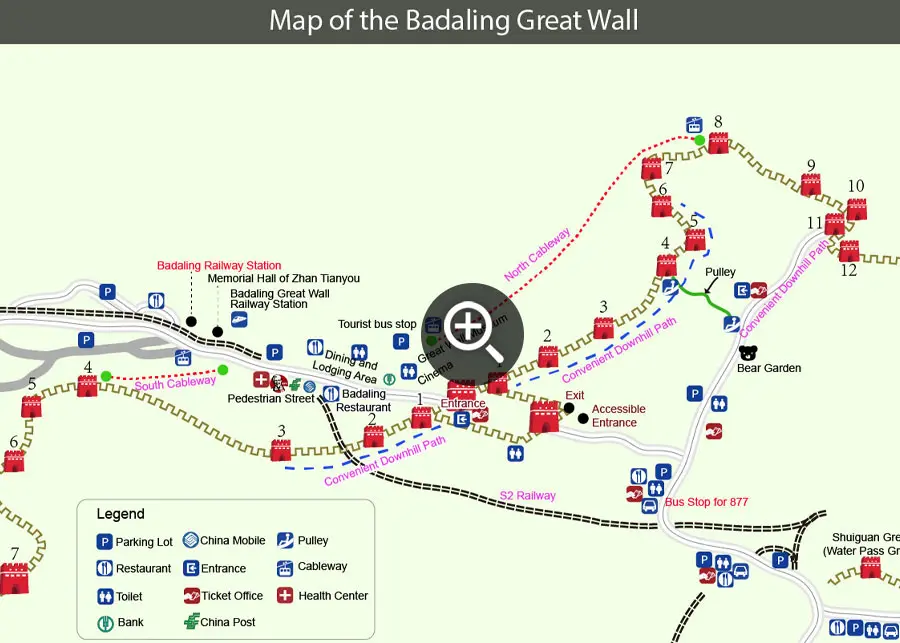 Badaling Great Wall Map (Click to enlarge it)
North Section:

It has twelve watchtowers.

The Wall winds up and down the mountain ridges, offering more magnificent scenery, but requiring more energy to climb.

The stone stele engraved with "He who has never been to the Great Wall is not a true man" is along this section, close to No. 8 North Tower; it is also the highest point in this area, offering a great bird's-eye view.

The path through No.9 North Tower to No.12 North Tower is not easy, think before climbing.

After reaching the furthest tower, No. 12 North, it is not necessary to return the way you came; there is an easier way to get to the exit by Bear Garden. It generally takes about 3 hours to complete this visit on foot. But upon descending via the convenient way, another ticket will be required if you want to climb the south section.

Between No. 6 North Tower and the exit, there is also a convenient path for descending. Another ticket is also required to ascend the south section.

South Section:

It has seven watchtowers.

The slopes are gentle and less energy-consuming.

Compared with the north section, there are fewer visitors here and one can enjoy it at a more leisurely pace.

After arriving at the furthest No.7 South Tower, return to No.3 South Tower for a quick exit. This visit takes about 2 hours on foot. If visitors want to cover the north section, they can go back to the starting point and then continue to the north section; in that case, no extra ticket will be required.

When is the best time for a visit?
The best times are April, May, September, or October, when it is neither too cold nor too hot, and the surrounding natural scenery is amazing. Usually from mid October to late October, the Great Wall is decorated by red leaves; while in the other time, it is surrounded by luxurious green plants. However, you should avoid the May Day holiday (May1st -3rd), the National Day holiday (October 1st-7th) and the Chinese New Year, when the site will be overrun with tourists.



See more Badaling Weather

How to get to Badaling Great Wall from downtown Beijing

Bus 877: Deshengmen ⇔ Badaling
Bus 877 is your first choice. It departs from Deshengmen, about 10 minutes' walking from Jishuitan subway station (Exit B2) of
subway line 2
. It is a non-stop bus, taking about 1 -1.5 hours and costing CNY 12 per person. The drop-off site is close to the pulley car lower station and about 10 minutes' walk to the entrance. Please note that the last departure from Deshengmen is at 12:30.
Operating Time:


From Deshengmen: Apr. 1 - Nov. 15: 06:00 - 12:30; Nov. 16 - Mar. 31: 06:30 - 12:30


From Badaling: Apr. 1 - Nov. 15: 10:30 - 17:00; Nov. 16 - Mar. 31: 11:00 - 16:30



Tourist Bus Line 1: Qianmen ⇔ Badaling


Boarding Point: Southwest of Qianmen Arrow Tower, to the south of Tiananmen Square


Destination: Badaling Guntiangou Parking Lot


Duration: 100 minutes


Fare: CNY 20 per person paid in cash; transportation card is not applicable.

Operating Time:


From Qianmen: 7:00 - 11:00


From Guntiangou: April to October: 9:00 - 17:00; November to March: 11:00 - 16:30

Tip: The bus to Badaling has a stop at Juyongguan Pass, but the return bus runs directly back to Qianmen. There is a tour guide on each bus.



Not Recommened Bus 919: Deshengmen Bus Station ⇔ Badaling
Bus 919 is usually crowded and has many stops on the way. The duration and ticket fare are 2 hous and CNY 12, respectively. In addition, the drop-off site is 1.6 km (1.0 mi) from the entance and you need to walk or take free shuttle bus to get there.



See more How to Get to Badaling Great Wall: by Bus

| | |
| --- | --- |
| Deshengmen Bus Stop | Bus 877 at Deshengmen |
| Sign of Bus 877 | Bus 877 from Badaling back to Deshengmen |

By Train:
Bullet Train: Take a bullet train from Qinghe Railway Station to Badaling Great Wall Railway Station next to the Badaling Great Wall Scenic Area. A single ride just takes 20-35 minutes and a second class seat costs CNY 18-29.



See detailed Beijing - Badaling High Speed Train
| | |
| --- | --- |
| Badaling Railway Station | S2 Train to Badaling |

S2 train: The trains run to Badaling Railway Station from Huangtudian Railway Station, which is near the Huoying Station along subway line 8 and subway line 13. A single rail ride takes about 1.5 hours and the fare is CNY 7. The entrance of Badaling Great Wall is 1.7 km (1.1 mi) away from Badaling Railway Station, and one can walk or take free shuttle buses to get there.



See more How to Get to Beijing Great Wall of China by Train - S2 to Badaling

How to Get to Badaling Great Wall from Capital International Airport

Take Airport Express to Dongzhimen Station, transfer to subway line 2 to Jishuitan Station, go out from Exit B2, walk around 500 meters (550 yards) to the eastward to Dongzhimen to take bus line 877.


Take Airport Express to Dongzhimen to transfer to subway line 13 to Huoying Station, go out from Exir G4. Upon arrival, take S2 train from the nearby Huangtudian Railway Station.


Which one is better? As the best-preserved and most popular section, Badaling is a must-see for first-time visitors to China. Mutianyu is also a good choice with high popularity among foreigners, but generally less tourists than Badaling, which makes it accessible on big holidays.

Further Reading
Badaling Great Wall: Facts and History
6 Things to Do on Great Wall of China Badaling
Badaling Great Wall Travel Review
Which Section of Great Wall to Visit
6 Best Places to See Great Wall of China
Top 10 Things to Do in Beijing
Print
- Last updated on May. 11, 2023 by Brenda Lian -
Questions & Answers on Badaling Great Wall
Asked by Ryan from IRELAND | Jun. 07, 2023 06:35

Reply
Are you still required to buy in advance?
Is it still required to buy a ticket online via the Chinese website with a Chinese phone number or via WeChat?
Answers (1)
Answered by Fred | Jun. 07, 2023 23:04

0

0

Reply
It is more recommended to pre-book like this and you don't have wait a long line to purchase at the spot.
Asked by Gayle Roche from UNITED STATES | Jan. 03, 2020 18:45

Reply
We are 5 family members staying in Yanqing.
Should we buy 2 adult tickets and get the free senior tickets there? How do we get there from the Badaling Hot Springs Resort in Yanking? We will be there the whole first week of June. Is there a better day to go? Should we get the cable car tickets now?
Thanks
Answers (1)
Answered by Antonia from UNITED KINGDOM | Jan. 07, 2020 00:00

0

0

Reply
Yes. And you can purchase the cable car tickets.
About the transportation, there is no direct public transportation. For your convenience, you are suggested to take a taxi.
Asked by Felicia from MALAYSIA | Nov. 12, 2019 03:43

Reply
How far is the distance between the entrance and the cable car of Badaling Great Wall?
Will it be crowded if i go during non peak session on weekend?
Answers (1)
Answered by Anastasia from DENMARK | Nov. 13, 2019 18:11

0

0

Reply
I didn't find the exact distance. But I know that the distance is not far. You can just walk to the cable car station. Generally speaking, there will also have many people on weekends. You are suggested to go there early.
Asked by Aaron from PHILIPPINES | Oct. 07, 2019 20:08

Reply
North Section Cable Service of Beijing Badaling Great Wall
May i know if there is discount for foreign senior and child = 7yo for the round trip of the cable car. We have wheelchair and stroller, can we ask permission in entrance of the north section cable to leave it there? By the way, after Badaling Great Wall, we will go to the Badaling Ski Resort, what are your transportation suggestion going there? Thank you very much and appreciated of your help.
Answers (1)
Answered by Gabriella from UNITED KINGDOM | Oct. 09, 2019 19:51

0

0

Reply
1. As I know, there is no discount for the cable car ticket fare.
2. Yes, you can.
3. You can take bus no.880 from Badaling to Yangguang Bus Stop. Then walk to the ski resort. The distance is not far. Or you can hire a private car or take a taxi to there directly. The fare is CNY 30 to CNY 40.