Exit 58, Beijing-Tibet Highway, Yanqing District, Beijing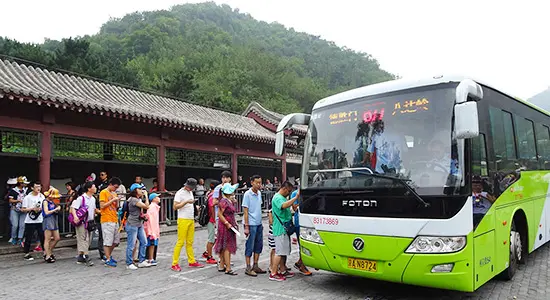 Bus 877 running between Badaling and Deshengmen

Option 1: Bus 877: Deshengmen ⇔ Badaling
It departs from Deshengmen, about 10 minutes' walk from Jishuitan subway station (Exit B2) of subway line 2. It is a non-stop bus, taking about an hour and costing CNY 12. The drop-off site is close to the pulley car lower station and about 10 minutes' walk to the entrance.

Option 2: Tourist Bus Line 1: Qianmen ⇔ Badaling
Boarding Point: southwest of Qianmen Arrow Tower, to the south of Tiananmen Square
Hours at Qianmen: about 7:00 to 11:00
Destination: Badaling Guntiangou Parking Lot

Option 3: By Train:
High Speed Train: Take a high speed train from Beijing North Railway Station to the Badaling Great Wall Railway Station near the Badaling Great Wall Scenic Area. It takes only 30 minutes for a single-way trip.
S2 Train: The trains depart from Huangtudian Railway Station, which is near the Huoying Station along subway line 8 and subway line 13. One should get off at Badaling Railway Station; the entrance to the scenic area is a 15 to 20 minutes' walk. Just follow the passenger flow or direction boards and one will get there easily. A single rail ride takes about 1.5 hours and the fare is CNY 7. There are free shuttle buses between S2 train station and cable car station. If you don't want to walk, you can queue up to take it.
Though the ticket is issued only 7 days in advance, you can book as early as possible from us to guarantee a smooth trip, especially in case that you visit during public holidays.
No. Currently all tickets are sold online and the ticketing system is in Chinese, so you have to book one from travel agencies in advance.

Read details on:
Badaling Great Wall