Which Section of Great Wall to Visit
The Great Wall of China has many sections traversing the vastness of northern China. They were built during different historical periods, and constructed with different materials. It is sometimes difficult for visitors to decide which section to visit. Here we list the top 10 parts worth visiting, and you can choose according to your preferences and travel experiences.

No.
Sections
Scenery
Climbing Difficulty
1
Badaling
Easy (with handrail, cableway, pully)
Suitable for first time visitors, elderly, children, the physically challenged
2
Mutianyu
Easy (with cableway, slideway)
Suitable for ordinary visitors, elderly, children
3
Jinshanling
Easy (with cableway)
Suitable for ordinary visitors, hikers, photographers
4
Simatai
Easy (with cableway)
Suitable for ordinary visitors, hikers
5
Juyongguan
Medium
Suitable for ordinary visitors
6
Jiankou
Difficult
Suitable for experienced hikers, adventurers, photographers
7
Gubeikou
Difficult
Suitable for hikers, adventurers
8
Shanhaiguan
Easy
Suitable for ordinary visitors
9
Laolongtou
Easy
Suitable for ordinary visitors, photographers
10
Jiayuguan
Easy
Suitable for ordinary visitors, photographers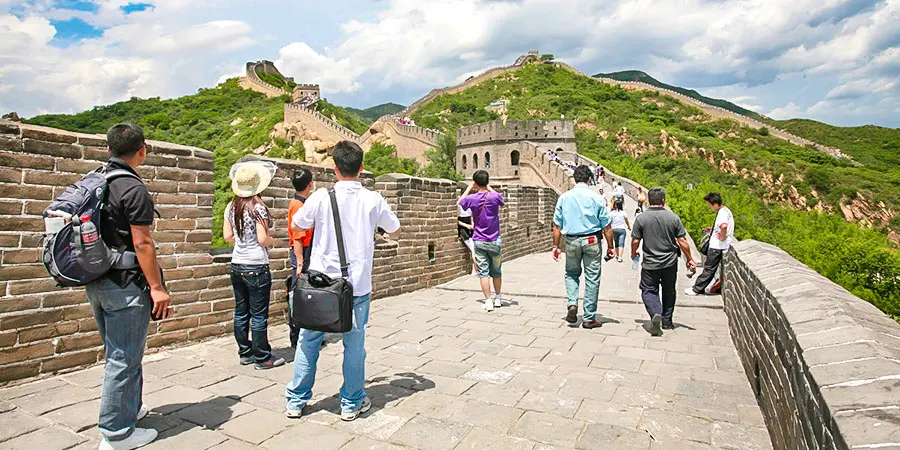 Badaling
Badaling is the best-preserved and most representative section of the Great Wall of China. It has been renovated, and equipped with handrails, a cableway, and a pulley to make your visit safer and easier. Walking on the wall and enjoying the grand watchtowers will leave you with an unforgettable memory.



There may be a long queue waiting to take the public transport to Badaling. To save time and energy, you can join a tour with transport and guide included:


Badaling Great Wall Hiking : hike the Badaling accompanied by our professional guide.

Mutianyu is well-preserved and famous for its grandeur and beauty. The winding wall crawls along mountain ridges. The watchtowers are closely distributed along the wall, and many like Zhengguan Terrace and Big Corner Towerhave their own unique characteristics. The cableway and slideway certainly can make your visit less strenuous. During some holidays, especially National Day Holiday (October 1st to 7th), Badaling may be overcrowded, so Mutianyu is your priority.

Recommended tour:


1-Day Beijing Private Tour: Mutianyu, Forbidden City



See Badaling vs. Mutianyu
| | |
| --- | --- |
| Mutianyu | Jinshanling |
Jinshanling is known for its intoxicating scenery. The wall extends 6.5 miles (10.5 kilometers) along the mountain ridges. The watchtowers are close together, and vary in materials, number of tiers, and roof structure. Seeing these distinctive watchtowers is an interesting and delightful experience. In addition, you can easily ascend the wall by cable car.

The Simatai Great Wall retains the wall's original authentic beauty. The renovation only focused on necessary reinforcements. The cableway can take you onto the wall easily. Notably, you can make a night visit to the wall, which is certainly a unique experience. You are advised to make a reservation to visit Simatai.

Read More: Ultimate Guide to Visiting Simatai Great Wall at Night
| | |
| --- | --- |
| Simatai | Juyongguan |
Juyongguan, together with Jiayuguan and Shanhaiguan, is one of the three grand passes along the wall. It is circular in shape. You can go around the wall, without backtracking. At the heart of the pass stands the Cloud Platform, an exquisite white marble platform. The doorway is engraved with sutras in six languages, and carved with Buddha and Heavenly Kings. In addition, you can find ancient towers and temples inside the pass.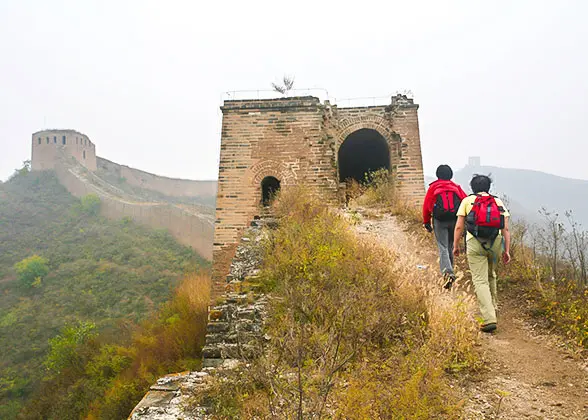 Gubeikou
It is the most precipitous and challenging section close to Beijing. The W-shaped wall snakes up and down the mountain ridges just like a bow, hence its name "Jiankou", meaning "Arrow Nock". The wall has never been renovated, and well retains its natural beauty. Owing to the steep mountains and intoxicating scenery, Jiankou has always been an ideal place for photographers and adventurers.
Not having been restored, it is dilapidated, but authentic. It was first built during the Northern Qi Dynasty (550-577) and continued during the Ming Dynasty (1368-1644). It consists of two sections: Wohushan Section and Panlongshan Section. You can still read its past glory through the old wall and broken watchtowers.
Shanhaiguan is known as the "First Pass under Heaven". It is square in shape, with four gates. The Zhendong Gate in the east is the grandest. Above the gateway stands a magnificent gate tower. Under the eave of the tower hangs a large plaque that reads "First Pass under Heaven". Also, there is a barbican outside the Zhendong Gate, forming a complete defense. In addition, there are many ancient buildings inside the pass, such as old stages, towers, and temples.
Laolongtou is quite unique among the top 10 parts. It terminates at the Bohai Sea. It resembles a dragon drinking water by the seaside. Hence, Laolongtou is also known as "Old Dragon's Head". Not only can you enjoy the time-honored wall and ancient buildings, but you will also be amazed by the charming coastal scenery.
Jiayuguan, known as the "First and Grandest Pass under Heaven", is the western end of the Great Wall. It is a double defensive system, consisting of an Inner City and an Outer City. Different from previous sections made of bricks and stones, Jiayuguan is made of yellow packed earth. You will be deeply impressed by the grand pass standing amid the desolation of the Gobi desert.
| | |
| --- | --- |
| Laolongtou | Jiayuguan |

Further Reading:
6 Best Places to See Great Wall of China
Why should I visit the Great Wall of China? - Top 10 Reasons
Best Time to Visit Great Wall of China
How to Visit the Great Wall of China
How much does it cost to visit the Great Wall of China?
10 Insider Tips for Great Wall Travel - Dos and Don'ts
10 Guidelines for Travel to Great Wall of China in Winter
How to Camp on the Great Wall of China
- Last updated on Jun. 19, 2023 by Catherine He -
Questions & Answers on Which Section of Great Wall to Visit
Asked by Grace from NORTH CAROLINA | Jan. 18, 2017 12:51

Reply
What happened during the construction of the Great Wall..
how many worker died there...were there any wars with the wall involved..we need details.
Answers (1)
Answered by Li Ming from CHINA | Jan. 18, 2017 18:48

0

1

Reply
More than 1 million laborers, including civilians, soldiers, and criminals died during the construction. Many wars took place at the Wall, such as the Battle of Shanhai Pass and Battle of Pingxingguan. :)