Great Wall of China in December - Weather, Clothing & Tour Tips
Great Wall of China in December has quite chilly weather with evident temperature difference between daytime and nighttime. The average high temperature is -1℃ (30℉) and the average low temperature is -12℃ (10℉). It is also dry, with the average humidity of 49% and the rainfall of only 17 mm. There would be a higher possibility to meet snowy days.
December is not a peak season for travelling because of the cold weather. But in this way, you can appreciate Great Wall quietly and at a leisurely pace. Besides, several ski resorts and hot springs nearby can add more fun when touring Great Wall of China December.
Badaling
,
Mutianyu
,
Juyongguan
,
Simatai
,
Jinshanling
in Beijing,
Shanhaiguan
in Hebei and
Jiayuguan
in Gansu are popular sections to visit.
Averages for Great Wall Weather in December
Temperature: -8°C / 17°F
High Temperature: -1°C / 30°F
Low Temperature: -12°C / 10°F
Humidity: 49%
Rainfall: 17 mm
Rainy Days: 0 day
Sunrise: 07:16 ~ 07:36
Sunset: 16:50 ~ 16:59
What to Wear When Traveling to the Great Wall of China in December
Based on Great Wall of China weather in December, you need winter clothes in order to keep warm, such as down jackets, padded overcoats, sweaters, padded trousers and snow boots. Also you need warm accessories like hats, scarves, gloves and mouth-masks when you travelling to the Great Wall of China in December.


Which Great Wall Section to Visit in December
When the white snow covers the Great Wall and surrounding mountains, the Great Wall becomes more solemn and breathtaking. It is a good option to tour around Badaling Great Wall and Mutianyu Great Wall in December.
When you hiking Badaling Great Wall in December, the beautiful snow makes people immersed in the white world. Being the best-preserved and most complete section, Badaling was built in
Ming Dynasty
(1368 - 1644 AD) and stretches 12 kilometers (7.5 miles) with 43 watchtowers. After hiking, the nearby Badaling Great Wall Ski Resort is also recommended, where you can warm up.
Climbing Mutianyu Great Wall is a total worth thing in winter. Compared with Badaling, the stairs of Mutianyu are not that gradual, which you need to pay much attention to. If you want to choose a relaxing way, you can take cable car, toboggan and chairlift up. Situated 65 kilometers (40 miles) away from downtown Beijing, this section can be easily reached by public transportation.
Great Wall of China: December Travel Tips
For the trip to Great Wall of China in December, eating more fresh vegetables and fruits to enhance resistance is important to avoid small diseases like flu or stomachache. If necessary, you should prepare some basic medicines in advance. At the same time, you are suggested to drink enough hot water and use face cream to make the skin moisturized in these windy and dry days. You can also bring a hot-water bottle or warm pastes to warm up. If you tour around in a snowy day, you need to prepare a pair of antiskid shoes.
Although December is not the popular tourist season, it is still advised to book train tickets as early as you can when you go to Badaling. Because many travelers going to ski and take a bath in hot spring in Zhangjiakou will also the same train, which makes the train tickets demanding.
What is the temperature in Great Wall of China in December?
High/Low Temperatures of Great Wall of China in December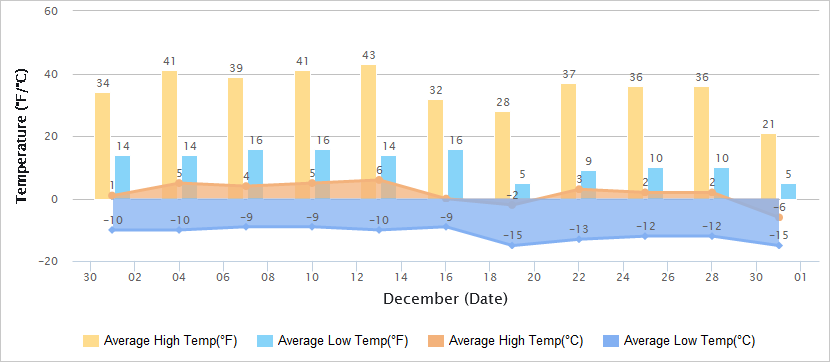 Historical Great Wall Weather in December
Dec
Temperature
Sunrise / Sunset
Humi-
dity
(%)
High
Low
1
1°C / 33.8°F
-10°C / 14°F
07:20 / 16:50
45
2
1°C / 33.8°F
-6°C / 21.2°F
07:21 / 16:50
31
3
4°C / 39.2°F
-7°C / 19.4°F
07:22 / 16:50
35
4
5°C / 41°F
-10°C / 14°F
07:23 / 16:50
36
5
0°C / 32°F
-10°C / 14°F
07:24 / 16:49
34
6
3°C / 37.4°F
-10°C / 14°F
07:24 / 16:49
29
7
4°C / 39.2°F
-9°C / 15.8°F
07:25 / 16:49
47
8
1°C / 33.8°F
-8°C / 17.6°F
07:26 / 16:49
44
9
2°C / 35.6°F
-8°C / 17.6°F
07:27 / 16:49
33
10
5°C / 41°F
-9°C / 15.8°F
07:28 / 16:49
29
11
2°C / 35.6°F
-10°C / 14°F
07:29 / 16:49
41
12
2°C / 35.6°F
-10°C / 14°F
07:30 / 16:50
53
13
6°C / 42.8°F
-10°C / 14°F
07:30 / 16:50
34
14
2°C / 35.6°F
-8°C / 17.6°F
07:31 / 16:50
29
15
0°C / 32°F
-5°C / 23°F
07:32 / 16:50
38
16
0°C / 32°F
-9°C / 15.8°F
07:33 / 16:50
26
17
2°C / 35.6°F
-12°C / 10.3°F
07:33 / 16:51
31
18
0°C / 32°F
-12°C / 10.3°F
07:34 / 16:51
37
19
-2°C / 28.4°F
-15°C / 5°F
07:35 / 16:51
35
20
-1°C / 30.2°F
-13°C / 8.6°F
07:35 / 16:52
31
21
-4°C / 24.8°F
-12°C / 10.3°F
07:36 / 16:52
39
22
3°C / 37.4°F
-13°C / 8.6°F
07:36 / 16:53
49
23
-2°C / 28.4°F
-13°C / 8.6°F
07:37 / 16:53
46
24
-3°C / 26.6°F
-12°C / 10.3°F
07:37 / 16:54
54
25
2°C / 35.6°F
-12°C / 10.3°F
07:38 / 16:54
57
26
0°C / 32°F
-13°C / 8.6°F
07:38 / 16:55
40
27
1°C / 33.8°F
-12°C / 10.3°F
07:38 / 16:56
43
28
2°C / 35.6°F
-12°C / 10.3°F
07:39 / 16:56
41
29
4°C / 39.2°F
-15°C / 5°F
07:39 / 16:57
34
30
-10°C / 14°F
-19°C / -2.2°F
07:39 / 16:58
26
31
-6°C / 21.2°F
-15°C / 5°F
07:39 / 16:59
42

Read more:
Badaling Great Wall Weather
;
Mutianyu Great Wall Weather
- Last modified on Jul. 02, 2020 -