Jiumenkou Great Wall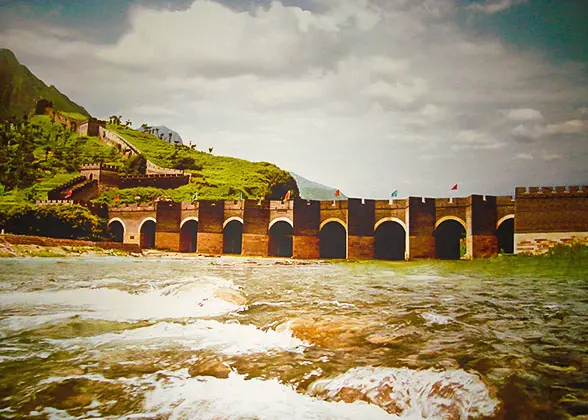 Nine Water Gates at Jiumenkou
About nine miles (15 kilometers) from Shanhaiguan Pass, the grand Great Wall runs from southern lofty mountains to the bank of Jiujiang River, then spans the river and forces its way up to the northern mountains. This section is Jiumenkou, known as the "Great Wall over Water". Owing to the strategic location, many battles took place there. Nowadays, it has been developed into a scenic area characterized by the Jiumenkou Pass and the Mind Dynasty Tunnel.

Basic Facts of Jiumenkou Great Wall

It was first constructed in the Northern Qi Dynasty (479- 502). The remaining section was built in 1381 of the
Ming Dynasty
(1368- 1644), and restored several times after.

It is 1,863 yards (1,704 meters) long, with 12 watch towers, two sentry posts, two beacon towers, and ditches, forming a complete military defense system.

The section over the Jiujiang River is about 110 yards (100 meters).

Many historical relics have been excavated there, such as porcelain bowls, vats, and cannons. These relics tell you the life of soldiers on guard.

In November, 2002, it was listed as a World Cultural Heritage Site as a unique section over the water.

Jiumenkou Pass: Nine-Arch Great Wall Bridge
The Jiumenkou Pass connecting the two banks of the Jiujiang River is the most significant part of the Great Wall. It is supported on 8 piers and 9 arches. 8,400 square yards (7,000 square meters) of rectangular granite stone slabs are embedded on the bed of the river. These stone slabs are combined into one giant one by molten iron. Hence, it is also called "Yipianshi Pass" which literally means "One Piece of Stone Pass". Nine arches standing above the stones serve as water gates, hence its name "Jiumenkou" which means "Nine Gateways" in English. Above the piers and arches is the solid Great Wall made of bricks. Built in this way, floods can get through via these sluiceways, while enemies would be blocked by soldiers above. Moreover, at the either end of the bridge is a walled city, which was used as water prisons during wartime.
Secret Tunnel of the Ming Dynasty
Apart from the nine-arch bridge, the Secret Tunnel in the mountain is also worth a visit. The tunnel is 1,123 yards (1,027 meters) long, with two exits and one entrance. It was dug in the Ming Dynasty under the supervision of the famous General Xu Da, and was used to station troops, store weapons and food, and sneak to the back of enemies during wartime. There are 29 holes in total. You can even find wells, kitchens, washing rooms, sacrificial halls and even vivid sculptures of soldiers to reproduce life inside it. It is like a grand underground palace.
Beside the bridge and the tunnel, you can go to the Rare Bird Garden at the foot of the mountain. You can see various species of rare birds, and enjoy the interesting bird shows. For instance, you can see a little parrot walking on a steel wire. Also, you can see the Ci En Temple or Ancient Tombs nearby.
How to Tour Jiumenkou Great Wall

Start hiking from the entrance, you will reach the Nine-Arch Bridge over the sparkling Jiujiang River first. During the high flow period, you can go boating on the river, and enjoy the scenery on both banks.

Afterwards, you can hike along the winding Great Wall that crawls on the mountain ridges. The southern section is steep, and the watchtowers are densely distributed. In contrast, the northern section slopes gently, and is more suitable for children and senior citizens. Standing atop, you can enjoy the pastoral scenery, including the vast fields and orchards. After hiking, you need to climb down along the same route.

Then, you can go to the Rare Bird Garden and then pay a visit to the Secret Tunnel. It is pretty cool inside the tunnel.

In summer and autumn, there are many people selling fresh local fruit, such as pears, jujube, and kiwi fruit at the entrance of the scenic area. They are not expensive and you may have a try!
| | |
| --- | --- |
| Opening Hours | 8:00- 16:00 |
| Admission Fee | CNY 90 (with the Rare Bird Garden and Secret Tunnel included) |
How to Get There
There is no public transport to take you there. Administratively, it belongs to Suizhong County, Huludao, Liaoning Province. But it is closer and easier to be accessed from Shanhaiguan in Qinhuangdao of Hebei Province. Generally, it takes about CNY 100 from Shanhaiguan for a round trip.
- Last updated on Aug. 02, 2022 -
Questions & Answers on Jiumenkou Great Wall
Asked by Mr.GHISLAIN1957 from CANADA | Feb. 24, 2013 06:06

Reply
Distance from Shenyang to Jiumenkou Great Wall
Is it far from Shenyang and how do I go there.

Thank you.
Answers (2)
Answered by Ellen from ENGLAND | Feb. 26, 2013 01:13

3

2

Reply
Yes, it is far. You need to go to Shenyang North Railway Station to take bullet train to reach Shanhaiguan Railway Station where you can hire a taxi to get there directly.
Answered by Mr.GHISLAIN1957 from CANADA | Feb. 26, 2013 03:57

1

1

Reply
Thank you very much!