Zhuizishan Great Wall
"Zhuizishan" literally means a steep mountain that resembles a sharp awl. Hence, the Great Wall sitting on its crest is named Zhuizishan Great Wall. The wall, constructed in 1381 during the Ming Dynasty (1368-1644), has a total length of about 24,557 yards (22,455 meters). It is famous for the magnificent "Three Dragons Getting Together" view: three lines of the Great Wall come together there.

Six Featured Sections Running from West to East
The Zhuizishan Great Wall can be divided in to six sections: Damaoshan Section, Zhuizishan Section, Duanmuchong Section, Manzhicao Section, Shixiakou Section, and Jinniudong Section. They are connected, but different from one another, each with its own features.

The grand Damaoshan Section sits on some precipitous ridges. "Damaoshan" means a cat-shaped mountain. It's said that it got its name because the southern hilltop resembles a big squatting cat.

The winding Zhuizishan Section is an ideal spot to enjoy the "Three Dragons Getting Together" View. This section joins Liaodong Garrison Wall in the east, is connected with Ji Garrison Wall in the west, and runs southward to
Shanhaiguan
via
Jiumenkou.

The Duanmuchong Section snakes its way across steep mountains, and is made of stones. Inside one of the watchtowers, you can see a stele that records its construction.

The V-shaped Manzhicao Section lies at the entrance of a valley. It crawls down the western ridges, crosses the valley, and goes up to the eastern mountain. You can find a square brick watchtower about every one hundred yards along this section.

The Shixiakou Section rises and falls gently. It is sandwiched between two mountains, with a water gate in the valley. On the mountain slope of the eastern Gushan Mountain, you can find Shixiakou cliff carvings engraved with 147 Chinese characters. The carvings record the year of construction, and names of builders of the wall. The characters are severely weathered, but most of them can still be made out.

The Jinniudong Section crawls on the mountain to the east of Hekou Village. It spans the Shihe River, making it very hard to reach.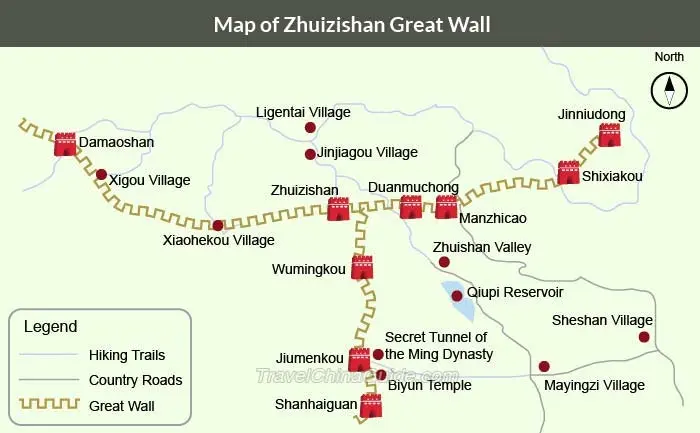 Zhuizishan Great Wall Map
How to Tour Zhuizishan Great Wall

Start from Jinjiagou Village, and hike for about 40 minutes or drive for about 10 minutes along a hill road to Zhuizishan Mountain. You can enjoy the view of "Three Dragons Getting Together".

Apart from the hill road, you can find a stone road by a pavilion and a stone stele at Jinjiagou Village. Hike along the stone road for about 40 minutes to Miao's Tower via Yehua Valley, continue eastward, and you can see the brick Ji Garrison Wall, and the "Three Dragons Getting Together". Or, you may climb down a little bit, and walk westward along a mountain path to see the stone Liaodong Garrison Wall. Afterwards, you can return to Jinjiagou Village along the hill road.

Zhuizishan- Damaoshan: Start from Jinjiagou Village, and drive for about 10 minutes to Damaoshan hill road. Park the car on the mountain slope. Then, you can hike up to visit the Damaoshan Section.



Note: The Zhuizishan Great Wall is wild and not repaired. Although it retains its original beauty, you need to be careful when climbing it.
See Wild Great Wall Travel Tips

How to Get to Zhuizishan Great Wall
It is located in Yong'an Town, Suizhong County, Liaoning Province, and is about 28 miles (45 kilometers) from Shanhaiguan.

You can take a bus to Qiansuo Town from Suizhong or Shanhaiguan. The buses depart every 10 minutes, so you can easily catch one. Upon arrival at Qiansuo Town, take a taxi to the site for CNY 70-80.

You can take a bus to Jinjiagou Village (Jinjiagoutun) of Yong'an Town from Suizhong Bus Station. The bus departs at 12:00, and arrives at Jinjiagou Village at 15:00. You need to pay CNY 20 for it. By the way, the bus returns to Suizhong at 05:30 the next morning.

You can charter a car to the site from Shanhaiguan directly. The reference fare is CNY 200-300 for a round trip.

Where to Stay and Dine
You can stay at the folk dwellings at Jinjiagou Village. The hosts are very hospitable and considerate. They will entertain you with a fancy dinner, including Roasted Lamb, Braised Pork, and fresh vegetables. After dinner, you can take part in a bonfire Party. In addition, there are many specialties for you to choose from, such as chicken, mushrooms, quality honey, and home-made wine.
Urgent Protection is Required
The Zhuizishan Great Wall is in poor condition. First of all, the wall suffers from natural erosion, earthquakes, flood, and lightning strikes. Second, bushes grow on the wall and inside the watchtowers, causeing them to crack and collapse. Third, sheep often lick the blue bricks because they contain alkaline substances. In consequence, the wall becomes unstable, and vulnerable to weathering. Fourth, the locals remove the bricks and stones for the construction of roads, houses, and livestock pens. In addition, some other human activities are damaging the wall, including opening mines, and searching for medicinal herbs and scorpions. In a word, the wall is in danger. We should act now to protect it and preserve it for later generations.
- Last updated on Aug. 13, 2019 -