Great Mosque
Xi'an Great Mosque Facts
Location: northwest to the Drum Tower on Huajue Lane in downtown Xi'an
Construction Area: 1.2 hectares (3 acres)
First Built in: 742 AD

The Great Mosque in Xi'an is one of the oldest, largest and best-preserved Islamic mosques in China.

According to historical records engraved on a stone tablet inside, the Great Mosque was built in 742 during the Tang Dynasty (618-907). This was a result of Islam being introduced into Northwest China by Arab merchants and travelers from Persia and Afghanistan during the mid-7th century when some of them settled down in China and married women of Han Nationality.

Their descendants became Muslims today. The Muslims played an important role in the unifications of China during the Yuan and Ming Dynasties. Hence, other mosques were also built to honor them.

In Xi'an, it is really well worth a trip to see the Great Mosque, not only for its centuries' old history but also for its particular design of mixed architecture - traditional Muslim and Chinese styles.

Occupying an area of over 12,000 square meters (14,352 sq yd), the mosque is divided into four courtyards, 250 meters (273 yd) long and 47 meters (51 yd) wide with a well-arranged layout. Landscaped with gardens, the further one strolls into its interior, the more serene one feels.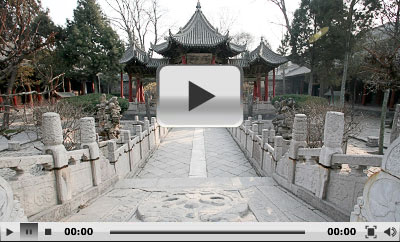 Pictures
The first courtyard contains an elaborate wooden arch 9 meters (30 ft) high covered with glazed tiles that dates back to the 17th century. In the center of the second courtyard, a stone arch stands with two steles on both sides. On one stele is the script of a famous calligrapher named Mi Fu of the Song Dynasty; the other is from Dong Qichang, a calligrapher of the Ming Dynasty. Their calligraphy because of such elegant yet powerful characters is considered to be a great treasure in the art of handwriting.
At the entrance to the third courtyard is a hall that contains many steles from ancient times. As visitors enter this courtyard, they will see the Xingxin Tower, a place where Muslims come to attend prayer events. A 'Phoenix' placed in the fourth courtyard, the principal pavilion here, contains the Prayer Hall, the surrounding walls of which are covered with colored designs. This Hall can easily hold 1,000 people at a time and according to traditional custom, prayer services are held five times everyday respectively at dawn, noon, afternoon, dusk and night.
After the Great Mosque tour, tourists can stroll to
Muslim Quarter
for a visit.
How to Get to Great Mosque
By Bus:
Take bus No. 7, 15, 32, 205, 215, 221, 222, 251, 252, 612, 618 or Tourist Line 8 (No. 610) and get off at Zhonglou Xi (
Bell Tower
West) Station. Walk north to the Drum Tower and then walk northwest along the Huajue Lane for around 5 minutes to reach the mosque.
By Metro:
Take
Metro Line 2
and get off at Zhonglou (Bell Tower) Station. Get out from Exit B. Walk towards west for around 6 minutes and you can see the Drum Tower. Then follow the above route to get to the mosque.
Xi'an Bus /Metro Search
Admission Fee
March-November: CNY 25
December-next February: CNY 15
* Muslims are free to enter.
Opening Hours
08:00-19:00
Recommended Time for a Visit
1-2 hours
Note: Sometimes in summer, the opening hours will last till 20:00. Please check locally to make confirmation.
Print

Recommended Nearby Attractions:
1. Drum Tower
2. Bell Tower
3. City God Temple
4. Gao's Grand Courtyard
- Last updated on Apr. 18, 2022 -
Questions & Answers on Great Mosque
Asked by masih from INDIA | Oct. 28, 2019 08:11

Reply
how to great mosque from Xi'an boffol hotel?
Answers (1)
Answered by Mona from USA | Oct. 29, 2019 19:09

0

0

Reply
You can take metro line 4 from Wenjing Road station to Xingzheng Zhongxin station, and transfer to metro line 2 to Bell Tower station, then walk northwest around 900m to it. It takes 45 mins with CNY3.
Asked by Alice from AUSTRALIA | May. 18, 2019 19:54

Reply
How to get from Xianyang Airport to our hotel at Nan Avenue, Beilin? 710075.
There's 5 adults.
Answers (1)
Answered by Jessica from USA | May. 20, 2019 02:34

0

0

Reply
You can take the Shuttle Bus Bell Tower Line from the airport to Bell Tower and then walk south about several hundred meters to your hotel. It takes about 1 hour and costs CNY25 per person. The bus stops at 21:40.
Asked by Abu Rafif from INDONESIA | Oct. 16, 2015 17:38

Reply
How to get from Ramada Bell Tower Hotel to Xi'an Great Mosque?
Can you give the sign, where we have to turn and etc? We will walk.
Answers (1)
Answered by Johnson from USA | Oct. 17, 2015 00:51

4

1

Reply
The walking distance is about 900 yards.
From the hotel, walk south along North Avenue around 140 yards. Then walk west around 760 yards to find the scenic spot. It is behind the Drum Tower.